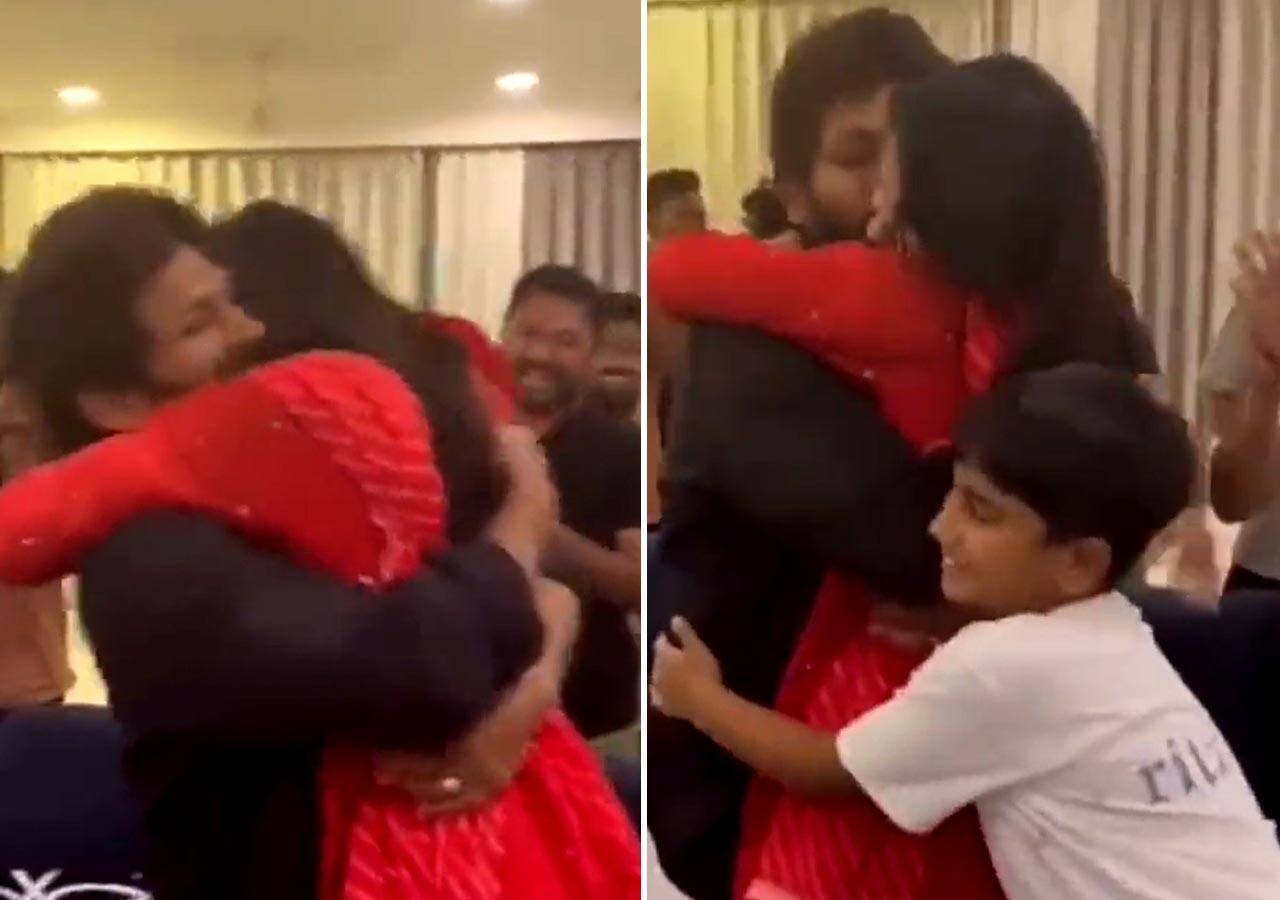 The grand unveiling of the 69th National Film Awards brought forth a moment of exceptional significance and joy, with one name shining brighter than the rest – Allu Arjun. The beloved actor of the Telugu film industry achieved a historic milestone, securing the Best Actor award for his remarkable portrayal in Pushpa: The Rise. What made this victory even more heartwarming was the touching gesture of his family, capturing a moment of pure joy that resonated deeply with audiences. Also Read – Pushpa 2 [Exclusive]: Makers of Allu Arjun starrer offered Rs 100 crore for overseas rights?
As the announcement echoed through the award ceremony, Allu Arjun's name was met with a loving kiss from his wife, Sneha Reddy, and an affectionate embrace from his son, Allu Ayaan. This endearing display of familial support and affection swiftly became a viral sensation, resonating with millions across social media platforms. Allu Arjun and Sneha always show PDA and are popular as one of the most-talked-about and followed couples on social media. Also Read – Allu Arjun creates history, becomes the first Telugu star to win a National Award for Best Actor in 69 years
The emotional depth of this achievement was further illuminated by Allu Arjun's reaction to receiving the National Film Award. He shared an emotional, heartfelt hug with Sukumar, the movie's director, amidst the cheers and applause of the entire film team. It was a testament to the strong bond that forms within the creative process of filmmaking. Also Read – 69th National Film Awards 2023: Allu Arjun to Sanjay Leela Bhansali, here's how the stars are celebrating the big win
Watch the video here:
Sneha Arjun❤❤❤ @alluarjun pic.twitter.com/lbm5HUPIXM
— AK. (@flawsomedamsel) August 24, 2023
Allu Arjun proudly etched his name in the history of cinema as the first Telugu actor to receive this prestigious accolade, breaking barriers and setting new standards of excellence. This accomplishment not only underscores his remarkable talent but also underscores the growing recognition of Telugu cinema on the national stage.
Pushpa: The Rise, the inaugural instalment in the franchise helmed by Sukumar, graced the screens on December 17, 2021. In the film, Allu Arjun portrayed Pushparaj, a truck driver entangled in the dangerous world of red sandalwood smuggling. Rashmika Mandanna played the pivotal female lead, while the immensely talented Fahadh Faasil made his presence felt as the film's main antagonist.
Allu Arjun winning a National Award is not just a personal triumph but a celebration of Telugu cinema's growing influence and recognition in the Indian film industry. His dedication, talent, and the heartwarming support of his family have illuminated this historic moment, leaving an indelible mark in the hearts of movie enthusiasts and industry peers alike.
]]>
Stay tuned to BollywoodLife for the latest scoops and updates from Bollywood, Hollywood, South, TV and Web-Series. Click to join us on Facebook, Twitter, Youtube and Instagram. Also follow us on Facebook Messenger for latest updates.
adisplay:block;padding:0;color:var(–black);text-decoration:none.repeat-box figuredisplay:flex;justify-content:flex-start;flex-wrap:wrap;align-items:stretch;overflow:visible.two-cols-aside .aside .repeat-box figurealign-items:center.repeat-box .textwidth:100%;z-index:5;position:relative.repeat-box .photowidth:100px;position:relative;z-index:5.repeat-box .photo+.textwidth:calc(100% – 100px);padding-left:10px.repeat-box h2,.repeat-box h3,.repeat-box pcolor:var(–black);white-space:normal;overflow:hidden;text-overflow:ellipsis;-webkit-line-clamp:3;display:-webkit-box;-webkit-box-orient:vertical;padding:0;font-size:15px;line-height:1.5;font-weight:400.repeat-box h2font-size:20px.repeat-box h2+p,.repeat-box h3+pfont-size:14px.repeat-box .catfont-size:14px;line-height:16px;display:block;margin-bottom:5px;font-weight:700;color:var(–orange);text-transform:uppercase.repeat-box a:hover,.repeat-box a:hover h2,.repeat-box a:hover h3,.repeat-box a:hover pcolor:#f32c89.repeat-box .photo-icon,.repeat-box .video-iconposition:absolute;left:0;bottom:0;background:linear-gradient(to left,#a617be,#f32c89,#f32c89,#f32c89,#f32c89,#a617be);border-radius:0 5px 0 0.repeat-box .video-iconwidth:26px;height:26px;display:inline-block.repeat-box .photo-iconwidth:auto;min-width:26px;height:26px;line-height:16px;font-size:13px;color:var(–white);padding:5px 5px 0.lazy-image img.lazyopacity:0.lazy-image img:not(.initial)transition:opacity .5s ease-in,transform .5s ease-in,-webkit-transform .5s ease-in.lazy-image img.error,.lazy-image img.initial,.lazy-image img.loadedopacity:1.lazy-image img:not([src])visibility:hidden.cre-setionclear:both;overflow:hidden;float:none;width:auto;margin:5px 0 20px.cre-setion .black-boxespadding:15px 40px;background:#e5e5e5.cre-carousel-heightposition:relative;padding:0 0 255px;height:0.cre-carousel-height .all-dataposition:absolute;top:0;left:0;width:100%!important;height:100%!important.cre-setion .border-headingfont-size:16px;color:#1f1f1f;text-transform:uppercase;font-weight:700;padding:0 0 10px;margin:20px 0 10px;clear:both;position:relative;border-bottom:0;display:flex;justify-content:space-between;align-items:center.cre-setion .border-heading:beforetop:5px;height:14px.cre-setion .splide__slideheight:auto!important;margin-left:0.cre-setion article.repeat-boxdisplay:block;background-color:transparent;border-radius:5px;box-shadow:none;overflow:hidden;padding:0;margin-bottom:3px.cre-setion article.repeat-box>adisplay:block;padding:10px;background-color:var(–white);border-radius:5px;color:var(–black);text-decoration:none;overflow:hidden;border:1px solid #d0d0d0.cre-setion article.repeat-box>a>figuredisplay:block.cre-setion article.repeat-box .photo,.cre-setion article.repeat-box .textwidth:100%.cre-setion article.repeat-box .photoborder-radius:5px;overflow:hidden.cre-setion article.repeat-box .lazy-imagebox-shadow:none;border-radius:0;overflow:hidden.cre-setion article.repeat-box .textpadding:5px 0 0;height:90px;.cre-setion article.repeat-box .text h3font-size:14px;line-height:1.5;-webkit-line-clamp:4;font-weight:600;text-align:left.cre-setion .repeat-box .photos-iconborder-radius:0 5px 0 0;width:auto;min-width:26px;height:26px;left:0;bottom:0;display:flex;justify-content:center;align-items:center.cre-setion .photos-icon svgtransition:1s;fill:var(–white);width:26px;height:26px.cre-setion .photos-icon:hoverbackground:var(–blue).cre-setion .splide__arrowtop:50%!important;width:1.8em;height:1.8em;border-radius:100px;border:1px solid #999;background:0 0;opacity:1.cre-setion .splide__arrow–prevleft:-37px.cre-setion .splide__arrow–nextright:-37px.cre-setion .splide__arrow:disabledopacity:.3;cursor:not-allowed!important.cre-setion .splide__arrow:beforeborder:solid #999;border-width:0 2px 2px 0.cre-setion .splide__arrow:hoverbackground:linear-gradient(to left,#a617be,#f32c89,#f32c89,#f32c89,#f32c89,#a617be).cre-setion .splide__arrow:hover::beforeborder:solid var(–white);border-width:0 2px 2px 0]]]]>]]>