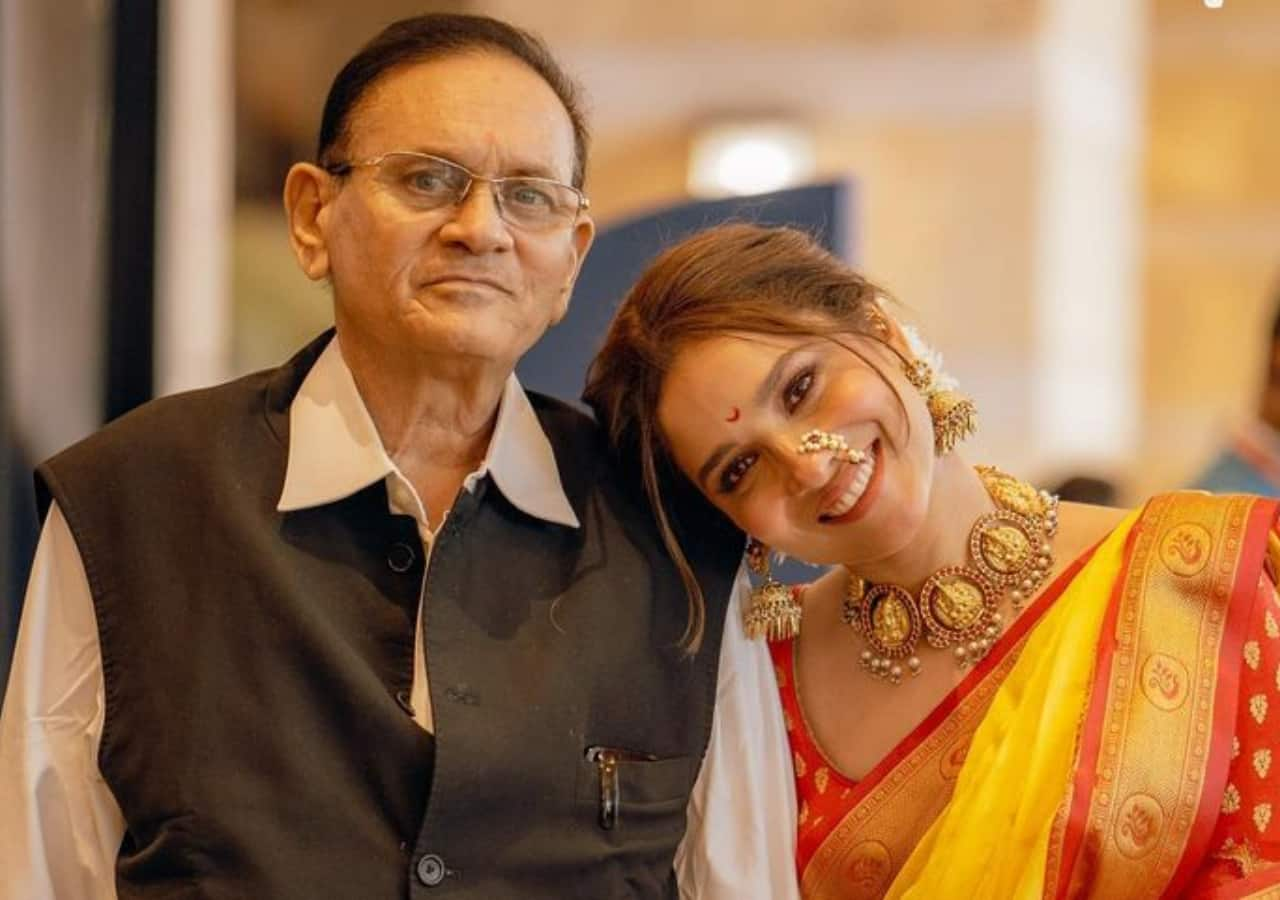 Ankita Lokhande has been through a lot in the last few days. She lost her father, Shashikant Lokhande on August 12. As per reports in the media, her father was 68 years old and was suffering from a lot of age-related ailments. Ankita had earlier informed fans on Instagram about her father being unwell. It is being said that he was unwell for almost two months. Ankita looked heartbroken as she carried her father's mortal remains on her shoulders. Also Read – Ankita Lokhande is devastated by father's death, finds support from Vicky Jain and mom Vandana during the last rites [View Pics]
Vicky Jain was seen supporting his wife and her family during this tough phase of their life. Ankita has now shared an emotional note on Instagram where she spoke about her father. She revealed how he has made them all strong, and she also promised him that she will look after her mother well. Also Read – Ankita Lokhande bereaved; Pavitra Rishta actress' father passes away at the age of 68
Ankita's emotional post for her father
Ankita Lokhande shared a video where she included all the beautiful pictures of her father with them. Along with it, she wrote, "Hello daddy I can't describe you in words but I want to say that I have never seen such strong , energetic and adorable person in my life.. I got to know about u more when u left us .. everyone who came to see u they were just just just praising you like how u used to send good morning messages to them everyday, how u used to call people or video call them when u missed them .. u kept every relationship with everyone so alive .. and now I know why I'm also like this it's because of u my paa . You gave me the best life ,best memories and a very strong understanding of relationships .. u taught me never to give up . U taught me to live a life king size and u always gave me my wings to fly paa and I promise to never let u go because you are part of my soul forever and ever and I'm grateful that u gave me that opportunity to be there for you and take care of u in every way.. me and mamma from last 3 day just thinking now what to do in once we get up because u kept us on toes dadda .. pappa ka khana pappa ke fruits pappa ka breakfast and etc etc etc but now we have nothing left because u left us .." Also Read – Ankita Lokhande gets kisses from hubby Vicky Jain as they turn Indian Barbie and Ken [View pics]
"Thanku for making us more and more stronger then before paa and yes u we're lucky to have a wife like my mom .. she gave u everything she had.. literally everything and I know u loved her so much paa and I promise u that we all will take care of her more than how we used to , I promise to give her all the happiness in this life .. I promise that I will pamper her more than before like u used to paa .. Thanku for everything every moment and Thanku for making me who I'm today .. I love u paaaaa forever and ever!! Parents are very important because they are the only one who can never be replaced so everyone who has opportunities to take care of them pls don't u dare to miss that .. once they go they never come back .. so give them everything,happiness,time , care , love , compassion !!That's what they want ..My papa the strongest and the most handsome man ever in my life forever and ever, Your Angel mintu, "she concluded.
Ankita was last seen in Smart Jodi along with husband Vicky Jain. The two recently renewed their wedding vows.
]]>
Stay tuned to BollywoodLife for the latest scoops and updates from Bollywood, Hollywood, South, TV and Web-Series. Click to join us on Facebook, Twitter, Youtube and Instagram. Also follow us on Facebook Messenger for latest updates.
adisplay:block;padding:0;color:var(–black);text-decoration:none.repeat-box figuredisplay:flex;justify-content:flex-start;flex-wrap:wrap;align-items:stretch;overflow:visible.two-cols-aside .aside .repeat-box figurealign-items:center.repeat-box .textwidth:100%;z-index:5;position:relative.repeat-box .photowidth:100px;position:relative;z-index:5.repeat-box .photo+.textwidth:calc(100% – 100px);padding-left:10px.repeat-box h2,.repeat-box h3,.repeat-box pcolor:var(–black);white-space:normal;overflow:hidden;text-overflow:ellipsis;-webkit-line-clamp:3;display:-webkit-box;-webkit-box-orient:vertical;padding:0;font-size:15px;line-height:1.5;font-weight:400.repeat-box h2font-size:20px.repeat-box h2+p,.repeat-box h3+pfont-size:14px.repeat-box .catfont-size:14px;line-height:16px;display:block;margin-bottom:5px;font-weight:700;color:var(–orange);text-transform:uppercase.repeat-box a:hover,.repeat-box a:hover h2,.repeat-box a:hover h3,.repeat-box a:hover pcolor:#f32c89.repeat-box .photo-icon,.repeat-box .video-iconposition:absolute;left:0;bottom:0;background:linear-gradient(to left,#a617be,#f32c89,#f32c89,#f32c89,#f32c89,#a617be);border-radius:0 5px 0 0.repeat-box .video-iconwidth:26px;height:26px;display:inline-block.repeat-box .photo-iconwidth:auto;min-width:26px;height:26px;line-height:16px;font-size:13px;color:var(–white);padding:5px 5px 0.lazy-image img.lazyopacity:0.lazy-image img:not(.initial)transition:opacity .5s ease-in,transform .5s ease-in,-webkit-transform .5s ease-in.lazy-image img.error,.lazy-image img.initial,.lazy-image img.loadedopacity:1.lazy-image img:not([src])visibility:hidden.cre-setionclear:both;overflow:hidden;float:none;width:auto;margin:5px 0 20px.cre-setion .black-boxespadding:15px 40px;background:#e5e5e5.cre-carousel-heightposition:relative;padding:0 0 255px;height:0.cre-carousel-height .all-dataposition:absolute;top:0;left:0;width:100%!important;height:100%!important.cre-setion .border-headingfont-size:16px;color:#1f1f1f;text-transform:uppercase;font-weight:700;padding:0 0 10px;margin:20px 0 10px;clear:both;position:relative;border-bottom:0;display:flex;justify-content:space-between;align-items:center.cre-setion .border-heading:beforetop:5px;height:14px.cre-setion .splide__slideheight:auto!important;margin-left:0.cre-setion article.repeat-boxdisplay:block;background-color:transparent;border-radius:5px;box-shadow:none;overflow:hidden;padding:0;margin-bottom:3px.cre-setion article.repeat-box>adisplay:block;padding:10px;background-color:var(–white);border-radius:5px;color:var(–black);text-decoration:none;overflow:hidden;border:1px solid #d0d0d0.cre-setion article.repeat-box>a>figuredisplay:block.cre-setion article.repeat-box .photo,.cre-setion article.repeat-box .textwidth:100%.cre-setion article.repeat-box .photoborder-radius:5px;overflow:hidden.cre-setion article.repeat-box .lazy-imagebox-shadow:none;border-radius:0;overflow:hidden.cre-setion article.repeat-box .textpadding:5px 0 0;height:90px;.cre-setion article.repeat-box .text h3font-size:14px;line-height:1.5;-webkit-line-clamp:4;font-weight:600;text-align:left.cre-setion .repeat-box .photos-iconborder-radius:0 5px 0 0;width:auto;min-width:26px;height:26px;left:0;bottom:0;display:flex;justify-content:center;align-items:center.cre-setion .photos-icon svgtransition:1s;fill:var(–white);width:26px;height:26px.cre-setion .photos-icon:hoverbackground:var(–blue).cre-setion .splide__arrowtop:50%!important;width:1.8em;height:1.8em;border-radius:100px;border:1px solid #999;background:0 0;opacity:1.cre-setion .splide__arrow–prevleft:-37px.cre-setion .splide__arrow–nextright:-37px.cre-setion .splide__arrow:disabledopacity:.3;cursor:not-allowed!important.cre-setion .splide__arrow:beforeborder:solid #999;border-width:0 2px 2px 0.cre-setion .splide__arrow:hoverbackground:linear-gradient(to left,#a617be,#f32c89,#f32c89,#f32c89,#f32c89,#a617be).cre-setion .splide__arrow:hover::beforeborder:solid var(–white);border-width:0 2px 2px 0]]]]>]]>