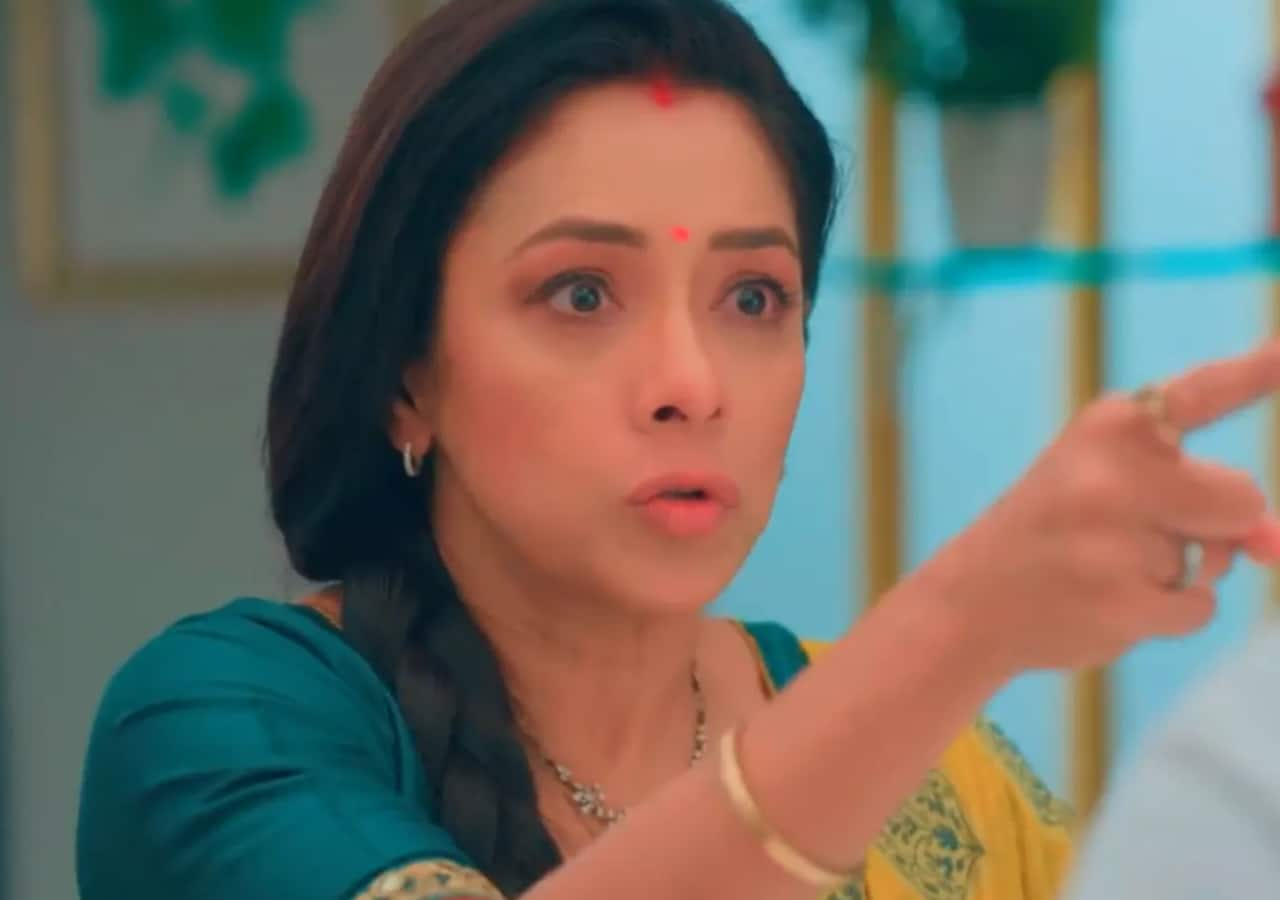 Anupamaa upcoming spoiler alert 13 September 2023: Rupali Ganguly, Gaurav Khanna and Sudhanshu Pandey starrer TOP TV show has currently taken a dark turn with Pakhi gone missing. However, things are soon going to be alright. Anu, Anuj and Vanraj along with the Shahs are worried sick about Pakhi's disappearance. Anupamaa doubts Romil and follows him. She learns about Romil being behind the ugly prank. Also Read – Anupamaa spoiler alert: Pakhi is in danger, will Samar, Paritosh be able to save her?
Anupamaa upcoming twist: Anu slams Romil
Anupamaa learns about Romil being behind the disappearance of Pakhi. She berates him and curses him while Romil tries to justify his motive in front of Anupamaa. Anu slams Romil for not thinking about the consequences of his actions. She calls out the teenagers and youth who in the name of pranks and social media posts do not think about the effects of their deeds. Anu brings Romil home and Adhik slaps him after Romil confesses to everything. Ankush asks Anuj to call the police but Romil pleads not to do so. Anuj loses his cool on Romil but prioritizes finding Pakhi. Also Read – Anupamaa: These 10 actors rejected Rupali Ganguly's show and later regretted
Anupamaa fans hail Rupali Ganguly for her acting chops
Rupali Ganguly is one ace actress. She is brilliantly portraying the role of Anupamaa in the show. And once again the actress proved her mettle in the episode. Rupali's act as a worried mother will send a shiver down your spine. She is a phenomenal performer and her vulnerability as a mom has left fans in awe. Check out the tweets praising Rupali here: Also Read – Anupamaa actress Muskan Bamne and more celebs who left Rupali Ganguly's Top Hindi TV show
She didn't win the BESTMAA award for no reason Because she truly deserves this merit and every day she shows us that she deserves this award?❤️‍?.Anupa'MAA?❤️‍?.#Anupamaa
— Rw3a_6 (@rw3a_6) September 13, 2023
Rupali ma'am your performance was Outstanding….U r Phenomenal ??✨❤️Take a bow…???‍♀️But Your throat felt sore…Please take care @TheRupali ma'am ❤️❤️#Anupamaa #RupaliGanguly #MaAn
— ?..NS (@_03Neetu) September 13, 2023
The difference in her voice here ?How badly she's hurt her vocal chords??@TheRupali mam your dedication towards your work is next level but please do take good care of your health too ??Hope you had a good sleep at least last night #Anupama#RupaliGanguly #Anupamaa pic.twitter.com/Vc87i3GHGD
— Ridz_Rupali Fan (@Ridz_Rupali_Fan) September 13, 2023
@TheRupali is genuinely one of the finest actresses ever! So talented ??❤️❤️she truly deserves all awards and appreciation #Anupamaa THU THU THU! ??❤️my inspiration and forever favourite ??
— sakshi (@sakshi92023774) September 13, 2023
Nowadays watch #Anupamaa only for this performanc
Coz Performances like that?the way her Emotion are changed from Fierce to helplessness within blink of a moment is Outstandingly good?
Dkp is blessed to Have who Is able to give b2b emotional scene wid consistent brilliance pic.twitter.com/2FgykF0IqG
— nidz_mehtz (@nidhimehta06) September 13, 2023
Aww my heart :(stop making her cry #Anupamaa pic.twitter.com/6PWKzlGzJG
— eesso (@eeessoe) September 13, 2023
This woman proves everyday that noone can be #Anupamaa except her ??❤??? mind blowing just awesome ??❤?? #RupaliGanguly
— Manisha (@Rupali_Fan4ever) September 13, 2023
The switching of anger n anxiety within seconds is just terrific my goodness really you are a master of your craft ??❤??? #Anupamaa #RupaliGanguly
— Manisha (@Rupali_Fan4ever) September 13, 2023
Once again today Rupali proved no one's on her level ??#Anupamaa
— ??????? (@RaelynnKahani) September 13, 2023
Watch this video on Anupamaa here:
Anupamaa fans have these complaints
Well, it will not always be hunky-dory in the TV world, especially with the TRPs. Anupamaa continues to be a TOP TV show despite everything. The TRPs are bound to fluctuate and the fans will have something they will disagree with. And they sure have their differences even now. Anupamaa fans are unhappy that Gaurav Khanna aka Anuj Kapadia has not much to do. The absence of MaAn scenes are also one of the complaints. However, their two major complaints are whitewashing of Adhik who committed domestic violence on Pakhi and Anu giving all the rights of a father to Vanraj (Sudhanshu Pandey). Fans have called out Anupamaa for not considering the same during Maaya and Choti Anu's track.
Makers u won't feel shame no? In showing Padhik cringe romnce after showing how Adhik usd to beat pakiI knw ul shw thm again lovy dovy cuple… harpic domex phynl ww tho hogaya h AM ka #Anupamaa
— ani$hk (@Anishk333) September 13, 2023
The roaring Lion ? ????#AnujKapadia #Anupamaa #MaAn pic.twitter.com/kA2slNdCBk
— Nabatara Mitra (@NabataraMitra) September 13, 2023
I loved how was #AnupamaaWas trying to protect romil from adhik in thissituation too unlike bb who had instigated his own brother against wifei just hope whole story comes out n everyone should know It was Bb and adhik instigated romil to this level.
— nidz_mehtz (@nidhimehta06) September 13, 2023
abuser x husband ke marital life ke thik karne me jata hai…. or baki ka meri sweetudi… In sab me kaha hai choti ke liye pyar or concern… or anuj to matter hi nhi karta, kya hi kahe??#AnujKapadia#Anupamaa
— piyuu sharma (Jai bharat,Jai vigyaan) (@Piyuu3245770119) September 13, 2023
#Anupamaa asking #AnujKapadia to inform V about Pakhi's is FAIR. He needs to know that P is not in the condition to protect herself if someone tries to harm her bcoz of sleeping pill effect
I feel bad for AK because his rights as a FATHER was never considered during MAYA track
— Shraddha Nayak (@Shraddh79524115) September 13, 2023
Anupamaa stars Rupali Ganguly, Gaurav Khanna, Sudhanshu Pandey and more in key roles. Stay tuned to BollywoodLife for more updates on the same.
]]>
Stay tuned to BollywoodLife for the latest scoops and updates from Bollywood, Hollywood, South, TV and Web-Series. Click to join us on Facebook, Twitter, Youtube and Instagram. Also follow us on Facebook Messenger for latest updates.
adisplay:block;padding:0;color:var(–black);text-decoration:none.repeat-box figuredisplay:flex;justify-content:flex-start;flex-wrap:wrap;align-items:stretch;overflow:visible.two-cols-aside .aside .repeat-box figurealign-items:center.repeat-box .textwidth:100%;z-index:5;position:relative.repeat-box .photowidth:100px;position:relative;z-index:5.repeat-box .photo+.textwidth:calc(100% – 100px);padding-left:10px.repeat-box h2,.repeat-box h3,.repeat-box pcolor:var(–black);white-space:normal;overflow:hidden;text-overflow:ellipsis;-webkit-line-clamp:3;display:-webkit-box;-webkit-box-orient:vertical;padding:0;font-size:15px;line-height:1.5;font-weight:400.repeat-box h2font-size:20px.repeat-box h2+p,.repeat-box h3+pfont-size:14px.repeat-box .catfont-size:14px;line-height:16px;display:block;margin-bottom:5px;font-weight:700;color:var(–orange);text-transform:uppercase.repeat-box a:hover,.repeat-box a:hover h2,.repeat-box a:hover h3,.repeat-box a:hover pcolor:#f32c89.repeat-box .photo-icon,.repeat-box .video-iconposition:absolute;left:0;bottom:0;background:linear-gradient(to left,#a617be,#f32c89,#f32c89,#f32c89,#f32c89,#a617be);border-radius:0 5px 0 0.repeat-box .video-iconwidth:26px;height:26px;display:inline-block.repeat-box .photo-iconwidth:auto;min-width:26px;height:26px;line-height:16px;font-size:13px;color:var(–white);padding:5px 5px 0.lazy-image img.lazyopacity:0.lazy-image img:not(.initial)transition:opacity .5s ease-in,transform .5s ease-in,-webkit-transform .5s ease-in.lazy-image img.error,.lazy-image img.initial,.lazy-image img.loadedopacity:1.lazy-image img:not([src])visibility:hidden.cre-setionclear:both;overflow:hidden;float:none;width:auto;margin:5px 0 20px.cre-setion .black-boxespadding:15px 40px;background:#e5e5e5.cre-carousel-heightposition:relative;padding:0 0 255px;height:0.cre-carousel-height .all-dataposition:absolute;top:0;left:0;width:100%!important;height:100%!important.cre-setion .border-headingfont-size:16px;color:#1f1f1f;text-transform:uppercase;font-weight:700;padding:0 0 10px;margin:20px 0 10px;clear:both;position:relative;border-bottom:0;display:flex;justify-content:space-between;align-items:center.cre-setion .border-heading:beforetop:5px;height:14px.cre-setion .splide__slideheight:auto!important;margin-left:0.cre-setion article.repeat-boxdisplay:block;background-color:transparent;border-radius:5px;box-shadow:none;overflow:hidden;padding:0;margin-bottom:3px.cre-setion article.repeat-box>adisplay:block;padding:10px;background-color:var(–white);border-radius:5px;color:var(–black);text-decoration:none;overflow:hidden;border:1px solid #d0d0d0.cre-setion article.repeat-box>a>figuredisplay:block.cre-setion article.repeat-box .photo,.cre-setion article.repeat-box .textwidth:100%.cre-setion article.repeat-box .photoborder-radius:5px;overflow:hidden.cre-setion article.repeat-box .lazy-imagebox-shadow:none;border-radius:0;overflow:hidden.cre-setion article.repeat-box .textpadding:5px 0 0;height:90px;.cre-setion article.repeat-box .text h3font-size:14px;line-height:1.5;-webkit-line-clamp:4;font-weight:600;text-align:left.cre-setion .repeat-box .photos-iconborder-radius:0 5px 0 0;width:auto;min-width:26px;height:26px;left:0;bottom:0;display:flex;justify-content:center;align-items:center.cre-setion .photos-icon svgtransition:1s;fill:var(–white);width:26px;height:26px.cre-setion .photos-icon:hoverbackground:var(–blue).cre-setion .splide__arrowtop:50%!important;width:1.8em;height:1.8em;border-radius:100px;border:1px solid #999;background:0 0;opacity:1.cre-setion .splide__arrow–prevleft:-37px.cre-setion .splide__arrow–nextright:-37px.cre-setion .splide__arrow:disabledopacity:.3;cursor:not-allowed!important.cre-setion .splide__arrow:beforeborder:solid #999;border-width:0 2px 2px 0.cre-setion .splide__arrow:hoverbackground:linear-gradient(to left,#a617be,#f32c89,#f32c89,#f32c89,#f32c89,#a617be).cre-setion .splide__arrow:hover::beforeborder:solid var(–white);border-width:0 2px 2px 0]]]]>]]>