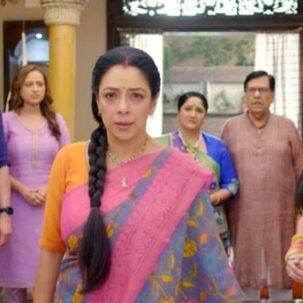 Anupamaa upcoming spoiler alert: In the latest trailer of Anupamaa, we see that Anu (Rupali Ganguly) is really tensed to think about Pakhi, but Anuj tried to make her understand that Pakhi is grown up and will handle everything. But Anupamaa really said that women always give a chance to their married lives. Well, we see Anuj and Anupamaa go to the party, but still, Anupamaa thinks about her children. Later on, we see Dimpy and Kinjal once again fighting because of Dimpy's behaviour, but this time Kinjal (Nidhi Shah)will also not adjust because of Dimpy, and finally viewers see Bindas Kinjal, and they get really happy to see her. Later on, after a long time, we see Anupamaa drive, and they spend a beautiful time with each other. But Romil creates a scene in Kapadia Mension where he calls his friends and they drink alcohol. And also, they misbehave with Anuj (Gaurav Khanna) Let's see how Anupamaa and Anuj handle everything. Also Read – Anupamaa upcoming twist: After Samar, Pakhi goes against Anu, will she lose the most important people in her life?
Anupamaa Upcoming Twist
In the upcoming track of Anupamaa, we see Romil fully drunk and pushing Anuj (Gaurav Khanna) well.Now Anuj is very aggressive and tries to slap him, but Anupamaa stops him. Well, Anupamaa is totally disturbed as her mind cannot work, and we may see that slowly, slowly, she will separate with her children, as we see that Samar always hates his favourite as he thinks his mother separates him from the family, and soon we may see that Pakhi misunderstands Anupamaa (Rupali Ganguly) and blames her for destroying her marriage life. Well, we see Pakhi (Muskan Bamne) will give Adhik one more chance, but will he deserve the second chance? Also Read – Anupamaa upcoming twist: Domestic violence angle on the cards as Anu teaches Adhik lesson of a lifetime after she sees him slapping Pakhi
Anupamaa is one of the top-running shows, and this show has completed its 1000 episodes. This show has been directed by Rajan Shahi, and viewers always give their immeasurable love to the characters of Anupamaa, and this show has always taken the number one spot in the TRP list. Well, the latest track is all messed up in Anupamaa's life. Let's see how she finally solves everything. In the future track of Anupamaa, we may see an interesting track where Anuj and Anupamaa decide to solve every problem one by one. Let's see how Anupamaa gets her children back. Will Samar and Pakhi ever realise what they did to Anupamaa? Also Read – Anupamaa upcoming twist: Adhik and Barkha's lies to be exposed in front of Anuj and Anupamaa?
]]>
Stay tuned to BollywoodLife for the latest scoops and updates from Bollywood, Hollywood, South, TV and Web-Series. Click to join us on Facebook, Twitter, Youtube and Instagram. Also follow us on Facebook Messenger for latest updates.
adisplay:block;padding:0;color:var(–black);text-decoration:none.repeat-box figuredisplay:flex;justify-content:flex-start;flex-wrap:wrap;align-items:stretch;overflow:visible.two-cols-aside .aside .repeat-box figurealign-items:center.repeat-box .textwidth:100%;z-index:5;position:relative.repeat-box .photowidth:100px;position:relative;z-index:5.repeat-box .photo+.textwidth:calc(100% – 100px);padding-left:10px.repeat-box h2,.repeat-box h3,.repeat-box pcolor:var(–black);white-space:normal;overflow:hidden;text-overflow:ellipsis;-webkit-line-clamp:3;display:-webkit-box;-webkit-box-orient:vertical;padding:0;font-size:15px;line-height:1.5;font-weight:400.repeat-box h2font-size:20px.repeat-box h2+p,.repeat-box h3+pfont-size:14px.repeat-box .catfont-size:14px;line-height:16px;display:block;margin-bottom:5px;font-weight:700;color:var(–orange);text-transform:uppercase.repeat-box a:hover,.repeat-box a:hover h2,.repeat-box a:hover h3,.repeat-box a:hover pcolor:#f32c89.repeat-box .photo-icon,.repeat-box .video-iconposition:absolute;left:0;bottom:0;background:linear-gradient(to left,#a617be,#f32c89,#f32c89,#f32c89,#f32c89,#a617be);border-radius:0 5px 0 0.repeat-box .video-iconwidth:26px;height:26px;display:inline-block.repeat-box .photo-iconwidth:auto;min-width:26px;height:26px;line-height:16px;font-size:13px;color:var(–white);padding:5px 5px 0.lazy-image img.lazyopacity:0.lazy-image img:not(.initial)transition:opacity .5s ease-in,transform .5s ease-in,-webkit-transform .5s ease-in.lazy-image img.error,.lazy-image img.initial,.lazy-image img.loadedopacity:1.lazy-image img:not([src])visibility:hidden.cre-setionclear:both;overflow:hidden;float:none;width:auto;margin:5px 0 20px.cre-setion .black-boxespadding:15px 40px;background:#e5e5e5.cre-carousel-heightposition:relative;padding:0 0 255px;height:0.cre-carousel-height .all-dataposition:absolute;top:0;left:0;width:100%!important;height:100%!important.cre-setion .border-headingfont-size:16px;color:#1f1f1f;text-transform:uppercase;font-weight:700;padding:0 0 10px;margin:20px 0 10px;clear:both;position:relative;border-bottom:0;display:flex;justify-content:space-between;align-items:center.cre-setion .border-heading:beforetop:5px;height:14px.cre-setion .splide__slideheight:auto!important;margin-left:0.cre-setion article.repeat-boxdisplay:block;background-color:transparent;border-radius:5px;box-shadow:none;overflow:hidden;padding:0;margin-bottom:3px.cre-setion article.repeat-box>adisplay:block;padding:10px;background-color:var(–white);border-radius:5px;color:var(–black);text-decoration:none;overflow:hidden;border:1px solid #d0d0d0.cre-setion article.repeat-box>a>figuredisplay:block.cre-setion article.repeat-box .photo,.cre-setion article.repeat-box .textwidth:100%.cre-setion article.repeat-box .photoborder-radius:5px;overflow:hidden.cre-setion article.repeat-box .lazy-imagebox-shadow:none;border-radius:0;overflow:hidden.cre-setion article.repeat-box .textpadding:5px 0 0;height:90px;.cre-setion article.repeat-box .text h3font-size:14px;line-height:1.5;-webkit-line-clamp:4;font-weight:600;text-align:left.cre-setion .repeat-box .photos-iconborder-radius:0 5px 0 0;width:auto;min-width:26px;height:26px;left:0;bottom:0;display:flex;justify-content:center;align-items:center.cre-setion .photos-icon svgtransition:1s;fill:var(–white);width:26px;height:26px.cre-setion .photos-icon:hoverbackground:var(–blue).cre-setion .splide__arrowtop:50%!important;width:1.8em;height:1.8em;border-radius:100px;border:1px solid #999;background:0 0;opacity:1.cre-setion .splide__arrow–prevleft:-37px.cre-setion .splide__arrow–nextright:-37px.cre-setion .splide__arrow:disabledopacity:.3;cursor:not-allowed!important.cre-setion .splide__arrow:beforeborder:solid #999;border-width:0 2px 2px 0.cre-setion .splide__arrow:hoverbackground:linear-gradient(to left,#a617be,#f32c89,#f32c89,#f32c89,#f32c89,#a617be).cre-setion .splide__arrow:hover::beforeborder:solid var(–white);border-width:0 2px 2px 0]]]]>]]>