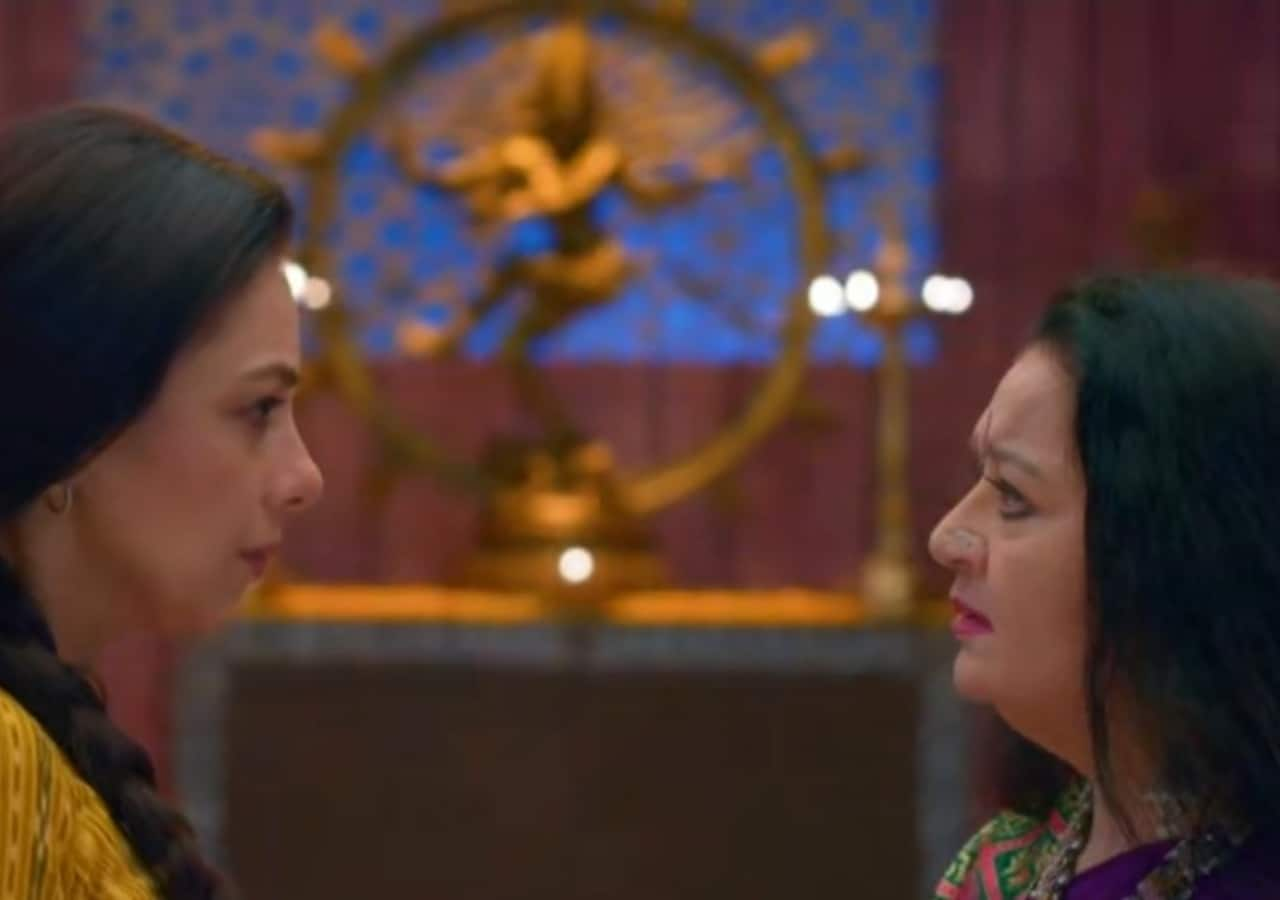 Anupamaa spoiler alert: TV show Anupamaa starring Rupali Ganguly and Gaurav Khanna in the lead always delivers high-voltage drama. Every day, a new drama unfolds in Shah and Kapadia mansion. Currently, it is Malti Devi who is creating havoc in Anu and Anuj Kapadia's married life. Ever since Anupamaa betrayed her and refused to go to America for Chhoti Anu, Malti Devi has revenge on her mind. She is targeting Anupamaa's kids and that has not gone down well with Anu. In the latest episode, we see Anupamaa confronting Malti Devi for scaring Chhoti Anu. Also Read – Anupamaa completes 1000 episodes; Rupali Ganguly, Gaurav Khanna and others celebrate on sets
Anupamaa warns Malti Devi to stay away from her family and keep her evil plans to herself. She states that it is only because of habit that she calls her Guru Maa but in reality, she is does not deserve the position. Anuj then meets Anupamaa and talks about everything that happened with Malti Devi and Chhoti Anuj. Anuj will extend his help to Anupamaa and say that he will support her fully. Also Read – Anupamaa new promo: Anu divides the Shah house; tells Dimpy and Samar to get out
Dimpy and Malti Devi's big expose.
In the new promo of the show, we also see Anupamaa slapping Dimpy. She has been creating a ruckus in the Shah house. So much that she has now annoyed Anupamaa. We see Anupamaa slapping Dimpy for misbehaving with Baa and Bapuji. Dimpy calls them 'dogla' and Anupamaa loses her cool. The major twist is that Anupamaa will soon expose Dimpy and Malti Devi. It is Dimpy who has been sharing all the secrets with Malti Devi about fights and drama of Shah house and more, as reported by serialgossip.com. Malti Devi has made friends with Dimpy to destroy Anupamaa. Samar as well as all the family members of Shah house would be in a state of shock. Also Read – Anupamaa upcoming twist: War begins and Anu unleashes her rudra roop as a mother, will Malti Devi take a step back?
This does not end here. Dimpy asks for batwara of the house. She wants to stay in Shah house along with Samar but separately. It remains to be seen what would be Anupamaa's decision in this situation. Will she give into Dimpy's demands? Will Dimpy learn from her mistakes? Will Samar and Anupamaa forgive her? What would be Malti Devi's next move? Let's wait and watch. It is for a reason that Rupali Ganguly and Gaurav Khanna's show is at the top on TRP list. For more entertainment news, stay tuned.
]]>
Stay tuned to BollywoodLife for the latest scoops and updates from Bollywood, Hollywood, South, TV and Web-Series. Click to join us on Facebook, Twitter, Youtube and Instagram. Also follow us on Facebook Messenger for latest updates.
adisplay:block;padding:0;color:var(–black);text-decoration:none.repeat-box figuredisplay:flex;justify-content:flex-start;flex-wrap:wrap;align-items:stretch;overflow:visible.two-cols-aside .aside .repeat-box figurealign-items:center.repeat-box .textwidth:100%;z-index:5;position:relative.repeat-box .photowidth:100px;position:relative;z-index:5.repeat-box .photo+.textwidth:calc(100% – 100px);padding-left:10px.repeat-box h2,.repeat-box h3,.repeat-box pcolor:var(–black);white-space:normal;overflow:hidden;text-overflow:ellipsis;-webkit-line-clamp:3;display:-webkit-box;-webkit-box-orient:vertical;padding:0;font-size:15px;line-height:1.5;font-weight:400.repeat-box h2font-size:20px.repeat-box h2+p,.repeat-box h3+pfont-size:14px.repeat-box .catfont-size:14px;line-height:16px;display:block;margin-bottom:5px;font-weight:700;color:var(–orange);text-transform:uppercase.repeat-box a:hover,.repeat-box a:hover h2,.repeat-box a:hover h3,.repeat-box a:hover pcolor:#f32c89.repeat-box .photo-icon,.repeat-box .video-iconposition:absolute;left:0;bottom:0;background:linear-gradient(to left,#a617be,#f32c89,#f32c89,#f32c89,#f32c89,#a617be);border-radius:0 5px 0 0.repeat-box .video-iconwidth:26px;height:26px;display:inline-block.repeat-box .photo-iconwidth:auto;min-width:26px;height:26px;line-height:16px;font-size:13px;color:var(–white);padding:5px 5px 0.lazy-image img.lazyopacity:0.lazy-image img:not(.initial)transition:opacity .5s ease-in,transform .5s ease-in,-webkit-transform .5s ease-in.lazy-image img.error,.lazy-image img.initial,.lazy-image img.loadedopacity:1.lazy-image img:not([src])visibility:hidden.cre-setionclear:both;overflow:hidden;float:none;width:auto;margin:5px 0 20px.cre-setion .black-boxespadding:15px 40px;background:#e5e5e5.cre-carousel-heightposition:relative;padding:0 0 255px;height:0.cre-carousel-height .all-dataposition:absolute;top:0;left:0;width:100%!important;height:100%!important.cre-setion .border-headingfont-size:16px;color:#1f1f1f;text-transform:uppercase;font-weight:700;padding:0 0 10px;margin:20px 0 10px;clear:both;position:relative;border-bottom:0;display:flex;justify-content:space-between;align-items:center.cre-setion .border-heading:beforetop:5px;height:14px.cre-setion .splide__slideheight:auto!important;margin-left:0.cre-setion article.repeat-boxdisplay:block;background-color:transparent;border-radius:5px;box-shadow:none;overflow:hidden;padding:0;margin-bottom:3px.cre-setion article.repeat-box>adisplay:block;padding:10px;background-color:var(–white);border-radius:5px;color:var(–black);text-decoration:none;overflow:hidden;border:1px solid #d0d0d0.cre-setion article.repeat-box>a>figuredisplay:block.cre-setion article.repeat-box .photo,.cre-setion article.repeat-box .textwidth:100%.cre-setion article.repeat-box .photoborder-radius:5px;overflow:hidden.cre-setion article.repeat-box .lazy-imagebox-shadow:none;border-radius:0;overflow:hidden.cre-setion article.repeat-box .textpadding:5px 0 0;height:90px;.cre-setion article.repeat-box .text h3font-size:14px;line-height:1.5;-webkit-line-clamp:4;font-weight:600;text-align:left.cre-setion .repeat-box .photos-iconborder-radius:0 5px 0 0;width:auto;min-width:26px;height:26px;left:0;bottom:0;display:flex;justify-content:center;align-items:center.cre-setion .photos-icon svgtransition:1s;fill:var(–white);width:26px;height:26px.cre-setion .photos-icon:hoverbackground:var(–blue).cre-setion .splide__arrowtop:50%!important;width:1.8em;height:1.8em;border-radius:100px;border:1px solid #999;background:0 0;opacity:1.cre-setion .splide__arrow–prevleft:-37px.cre-setion .splide__arrow–nextright:-37px.cre-setion .splide__arrow:disabledopacity:.3;cursor:not-allowed!important.cre-setion .splide__arrow:beforeborder:solid #999;border-width:0 2px 2px 0.cre-setion .splide__arrow:hoverbackground:linear-gradient(to left,#a617be,#f32c89,#f32c89,#f32c89,#f32c89,#a617be).cre-setion .splide__arrow:hover::beforeborder:solid var(–white);border-width:0 2px 2px 0]]]]>]]>