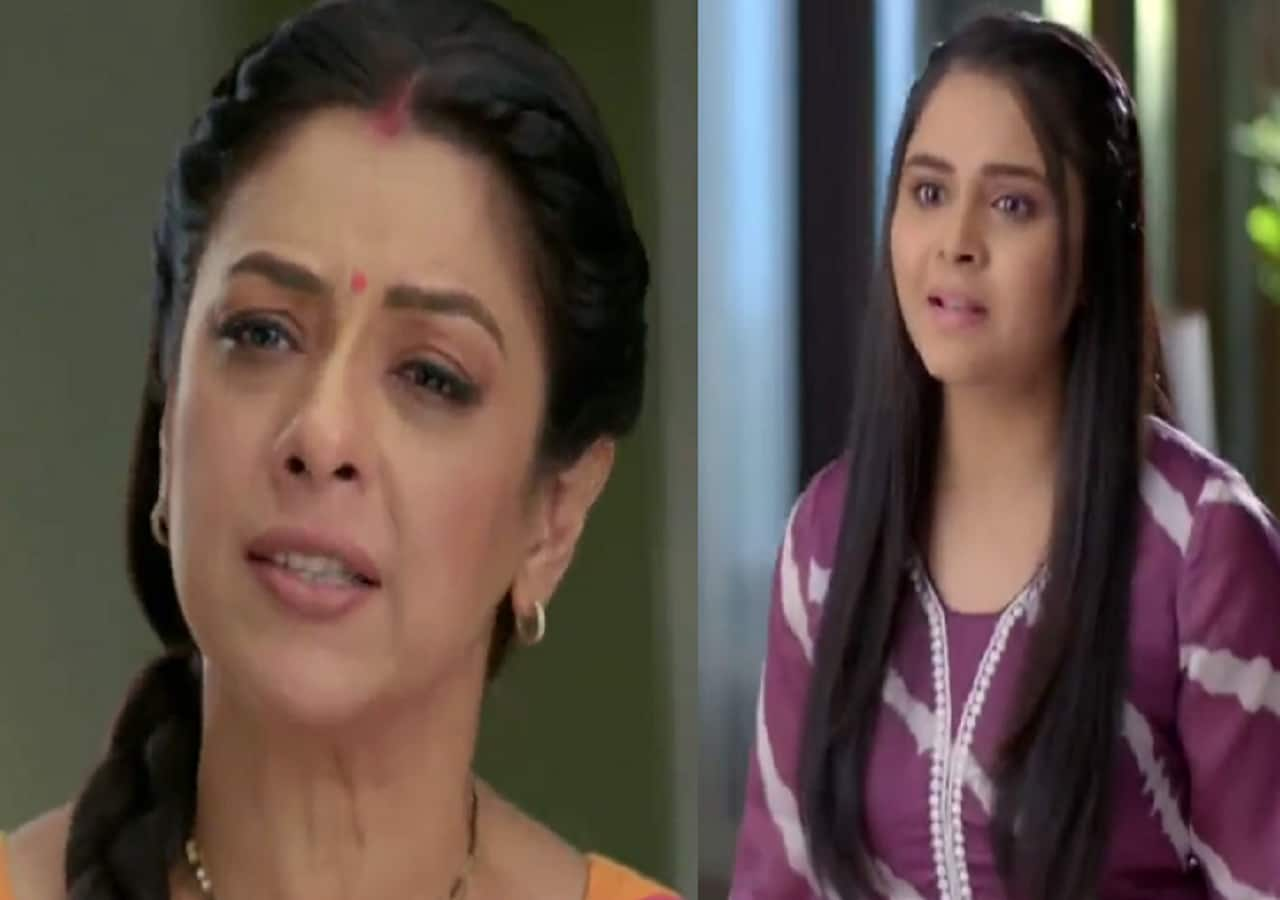 Anupamaa: Pakhi (Muskan Bhamne) has been facing a lot of silent violence done by Adhik on her, and this is the first time Romil opened up about it in front of Anupamaa and the entire Kapadia house about how Adhik is double-faced and behaves very differently with his wife Pakhi when no one is around. Adhik (Adhik Mehta) is a totally changed person, and his aggression against Pakhi has been igniting day after day. This time he crosses all the limits as he slaps her, but Anupamaa learns about the domestic violence and asks her daughter Sweety, aka Pakhi, to stand against it. The new promo shows how Anu(Rupali Ganguly) is shattered to see Adhik hitting Pakhi, and she tells her to take a stand against it, but Pakhi is adamant and tells her mom that it's a normal husband-wife fight, and she too was bad in her relationship with Adhik, but he stood by her and supported her, and now it's her turn. Also Read – Anupamaa upcoming twist: Adhik and Barkha's lies to be exposed in front of Anuj and Anupamaa?
Anupamaa's upcoming twist: Anupamaa is shattered to see Adhik physically abusing her daughter Pakhi, but she is reluctant to take a stand as she feels it is a normal husband-wife fight, but Anu decides to change the dynamics and teach a lesson to her son-in-law. Also Read – Anupamaa upcoming twist: Anupamaa takes a big decision, will she finally get her son and daughter-in-law back?
So finally #Anupamaa comes to know that Pakhi is a victim of DV. Let us see how it unfolds. #AnujKapadia #MaAn pic.twitter.com/Q1bDQBRZp7
— ??????? ???????? ? (@rakheeharlalka) August 12, 2023
Their planning never ends. Still, these bro-sis r thinking how to keep away #AnujKapadia from business ?Anu was so empathetic towards BB when she was shedding tears. She didn't let Anuj meet #Anupamaa whn he came frm Mumbai,still #MaAn didn't throw her n her bro.Ungrateful? pic.twitter.com/dICMQFPWPH
— Be Positive (@vibha510) August 11, 2023
However, Anupamaa tries to explain to Pakhi that both scenarios are different and she should not fall into this physical abuse, but Pakhi taunts her mom and tells her that she doesn't needs any advice on relationships from her because she herself has had failed relationships and should focus on relationships and not her. Also Read – TRP report Week 31 of Top TV shows: Anupamaa, Yeh Rishta Kya Kehata Hai rule top 2 spots; Taarak Mehta Ka Ooltah Chashmah remains stable
There are reports that Anupamaa decides to teach Adhik a lesson for life and will involve Anuj (Gaurav Khanna) in this, or will she manage to deal with this alone? The time will only tell.
]]>
Stay tuned to BollywoodLife for the latest scoops and updates from Bollywood, Hollywood, South, TV and Web-Series. Click to join us on Facebook, Twitter, Youtube and Instagram. Also follow us on Facebook Messenger for latest updates.
adisplay:block;padding:0;color:var(–black);text-decoration:none.repeat-box figuredisplay:flex;justify-content:flex-start;flex-wrap:wrap;align-items:stretch;overflow:visible.two-cols-aside .aside .repeat-box figurealign-items:center.repeat-box .textwidth:100%;z-index:5;position:relative.repeat-box .photowidth:100px;position:relative;z-index:5.repeat-box .photo+.textwidth:calc(100% – 100px);padding-left:10px.repeat-box h2,.repeat-box h3,.repeat-box pcolor:var(–black);white-space:normal;overflow:hidden;text-overflow:ellipsis;-webkit-line-clamp:3;display:-webkit-box;-webkit-box-orient:vertical;padding:0;font-size:15px;line-height:1.5;font-weight:400.repeat-box h2font-size:20px.repeat-box h2+p,.repeat-box h3+pfont-size:14px.repeat-box .catfont-size:14px;line-height:16px;display:block;margin-bottom:5px;font-weight:700;color:var(–orange);text-transform:uppercase.repeat-box a:hover,.repeat-box a:hover h2,.repeat-box a:hover h3,.repeat-box a:hover pcolor:#f32c89.repeat-box .photo-icon,.repeat-box .video-iconposition:absolute;left:0;bottom:0;background:linear-gradient(to left,#a617be,#f32c89,#f32c89,#f32c89,#f32c89,#a617be);border-radius:0 5px 0 0.repeat-box .video-iconwidth:26px;height:26px;display:inline-block.repeat-box .photo-iconwidth:auto;min-width:26px;height:26px;line-height:16px;font-size:13px;color:var(–white);padding:5px 5px 0.lazy-image img.lazyopacity:0.lazy-image img:not(.initial)transition:opacity .5s ease-in,transform .5s ease-in,-webkit-transform .5s ease-in.lazy-image img.error,.lazy-image img.initial,.lazy-image img.loadedopacity:1.lazy-image img:not([src])visibility:hidden.cre-setionclear:both;overflow:hidden;float:none;width:auto;margin:5px 0 20px.cre-setion .black-boxespadding:15px 40px;background:#e5e5e5.cre-carousel-heightposition:relative;padding:0 0 255px;height:0.cre-carousel-height .all-dataposition:absolute;top:0;left:0;width:100%!important;height:100%!important.cre-setion .border-headingfont-size:16px;color:#1f1f1f;text-transform:uppercase;font-weight:700;padding:0 0 10px;margin:20px 0 10px;clear:both;position:relative;border-bottom:0;display:flex;justify-content:space-between;align-items:center.cre-setion .border-heading:beforetop:5px;height:14px.cre-setion .splide__slideheight:auto!important;margin-left:0.cre-setion article.repeat-boxdisplay:block;background-color:transparent;border-radius:5px;box-shadow:none;overflow:hidden;padding:0;margin-bottom:3px.cre-setion article.repeat-box>adisplay:block;padding:10px;background-color:var(–white);border-radius:5px;color:var(–black);text-decoration:none;overflow:hidden;border:1px solid #d0d0d0.cre-setion article.repeat-box>a>figuredisplay:block.cre-setion article.repeat-box .photo,.cre-setion article.repeat-box .textwidth:100%.cre-setion article.repeat-box .photoborder-radius:5px;overflow:hidden.cre-setion article.repeat-box .lazy-imagebox-shadow:none;border-radius:0;overflow:hidden.cre-setion article.repeat-box .textpadding:5px 0 0;height:90px;.cre-setion article.repeat-box .text h3font-size:14px;line-height:1.5;-webkit-line-clamp:4;font-weight:600;text-align:left.cre-setion .repeat-box .photos-iconborder-radius:0 5px 0 0;width:auto;min-width:26px;height:26px;left:0;bottom:0;display:flex;justify-content:center;align-items:center.cre-setion .photos-icon svgtransition:1s;fill:var(–white);width:26px;height:26px.cre-setion .photos-icon:hoverbackground:var(–blue).cre-setion .splide__arrowtop:50%!important;width:1.8em;height:1.8em;border-radius:100px;border:1px solid #999;background:0 0;opacity:1.cre-setion .splide__arrow–prevleft:-37px.cre-setion .splide__arrow–nextright:-37px.cre-setion .splide__arrow:disabledopacity:.3;cursor:not-allowed!important.cre-setion .splide__arrow:beforeborder:solid #999;border-width:0 2px 2px 0.cre-setion .splide__arrow:hoverbackground:linear-gradient(to left,#a617be,#f32c89,#f32c89,#f32c89,#f32c89,#a617be).cre-setion .splide__arrow:hover::beforeborder:solid var(–white);border-width:0 2px 2px 0]]]]>]]>