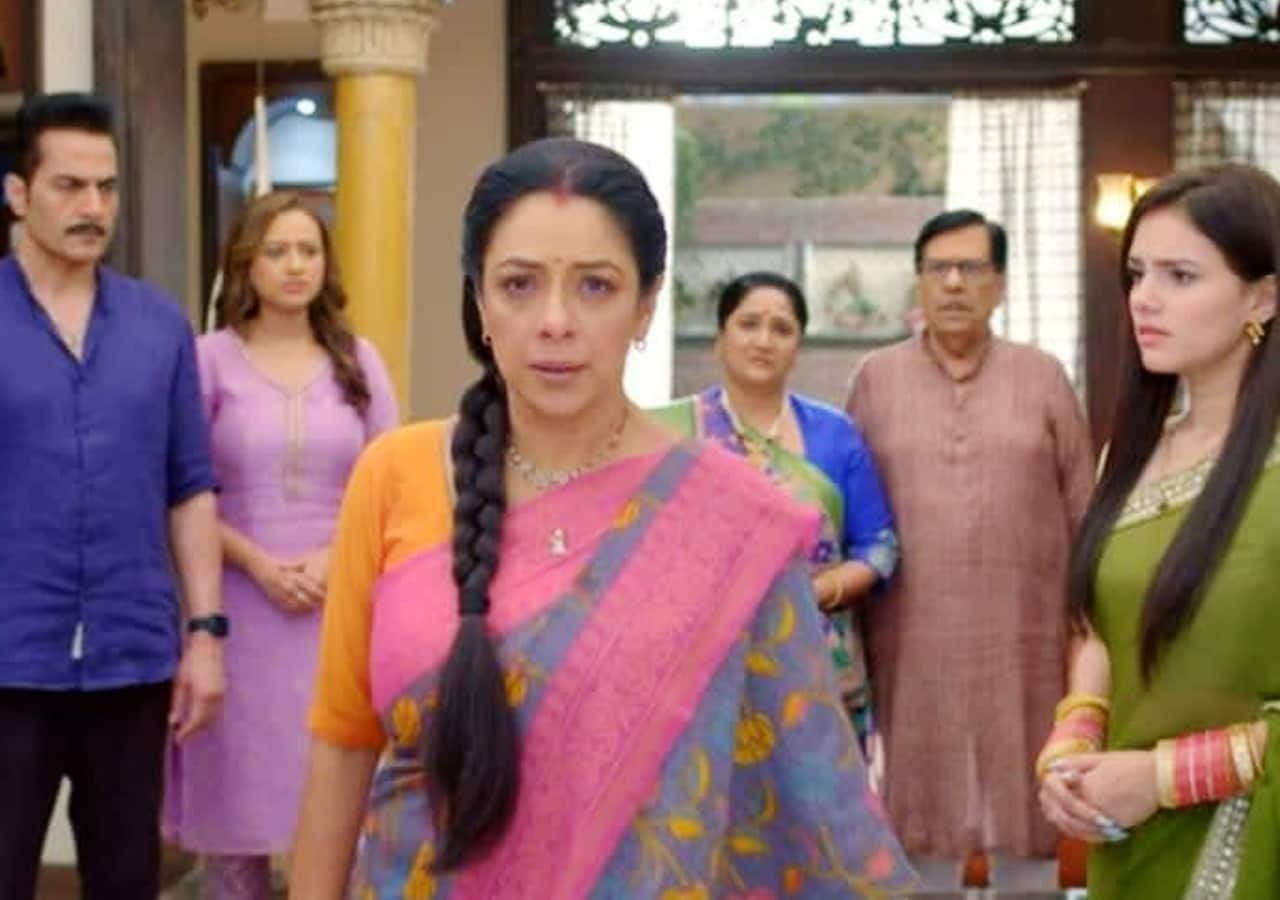 Anupamaa upcoming spoiler alert: In the latest track of Anupamaa, we see that Baa (Alpana Buch)insults Dimpy's friends, and they leave Dimpy's house immediately. Later on, we see Kavya come to stop Dimpy, and stop Baa's anger as well. Dimpy unintentionally spills the water on the floor, and Kavya (Madalsa Sharma) falls. Later on, we see Vanraj rush her to the hospital and Anupamaa and Anuj (Gaurav Khanna) go to see her too. Vanraj is also very scared for Kavya, but she is fine. Doctor just asks her to be more careful as she is an sensitive phase of her pregnancy. On the other side, Dimpy (Nishi Saxena) is also scared and cries but Kinjal geos and makes her understand and clam her down. Well, we see that Vanraj also goes and talks with Kavya. Finally, he takes care of Kavya and she feels happy. Meanwhile, we see Pakhi (Muskan Bamne) and Romil discuss Adhik. Once again, Romil tries to make Pakhi understand but she clearly tells him that she loves her husband and doesn't want to hear anything against him. Well, we have to wait to see the twist. How will everything get back to normal in Pakhi's life? Also Read – Anupamaa upcoming twist: Anuj and Anu find Malti Devi on the streets in a shocking state, bring her to Kapadia mansion
Malti Devi is back in Anupamaa's life
In the upcoming track of Anupamaa, we see that Vanraj (Sudhandhu Pandey) is not ready to accept Kavya's baby. Well, we see Anuj hear the truth and talk with Anupamaa. Will the family intervene? Will Vanraj have a change of heart and finally accept Kavya's baby? Later on, we see Anuj and Anupamaa (Rupali Ganguly) go to the temple, and they see a woman come in front of their car. Well, Anupamaa goes to check on her and is shocked to see her because she is Malti Devi (Apara Mehta). Well, viewers are eagerly waiting for the twist: How has Malti Devi's confition become this bad? What has happened to her name and fame? Also Read – Anupamaa upcoming twist: Will Anu make Pakhi and Dimpy realise their mistakes before it is too late?
Anupamaa Upcoming Twist
The latest track in Anupamaa is going to get more interesting as we see Malti Devi is back in the lives of Anu and Anuj. But she is nothing like what Malti Devi used to be. Well, we may see that Anupamaa takes her home and finds out about what really happened for her to be reduced to this pitiful condition. Let's wait to see the twist: is this Malti Devi's plan to ruin Anupamaa's life, or is this condition a result of her desperate search for her child, whom she had once abandoned? Will Anupamaa and Anuj ever find the truth about Malti Devi and her real son? Will Anu reunite a mother and son? Also Read – TRP report week 33 of Top Hindi TV Shows: Ghum Hai Kisikey Pyaar Meiin gives tough competition to Anupamaa
]]>
Stay tuned to BollywoodLife for the latest scoops and updates from Bollywood, Hollywood, South, TV and Web-Series. Click to join us on Facebook, Twitter, Youtube and Instagram. Also follow us on Facebook Messenger for latest updates.
adisplay:block;padding:0;color:var(–black);text-decoration:none.repeat-box figuredisplay:flex;justify-content:flex-start;flex-wrap:wrap;align-items:stretch;overflow:visible.two-cols-aside .aside .repeat-box figurealign-items:center.repeat-box .textwidth:100%;z-index:5;position:relative.repeat-box .photowidth:100px;position:relative;z-index:5.repeat-box .photo+.textwidth:calc(100% – 100px);padding-left:10px.repeat-box h2,.repeat-box h3,.repeat-box pcolor:var(–black);white-space:normal;overflow:hidden;text-overflow:ellipsis;-webkit-line-clamp:3;display:-webkit-box;-webkit-box-orient:vertical;padding:0;font-size:15px;line-height:1.5;font-weight:400.repeat-box h2font-size:20px.repeat-box h2+p,.repeat-box h3+pfont-size:14px.repeat-box .catfont-size:14px;line-height:16px;display:block;margin-bottom:5px;font-weight:700;color:var(–orange);text-transform:uppercase.repeat-box a:hover,.repeat-box a:hover h2,.repeat-box a:hover h3,.repeat-box a:hover pcolor:#f32c89.repeat-box .photo-icon,.repeat-box .video-iconposition:absolute;left:0;bottom:0;background:linear-gradient(to left,#a617be,#f32c89,#f32c89,#f32c89,#f32c89,#a617be);border-radius:0 5px 0 0.repeat-box .video-iconwidth:26px;height:26px;display:inline-block.repeat-box .photo-iconwidth:auto;min-width:26px;height:26px;line-height:16px;font-size:13px;color:var(–white);padding:5px 5px 0.lazy-image img.lazyopacity:0.lazy-image img:not(.initial)transition:opacity .5s ease-in,transform .5s ease-in,-webkit-transform .5s ease-in.lazy-image img.error,.lazy-image img.initial,.lazy-image img.loadedopacity:1.lazy-image img:not([src])visibility:hidden.cre-setionclear:both;overflow:hidden;float:none;width:auto;margin:5px 0 20px.cre-setion .black-boxespadding:15px 40px;background:#e5e5e5.cre-carousel-heightposition:relative;padding:0 0 255px;height:0.cre-carousel-height .all-dataposition:absolute;top:0;left:0;width:100%!important;height:100%!important.cre-setion .border-headingfont-size:16px;color:#1f1f1f;text-transform:uppercase;font-weight:700;padding:0 0 10px;margin:20px 0 10px;clear:both;position:relative;border-bottom:0;display:flex;justify-content:space-between;align-items:center.cre-setion .border-heading:beforetop:5px;height:14px.cre-setion .splide__slideheight:auto!important;margin-left:0.cre-setion article.repeat-boxdisplay:block;background-color:transparent;border-radius:5px;box-shadow:none;overflow:hidden;padding:0;margin-bottom:3px.cre-setion article.repeat-box>adisplay:block;padding:10px;background-color:var(–white);border-radius:5px;color:var(–black);text-decoration:none;overflow:hidden;border:1px solid #d0d0d0.cre-setion article.repeat-box>a>figuredisplay:block.cre-setion article.repeat-box .photo,.cre-setion article.repeat-box .textwidth:100%.cre-setion article.repeat-box .photoborder-radius:5px;overflow:hidden.cre-setion article.repeat-box .lazy-imagebox-shadow:none;border-radius:0;overflow:hidden.cre-setion article.repeat-box .textpadding:5px 0 0;height:90px;.cre-setion article.repeat-box .text h3font-size:14px;line-height:1.5;-webkit-line-clamp:4;font-weight:600;text-align:left.cre-setion .repeat-box .photos-iconborder-radius:0 5px 0 0;width:auto;min-width:26px;height:26px;left:0;bottom:0;display:flex;justify-content:center;align-items:center.cre-setion .photos-icon svgtransition:1s;fill:var(–white);width:26px;height:26px.cre-setion .photos-icon:hoverbackground:var(–blue).cre-setion .splide__arrowtop:50%!important;width:1.8em;height:1.8em;border-radius:100px;border:1px solid #999;background:0 0;opacity:1.cre-setion .splide__arrow–prevleft:-37px.cre-setion .splide__arrow–nextright:-37px.cre-setion .splide__arrow:disabledopacity:.3;cursor:not-allowed!important.cre-setion .splide__arrow:beforeborder:solid #999;border-width:0 2px 2px 0.cre-setion .splide__arrow:hoverbackground:linear-gradient(to left,#a617be,#f32c89,#f32c89,#f32c89,#f32c89,#a617be).cre-setion .splide__arrow:hover::beforeborder:solid var(–white);border-width:0 2px 2px 0]]]]>]]>