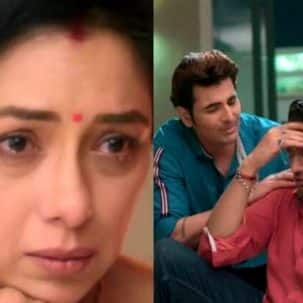 Anupamaa upcoming spoiler alert: In the latest track of Anupamaa, we see Kavya (Madalsa Sharma) go for the sonography, where Baa insists Vanraj go with her. Vanraj (Sudhanshu Pandey) starts dreaming that he must tell every truth in front of the Shah family, but his dream will break, and he takes a step back and does not tell anything as he does not want his Baa Bapuji to suffer. Well, we see that Kavya is deciding that she will tell every truth to the family. Let's see what will happen in the future with Kavya and Vanraj's relationship. On the other side, we see Kinjal (Nidhi Shah) again explaining to Dimpy that in her plotting, she will lose Samar. Well, we have to see if Dimpy still realises her fault or not. Later on, we see Pakhi (Muskan Bamne) trying to make Adhik understand, but his anger crossed all the limits, and again he slapped Pakhi, and finally Anupamaa saw this. Let's see if Anupamaa makes Pakhi understand that Adhik does not deserve her and will not change. Also Read – TRP report week 32 of Top Hindi TV Shows: Ghum Hai Kisikey Pyaar Meiin BEATS Yeh Rishta Kya Kehlata Hai; Anupamaa rules
Finally Anu learns the truth of Adhik
In the upcoming track of Anupamaa, we see Anupamaa scold Adhik very badly. But we see Pakhi come to support him as she decides to give Adhik another chance. Well, we have to wait to see the twist: what will Vanraj do after knowing the truth that his daughter suffers from an abusive marriage? Well, Pakhi's life is now completely shattered. Will she choose her parents or her husband? Let's see what happens next. Also Read – Anupamaa upcoming twist: Will Pakhi ever realize her fault and regret giving Adhik another chance?
Anupamaa Upcoming Twist
Anupamaa is the top-running show on television, as viewers love the chemistry between Anupamaa and Anuj, aka Gaurav Khanna and Rupali Ganguly. The latest track is all about Pakhi, as she suffers a lot in her marriage life. Let's see how Anupamaa will solve every problem in life of Pakhi. Will she get out of this abusive marriage? Let's see what Pakhi's final decision will be. Also Read – Anupamaa upcoming twist: Pakhi wants to give Adhik another chance, will Vanraj relent?
In the future track of Anupamaa, we may see an interesting twist and turn, and finally, we may see Samar and Toshu get very angry because of Adhik's behaviour. Well, we may see that Anuj will make Pakhi understand everything. Viewers are eagerly waiting for the twists and turns that are coming in the way of Anupamaa and her children's lives.
]]>
Stay tuned to BollywoodLife for the latest scoops and updates from Bollywood, Hollywood, South, TV and Web-Series. Click to join us on Facebook, Twitter, Youtube and Instagram. Also follow us on Facebook Messenger for latest updates.
adisplay:block;padding:0;color:var(–black);text-decoration:none.repeat-box figuredisplay:flex;justify-content:flex-start;flex-wrap:wrap;align-items:stretch;overflow:visible.two-cols-aside .aside .repeat-box figurealign-items:center.repeat-box .textwidth:100%;z-index:5;position:relative.repeat-box .photowidth:100px;position:relative;z-index:5.repeat-box .photo+.textwidth:calc(100% – 100px);padding-left:10px.repeat-box h2,.repeat-box h3,.repeat-box pcolor:var(–black);white-space:normal;overflow:hidden;text-overflow:ellipsis;-webkit-line-clamp:3;display:-webkit-box;-webkit-box-orient:vertical;padding:0;font-size:15px;line-height:1.5;font-weight:400.repeat-box h2font-size:20px.repeat-box h2+p,.repeat-box h3+pfont-size:14px.repeat-box .catfont-size:14px;line-height:16px;display:block;margin-bottom:5px;font-weight:700;color:var(–orange);text-transform:uppercase.repeat-box a:hover,.repeat-box a:hover h2,.repeat-box a:hover h3,.repeat-box a:hover pcolor:#f32c89.repeat-box .photo-icon,.repeat-box .video-iconposition:absolute;left:0;bottom:0;background:linear-gradient(to left,#a617be,#f32c89,#f32c89,#f32c89,#f32c89,#a617be);border-radius:0 5px 0 0.repeat-box .video-iconwidth:26px;height:26px;display:inline-block.repeat-box .photo-iconwidth:auto;min-width:26px;height:26px;line-height:16px;font-size:13px;color:var(–white);padding:5px 5px 0.lazy-image img.lazyopacity:0.lazy-image img:not(.initial)transition:opacity .5s ease-in,transform .5s ease-in,-webkit-transform .5s ease-in.lazy-image img.error,.lazy-image img.initial,.lazy-image img.loadedopacity:1.lazy-image img:not([src])visibility:hidden.cre-setionclear:both;overflow:hidden;float:none;width:auto;margin:5px 0 20px.cre-setion .black-boxespadding:15px 40px;background:#e5e5e5.cre-carousel-heightposition:relative;padding:0 0 255px;height:0.cre-carousel-height .all-dataposition:absolute;top:0;left:0;width:100%!important;height:100%!important.cre-setion .border-headingfont-size:16px;color:#1f1f1f;text-transform:uppercase;font-weight:700;padding:0 0 10px;margin:20px 0 10px;clear:both;position:relative;border-bottom:0;display:flex;justify-content:space-between;align-items:center.cre-setion .border-heading:beforetop:5px;height:14px.cre-setion .splide__slideheight:auto!important;margin-left:0.cre-setion article.repeat-boxdisplay:block;background-color:transparent;border-radius:5px;box-shadow:none;overflow:hidden;padding:0;margin-bottom:3px.cre-setion article.repeat-box>adisplay:block;padding:10px;background-color:var(–white);border-radius:5px;color:var(–black);text-decoration:none;overflow:hidden;border:1px solid #d0d0d0.cre-setion article.repeat-box>a>figuredisplay:block.cre-setion article.repeat-box .photo,.cre-setion article.repeat-box .textwidth:100%.cre-setion article.repeat-box .photoborder-radius:5px;overflow:hidden.cre-setion article.repeat-box .lazy-imagebox-shadow:none;border-radius:0;overflow:hidden.cre-setion article.repeat-box .textpadding:5px 0 0;height:90px;.cre-setion article.repeat-box .text h3font-size:14px;line-height:1.5;-webkit-line-clamp:4;font-weight:600;text-align:left.cre-setion .repeat-box .photos-iconborder-radius:0 5px 0 0;width:auto;min-width:26px;height:26px;left:0;bottom:0;display:flex;justify-content:center;align-items:center.cre-setion .photos-icon svgtransition:1s;fill:var(–white);width:26px;height:26px.cre-setion .photos-icon:hoverbackground:var(–blue).cre-setion .splide__arrowtop:50%!important;width:1.8em;height:1.8em;border-radius:100px;border:1px solid #999;background:0 0;opacity:1.cre-setion .splide__arrow–prevleft:-37px.cre-setion .splide__arrow–nextright:-37px.cre-setion .splide__arrow:disabledopacity:.3;cursor:not-allowed!important.cre-setion .splide__arrow:beforeborder:solid #999;border-width:0 2px 2px 0.cre-setion .splide__arrow:hoverbackground:linear-gradient(to left,#a617be,#f32c89,#f32c89,#f32c89,#f32c89,#a617be).cre-setion .splide__arrow:hover::beforeborder:solid var(–white);border-width:0 2px 2px 0]]]]>]]>