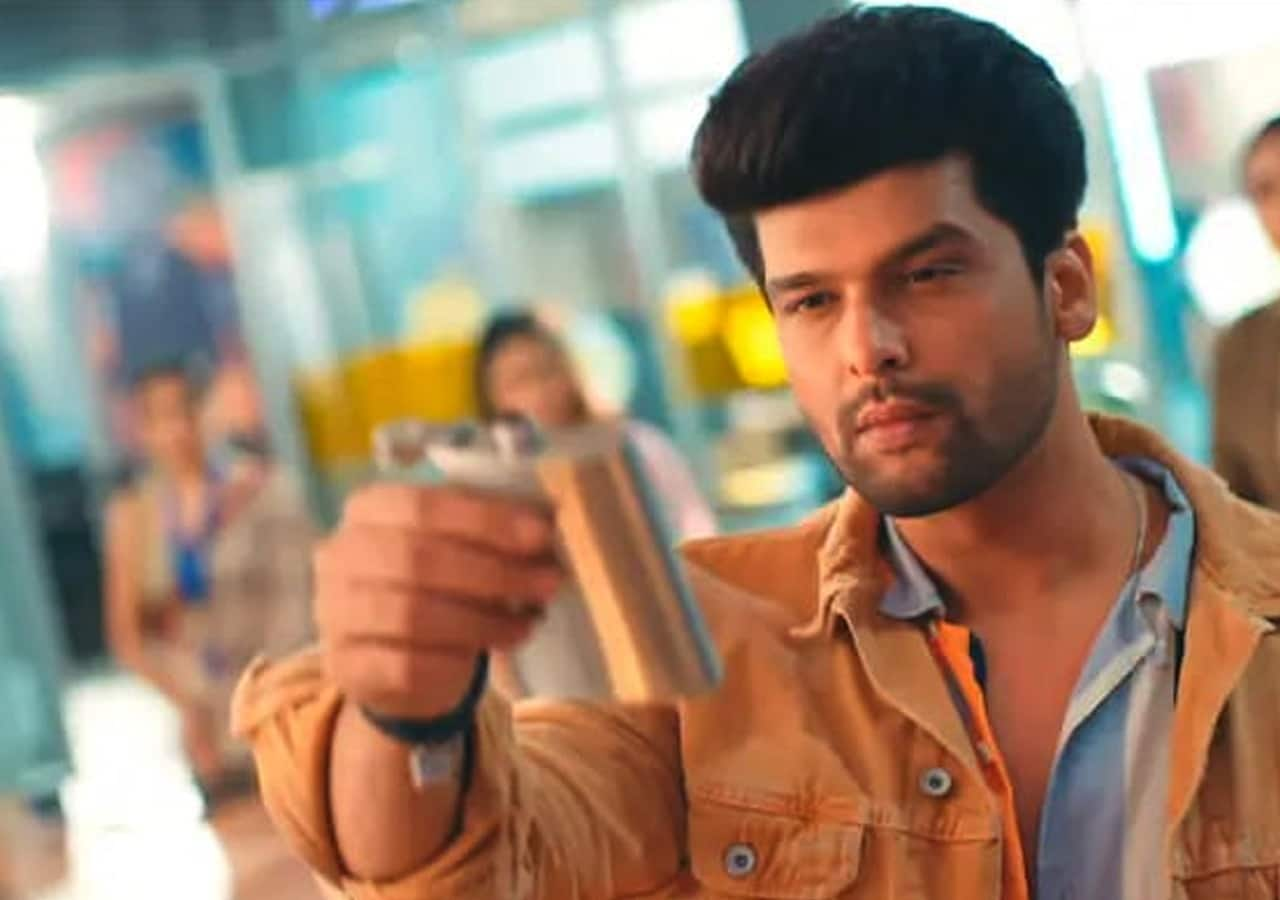 Barsatein upcoming spoiler alert: In the latest track of Barsatein, we see Reyansh (Kushal Tandon) follow Aradhna and see that someone was trying to kill her. Reyansh rushed to her rescue and saved her in time. Later on, we see Aradhna and Reyansh go to Maya's wedding function together. Aradhna (Shivangi Joshi) wears a beautiful saree, and she looks very pretty. On the other side, we see Reyansh tell Ankush and Sunaina that someone wants to kill Aradhna, and Ankush finds out that this car is rented by Khanna House. Well, viewers are eagerly waiting to know who wants to kill Aradhna in this unknown city. All the proofs point against Malini, but Aradhna does not believe that Malini (Nausheen Ali Sardar) can be the one behind stealing the statue or trying to kill her. So is it Viren? Is it because he has learnt the truth about Aradhna? Also Read – Barsatein upcoming twist: Does Malini want to kill Aradhna? Will Reyansh be able to save her?
Barsatein Upcoming Twist
In the upcoming track of Barsatein, we see that Reyansh and Aradhna go to Malini's store room to find out the statue of God, and they both get stuck in the store room. Reyansh and Aradhna both talk to each other and Reyansh tells her about his feelings. He tells her that he loves her and cannot live without her. Well, we have to wait to see the twist: will Aradhna trust Reyansh and give him one more chance? Also Read – Barsatein upcoming twist: Aradhna once again comes across Reyansh; will she forgive him for cheating on her?
The latest track is all about Aradhna and Reyansh's reunion, and we have to wait to see the twist of how they become one and find out the real truth about her mother's reality. They are also working on uncovering the story behind the stolen statue of God from the temple. In the future track of Barsatein, we may see many interesting twists and turns. We may see Aradhna believe in Reyansh and give him one chance to prove his love, and it might be possible that they both will join forces and find out all the truth about Malini. Also Read – Barsatein upcoming twist: Aradhna's fate has taken a new turn, but will she get her mother's love?
Barsatein is the a popular Hindi TV show presented by Ektaa Kapoor and viewers really like the chemistry between Aradhna and Reyansh, aka Shivangi Joshi and Kushal Tandon.
]]>
Stay tuned to BollywoodLife for the latest scoops and updates from Bollywood, Hollywood, South, TV and Web-Series. Click to join us on Facebook, Twitter, Youtube and Instagram. Also follow us on Facebook Messenger for latest updates.
adisplay:block;padding:0;color:var(–black);text-decoration:none.repeat-box figuredisplay:flex;justify-content:flex-start;flex-wrap:wrap;align-items:stretch;overflow:visible.two-cols-aside .aside .repeat-box figurealign-items:center.repeat-box .textwidth:100%;z-index:5;position:relative.repeat-box .photowidth:100px;position:relative;z-index:5.repeat-box .photo+.textwidth:calc(100% – 100px);padding-left:10px.repeat-box h2,.repeat-box h3,.repeat-box pcolor:var(–black);white-space:normal;overflow:hidden;text-overflow:ellipsis;-webkit-line-clamp:3;display:-webkit-box;-webkit-box-orient:vertical;padding:0;font-size:15px;line-height:1.5;font-weight:400.repeat-box h2font-size:20px.repeat-box h2+p,.repeat-box h3+pfont-size:14px.repeat-box .catfont-size:14px;line-height:16px;display:block;margin-bottom:5px;font-weight:700;color:var(–orange);text-transform:uppercase.repeat-box a:hover,.repeat-box a:hover h2,.repeat-box a:hover h3,.repeat-box a:hover pcolor:#f32c89.repeat-box .photo-icon,.repeat-box .video-iconposition:absolute;left:0;bottom:0;background:linear-gradient(to left,#a617be,#f32c89,#f32c89,#f32c89,#f32c89,#a617be);border-radius:0 5px 0 0.repeat-box .video-iconwidth:26px;height:26px;display:inline-block.repeat-box .photo-iconwidth:auto;min-width:26px;height:26px;line-height:16px;font-size:13px;color:var(–white);padding:5px 5px 0.lazy-image img.lazyopacity:0.lazy-image img:not(.initial)transition:opacity .5s ease-in,transform .5s ease-in,-webkit-transform .5s ease-in.lazy-image img.error,.lazy-image img.initial,.lazy-image img.loadedopacity:1.lazy-image img:not([src])visibility:hidden.cre-setionclear:both;overflow:hidden;float:none;width:auto;margin:5px 0 20px.cre-setion .black-boxespadding:15px 40px;background:#e5e5e5.cre-carousel-heightposition:relative;padding:0 0 255px;height:0.cre-carousel-height .all-dataposition:absolute;top:0;left:0;width:100%!important;height:100%!important.cre-setion .border-headingfont-size:16px;color:#1f1f1f;text-transform:uppercase;font-weight:700;padding:0 0 10px;margin:20px 0 10px;clear:both;position:relative;border-bottom:0;display:flex;justify-content:space-between;align-items:center.cre-setion .border-heading:beforetop:5px;height:14px.cre-setion .splide__slideheight:auto!important;margin-left:0.cre-setion article.repeat-boxdisplay:block;background-color:transparent;border-radius:5px;box-shadow:none;overflow:hidden;padding:0;margin-bottom:3px.cre-setion article.repeat-box>adisplay:block;padding:10px;background-color:var(–white);border-radius:5px;color:var(–black);text-decoration:none;overflow:hidden;border:1px solid #d0d0d0.cre-setion article.repeat-box>a>figuredisplay:block.cre-setion article.repeat-box .photo,.cre-setion article.repeat-box .textwidth:100%.cre-setion article.repeat-box .photoborder-radius:5px;overflow:hidden.cre-setion article.repeat-box .lazy-imagebox-shadow:none;border-radius:0;overflow:hidden.cre-setion article.repeat-box .textpadding:5px 0 0;height:90px;.cre-setion article.repeat-box .text h3font-size:14px;line-height:1.5;-webkit-line-clamp:4;font-weight:600;text-align:left.cre-setion .repeat-box .photos-iconborder-radius:0 5px 0 0;width:auto;min-width:26px;height:26px;left:0;bottom:0;display:flex;justify-content:center;align-items:center.cre-setion .photos-icon svgtransition:1s;fill:var(–white);width:26px;height:26px.cre-setion .photos-icon:hoverbackground:var(–blue).cre-setion .splide__arrowtop:50%!important;width:1.8em;height:1.8em;border-radius:100px;border:1px solid #999;background:0 0;opacity:1.cre-setion .splide__arrow–prevleft:-37px.cre-setion .splide__arrow–nextright:-37px.cre-setion .splide__arrow:disabledopacity:.3;cursor:not-allowed!important.cre-setion .splide__arrow:beforeborder:solid #999;border-width:0 2px 2px 0.cre-setion .splide__arrow:hoverbackground:linear-gradient(to left,#a617be,#f32c89,#f32c89,#f32c89,#f32c89,#a617be).cre-setion .splide__arrow:hover::beforeborder:solid var(–white);border-width:0 2px 2px 0]]]]>]]>