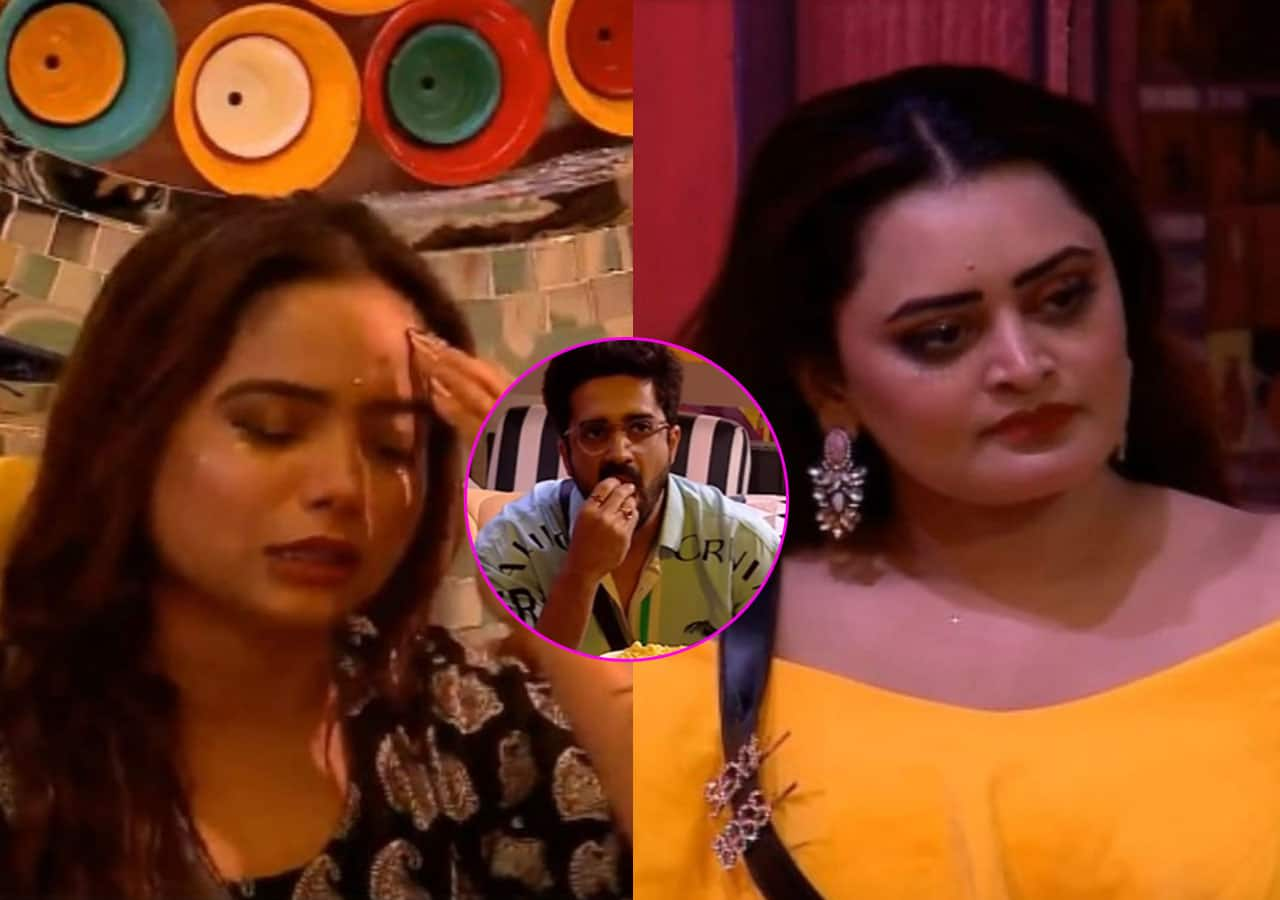 Bigg Boss OTT 2 is grabbing a lot of attention, and the makers have even extended the show for two weeks after seeing the increasing popularity around the show and the contestants in the house. In the latest promo of the show, we see Manisha Rani and Bebika going on a special dinner date where they share their feelings about Avinash Sachdev and call him names. Manisha Rani and both Bebika target Avinash, and the Bihari girl calls him the biggest liar. The other contestants are watching them speak, including Avinash. Manisha says, "Avinash Sachdev naam hai khaali Lekin bolta Sabse zyaada Jhooti wahi hai". Bebika says Avinash Kaari is a viprit buddhi. Meanwhile, Avinash enjoys the show with popcorn. Also Read – Bigg Boss OTT 2 Weekend Ka Vaar Promo: Avinash Sachdev-Abhishek Malhaan FIGHT in front of Salman Khan; latter calls Fukra Insaan 'over smart' [WATCH]
Bigg Boss OTT 2: Watch the video of Manisha Rani and Bebika targeting Avinash Sachdev, and you cannot miss the actor's reaction.
Manisha Rani is slowly becoming people's favourite in the house, in this weekend ka vaar she was seen being praised by Salman Khan as well for standing up against all the odds. Manisha Rani also become the highlight of the weekend ka vaar with her antic dance stint along with Cyrus Broacha who is extremely depressed in the house and wants to leave as he cannot deal with the instability in the house and the inmates. Also Read – Bigg Boss OTT 2: Bebika Dhruve-Pooja Bhatt praise Abhishek Malhaan; fans impressed with Manisha Rani's monologue against Jiya Shankar [WATCH]
Pooja Bhatt and Abhishek Malkan too are seen spending time with each other and letting their bygones be bygones, where they too both sit together and say, Let's not talk about others, let's talk about each other, where Fukra Abhishek speaks about missing his family and loved ones after seeing Falak Naaz with his family, to which Pooja gets emotional and says that today is the first time she missed her father, Mahesh Bhatt. Also Read – Bigg Boss OTT 2: Abhishek Malhan-Manisha Rani discuss Sidharth Shukla-Asim Riaz fights; latter says, 'Mazza ata tha' [WATCH]
]]>
Stay tuned to BollywoodLife for the latest scoops and updates from Bollywood, Hollywood, South, TV and Web-Series. Click to join us on Facebook, Twitter, Youtube and Instagram. Also follow us on Facebook Messenger for latest updates.
adisplay:block;padding:0;color:var(–black);text-decoration:none.repeat-box figuredisplay:flex;justify-content:flex-start;flex-wrap:wrap;align-items:stretch;overflow:visible.two-cols-aside .aside .repeat-box figurealign-items:center.repeat-box .textwidth:100%;z-index:5;position:relative.repeat-box .photowidth:100px;position:relative;z-index:5.repeat-box .photo+.textwidth:calc(100% – 100px);padding-left:10px.repeat-box h2,.repeat-box h3,.repeat-box pcolor:var(–black);white-space:normal;overflow:hidden;text-overflow:ellipsis;-webkit-line-clamp:3;display:-webkit-box;-webkit-box-orient:vertical;padding:0;font-size:15px;line-height:1.5;font-weight:400.repeat-box h2font-size:20px.repeat-box h2+p,.repeat-box h3+pfont-size:14px.repeat-box .catfont-size:14px;line-height:16px;display:block;margin-bottom:5px;font-weight:700;color:var(–orange);text-transform:uppercase.repeat-box a:hover,.repeat-box a:hover h2,.repeat-box a:hover h3,.repeat-box a:hover pcolor:#f32c89.repeat-box .photo-icon,.repeat-box .video-iconposition:absolute;left:0;bottom:0;background:linear-gradient(to left,#a617be,#f32c89,#f32c89,#f32c89,#f32c89,#a617be);border-radius:0 5px 0 0.repeat-box .video-iconwidth:26px;height:26px;display:inline-block.repeat-box .photo-iconwidth:auto;min-width:26px;height:26px;line-height:16px;font-size:13px;color:var(–white);padding:5px 5px 0.lazy-image img.lazyopacity:0.lazy-image img:not(.initial)transition:opacity .5s ease-in,transform .5s ease-in,-webkit-transform .5s ease-in.lazy-image img.error,.lazy-image img.initial,.lazy-image img.loadedopacity:1.lazy-image img:not([src])visibility:hidden.cre-setionclear:both;overflow:hidden;float:none;width:auto;margin:5px 0 20px.cre-setion .black-boxespadding:15px 40px;background:#e5e5e5.cre-carousel-heightposition:relative;padding:0 0 255px;height:0.cre-carousel-height .all-dataposition:absolute;top:0;left:0;width:100%!important;height:100%!important.cre-setion .border-headingfont-size:16px;color:#1f1f1f;text-transform:uppercase;font-weight:700;padding:0 0 10px;margin:20px 0 10px;clear:both;position:relative;border-bottom:0;display:flex;justify-content:space-between;align-items:center.cre-setion .border-heading:beforetop:5px;height:14px.cre-setion .splide__slideheight:auto!important;margin-left:0.cre-setion article.repeat-boxdisplay:block;background-color:transparent;border-radius:5px;box-shadow:none;overflow:hidden;padding:0;margin-bottom:3px.cre-setion article.repeat-box>adisplay:block;padding:10px;background-color:var(–white);border-radius:5px;color:var(–black);text-decoration:none;overflow:hidden;border:1px solid #d0d0d0.cre-setion article.repeat-box>a>figuredisplay:block.cre-setion article.repeat-box .photo,.cre-setion article.repeat-box .textwidth:100%.cre-setion article.repeat-box .photoborder-radius:5px;overflow:hidden.cre-setion article.repeat-box .lazy-imagebox-shadow:none;border-radius:0;overflow:hidden.cre-setion article.repeat-box .textpadding:5px 0 0;height:90px;.cre-setion article.repeat-box .text h3font-size:14px;line-height:1.5;-webkit-line-clamp:4;font-weight:600;text-align:left.cre-setion .repeat-box .photos-iconborder-radius:0 5px 0 0;width:auto;min-width:26px;height:26px;left:0;bottom:0;display:flex;justify-content:center;align-items:center.cre-setion .photos-icon svgtransition:1s;fill:var(–white);width:26px;height:26px.cre-setion .photos-icon:hoverbackground:var(–blue).cre-setion .splide__arrowtop:50%!important;width:1.8em;height:1.8em;border-radius:100px;border:1px solid #999;background:0 0;opacity:1.cre-setion .splide__arrow–prevleft:-37px.cre-setion .splide__arrow–nextright:-37px.cre-setion .splide__arrow:disabledopacity:.3;cursor:not-allowed!important.cre-setion .splide__arrow:beforeborder:solid #999;border-width:0 2px 2px 0.cre-setion .splide__arrow:hoverbackground:linear-gradient(to left,#a617be,#f32c89,#f32c89,#f32c89,#f32c89,#a617be).cre-setion .splide__arrow:hover::beforeborder:solid var(–white);border-width:0 2px 2px 0]]]]>]]>