BTS ARMY would be bawling their eyes out as they got to see one of the sights which they thought would not be possible for about next two years. BTS members J-Hope and Jimin met the eldest member of the boyband Jin, Kim Seokjin. It is a known fact that Jin is serving his period in the South Korean Military. In fact, he is doing quite well and is also climbing the ladder of progress and promotion in his military service. And now, BTS ARMY is treated to the most heartening sight. Park Jimin and Jung Hoseok met with Jin a couple of minutes ago. Also Read – On The Street MV: BTS member J-Hope and his idol J Cole deliver a song that's high on melody, vibes and moves [Watch Video]
BTS members Jimin and J-Hope reunite with Kim Seokjin
Hollywood News has been all about BTS, their military enlistment and also their future. Apart from that, the BTS members, Kim Namjoon aka RM, Kim Seokjin aka Jin, Min Yoongi aka Suga, Jung Hoseok aka J-Hope, Park Jimin aka Jimin, Kim Taehyung aka V and Jeon Jungkook aka Jungkook have been making headlines for various reasons. But, today's headlines will be special for the ARMY. After about two months, BTS ARMY has seen Jin with his members. Also Read – BTS: Kim Namjoon aka RM reacts on personal information leak by Korail employee; Big Hit Music launches investigation
Also watch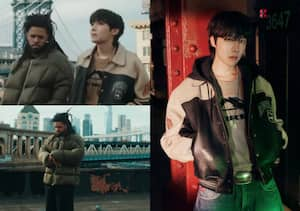 On The Street MV: BTS member J-Hope and his idol J Cole deliver a song that's high on melody, vibes and moves [Watch Video]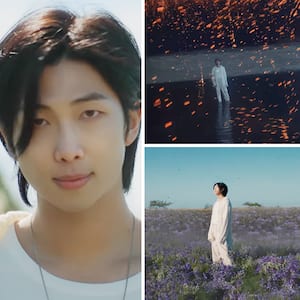 Wildflower MV: BTS leader RM and Youjeen's vocals and deep lyrics are backed by gorgeous visuals in this first song of Indigo
Amaal Mallik compares himself and brother Armaan Malik to BTS; talks about the Western vs Indian music industry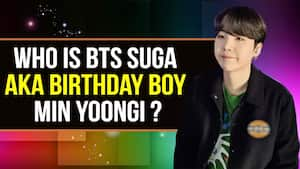 Happy Birthday Suga: BTS member Suga aka Agust D rings into his 29th year, Here are a few interesting facts about him that will surely amaze you – Watch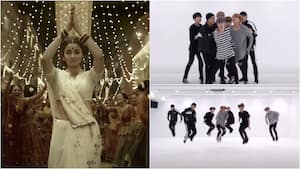 BTS X Gangubai Kathiawadi: Jimin, V, Suga, Jin, J-Hope, Jungkook and RM show off their dance moves on Alia Bhatt's song Dholida – Watch Video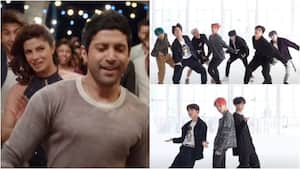 BTS X Gallan Goodiyaan: Jin, Suga, J-Hope, RM, Jimin, V and Jungkook dancing to Farhan Akhtar's song amidst his wedding with Shibani Dandekar is AMAZING – Watch
While it was not an OT7 reunion, ARMY is nonetheless super happy on seeing Jimin and J-Hope dropping by to meet Jin. Kim Seokjin took to his social media handle to share a picture. In it, we see Jin in his military uniform while Jimin and J-Hope are seen in casuals. Jin truly looked like an ARMY veteran who has reunited with the kids who he helped grow up. Also Read – BTS: After Jungkook, Kim Namjoon aka RM victim of 'personal information leak'; Korail employee caught during audit [Read Report]
Check out Kim Seokjin aka Jin's Instagram post with Jimin and J-Hope here:
BTS ARMY have a collective meltdown
It is indeed one of the special moments for the BTS ARMY to see three of the BTS members. It is special because Jin who is away serving in the military finally got to see two of the members. Check out the tweets of the BTS ARMY below:
YA ALLAH SEOKJIN ???????????????? pic.twitter.com/bLi8Pzs0UL
— ʚїɞ sεℓ -ᴗ- (@moonoonie) March 4, 2023
I MISS PRIVATE FIRST CLASS, KIM SEOKJIN ???? https://t.co/a1pbNaPExW
— Kat | 'ON THE STREET' OUT NOW ? (@Katchimchim_) March 4, 2023
OMG! YOU'RE STILL SO HANDSOME, MY SEOKJIN! MY ARMY HEART SO HAPPY RN!!!! ?????? pic.twitter.com/WNfKWsDoMG
— ⓜⓐ®ⓒⓞ WILL SEE TREASURE THIS APRIL ?? (@marcomamba) March 4, 2023
OMGGGGGG AHHHHHHHHHHHHHHHH MSJSBSHSGWJSJSVWJWJJWK SEOKJIN pic.twitter.com/6FglWThanu
— Nivi⁷ on the street ?•ᴗ• (@frangipan__) March 4, 2023
Seokjin glowing, looking well makes me so happy. Can we talk about how amazing he looks ?????
— JINius prince⁷ ? FACE & HOPE ON THE STREET (@JJ01263) March 4, 2023
โอ้ยยยยคิดถึงงงงพี่จินนนนน???#SEOKJIN pic.twitter.com/jABX0P6NI5
— 전정국(⁠•⁠ө⁠•⁠)⁠♡ (@lalinthi) March 4, 2023
seokjin seokjin ?
— sena on the street (@loaftaeby) March 4, 2023
KIM SEOKJIN I LOVE YOU SO MUCH ????? https://t.co/2D0DhJ1K1I
— m (@jeon_mmxria) March 4, 2023
SEOKJIN LOOKS HEALTHY LOOK AT HIS ROUND ROSY CHEEKS ?????? pic.twitter.com/5E0mhMC75C
— ayie ♡⁷ ELON IM A BTS FAN ACCT (@bngtnyie) March 4, 2023
LAS FOTOS DE HOBI Y JIMIN CON SEOKJIN pic.twitter.com/aHyHw2xTMb
— r. ?? (@vrmkook) March 4, 2023
I missed him so much ??#bts #SEOKJIN pic.twitter.com/goL3ex0EHi
— Alicia (@Alicia34430685) March 4, 2023
NO PUEDE SERRRRRR AAAAYYYYYY ESTOY LLORANDOOOOOOO????????????
Ayyyyy no tengo palabrassss??????#SEOKJIN #JIMIN #JHOPE pic.twitter.com/tHcasAUvam
— Naiii⁷ | Oɴ ᴛʜᴇ sᴛʀᴇᴇᴛ / Fᴀᴄᴇ (@Naiii8430) March 4, 2023
ohh my sweethearts..look at our handsome jin..????#seokjin#jimin#jhope https://t.co/zhniOmZICU
— OnTheStreet ?? (@sweetnightluver) March 4, 2023
Ya allah bangun tidur liat kyak gini masyaallah tambah ganteng bgt seokjin ???? https://t.co/LvatyNgfKd
— heyyza || move to daegu (@mstngerine) March 4, 2023
aaaaaa seokjin i miss youuu https://t.co/pbyVdZS8s2
— rya (@rvntlr) March 4, 2023
geral dice que si seokjin está bien yo también voy a estar bien pic.twitter.com/qWWw3PiJoI
— sol de invierno | I'll wait for u ? (@IssDannie) March 4, 2023
Meanwhile, Jin recently grabbed headlines for his promotion stated in media reports. He has become a private which has certain perks. On the other hand, J-Hope has applied for the cancellation of his postponement of military enlistment. He also dropped On the Street with J Cole. Elsewhere, Jimin is making his solo debut soon. He was recently announced as the global brand ambassador of Tiffany and Co. Jimin is already a brand ambassador of Dior.
Stay tuned to BollywoodLife for the latest scoops and updates from Bollywood, Hollywood, South, TV and Web-Series. Click to join us on Facebook, Twitter, Youtube and Instagram. Also follow us on Facebook Messenger for latest updates.