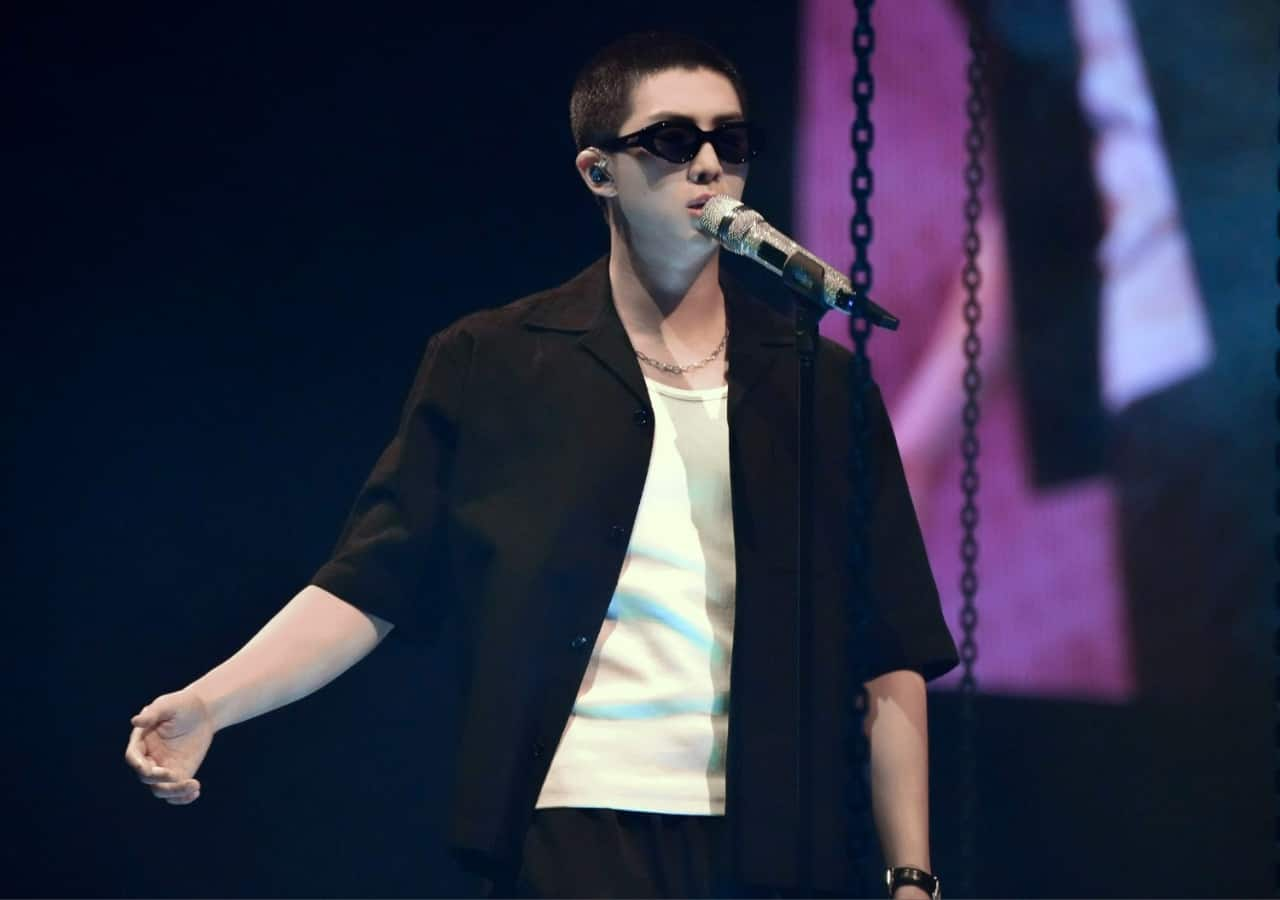 BTS ARMY have been eagerly waiting for an announcement about the band's reunion ever since the K-pop group announced their hiatus in 2022 to pursue mandatory military services. On Tuesday, BTS' member RM confirmed that the boyband will be back together in 2025. The news was confirmed by the singer in a livestream with his fans on the fan community platform WeVerse, where RM revealed working on a solo project and plans about the boy group's future. Also Read – BTS leader RM gets in trouble after sharing that he's listening to Frank Ocean's Bad Religion [Read Details]
RM wants fans to think of the BTS hiatus as a 'vacation'
During the livestream session, RM spoke about how he is thinking of the boyband's break as a vacation to "get back where they were." Talking about the much-awaited reunion of BTS, RM added, "I definitely feel that … And what I'm thinking right now is, these days, when I'm doing my solo projects, is, this is just like a vacation to get back to where I was, which was BTS and ARMY." Also Read – BTS member Jeon Jungkook and Disha Patani trend in tandem for scorching Calvin Klein photoshoots [View Pics]
He went on to add, "What I mean by that is that it's a kind of vacation that we, BTS and ARMY, need to take to successfully come back as a whole. So, I believe all our solo activities are important trips for our next chapter, and they're also trips which we must go on in order to safely come back home." Also Read – BTS leader Kim Namjoon aka RM reveals his pet Moni is no more; BTS ARMY mourns his demise 
RM expresses his thoughts about his solo journey
Speaking about working on his solo projects, RM said, "So all the solo is just a journey, but it is an important journey for chapter two. But a journey to get back home safely, eventually when we get back and reunite together in 2025."
"So thanks for the support and the love. I swear that I've never taken this enormous love for granted in my whole life and I will be the same in the future. I can bet that all the other members will feel the same, so it is a greatness of love," he added.
"Thanks for making this song and for supporting and the love. I swear that I never been taking this enormous love for granted in my whole life and I will be the same in the future."#방탄소년단RM #RM #김남준 #Namjoon pic.twitter.com/daKwe7SuIr
— namjoon loops ? (@loopsofnj) August 12, 2023
BTS' J-Hope and Jimin are already serving in the military, while Suga recently began his enlistment process. The other members of the K-pop band have been working on their solo projects. Recently, V released two songs marking his solo debut titled, 'Rainy Days' and 'Love Me Again' from his upcoming solo album 'Layover' which will be out on September 8.
What to expect from BTS reunion in 2025
Recently, in an episode from Suga's new show Suchwita, RM and Suga spoke about their plans about the impending reunion of the band in 2025. RM revealed that he plans to "prepare some songs" for the BTS to perform after they all complete their mandatory services. "I don't know what's going to happen in 2025, but if I come back to work early, I was thinking that maybe… I could prepare some songs before the other members came for BTS or for me," RM said during the show.
He further added, "We talked about how 2025 would be the year most of our members complete their service, and it's also the monumental year The Most Beautiful Moment in Life would turn ten years old, so then we're probably going to be able to do something. I think we're going to try and keep that promise."
]]>
Stay tuned to BollywoodLife for the latest scoops and updates from Bollywood, Hollywood, South, TV and Web-Series. Click to join us on Facebook, Twitter, Youtube and Instagram. Also follow us on Facebook Messenger for latest updates.
adisplay:block;padding:0;color:var(–black);text-decoration:none.repeat-box figuredisplay:flex;justify-content:flex-start;flex-wrap:wrap;align-items:stretch;overflow:visible.two-cols-aside .aside .repeat-box figurealign-items:center.repeat-box .textwidth:100%;z-index:5;position:relative.repeat-box .photowidth:100px;position:relative;z-index:5.repeat-box .photo+.textwidth:calc(100% – 100px);padding-left:10px.repeat-box h2,.repeat-box h3,.repeat-box pcolor:var(–black);white-space:normal;overflow:hidden;text-overflow:ellipsis;-webkit-line-clamp:3;display:-webkit-box;-webkit-box-orient:vertical;padding:0;font-size:15px;line-height:1.5;font-weight:400.repeat-box h2font-size:20px.repeat-box h2+p,.repeat-box h3+pfont-size:14px.repeat-box .catfont-size:14px;line-height:16px;display:block;margin-bottom:5px;font-weight:700;color:var(–orange);text-transform:uppercase.repeat-box a:hover,.repeat-box a:hover h2,.repeat-box a:hover h3,.repeat-box a:hover pcolor:#f32c89.repeat-box .photo-icon,.repeat-box .video-iconposition:absolute;left:0;bottom:0;background:linear-gradient(to left,#a617be,#f32c89,#f32c89,#f32c89,#f32c89,#a617be);border-radius:0 5px 0 0.repeat-box .video-iconwidth:26px;height:26px;display:inline-block.repeat-box .photo-iconwidth:auto;min-width:26px;height:26px;line-height:16px;font-size:13px;color:var(–white);padding:5px 5px 0.lazy-image img.lazyopacity:0.lazy-image img:not(.initial)transition:opacity .5s ease-in,transform .5s ease-in,-webkit-transform .5s ease-in.lazy-image img.error,.lazy-image img.initial,.lazy-image img.loadedopacity:1.lazy-image img:not([src])visibility:hidden.cre-setionclear:both;overflow:hidden;float:none;width:auto;margin:5px 0 20px.cre-setion .black-boxespadding:15px 40px;background:#e5e5e5.cre-carousel-heightposition:relative;padding:0 0 255px;height:0.cre-carousel-height .all-dataposition:absolute;top:0;left:0;width:100%!important;height:100%!important.cre-setion .border-headingfont-size:16px;color:#1f1f1f;text-transform:uppercase;font-weight:700;padding:0 0 10px;margin:20px 0 10px;clear:both;position:relative;border-bottom:0;display:flex;justify-content:space-between;align-items:center.cre-setion .border-heading:beforetop:5px;height:14px.cre-setion .splide__slideheight:auto!important;margin-left:0.cre-setion article.repeat-boxdisplay:block;background-color:transparent;border-radius:5px;box-shadow:none;overflow:hidden;padding:0;margin-bottom:3px.cre-setion article.repeat-box>adisplay:block;padding:10px;background-color:var(–white);border-radius:5px;color:var(–black);text-decoration:none;overflow:hidden;border:1px solid #d0d0d0.cre-setion article.repeat-box>a>figuredisplay:block.cre-setion article.repeat-box .photo,.cre-setion article.repeat-box .textwidth:100%.cre-setion article.repeat-box .photoborder-radius:5px;overflow:hidden.cre-setion article.repeat-box .lazy-imagebox-shadow:none;border-radius:0;overflow:hidden.cre-setion article.repeat-box .textpadding:5px 0 0;height:90px;.cre-setion article.repeat-box .text h3font-size:14px;line-height:1.5;-webkit-line-clamp:4;font-weight:600;text-align:left.cre-setion .repeat-box .photos-iconborder-radius:0 5px 0 0;width:auto;min-width:26px;height:26px;left:0;bottom:0;display:flex;justify-content:center;align-items:center.cre-setion .photos-icon svgtransition:1s;fill:var(–white);width:26px;height:26px.cre-setion .photos-icon:hoverbackground:var(–blue).cre-setion .splide__arrowtop:50%!important;width:1.8em;height:1.8em;border-radius:100px;border:1px solid #999;background:0 0;opacity:1.cre-setion .splide__arrow–prevleft:-37px.cre-setion .splide__arrow–nextright:-37px.cre-setion .splide__arrow:disabledopacity:.3;cursor:not-allowed!important.cre-setion .splide__arrow:beforeborder:solid #999;border-width:0 2px 2px 0.cre-setion .splide__arrow:hoverbackground:linear-gradient(to left,#a617be,#f32c89,#f32c89,#f32c89,#f32c89,#a617be).cre-setion .splide__arrow:hover::beforeborder:solid var(–white);border-width:0 2px 2px 0]]]]>]]>