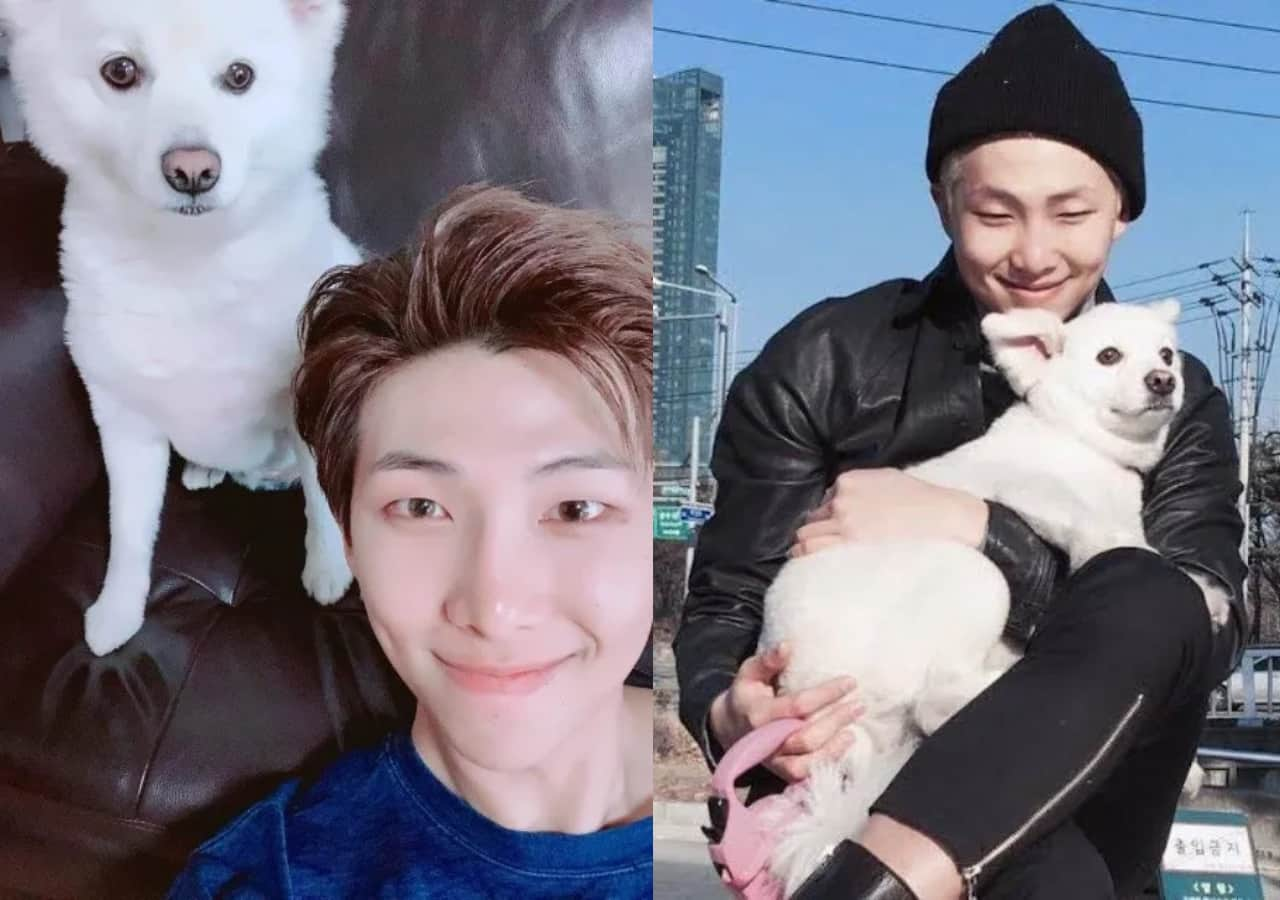 In another shocking news today, BTS member Kim Namjoon, popularly known as RM revealed in his LIVE session that his per Moni is not more. The news has come as a huge shock for the BTS ARMY. A couple of hours ago, Kim Namjoon came live and talked about a lot of things but this has shaken up ARMY who are mourning the demise of Moni and also remembering him with pictures and videos of Moni that they have. Also Read – RIP Moonbin: Bandmate Cha Eunwoo departs from the US for the funeral; BTS leader RM grieves ASTRO member's tragic demise
RM reveals his pet Moni has passed away
BTS member Kim Namjoon shares that Moni passed away a couple of months ago. He told the BTS ARMY on Live that he crossed the rainbow bridge. RM, being an idol could not spend much time with Moni. However, the pet pooch was very close to his family members. RM reveals that his family is having a tough time dealing with his demise. He did not share the news of Moni's passing with the ARMY before. RM shares that Moni was a family member. He adds that he bought a painting that looks like Moni and he has hung it up on the wall. A BTS fan account shared the same on Instagram. They shared RM's pictures with Moni. Check out the post below: Also Read – BTS: RM aka Kim Namjoon describes marriage as 'realization of choice'; ARMY say, 'Most relatable person ever'
BTS ARMY mourn the demise of Moni
rip moni 🙁
— onyx (@tdctreasure) August 12, 2023
LIKE.. I DIDN'T KNOW THAT MONI'S DEMISE WOULD AFFECT ME LIKE THAT. HE WAS MY BABY EVEN THO I'VE NEVER SEEN HIM ?
— MyFaceIsAPancakeYouKnow⁷ ʰᵒᵖᵉ ᵛᵉʳ ʟᴀʏᴏ(ꪜ)ᴇʀ (@rkiveBonsai001) August 12, 2023
I hope Moni is in peace now
— Pisces⁷?BESTIE OF TANNIES?아포방포?? Hope Ver(ꪜ ) (@Boranix1331) August 12, 2023
I was just thinking about Moni too ??? https://t.co/DRwmsHXDH8
— syd✨future's gonne be okay (@triviaseesaw_93) August 12, 2023
Rest in peace Moni 🙁
— :): (@bxeomchoi) August 12, 2023
Moni??????
— #1 tzuyu lover (@tzuphoric) August 12, 2023
One of my favorite picsI know Moni is resting in a beautiful place right now ?? pic.twitter.com/9XZ57MMu9z
— Nina⁷(ꪜ) with BTS forever (@11everythingoes) August 12, 2023
#NAMJOON te amamos mucho.
Ve a hacer un lindo alebrije Moni ❤️?Te quiero mucho ? bello angelito ?#Moni pic.twitter.com/nDe8kjkkf9
— Carmen-BTS-Army (@Casmar2004) August 12, 2023
Moni 🙁 RIP doggo..i will always miss you ignoring namjoon https://t.co/IvRl3ZGjBW
— LayoVer (Ft. Tannie) (@worldwide_tutor) August 12, 2023
Omg Moni passed? I'm just now finding out. May he rest in peace. Wishing Namjoon comfort and tranquility in this time. Losing a best little buddy must be difficult to experience. Sending him a lot of love ❤️
— stephy:) ⁷ (@stephy_lyann) August 12, 2023
namjoon has such a way of saying everything so beautifully. who the hell says someone crossed the rainbow i love him so fucking much?? rest well moni
— ? (@breadkive) August 12, 2023
Ahora Moni es un angelito que desde el cielo esta cuidado a su papi Namjoon?? https://t.co/mqIYZEX4Mu
— love Namjoon ???i (@MCarmaxkim) August 12, 2023
Namjoon telling us moni passed made me real sad
— ?mel⁷ mammon ? (@jiminiebooboo) August 12, 2023
hold on moni died?! oh man namjoon sorry for your loss 🙁
— sunny ⁷ (@sunnyhopejhs) August 12, 2023
Perder un perrito es extremadamente doloroso, ellos se convierten en uno más de la familia y se sufre cuando ellos no están bien…
Moni hermoso, gracias por haber acompañado y regalado momentos hermosos a Namjoon ? https://t.co/rUOSWpdVWc
— •Yoongist-D• (@Yoongist_d) August 12, 2023
RM on live
Other than sharing this piece of heartbreaking news, RM comforted ARMYS and took comfort from them as well. He talked about Suga turning emotional and sharing his emotions through his shows across different countries. He talked about getting back together in 2025. RM shared that Jin and Hobi will be out before the rest of them will come out after completing their military training. RM also thanked the ARMY for staying with them and showering BTS with so much love all these days. He talked about getting a buzz cut and thanked ARMY when they complimented him for his look. Inquisitive ARMY asked him why he got a buzz cut, RM shared that it was for no reason. ARMY has been wondering if RM is going to enlist in the military due to his hair cut. He talked about releasing his next album too. Also Read – BTS: Namjoon aka RM keeps his promise; to hold a special concert for 200 ARMYs for new album Indigo in intimate setting
Meanwhile, Suga has applied for the cancellation of the postponing of his military service which means he is the next to enlist in the military.
]]>
Stay tuned to BollywoodLife for the latest scoops and updates from Bollywood, Hollywood, South, TV and Web-Series. Click to join us on Facebook, Twitter, Youtube and Instagram. Also follow us on Facebook Messenger for latest updates.
adisplay:block;padding:0;color:var(–black);text-decoration:none.repeat-box figuredisplay:flex;justify-content:flex-start;flex-wrap:wrap;align-items:stretch;overflow:visible.two-cols-aside .aside .repeat-box figurealign-items:center.repeat-box .textwidth:100%;z-index:5;position:relative.repeat-box .photowidth:100px;position:relative;z-index:5.repeat-box .photo+.textwidth:calc(100% – 100px);padding-left:10px.repeat-box h2,.repeat-box h3,.repeat-box pcolor:var(–black);white-space:normal;overflow:hidden;text-overflow:ellipsis;-webkit-line-clamp:3;display:-webkit-box;-webkit-box-orient:vertical;padding:0;font-size:15px;line-height:1.5;font-weight:400.repeat-box h2font-size:20px.repeat-box h2+p,.repeat-box h3+pfont-size:14px.repeat-box .catfont-size:14px;line-height:16px;display:block;margin-bottom:5px;font-weight:700;color:var(–orange);text-transform:uppercase.repeat-box a:hover,.repeat-box a:hover h2,.repeat-box a:hover h3,.repeat-box a:hover pcolor:#f32c89.repeat-box .photo-icon,.repeat-box .video-iconposition:absolute;left:0;bottom:0;background:linear-gradient(to left,#a617be,#f32c89,#f32c89,#f32c89,#f32c89,#a617be);border-radius:0 5px 0 0.repeat-box .video-iconwidth:26px;height:26px;display:inline-block.repeat-box .photo-iconwidth:auto;min-width:26px;height:26px;line-height:16px;font-size:13px;color:var(–white);padding:5px 5px 0.lazy-image img.lazyopacity:0.lazy-image img:not(.initial)transition:opacity .5s ease-in,transform .5s ease-in,-webkit-transform .5s ease-in.lazy-image img.error,.lazy-image img.initial,.lazy-image img.loadedopacity:1.lazy-image img:not([src])visibility:hidden.cre-setionclear:both;overflow:hidden;float:none;width:auto;margin:5px 0 20px.cre-setion .black-boxespadding:15px 40px;background:#e5e5e5.cre-carousel-heightposition:relative;padding:0 0 255px;height:0.cre-carousel-height .all-dataposition:absolute;top:0;left:0;width:100%!important;height:100%!important.cre-setion .border-headingfont-size:16px;color:#1f1f1f;text-transform:uppercase;font-weight:700;padding:0 0 10px;margin:20px 0 10px;clear:both;position:relative;border-bottom:0;display:flex;justify-content:space-between;align-items:center.cre-setion .border-heading:beforetop:5px;height:14px.cre-setion .splide__slideheight:auto!important;margin-left:0.cre-setion article.repeat-boxdisplay:block;background-color:transparent;border-radius:5px;box-shadow:none;overflow:hidden;padding:0;margin-bottom:3px.cre-setion article.repeat-box>adisplay:block;padding:10px;background-color:var(–white);border-radius:5px;color:var(–black);text-decoration:none;overflow:hidden;border:1px solid #d0d0d0.cre-setion article.repeat-box>a>figuredisplay:block.cre-setion article.repeat-box .photo,.cre-setion article.repeat-box .textwidth:100%.cre-setion article.repeat-box .photoborder-radius:5px;overflow:hidden.cre-setion article.repeat-box .lazy-imagebox-shadow:none;border-radius:0;overflow:hidden.cre-setion article.repeat-box .textpadding:5px 0 0;height:90px;.cre-setion article.repeat-box .text h3font-size:14px;line-height:1.5;-webkit-line-clamp:4;font-weight:600;text-align:left.cre-setion .repeat-box .photos-iconborder-radius:0 5px 0 0;width:auto;min-width:26px;height:26px;left:0;bottom:0;display:flex;justify-content:center;align-items:center.cre-setion .photos-icon svgtransition:1s;fill:var(–white);width:26px;height:26px.cre-setion .photos-icon:hoverbackground:var(–blue).cre-setion .splide__arrowtop:50%!important;width:1.8em;height:1.8em;border-radius:100px;border:1px solid #999;background:0 0;opacity:1.cre-setion .splide__arrow–prevleft:-37px.cre-setion .splide__arrow–nextright:-37px.cre-setion .splide__arrow:disabledopacity:.3;cursor:not-allowed!important.cre-setion .splide__arrow:beforeborder:solid #999;border-width:0 2px 2px 0.cre-setion .splide__arrow:hoverbackground:linear-gradient(to left,#a617be,#f32c89,#f32c89,#f32c89,#f32c89,#a617be).cre-setion .splide__arrow:hover::beforeborder:solid var(–white);border-width:0 2px 2px 0]]]]>]]>