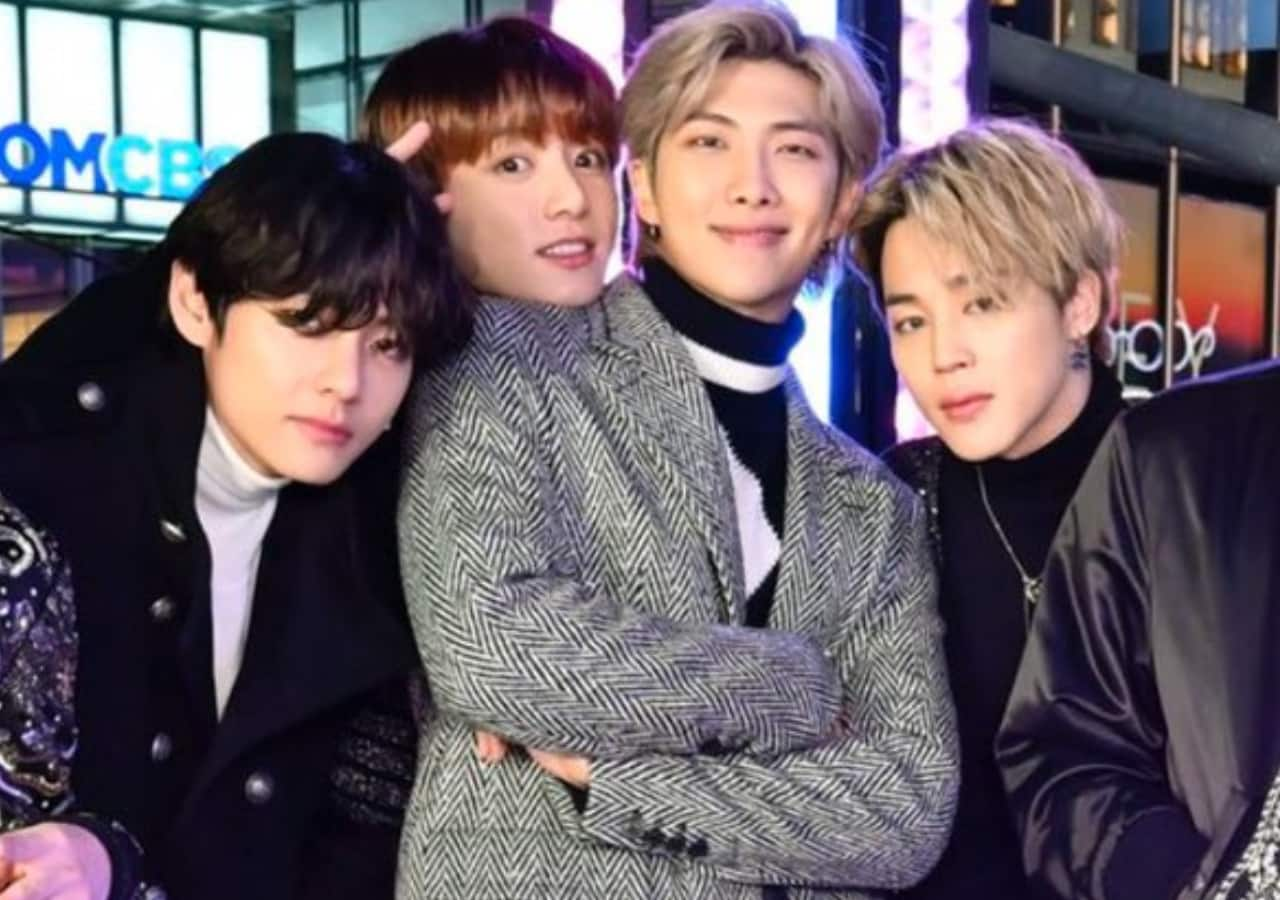 RM, that is, Kim Namjoon is celebrating his 29th birthday today. Wishes have been pouring in for the BTS leader from all corners of the world. Not just the ARMY, but also the BTS members have been celebrating Namjoon day today and sharing heartfelt wishes. BTS V, Jimin and Jungkook wished their leader and Namjoon hyung on his birthday. Also Read – BTS: Desi ARMY make a special ad for Kim Namjoon aka RM's birthday; other ARMYs all set to make Joon day special
BTS' Kim Taehyung aka V wishes Kim Namjoon aka RM
The Slow Dancing hitmaker took to his social media handle and shared an Instagram story wishing RM. He shared a picture from their Permission To Dance concert. The picture includes BTS V, J-Hope and Namjoon. The Layover hitmaker wished RM and said "You are my fork and I am soup," It's a statement by RM but not quite the way V quoted it. ARMY is having loads of fun with the same. Also, Taehyung shared a voice note wishing RM on his 29th birthday. The BTS ARMY is sharing the same online. Check the tweets below: Also Read – Salman Khan, Shah Rukh Khan in Jawan, BTS' Kim Namjoon and more top celebs who rocked the almost bald buzz cut look
taehyung: TODAY IS NAMJOON's BIRTHDAY! HAPPY BIRTHDAY NAMJOON~! pic.twitter.com/VXyEwMkBpw
— moni⁷ (ꪜ) ? (@taeisthv) September 12, 2023
Fork soup taejoon ?? https://t.co/YGzbZ5WUJP
— Yeontan⁷ ⟭⟬??⍤⃝? (@yeontaebear) September 12, 2023
my vmon/taejoon heart ?? https://t.co/ghHn51ywv0
— ?⁷ (@whaIiejin) September 12, 2023
My Taejoon heart ❤️‍? https://t.co/Y6m3nbCGS8
— elle (@otjooniejunie) September 12, 2023
Creio q taejoon is real https://t.co/4QM5shmdVy
— MIN | Joonie day ? (@RMYBOYFRND) September 12, 2023
taejoon my beloved https://t.co/y7KfQ3Muax
— noa⁷ ☆・゚゚・*:༅ (@ghiblitannies) September 12, 2023
MY TAEJOON HEART JUST COLLAPSED pic.twitter.com/a3QEJcc7vE
— kaila⁷ | JOONIE DAY ??? (@taytaedaylight) September 12, 2023
11:11 taejoon ??
— elee ♡ ʟᴀʏᴏ(ꪜ)ᴇʀ ; joon day ! (@hercart_) September 12, 2023
Jungkook wishes RM, comments below the BTS Leader's post
Kim Namjoon aka RM took to the Weverse handle and penned a heartfelt note on turning 29. The Wild Flower rapper talked about this being his last birthday in the 20s. The Run BTS singer says that even if it is not a big deal, he feels happy to see so many fans sharing heartfelt wishes. RM talks about still being unable to express his feelings but has grown calmer. Lately, RM has been living by the phrase "why not." Namjoon talked about a lot of things, trying to express himself and eventually ended with a promise to meet the ARMY someday. The Golden Makne of BTS, Jungkook commented on the post to wish RM. "Hyung, don't be sick. Wishing you happy birthday before the plane takes off," he wrote. Jungkook jetted off to New York to attend MTV VMAs. Also Read – BTS leader RM gets in trouble after sharing that he's listening to Frank Ocean's Bad Religion [Read Details]
BTS Jimin wishes RM
Park Jimin aka Jimin also shared a picture to wish RM on his birthday. He hid their eyes behind hand-drawn goofy shades. Check out his post below:
Kim Namjoon is the leader of BTS. He forms a part of the rap line of the septet and is known for his amazing writing skills and music. RM is the only member who is fluent in English. The rapper dropped a video of himself with a friend on his birthday. Meanwhile, ARMYs across the globe have been celebrating Namjoon Day since the beginning of September.
Happy birthday Namjoon!
]]>
Stay tuned to BollywoodLife for the latest scoops and updates from Bollywood, Hollywood, South, TV and Web-Series. Click to join us on Facebook, Twitter, Youtube and Instagram. Also follow us on Facebook Messenger for latest updates.
adisplay:block;padding:0;color:var(–black);text-decoration:none.repeat-box figuredisplay:flex;justify-content:flex-start;flex-wrap:wrap;align-items:stretch;overflow:visible.two-cols-aside .aside .repeat-box figurealign-items:center.repeat-box .textwidth:100%;z-index:5;position:relative.repeat-box .photowidth:100px;position:relative;z-index:5.repeat-box .photo+.textwidth:calc(100% – 100px);padding-left:10px.repeat-box h2,.repeat-box h3,.repeat-box pcolor:var(–black);white-space:normal;overflow:hidden;text-overflow:ellipsis;-webkit-line-clamp:3;display:-webkit-box;-webkit-box-orient:vertical;padding:0;font-size:15px;line-height:1.5;font-weight:400.repeat-box h2font-size:20px.repeat-box h2+p,.repeat-box h3+pfont-size:14px.repeat-box .catfont-size:14px;line-height:16px;display:block;margin-bottom:5px;font-weight:700;color:var(–orange);text-transform:uppercase.repeat-box a:hover,.repeat-box a:hover h2,.repeat-box a:hover h3,.repeat-box a:hover pcolor:#f32c89.repeat-box .photo-icon,.repeat-box .video-iconposition:absolute;left:0;bottom:0;background:linear-gradient(to left,#a617be,#f32c89,#f32c89,#f32c89,#f32c89,#a617be);border-radius:0 5px 0 0.repeat-box .video-iconwidth:26px;height:26px;display:inline-block.repeat-box .photo-iconwidth:auto;min-width:26px;height:26px;line-height:16px;font-size:13px;color:var(–white);padding:5px 5px 0.lazy-image img.lazyopacity:0.lazy-image img:not(.initial)transition:opacity .5s ease-in,transform .5s ease-in,-webkit-transform .5s ease-in.lazy-image img.error,.lazy-image img.initial,.lazy-image img.loadedopacity:1.lazy-image img:not([src])visibility:hidden.cre-setionclear:both;overflow:hidden;float:none;width:auto;margin:5px 0 20px.cre-setion .black-boxespadding:15px 40px;background:#e5e5e5.cre-carousel-heightposition:relative;padding:0 0 255px;height:0.cre-carousel-height .all-dataposition:absolute;top:0;left:0;width:100%!important;height:100%!important.cre-setion .border-headingfont-size:16px;color:#1f1f1f;text-transform:uppercase;font-weight:700;padding:0 0 10px;margin:20px 0 10px;clear:both;position:relative;border-bottom:0;display:flex;justify-content:space-between;align-items:center.cre-setion .border-heading:beforetop:5px;height:14px.cre-setion .splide__slideheight:auto!important;margin-left:0.cre-setion article.repeat-boxdisplay:block;background-color:transparent;border-radius:5px;box-shadow:none;overflow:hidden;padding:0;margin-bottom:3px.cre-setion article.repeat-box>adisplay:block;padding:10px;background-color:var(–white);border-radius:5px;color:var(–black);text-decoration:none;overflow:hidden;border:1px solid #d0d0d0.cre-setion article.repeat-box>a>figuredisplay:block.cre-setion article.repeat-box .photo,.cre-setion article.repeat-box .textwidth:100%.cre-setion article.repeat-box .photoborder-radius:5px;overflow:hidden.cre-setion article.repeat-box .lazy-imagebox-shadow:none;border-radius:0;overflow:hidden.cre-setion article.repeat-box .textpadding:5px 0 0;height:90px;.cre-setion article.repeat-box .text h3font-size:14px;line-height:1.5;-webkit-line-clamp:4;font-weight:600;text-align:left.cre-setion .repeat-box .photos-iconborder-radius:0 5px 0 0;width:auto;min-width:26px;height:26px;left:0;bottom:0;display:flex;justify-content:center;align-items:center.cre-setion .photos-icon svgtransition:1s;fill:var(–white);width:26px;height:26px.cre-setion .photos-icon:hoverbackground:var(–blue).cre-setion .splide__arrowtop:50%!important;width:1.8em;height:1.8em;border-radius:100px;border:1px solid #999;background:0 0;opacity:1.cre-setion .splide__arrow–prevleft:-37px.cre-setion .splide__arrow–nextright:-37px.cre-setion .splide__arrow:disabledopacity:.3;cursor:not-allowed!important.cre-setion .splide__arrow:beforeborder:solid #999;border-width:0 2px 2px 0.cre-setion .splide__arrow:hoverbackground:linear-gradient(to left,#a617be,#f32c89,#f32c89,#f32c89,#f32c89,#a617be).cre-setion .splide__arrow:hover::beforeborder:solid var(–white);border-width:0 2px 2px 0]]]]>]]>