Deepika Padukone and Priyanka Chopra are highly popular Bollywood actresses with massive fan followings. They consistently impress audiences with their acting and style. While Priyanka has also made a name for herself in Hollywood, rumours about their supposed conflicts often make headlines. Also Read – Jawan: Deepika Padukone reveals she did Shah Rukh Khan starrer for free; says, 'I am one of the few people he is…'
Is Deepika Padukone taking a dig at Priyanka Chopra?
Also Read – Jawan: Pakistani actor Ali Zafar hails Shah Rukh Khan, says the superstar is beyond blockbusters
Recently, a snippet from Deepika's interview on the cover of The Week magazine surfaced on Reddit. In this interview, the 37-year-old actress shared some personal insights. She talked about her desire for global recognition, emphasizing that she doesn't believe she needs to change her identity or location to be accepted worldwide. Deepika also mentioned that, although it took time, she's proud of her success within her cultural context and on her own terms. Also Read – Deepika Padukone confirms she and husband Ranveer Singh charge a huge fee when working together, reveals why
Check out her statement;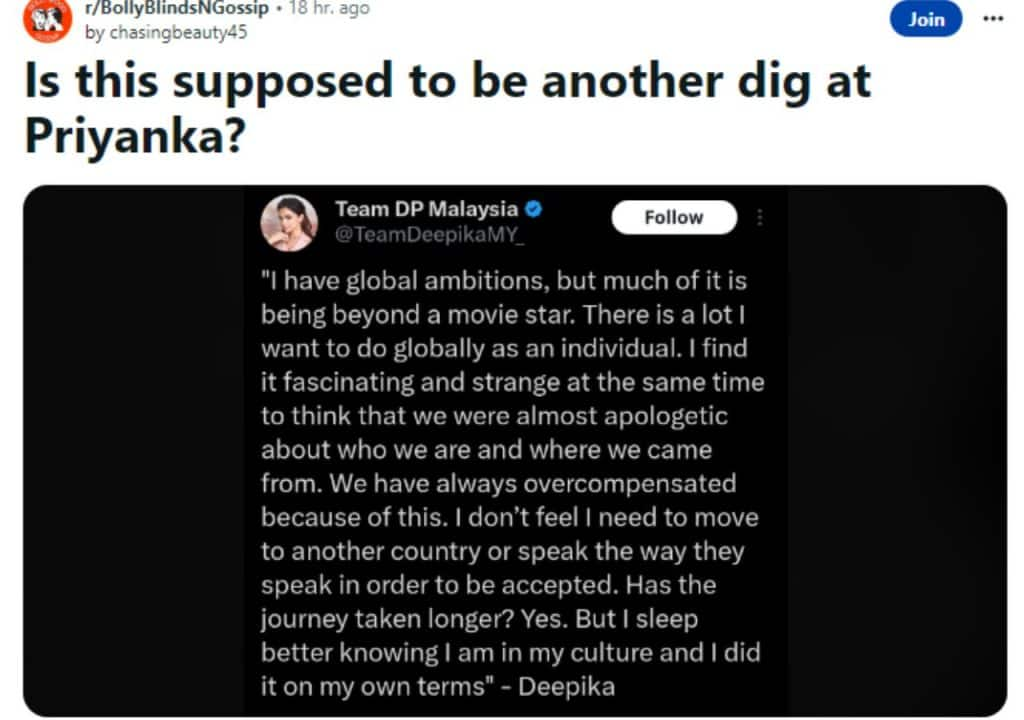 Netizens react to Deepika's comment
These remarks led many on the internet to speculate that Deepika was taking a dig at Priyanka. Some Reddit users discussed this, with one saying, "Is this supposed to be another dig at Priyanka?" Another user agreed with Deepika's sentiments, regardless of who they were aimed at, saying, "Maybe it is and maybe it's not. I do agree with her completely, though." One Reddit user pointed out, "It obviously is. The metrics she mentioned uniquely fit PC and no one else." Others added that Priyanka's move to Hollywood may not have been entirely by choice, as she faced limited opportunities in Bollywood.
Deepika always rejected the rumours of professional rivalry with Priyanka Chopra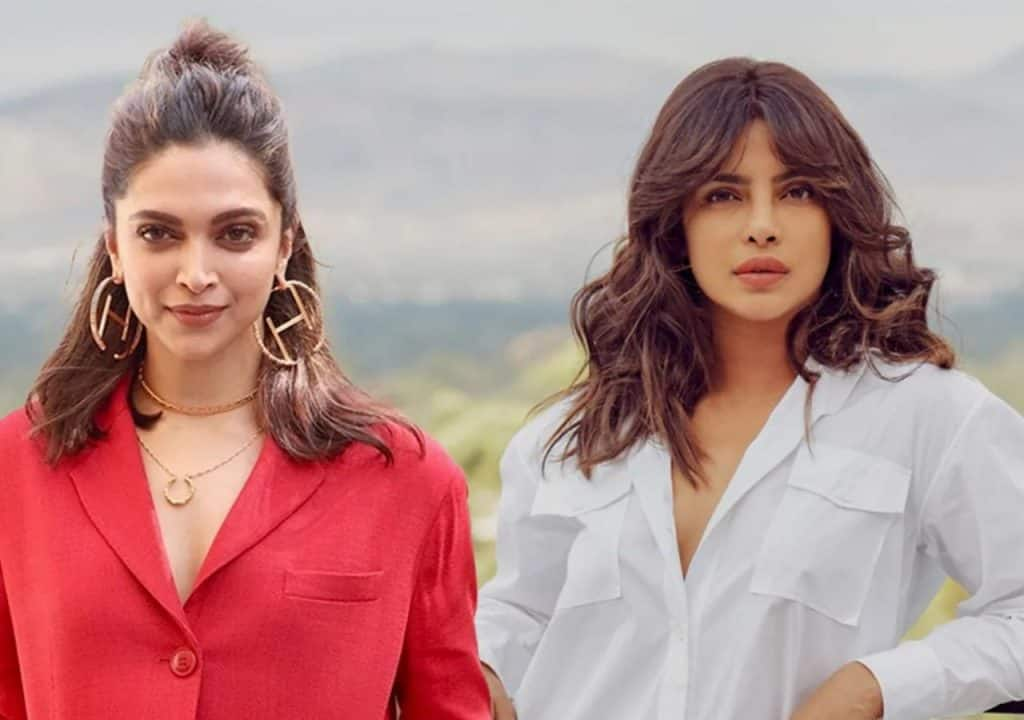 Despite the rumours and speculations, Deepika and Priyanka shared the screen in Bajirao Mastani. However, Deepika addressed the persistent gossip about their relationship, expressing discomfort with such speculation. She clarified that her connection with Priyanka is not one of professional rivalry but rather a friendship that has endured for many years.
In summary, Deepika Padukone and Priyanka Chopra, two beloved Bollywood actresses, often face rumours of conflict. Deepika's recent interview comments sparked discussions on whether they were aimed at Priyanka, although Deepika herself emphasizes their longstanding friendship over any rivalry.
]]>
Stay tuned to BollywoodLife for the latest scoops and updates from Bollywood, Hollywood, South, TV and Web-Series. Click to join us on Facebook, Twitter, Youtube and Instagram. Also follow us on Facebook Messenger for latest updates.
adisplay:block;padding:0;color:var(–black);text-decoration:none.repeat-box figuredisplay:flex;justify-content:flex-start;flex-wrap:wrap;align-items:stretch;overflow:visible.two-cols-aside .aside .repeat-box figurealign-items:center.repeat-box .textwidth:100%;z-index:5;position:relative.repeat-box .photowidth:100px;position:relative;z-index:5.repeat-box .photo+.textwidth:calc(100% – 100px);padding-left:10px.repeat-box h2,.repeat-box h3,.repeat-box pcolor:var(–black);white-space:normal;overflow:hidden;text-overflow:ellipsis;-webkit-line-clamp:3;display:-webkit-box;-webkit-box-orient:vertical;padding:0;font-size:15px;line-height:1.5;font-weight:400.repeat-box h2font-size:20px.repeat-box h2+p,.repeat-box h3+pfont-size:14px.repeat-box .catfont-size:14px;line-height:16px;display:block;margin-bottom:5px;font-weight:700;color:var(–orange);text-transform:uppercase.repeat-box a:hover,.repeat-box a:hover h2,.repeat-box a:hover h3,.repeat-box a:hover pcolor:#f32c89.repeat-box .photo-icon,.repeat-box .video-iconposition:absolute;left:0;bottom:0;background:linear-gradient(to left,#a617be,#f32c89,#f32c89,#f32c89,#f32c89,#a617be);border-radius:0 5px 0 0.repeat-box .video-iconwidth:26px;height:26px;display:inline-block.repeat-box .photo-iconwidth:auto;min-width:26px;height:26px;line-height:16px;font-size:13px;color:var(–white);padding:5px 5px 0.lazy-image img.lazyopacity:0.lazy-image img:not(.initial)transition:opacity .5s ease-in,transform .5s ease-in,-webkit-transform .5s ease-in.lazy-image img.error,.lazy-image img.initial,.lazy-image img.loadedopacity:1.lazy-image img:not([src])visibility:hidden.cre-setionclear:both;overflow:hidden;float:none;width:auto;margin:5px 0 20px.cre-setion .black-boxespadding:15px 40px;background:#e5e5e5.cre-carousel-heightposition:relative;padding:0 0 255px;height:0.cre-carousel-height .all-dataposition:absolute;top:0;left:0;width:100%!important;height:100%!important.cre-setion .border-headingfont-size:16px;color:#1f1f1f;text-transform:uppercase;font-weight:700;padding:0 0 10px;margin:20px 0 10px;clear:both;position:relative;border-bottom:0;display:flex;justify-content:space-between;align-items:center.cre-setion .border-heading:beforetop:5px;height:14px.cre-setion .splide__slideheight:auto!important;margin-left:0.cre-setion article.repeat-boxdisplay:block;background-color:transparent;border-radius:5px;box-shadow:none;overflow:hidden;padding:0;margin-bottom:3px.cre-setion article.repeat-box>adisplay:block;padding:10px;background-color:var(–white);border-radius:5px;color:var(–black);text-decoration:none;overflow:hidden;border:1px solid #d0d0d0.cre-setion article.repeat-box>a>figuredisplay:block.cre-setion article.repeat-box .photo,.cre-setion article.repeat-box .textwidth:100%.cre-setion article.repeat-box .photoborder-radius:5px;overflow:hidden.cre-setion article.repeat-box .lazy-imagebox-shadow:none;border-radius:0;overflow:hidden.cre-setion article.repeat-box .textpadding:5px 0 0;height:90px;.cre-setion article.repeat-box .text h3font-size:14px;line-height:1.5;-webkit-line-clamp:4;font-weight:600;text-align:left.cre-setion .repeat-box .photos-iconborder-radius:0 5px 0 0;width:auto;min-width:26px;height:26px;left:0;bottom:0;display:flex;justify-content:center;align-items:center.cre-setion .photos-icon svgtransition:1s;fill:var(–white);width:26px;height:26px.cre-setion .photos-icon:hoverbackground:var(–blue).cre-setion .splide__arrowtop:50%!important;width:1.8em;height:1.8em;border-radius:100px;border:1px solid #999;background:0 0;opacity:1.cre-setion .splide__arrow–prevleft:-37px.cre-setion .splide__arrow–nextright:-37px.cre-setion .splide__arrow:disabledopacity:.3;cursor:not-allowed!important.cre-setion .splide__arrow:beforeborder:solid #999;border-width:0 2px 2px 0.cre-setion .splide__arrow:hoverbackground:linear-gradient(to left,#a617be,#f32c89,#f32c89,#f32c89,#f32c89,#a617be).cre-setion .splide__arrow:hover::beforeborder:solid var(–white);border-width:0 2px 2px 0]]]]>]]>