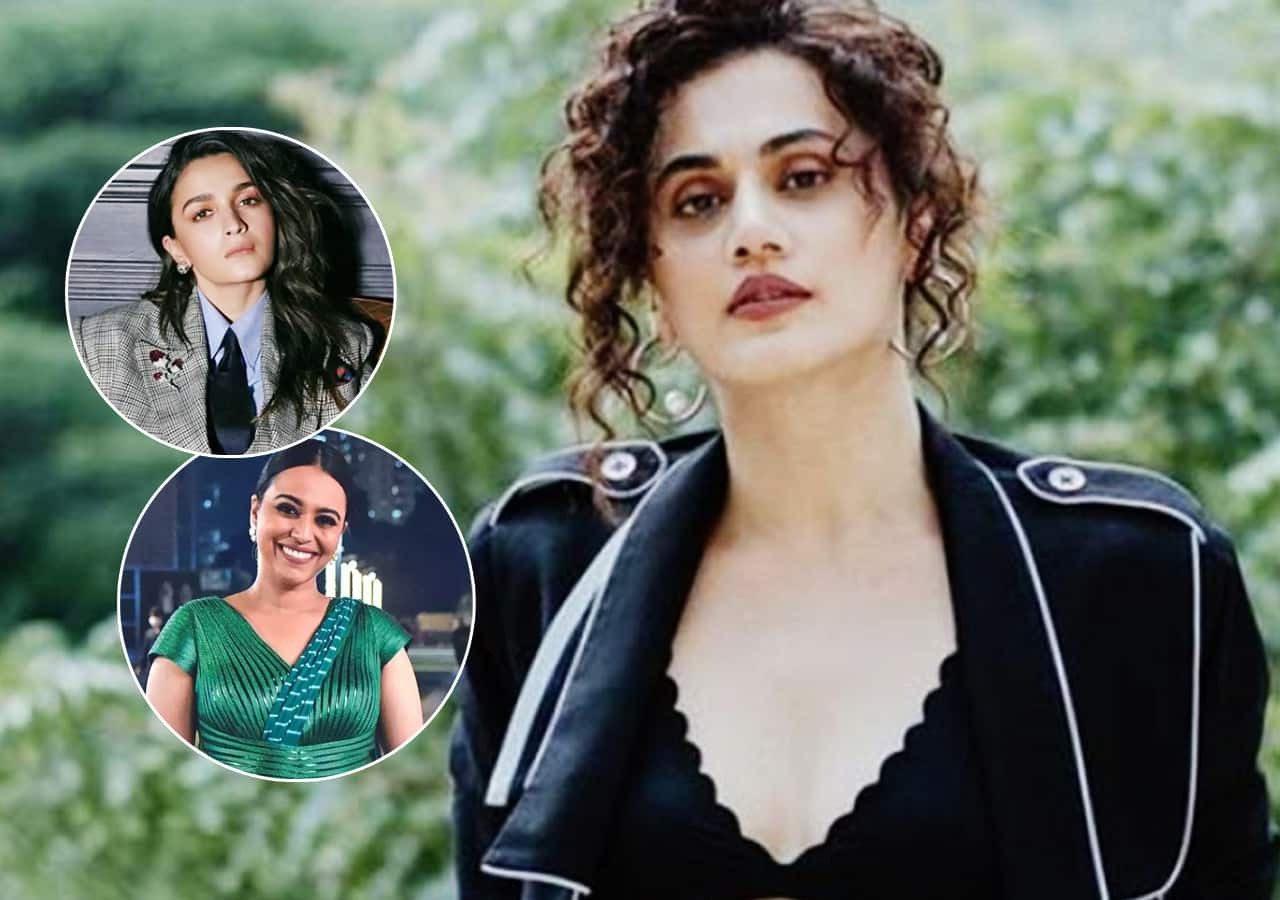 Taapsee Pannu is a real boss, a real lady, and she never fails to stun with her statements. The actress did her first AMA on her Instagram and dropped some truth bombs and took some indirect digs as well. She is a real entertainer. The Dunki actress took to her Instagram and did a half-hour Ask Me Anything session with her fans and users on Instagram where she was asked various questions, but one answer to her question grabbed our eyeballs, and it's about her wedding. Taapsee was asked when she was planning to get married, and the quirky reply came that she isn't pregnant yet. Say what? You heard that right. Also Read – Taapsee Pannu follows Amitabh Bachchan, Salman Khan; all set to enter the world of NFT
After saying this, Taapsee herself realised that she had landed herself in a foot-in-mouth situation, laughed out loud, and later added that she has no plans yet. Well, there are many actresses lately who have announced their pregnancy soon after their marriage, and the latest ones are Alia Bhatt and Swara Bhasker. Alia grabbed a lot of eyeballs with her pregnancy announcement within 3 months of marriage. The Rocky Aur Rani Kii Prem Kahaani actress got married in April last year and welcomed her baby girl Raha in November of the same year. Also Read – Taapsee Pannu reacts to Priyanka Chopra's claims about Bollywood gangs; says, 'It's been there since forever'
Watch the video of Taapsee Pannu who has the quirkiest response when asked about her marriage plans; she says she isn't pregnant yet.
And recently, Swara Bhasker, who surprised her fans with her pregnancy announcement soon after her marriage with Farhad Ahmad, faced massive trolling for the same. Earlier actresses like Neha Dhupia, Dia Mirza, and Natasha Stonkovic were the ones who announced their pregnancy soon after their marriage. Also Read – Shah Rukh Khan maybe the most romantic star but he has a big issue with saying 'I Love You'; here's why
Well, this isn't the first time Taapsee has been seen taking indirect digs at the industry. When asked about not being invited on the Koffee With Karan show, Taapsee turned her witty side on and said her sex life isn't interesting enough to be on the show. Karan later opened up about why he didn't feature Taapsee on his show, saying that he will soon invite her and talk about exciting collaborations, and if she declines, he will be sad. All we can say is that we love the swagger Taapsee has been over the years and continues to have.
]]>
Stay tuned to BollywoodLife for the latest scoops and updates from Bollywood, Hollywood, South, TV and Web-Series. Click to join us on Facebook, Twitter, Youtube and Instagram. Also follow us on Facebook Messenger for latest updates.
adisplay:block;padding:0;color:var(–black);text-decoration:none.repeat-box figuredisplay:flex;justify-content:flex-start;flex-wrap:wrap;align-items:stretch;overflow:visible.two-cols-aside .aside .repeat-box figurealign-items:center.repeat-box .textwidth:100%;z-index:5;position:relative.repeat-box .photowidth:100px;position:relative;z-index:5.repeat-box .photo+.textwidth:calc(100% – 100px);padding-left:10px.repeat-box h2,.repeat-box h3,.repeat-box pcolor:var(–black);white-space:normal;overflow:hidden;text-overflow:ellipsis;-webkit-line-clamp:3;display:-webkit-box;-webkit-box-orient:vertical;padding:0;font-size:15px;line-height:1.5;font-weight:400.repeat-box h2font-size:20px.repeat-box h2+p,.repeat-box h3+pfont-size:14px.repeat-box .catfont-size:14px;line-height:16px;display:block;margin-bottom:5px;font-weight:700;color:var(–orange);text-transform:uppercase.repeat-box a:hover,.repeat-box a:hover h2,.repeat-box a:hover h3,.repeat-box a:hover pcolor:#f32c89.repeat-box .photo-icon,.repeat-box .video-iconposition:absolute;left:0;bottom:0;background:linear-gradient(to left,#a617be,#f32c89,#f32c89,#f32c89,#f32c89,#a617be);border-radius:0 5px 0 0.repeat-box .video-iconwidth:26px;height:26px;display:inline-block.repeat-box .photo-iconwidth:auto;min-width:26px;height:26px;line-height:16px;font-size:13px;color:var(–white);padding:5px 5px 0.lazy-image img.lazyopacity:0.lazy-image img:not(.initial)transition:opacity .5s ease-in,transform .5s ease-in,-webkit-transform .5s ease-in.lazy-image img.error,.lazy-image img.initial,.lazy-image img.loadedopacity:1.lazy-image img:not([src])visibility:hidden.cre-setionclear:both;overflow:hidden;float:none;width:auto;margin:5px 0 20px.cre-setion .black-boxespadding:15px 40px;background:#e5e5e5.cre-carousel-heightposition:relative;padding:0 0 255px;height:0.cre-carousel-height .all-dataposition:absolute;top:0;left:0;width:100%!important;height:100%!important.cre-setion .border-headingfont-size:16px;color:#1f1f1f;text-transform:uppercase;font-weight:700;padding:0 0 10px;margin:20px 0 10px;clear:both;position:relative;border-bottom:0;display:flex;justify-content:space-between;align-items:center.cre-setion .border-heading:beforetop:5px;height:14px.cre-setion .splide__slideheight:auto!important;margin-left:0.cre-setion article.repeat-boxdisplay:block;background-color:transparent;border-radius:5px;box-shadow:none;overflow:hidden;padding:0;margin-bottom:3px.cre-setion article.repeat-box>adisplay:block;padding:10px;background-color:var(–white);border-radius:5px;color:var(–black);text-decoration:none;overflow:hidden;border:1px solid #d0d0d0.cre-setion article.repeat-box>a>figuredisplay:block.cre-setion article.repeat-box .photo,.cre-setion article.repeat-box .textwidth:100%.cre-setion article.repeat-box .photoborder-radius:5px;overflow:hidden.cre-setion article.repeat-box .lazy-imagebox-shadow:none;border-radius:0;overflow:hidden.cre-setion article.repeat-box .textpadding:5px 0 0;height:90px;.cre-setion article.repeat-box .text h3font-size:14px;line-height:1.5;-webkit-line-clamp:4;font-weight:600;text-align:left.cre-setion .repeat-box .photos-iconborder-radius:0 5px 0 0;width:auto;min-width:26px;height:26px;left:0;bottom:0;display:flex;justify-content:center;align-items:center.cre-setion .photos-icon svgtransition:1s;fill:var(–white);width:26px;height:26px.cre-setion .photos-icon:hoverbackground:var(–blue).cre-setion .splide__arrowtop:50%!important;width:1.8em;height:1.8em;border-radius:100px;border:1px solid #999;background:0 0;opacity:1.cre-setion .splide__arrow–prevleft:-37px.cre-setion .splide__arrow–nextright:-37px.cre-setion .splide__arrow:disabledopacity:.3;cursor:not-allowed!important.cre-setion .splide__arrow:beforeborder:solid #999;border-width:0 2px 2px 0.cre-setion .splide__arrow:hoverbackground:linear-gradient(to left,#a617be,#f32c89,#f32c89,#f32c89,#f32c89,#a617be).cre-setion .splide__arrow:hover::beforeborder:solid var(–white);border-width:0 2px 2px 0]]]]>]]>