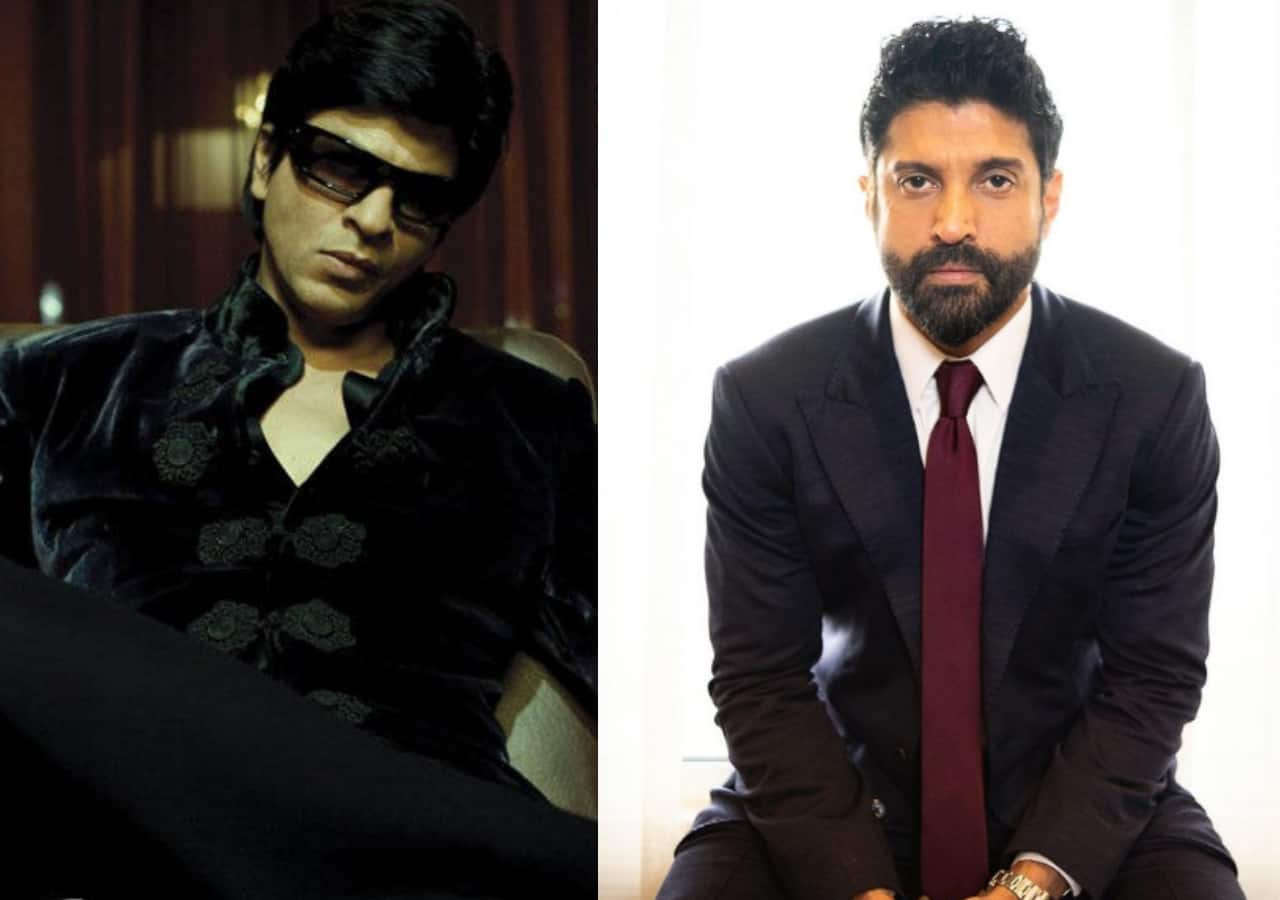 Don 3 announcement just dropped in. It is Ranveer Singh who has taken over from Shah Rukh Khan to be the Don. Though fans were secretly hoping that Farhan Akhtar would bring back Shah Rukh Khan to be the Don but that did not happen. A small teaser announcing Ranveer Singh as the lead star in Don 3 has been released and netizens are having drastic reactions. Many are also wondering why Shah Rukh Khan did not sign Don 3. Well, here's some scoop. Also Read – Don 3: Ranveer Singh takes over from Shah Rukh Khan; Deepika Padukone, Alia Bhatt and more – who will be his junglee billi?
As per a report in Koimoi.com, it was Shah Rukh Khan who was adamant to not sign Don 3. King Khan felt that he has given whatever he could to the first instalments of Don and now it is time to pass on the baton. Farhan Akhtar allegedly even argued saying that fans would find it difficult to accept someone else as Don but Shah Rukh Khan gave the example of James Bond. The Hollywood character has been played by many actors including Daniel Craig and all the actors have been loved. So why not do the same with Don? A source close to Farhan Akhtar was quoted saying, "Aapko lagta hai ke Farhan kissi doosre actor ke baare mein soch bhi sakta hai (do you think Farhan can even think of another actor for Don)? But Shah Rukh wouldn't budge over his decision not to do another film in the Don Franchise. He felt he had given whatever he had to give to Don in his two Don films." So allegedly Farhan Akhtar was left only with two choices – to shelve the film or find another star. Well, Ranveer Singh is the one to gain the most out of all of this. Also Read – Don 3: Ranveer Singh oozes swag and sophistication in his first look; but Shah Rukh Khan fans beg to differ [Check reactions]
Check out Don 3 teaser below featuring Ranveer Singh.
A New Era Begins. #Don3@RanveerOfficial @faroutakhtar #JasonWest @javedakhtarjadu @ritesh_sid @ShankarEhsanLoy @PushkarGayatri @j10kassim @roo_cha @vishalrr @excelmovies @rupinsuchak #PranavShukla #AvanContractor #PoornamritaSiingh #ShivaniParikh @chouhanmanoj82 #Olly pic.twitter.com/vMDel7hrxE
— Excel Entertainment (@excelmovies) August 9, 2023
Prior to this, Farhan Akhtar shared a long note talking about Amitabh Bachchan and Shah Rukh Khan. It also stated that the new era of Don will begin in 2025. Also Read – Don 3: Farhan Akhtar makes it official, asks fans to shower the same love they gave to Amitabh Bachchan, Shah Rukh Khan
? pic.twitter.com/Jbr2zFtuv6
— Farhan Akhtar (@FarOutAkhtar) August 8, 2023
Are you excited to see Ranveer Singh as the new Don? Tweet to us and let us know.
]]>
Stay tuned to BollywoodLife for the latest scoops and updates from Bollywood, Hollywood, South, TV and Web-Series. Click to join us on Facebook, Twitter, Youtube and Instagram. Also follow us on Facebook Messenger for latest updates.
adisplay:block;padding:0;color:var(–black);text-decoration:none.repeat-box figuredisplay:flex;justify-content:flex-start;flex-wrap:wrap;align-items:stretch;overflow:visible.two-cols-aside .aside .repeat-box figurealign-items:center.repeat-box .textwidth:100%;z-index:5;position:relative.repeat-box .photowidth:100px;position:relative;z-index:5.repeat-box .photo+.textwidth:calc(100% – 100px);padding-left:10px.repeat-box h2,.repeat-box h3,.repeat-box pcolor:var(–black);white-space:normal;overflow:hidden;text-overflow:ellipsis;-webkit-line-clamp:3;display:-webkit-box;-webkit-box-orient:vertical;padding:0;font-size:15px;line-height:1.5;font-weight:400.repeat-box h2font-size:20px.repeat-box h2+p,.repeat-box h3+pfont-size:14px.repeat-box .catfont-size:14px;line-height:16px;display:block;margin-bottom:5px;font-weight:700;color:var(–orange);text-transform:uppercase.repeat-box a:hover,.repeat-box a:hover h2,.repeat-box a:hover h3,.repeat-box a:hover pcolor:#f32c89.repeat-box .photo-icon,.repeat-box .video-iconposition:absolute;left:0;bottom:0;background:linear-gradient(to left,#a617be,#f32c89,#f32c89,#f32c89,#f32c89,#a617be);border-radius:0 5px 0 0.repeat-box .video-iconwidth:26px;height:26px;display:inline-block.repeat-box .photo-iconwidth:auto;min-width:26px;height:26px;line-height:16px;font-size:13px;color:var(–white);padding:5px 5px 0.lazy-image img.lazyopacity:0.lazy-image img:not(.initial)transition:opacity .5s ease-in,transform .5s ease-in,-webkit-transform .5s ease-in.lazy-image img.error,.lazy-image img.initial,.lazy-image img.loadedopacity:1.lazy-image img:not([src])visibility:hidden.cre-setionclear:both;overflow:hidden;float:none;width:auto;margin:5px 0 20px.cre-setion .black-boxespadding:15px 40px;background:#e5e5e5.cre-carousel-heightposition:relative;padding:0 0 255px;height:0.cre-carousel-height .all-dataposition:absolute;top:0;left:0;width:100%!important;height:100%!important.cre-setion .border-headingfont-size:16px;color:#1f1f1f;text-transform:uppercase;font-weight:700;padding:0 0 10px;margin:20px 0 10px;clear:both;position:relative;border-bottom:0;display:flex;justify-content:space-between;align-items:center.cre-setion .border-heading:beforetop:5px;height:14px.cre-setion .splide__slideheight:auto!important;margin-left:0.cre-setion article.repeat-boxdisplay:block;background-color:transparent;border-radius:5px;box-shadow:none;overflow:hidden;padding:0;margin-bottom:3px.cre-setion article.repeat-box>adisplay:block;padding:10px;background-color:var(–white);border-radius:5px;color:var(–black);text-decoration:none;overflow:hidden;border:1px solid #d0d0d0.cre-setion article.repeat-box>a>figuredisplay:block.cre-setion article.repeat-box .photo,.cre-setion article.repeat-box .textwidth:100%.cre-setion article.repeat-box .photoborder-radius:5px;overflow:hidden.cre-setion article.repeat-box .lazy-imagebox-shadow:none;border-radius:0;overflow:hidden.cre-setion article.repeat-box .textpadding:5px 0 0;height:90px;.cre-setion article.repeat-box .text h3font-size:14px;line-height:1.5;-webkit-line-clamp:4;font-weight:600;text-align:left.cre-setion .repeat-box .photos-iconborder-radius:0 5px 0 0;width:auto;min-width:26px;height:26px;left:0;bottom:0;display:flex;justify-content:center;align-items:center.cre-setion .photos-icon svgtransition:1s;fill:var(–white);width:26px;height:26px.cre-setion .photos-icon:hoverbackground:var(–blue).cre-setion .splide__arrowtop:50%!important;width:1.8em;height:1.8em;border-radius:100px;border:1px solid #999;background:0 0;opacity:1.cre-setion .splide__arrow–prevleft:-37px.cre-setion .splide__arrow–nextright:-37px.cre-setion .splide__arrow:disabledopacity:.3;cursor:not-allowed!important.cre-setion .splide__arrow:beforeborder:solid #999;border-width:0 2px 2px 0.cre-setion .splide__arrow:hoverbackground:linear-gradient(to left,#a617be,#f32c89,#f32c89,#f32c89,#f32c89,#a617be).cre-setion .splide__arrow:hover::beforeborder:solid var(–white);border-width:0 2px 2px 0]]]]>]]>