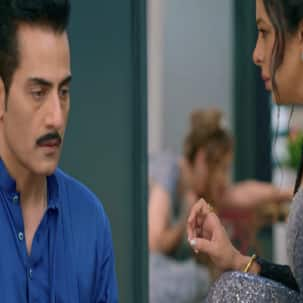 Anupamaa: Vanraj Shah (Sudhanshu Pandey) is totally devastated after learning the truth about Kavya's pregnancy: that she is pregnant with her ex-husband Anirudh's child and not him, and Anu sees that Vanraj is aware of this truth and is totally broken outside the room while Kavya (Madalsa Sharma) is crying out of regret and repenting her deeds. Anupamaa (Rupali Ganguly) recalls the deceit that Vanraj and Kavya gave her years ago, and she walked away from both their grievances and let them be in their space. Fans are hailing Anu for being this woman, walking away from both of them, and not consoling Vanraj at all. Also Read – Anupamaa upcoming twist: Vanraj's life is totally destroyed; will he ever forgive Kavya just like Anu forgave him?
I'm wondering what #Anupamaa will Bash with today as some FD spent the WHOLE day bashing her yesterday base on PC, cos they assume she ll HUG V to comfort him.Whn it comes to ur fav y'all scream don't judge base on precap but bash Anu base on same PRECAP WHY?
UR HYPOCRISY STINK pic.twitter.com/rdUv563Bje
— Tee (@MaAn_Muse) August 2, 2023
I was LIGIT SCARED here
Im so happy ? she didnt lay even her tiniest finger on him!Infact she very indifferently WALKED AWAY #anupamaa pic.twitter.com/cBXdj2Dews
— Khadija (@KhadzRangwala) August 2, 2023
The audacity to play victim ?Fine, Kavya slept with Anirudh, but he ws also lusting for his ex wife n putting efforts into breaking her marriage. Even went as far as Mumbai to trash Anuj
This man deserves no sympathy.
No offence to the actor, but he can't act ??‍♀️#Anupamaa pic.twitter.com/e4M6tupqp0
— MA (@Mus1294) August 2, 2023
Im so proud of you!Walking past your deepest,most hurtful wounds and not letting the past overpower your present is so empoweringYou have come a long way indeed
I so want to hug to RN nowThe FB are heart wrenching even today! #Anupamaa pic.twitter.com/6TplWUuyO9
— Khadija (@KhadzRangwala) August 2, 2023
Vanraj is shattered by Kavya's truth, and the fans are celebrating it and calling it Karma's best revenge. Later in the episode, you see Anupamaa trying to explain to Vanraj that the upcoming baby is not his fault and he should think about the child and try to overcome the fact that the baby is not his but Anirudh's. Will Vanraj accept the baby, or will he throw Kavya out of his life? It will be interesting to watch. Also Read – Anupamaa upcoming twist: Anupamaa has a new problem to solve, but will Vanraj listen to her and forgive Kavya?
]]>
Stay tuned to BollywoodLife for the latest scoops and updates from Bollywood, Hollywood, South, TV and Web-Series. Click to join us on Facebook, Twitter, Youtube and Instagram. Also follow us on Facebook Messenger for latest updates.
adisplay:block;padding:0;color:var(–black);text-decoration:none.repeat-box figuredisplay:flex;justify-content:flex-start;flex-wrap:wrap;align-items:stretch;overflow:visible.two-cols-aside .aside .repeat-box figurealign-items:center.repeat-box .textwidth:100%;z-index:5;position:relative.repeat-box .photowidth:100px;position:relative;z-index:5.repeat-box .photo+.textwidth:calc(100% – 100px);padding-left:10px.repeat-box h2,.repeat-box h3,.repeat-box pcolor:var(–black);white-space:normal;overflow:hidden;text-overflow:ellipsis;-webkit-line-clamp:3;display:-webkit-box;-webkit-box-orient:vertical;padding:0;font-size:15px;line-height:1.5;font-weight:400.repeat-box h2font-size:20px.repeat-box h2+p,.repeat-box h3+pfont-size:14px.repeat-box .catfont-size:14px;line-height:16px;display:block;margin-bottom:5px;font-weight:700;color:var(–orange);text-transform:uppercase.repeat-box a:hover,.repeat-box a:hover h2,.repeat-box a:hover h3,.repeat-box a:hover pcolor:#f32c89.repeat-box .photo-icon,.repeat-box .video-iconposition:absolute;left:0;bottom:0;background:linear-gradient(to left,#a617be,#f32c89,#f32c89,#f32c89,#f32c89,#a617be);border-radius:0 5px 0 0.repeat-box .video-iconwidth:26px;height:26px;display:inline-block.repeat-box .photo-iconwidth:auto;min-width:26px;height:26px;line-height:16px;font-size:13px;color:var(–white);padding:5px 5px 0.lazy-image img.lazyopacity:0.lazy-image img:not(.initial)transition:opacity .5s ease-in,transform .5s ease-in,-webkit-transform .5s ease-in.lazy-image img.error,.lazy-image img.initial,.lazy-image img.loadedopacity:1.lazy-image img:not([src])visibility:hidden.cre-setionclear:both;overflow:hidden;float:none;width:auto;margin:5px 0 20px.cre-setion .black-boxespadding:15px 40px;background:#e5e5e5.cre-carousel-heightposition:relative;padding:0 0 255px;height:0.cre-carousel-height .all-dataposition:absolute;top:0;left:0;width:100%!important;height:100%!important.cre-setion .border-headingfont-size:16px;color:#1f1f1f;text-transform:uppercase;font-weight:700;padding:0 0 10px;margin:20px 0 10px;clear:both;position:relative;border-bottom:0;display:flex;justify-content:space-between;align-items:center.cre-setion .border-heading:beforetop:5px;height:14px.cre-setion .splide__slideheight:auto!important;margin-left:0.cre-setion article.repeat-boxdisplay:block;background-color:transparent;border-radius:5px;box-shadow:none;overflow:hidden;padding:0;margin-bottom:3px.cre-setion article.repeat-box>adisplay:block;padding:10px;background-color:var(–white);border-radius:5px;color:var(–black);text-decoration:none;overflow:hidden;border:1px solid #d0d0d0.cre-setion article.repeat-box>a>figuredisplay:block.cre-setion article.repeat-box .photo,.cre-setion article.repeat-box .textwidth:100%.cre-setion article.repeat-box .photoborder-radius:5px;overflow:hidden.cre-setion article.repeat-box .lazy-imagebox-shadow:none;border-radius:0;overflow:hidden.cre-setion article.repeat-box .textpadding:5px 0 0;height:90px;.cre-setion article.repeat-box .text h3font-size:14px;line-height:1.5;-webkit-line-clamp:4;font-weight:600;text-align:left.cre-setion .repeat-box .photos-iconborder-radius:0 5px 0 0;width:auto;min-width:26px;height:26px;left:0;bottom:0;display:flex;justify-content:center;align-items:center.cre-setion .photos-icon svgtransition:1s;fill:var(–white);width:26px;height:26px.cre-setion .photos-icon:hoverbackground:var(–blue).cre-setion .splide__arrowtop:50%!important;width:1.8em;height:1.8em;border-radius:100px;border:1px solid #999;background:0 0;opacity:1.cre-setion .splide__arrow–prevleft:-37px.cre-setion .splide__arrow–nextright:-37px.cre-setion .splide__arrow:disabledopacity:.3;cursor:not-allowed!important.cre-setion .splide__arrow:beforeborder:solid #999;border-width:0 2px 2px 0.cre-setion .splide__arrow:hoverbackground:linear-gradient(to left,#a617be,#f32c89,#f32c89,#f32c89,#f32c89,#a617be).cre-setion .splide__arrow:hover::beforeborder:solid var(–white);border-width:0 2px 2px 0]]]]>]]>