The connection between Shah Rukh Khan, and the 'Lungi ' has officially become more iconic than ever. From his unforgettable stint in 'Chennai Express' hit song Lungi Dance to his latest chartbuster Zinda Banda from 'Jawan', SRK's association with the lungi has struck a resounding chord. The first song of Jawan launched recently has been at the top of the global music charts since its lunch. Also Read – Kareena Kapoor Khan rejected films that turned out to be blockbuster hits
The song has a sweet coincidence or maybe it's SRK's lucky charm! Zinda Banda has once again brought the lungi to the forefront. it's not just SRK's star power that has fans talking – it's the lungi's recurring presence that's been noticed by fans. Thousands of background dancers don the lungi, infusing the performance with a unique cultural flavor. The nostalgia-inducing factor is further enhanced by the presence of Priyamani, who shares the screen with SRK once again. It's wonderful to see their fun camaraderie once again after '1 2 3 4 Get on the Dance Floor' from the blockbuster 'Chennai Express'. With Priyamani and SRK reuniting, and the lungi making an appearance, 'Zinda Banda' seems poised to recreate the magic of their previous collaboration. Also Read – Before Kisi Ka Bhai Kisi Ki Jaan a look at Eid releases that don't feature Salman Khan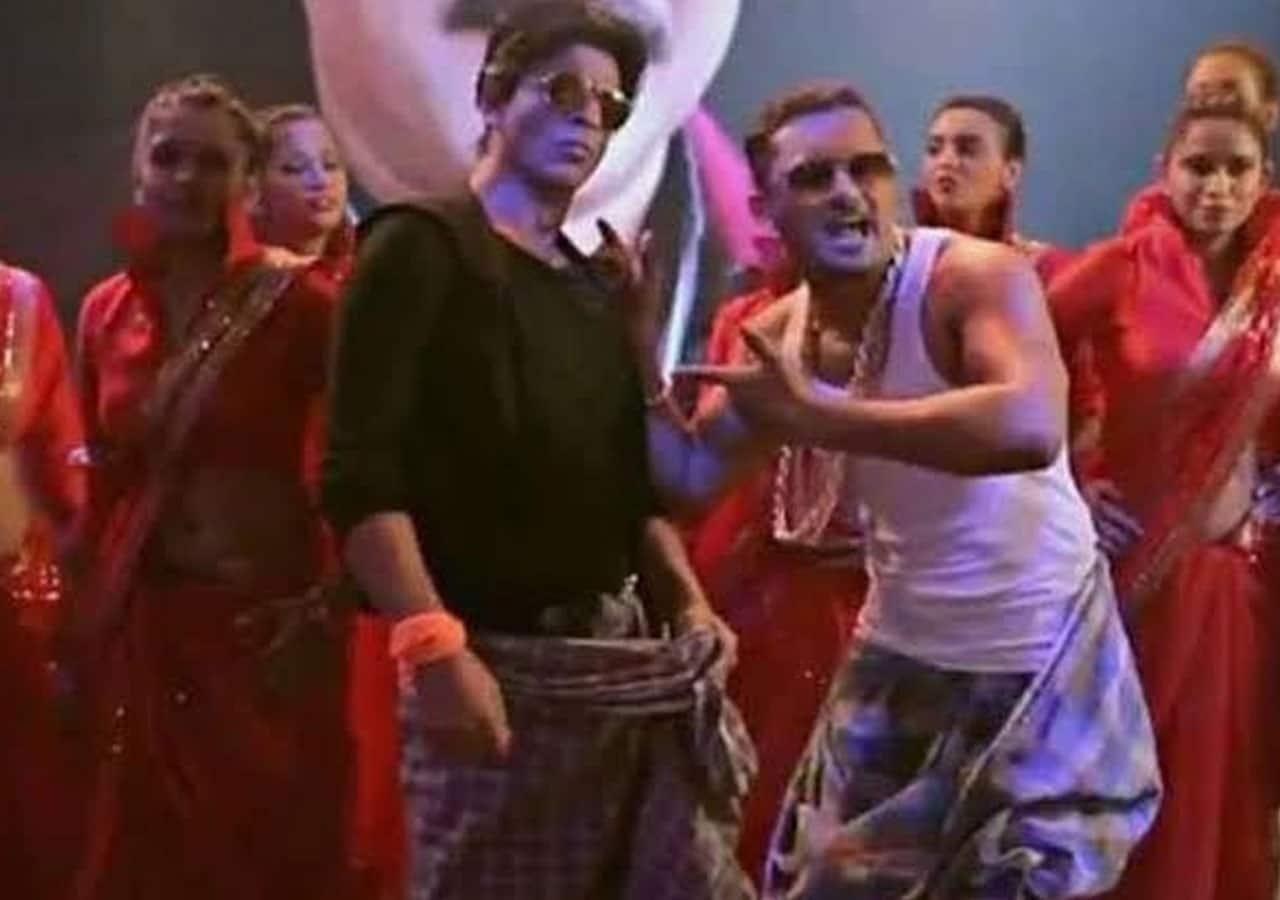 Also Read – Did Rohit Shetty hint at making Chennai Express 2 with Shah Rukh Khan and Deepika Padukone? Fans feel so
With its pulsating energy, larger-than-life visuals, and the lungi's symbolic presence, the song stands as a testament to Shah Rukh Khan's enduring connection with both music and culture. Currently, the song has taken the global music scene by storm with 46 Million views in 24 hours on YouTube. Jawan is a Red Chillies Entertainment presentation directed by Atlee, Produced by Gauri Khan, and Co-produced by Gaurav Verma. The film will release worldwide in theatres on September 7th, 2023 in Hindi, Tamil, and Telugu languages.
]]>
Stay tuned to BollywoodLife for the latest scoops and updates from Bollywood, Hollywood, South, TV and Web-Series. Click to join us on Facebook, Twitter, Youtube and Instagram. Also follow us on Facebook Messenger for latest updates.
adisplay:block;padding:0;color:var(–black);text-decoration:none.repeat-box figuredisplay:flex;justify-content:flex-start;flex-wrap:wrap;align-items:stretch;overflow:visible.two-cols-aside .aside .repeat-box figurealign-items:center.repeat-box .textwidth:100%;z-index:5;position:relative.repeat-box .photowidth:100px;position:relative;z-index:5.repeat-box .photo+.textwidth:calc(100% – 100px);padding-left:10px.repeat-box h2,.repeat-box h3,.repeat-box pcolor:var(–black);white-space:normal;overflow:hidden;text-overflow:ellipsis;-webkit-line-clamp:3;display:-webkit-box;-webkit-box-orient:vertical;padding:0;font-size:15px;line-height:1.5;font-weight:400.repeat-box h2font-size:20px.repeat-box h2+p,.repeat-box h3+pfont-size:14px.repeat-box .catfont-size:14px;line-height:16px;display:block;margin-bottom:5px;font-weight:700;color:var(–orange);text-transform:uppercase.repeat-box a:hover,.repeat-box a:hover h2,.repeat-box a:hover h3,.repeat-box a:hover pcolor:#f32c89.repeat-box .photo-icon,.repeat-box .video-iconposition:absolute;left:0;bottom:0;background:linear-gradient(to left,#a617be,#f32c89,#f32c89,#f32c89,#f32c89,#a617be);border-radius:0 5px 0 0.repeat-box .video-iconwidth:26px;height:26px;display:inline-block.repeat-box .photo-iconwidth:auto;min-width:26px;height:26px;line-height:16px;font-size:13px;color:var(–white);padding:5px 5px 0.lazy-image img.lazyopacity:0.lazy-image img:not(.initial)transition:opacity .5s ease-in,transform .5s ease-in,-webkit-transform .5s ease-in.lazy-image img.error,.lazy-image img.initial,.lazy-image img.loadedopacity:1.lazy-image img:not([src])visibility:hidden.cre-setionclear:both;overflow:hidden;float:none;width:auto;margin:5px 0 20px.cre-setion .black-boxespadding:15px 40px;background:#e5e5e5.cre-carousel-heightposition:relative;padding:0 0 255px;height:0.cre-carousel-height .all-dataposition:absolute;top:0;left:0;width:100%!important;height:100%!important.cre-setion .border-headingfont-size:16px;color:#1f1f1f;text-transform:uppercase;font-weight:700;padding:0 0 10px;margin:20px 0 10px;clear:both;position:relative;border-bottom:0;display:flex;justify-content:space-between;align-items:center.cre-setion .border-heading:beforetop:5px;height:14px.cre-setion .splide__slideheight:auto!important;margin-left:0.cre-setion article.repeat-boxdisplay:block;background-color:transparent;border-radius:5px;box-shadow:none;overflow:hidden;padding:0;margin-bottom:3px.cre-setion article.repeat-box>adisplay:block;padding:10px;background-color:var(–white);border-radius:5px;color:var(–black);text-decoration:none;overflow:hidden;border:1px solid #d0d0d0.cre-setion article.repeat-box>a>figuredisplay:block.cre-setion article.repeat-box .photo,.cre-setion article.repeat-box .textwidth:100%.cre-setion article.repeat-box .photoborder-radius:5px;overflow:hidden.cre-setion article.repeat-box .lazy-imagebox-shadow:none;border-radius:0;overflow:hidden.cre-setion article.repeat-box .textpadding:5px 0 0;height:90px;.cre-setion article.repeat-box .text h3font-size:14px;line-height:1.5;-webkit-line-clamp:4;font-weight:600;text-align:left.cre-setion .repeat-box .photos-iconborder-radius:0 5px 0 0;width:auto;min-width:26px;height:26px;left:0;bottom:0;display:flex;justify-content:center;align-items:center.cre-setion .photos-icon svgtransition:1s;fill:var(–white);width:26px;height:26px.cre-setion .photos-icon:hoverbackground:var(–blue).cre-setion .splide__arrowtop:50%!important;width:1.8em;height:1.8em;border-radius:100px;border:1px solid #999;background:0 0;opacity:1.cre-setion .splide__arrow–prevleft:-37px.cre-setion .splide__arrow–nextright:-37px.cre-setion .splide__arrow:disabledopacity:.3;cursor:not-allowed!important.cre-setion .splide__arrow:beforeborder:solid #999;border-width:0 2px 2px 0.cre-setion .splide__arrow:hoverbackground:linear-gradient(to left,#a617be,#f32c89,#f32c89,#f32c89,#f32c89,#a617be).cre-setion .splide__arrow:hover::beforeborder:solid var(–white);border-width:0 2px 2px 0]]]]>]]>