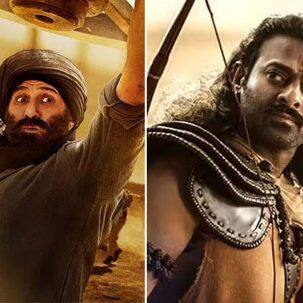 Gadar 2 is hitting the marquee today. Sunny Deol and Ameesha Patel are back in the Anil Sharma directorial as Tara Singh and Sakina. The movie has created a rage in the mass belts. Critics are now watching the morning show of Gadar 2. But fans have flocked to the theatres to watch Sunny Deol back in action as Tara Singh. There are viral and huge speculations about the opening numbers for the film. Some have even said it will beat Pathaan. Now, that is a huge task. Shah Rukh Khan's movie made Rs 57 crores on its first day in India. It sustained the momentum for the next 10 days for a shocking end figure of above Rs 1,500 crores at the global box office. Also Read – Gadar 2 box office collection day 1: Sunny Deol, Ameesha Patel film to earn Rs 40 crores? Over 2.7 lakh tickets sold at national chains
Day One Estimates for Gadar 2
One of the big openers for Bollywood in 2023 has been the pan-India film Adipurush. It made Rs 87 crores all over India. In Hindi language, it was Rs 37 crores. But Gadar 2 will fall short of that. Many are saying that it will take an opening of Rs 40 crores plus on the opening day. But the statistical agency Ormax India has predicted Rs 31 crores on day one. Also Read – Gadar 2 Box Office Prediction: Sunny Deol, Ameesha Patel new movie to rake in the moolah but has limited scope? Check out celeb astrologer's take [Exclusive]
#OrmaxCinematix FBO (First-Day Box Office Forecast) for today's major Hindi release Gadar 2 (India nett) #FBO pic.twitter.com/ad24SwkTDo
— Ormax Media (@OrmaxMedia) August 11, 2023
The movie has some good points like stellar acting of Sunny Deol, the good music and dialogues. But the overall screenplay, shoddy production values and action scenes have upset fans of Sunny Deol. Also Read – Gadar 2 Vs Pathaan: Sunny Deol new movie beats Shah Rukh Khan film at single screens; sells record number of tickets
Gadar 2: Mass mania for Sunny Deol in single screens
It seems 1000s have gathered outside single screen mass theatres to watch Gadar 2. People simply love Sunny Deol as Tara Singh in the movie. The film is seeing fantastic bookings for all evening shows. On the other hand, OMG 2 has started off quite slowly. But the reviews for the movie are positive and it should pick up. But behaviour of the audience post pandemic has been rather strange overall.
The film should easily cross the Rs 100 crore mark in a couple of days. The makers seem set for a clean profit. Sunny Deol is getting immense love as he is looking as great as ever. Even Ameesha Patel has provided immense support.
]]>
Stay tuned to BollywoodLife for the latest scoops and updates from Bollywood, Hollywood, South, TV and Web-Series. Click to join us on Facebook, Twitter, Youtube and Instagram. Also follow us on Facebook Messenger for latest updates.
adisplay:block;padding:0;color:var(–black);text-decoration:none.repeat-box figuredisplay:flex;justify-content:flex-start;flex-wrap:wrap;align-items:stretch;overflow:visible.two-cols-aside .aside .repeat-box figurealign-items:center.repeat-box .textwidth:100%;z-index:5;position:relative.repeat-box .photowidth:100px;position:relative;z-index:5.repeat-box .photo+.textwidth:calc(100% – 100px);padding-left:10px.repeat-box h2,.repeat-box h3,.repeat-box pcolor:var(–black);white-space:normal;overflow:hidden;text-overflow:ellipsis;-webkit-line-clamp:3;display:-webkit-box;-webkit-box-orient:vertical;padding:0;font-size:15px;line-height:1.5;font-weight:400.repeat-box h2font-size:20px.repeat-box h2+p,.repeat-box h3+pfont-size:14px.repeat-box .catfont-size:14px;line-height:16px;display:block;margin-bottom:5px;font-weight:700;color:var(–orange);text-transform:uppercase.repeat-box a:hover,.repeat-box a:hover h2,.repeat-box a:hover h3,.repeat-box a:hover pcolor:#f32c89.repeat-box .photo-icon,.repeat-box .video-iconposition:absolute;left:0;bottom:0;background:linear-gradient(to left,#a617be,#f32c89,#f32c89,#f32c89,#f32c89,#a617be);border-radius:0 5px 0 0.repeat-box .video-iconwidth:26px;height:26px;display:inline-block.repeat-box .photo-iconwidth:auto;min-width:26px;height:26px;line-height:16px;font-size:13px;color:var(–white);padding:5px 5px 0.lazy-image img.lazyopacity:0.lazy-image img:not(.initial)transition:opacity .5s ease-in,transform .5s ease-in,-webkit-transform .5s ease-in.lazy-image img.error,.lazy-image img.initial,.lazy-image img.loadedopacity:1.lazy-image img:not([src])visibility:hidden.cre-setionclear:both;overflow:hidden;float:none;width:auto;margin:5px 0 20px.cre-setion .black-boxespadding:15px 40px;background:#e5e5e5.cre-carousel-heightposition:relative;padding:0 0 255px;height:0.cre-carousel-height .all-dataposition:absolute;top:0;left:0;width:100%!important;height:100%!important.cre-setion .border-headingfont-size:16px;color:#1f1f1f;text-transform:uppercase;font-weight:700;padding:0 0 10px;margin:20px 0 10px;clear:both;position:relative;border-bottom:0;display:flex;justify-content:space-between;align-items:center.cre-setion .border-heading:beforetop:5px;height:14px.cre-setion .splide__slideheight:auto!important;margin-left:0.cre-setion article.repeat-boxdisplay:block;background-color:transparent;border-radius:5px;box-shadow:none;overflow:hidden;padding:0;margin-bottom:3px.cre-setion article.repeat-box>adisplay:block;padding:10px;background-color:var(–white);border-radius:5px;color:var(–black);text-decoration:none;overflow:hidden;border:1px solid #d0d0d0.cre-setion article.repeat-box>a>figuredisplay:block.cre-setion article.repeat-box .photo,.cre-setion article.repeat-box .textwidth:100%.cre-setion article.repeat-box .photoborder-radius:5px;overflow:hidden.cre-setion article.repeat-box .lazy-imagebox-shadow:none;border-radius:0;overflow:hidden.cre-setion article.repeat-box .textpadding:5px 0 0;height:90px;.cre-setion article.repeat-box .text h3font-size:14px;line-height:1.5;-webkit-line-clamp:4;font-weight:600;text-align:left.cre-setion .repeat-box .photos-iconborder-radius:0 5px 0 0;width:auto;min-width:26px;height:26px;left:0;bottom:0;display:flex;justify-content:center;align-items:center.cre-setion .photos-icon svgtransition:1s;fill:var(–white);width:26px;height:26px.cre-setion .photos-icon:hoverbackground:var(–blue).cre-setion .splide__arrowtop:50%!important;width:1.8em;height:1.8em;border-radius:100px;border:1px solid #999;background:0 0;opacity:1.cre-setion .splide__arrow–prevleft:-37px.cre-setion .splide__arrow–nextright:-37px.cre-setion .splide__arrow:disabledopacity:.3;cursor:not-allowed!important.cre-setion .splide__arrow:beforeborder:solid #999;border-width:0 2px 2px 0.cre-setion .splide__arrow:hoverbackground:linear-gradient(to left,#a617be,#f32c89,#f32c89,#f32c89,#f32c89,#a617be).cre-setion .splide__arrow:hover::beforeborder:solid var(–white);border-width:0 2px 2px 0]]]]>]]>