Rakhi Sawant recently visited Mecca and sought blessings from Allah amidst her ongoing legal battle with her estranged businessman husband Adil Khan Durrani. Rakhi has levelled some serious allegations against Adil, likewise Adil has made some shocking allegations against Rakhi. They held press conferences wherein they washed their dirty linen in public. Sherlyn Chopra and Rajshree More also called out Rakhi over the same. Rakhi has been embracing Islam anew with her Mecca visit. However, Gauahar Khan is not too happy with Rakhi. Also Read – Shweta Tiwari, Akanksha Puri and other TV actresses who have been unlucky in love
Gauahar Khan calls out Rakhi Sawant for mocking Islam
Gauahar Khan took to her Instagram handle and shared a story about Qatar sending Somali Orphans for Umrah. She shared the link in her stories and went on a rant about Rakhi Sawant without actually naming her. Gauahar called her a loser who has been taking Islam for granted and making a joke out of the pilgrimage place. She calls her a drama-hungry person and wonders how Rakhi got to visit such a place and also do the drama there. Also Read – Rakhi Sawant's Instagram account gets hacked; actress says, 'Only Adil Khan Durrani and Rajshree More have access'
Gauahar Khan slammed Rakhi for flipping, that is, for accepting Islam and the next minute saying that she was forced to accept the religion. Gauahar called her a shameless creature and wished that the board of Islam in India and Saudi Arabia take strict action against her. The Bigg Boss winner also called out Rakhi's styling. Rakhi, who has been addressing herself as Fatima, has been donning various extravagant Abayas with jewellery and in make-up. Gauahar called them 'horrendous looking abayas.' Also Read – TOP TV News Today: Big B praises Shah Rukh on KBC 15, Rakhi Sawant claims Adil Khan sold her nude videos
Gauahar on what makes one a Muslim
Rakhi Sawant has been talking about Islam in interviews and media bytes as well. Gauahar shares what makes a person a true Muslim. She says understanding the 5 pillars of Islam, being a good and true human being and the love of Allah can make a person Muslim. "Any faith is in the heart, you don't need 59 cameras to showcase it," She ends her rant. Made it to entertainment news, check out Gauahar Khan's Instagram story here: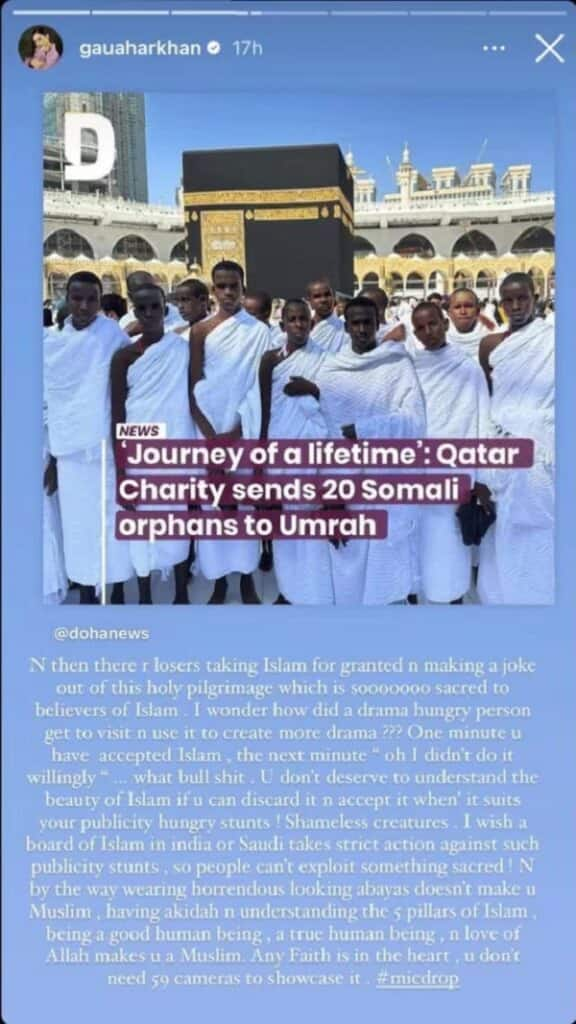 Watch the controversial video of Rakhi Sawant here:
Rakhi Sawant case with Adil Khan Durrani
Rakhi Sawant has alleged that Adil shot her nude videos and sold them. She alleged that she has been raped as well. Recently, Rakhi opened up about her life amidst the legal battle with Adil. She was seen sporting a new look. Rakhi claimed that she had been suffering from hair loss and had to cut her hair. Further, she was seen travelling in an auto-rickshaw. Rakhi blamed it on Adil saying he is roaming in expensive cars while she is now travelling in auto.
]]>
Stay tuned to BollywoodLife for the latest scoops and updates from Bollywood, Hollywood, South, TV and Web-Series. Click to join us on Facebook, Twitter, Youtube and Instagram. Also follow us on Facebook Messenger for latest updates.
adisplay:block;padding:0;color:var(–black);text-decoration:none.repeat-box figuredisplay:flex;justify-content:flex-start;flex-wrap:wrap;align-items:stretch;overflow:visible.two-cols-aside .aside .repeat-box figurealign-items:center.repeat-box .textwidth:100%;z-index:5;position:relative.repeat-box .photowidth:100px;position:relative;z-index:5.repeat-box .photo+.textwidth:calc(100% – 100px);padding-left:10px.repeat-box h2,.repeat-box h3,.repeat-box pcolor:var(–black);white-space:normal;overflow:hidden;text-overflow:ellipsis;-webkit-line-clamp:3;display:-webkit-box;-webkit-box-orient:vertical;padding:0;font-size:15px;line-height:1.5;font-weight:400.repeat-box h2font-size:20px.repeat-box h2+p,.repeat-box h3+pfont-size:14px.repeat-box .catfont-size:14px;line-height:16px;display:block;margin-bottom:5px;font-weight:700;color:var(–orange);text-transform:uppercase.repeat-box a:hover,.repeat-box a:hover h2,.repeat-box a:hover h3,.repeat-box a:hover pcolor:#f32c89.repeat-box .photo-icon,.repeat-box .video-iconposition:absolute;left:0;bottom:0;background:linear-gradient(to left,#a617be,#f32c89,#f32c89,#f32c89,#f32c89,#a617be);border-radius:0 5px 0 0.repeat-box .video-iconwidth:26px;height:26px;display:inline-block.repeat-box .photo-iconwidth:auto;min-width:26px;height:26px;line-height:16px;font-size:13px;color:var(–white);padding:5px 5px 0.lazy-image img.lazyopacity:0.lazy-image img:not(.initial)transition:opacity .5s ease-in,transform .5s ease-in,-webkit-transform .5s ease-in.lazy-image img.error,.lazy-image img.initial,.lazy-image img.loadedopacity:1.lazy-image img:not([src])visibility:hidden.cre-setionclear:both;overflow:hidden;float:none;width:auto;margin:5px 0 20px.cre-setion .black-boxespadding:15px 40px;background:#e5e5e5.cre-carousel-heightposition:relative;padding:0 0 255px;height:0.cre-carousel-height .all-dataposition:absolute;top:0;left:0;width:100%!important;height:100%!important.cre-setion .border-headingfont-size:16px;color:#1f1f1f;text-transform:uppercase;font-weight:700;padding:0 0 10px;margin:20px 0 10px;clear:both;position:relative;border-bottom:0;display:flex;justify-content:space-between;align-items:center.cre-setion .border-heading:beforetop:5px;height:14px.cre-setion .splide__slideheight:auto!important;margin-left:0.cre-setion article.repeat-boxdisplay:block;background-color:transparent;border-radius:5px;box-shadow:none;overflow:hidden;padding:0;margin-bottom:3px.cre-setion article.repeat-box>adisplay:block;padding:10px;background-color:var(–white);border-radius:5px;color:var(–black);text-decoration:none;overflow:hidden;border:1px solid #d0d0d0.cre-setion article.repeat-box>a>figuredisplay:block.cre-setion article.repeat-box .photo,.cre-setion article.repeat-box .textwidth:100%.cre-setion article.repeat-box .photoborder-radius:5px;overflow:hidden.cre-setion article.repeat-box .lazy-imagebox-shadow:none;border-radius:0;overflow:hidden.cre-setion article.repeat-box .textpadding:5px 0 0;height:90px;.cre-setion article.repeat-box .text h3font-size:14px;line-height:1.5;-webkit-line-clamp:4;font-weight:600;text-align:left.cre-setion .repeat-box .photos-iconborder-radius:0 5px 0 0;width:auto;min-width:26px;height:26px;left:0;bottom:0;display:flex;justify-content:center;align-items:center.cre-setion .photos-icon svgtransition:1s;fill:var(–white);width:26px;height:26px.cre-setion .photos-icon:hoverbackground:var(–blue).cre-setion .splide__arrowtop:50%!important;width:1.8em;height:1.8em;border-radius:100px;border:1px solid #999;background:0 0;opacity:1.cre-setion .splide__arrow–prevleft:-37px.cre-setion .splide__arrow–nextright:-37px.cre-setion .splide__arrow:disabledopacity:.3;cursor:not-allowed!important.cre-setion .splide__arrow:beforeborder:solid #999;border-width:0 2px 2px 0.cre-setion .splide__arrow:hoverbackground:linear-gradient(to left,#a617be,#f32c89,#f32c89,#f32c89,#f32c89,#a617be).cre-setion .splide__arrow:hover::beforeborder:solid var(–white);border-width:0 2px 2px 0]]]]>]]>