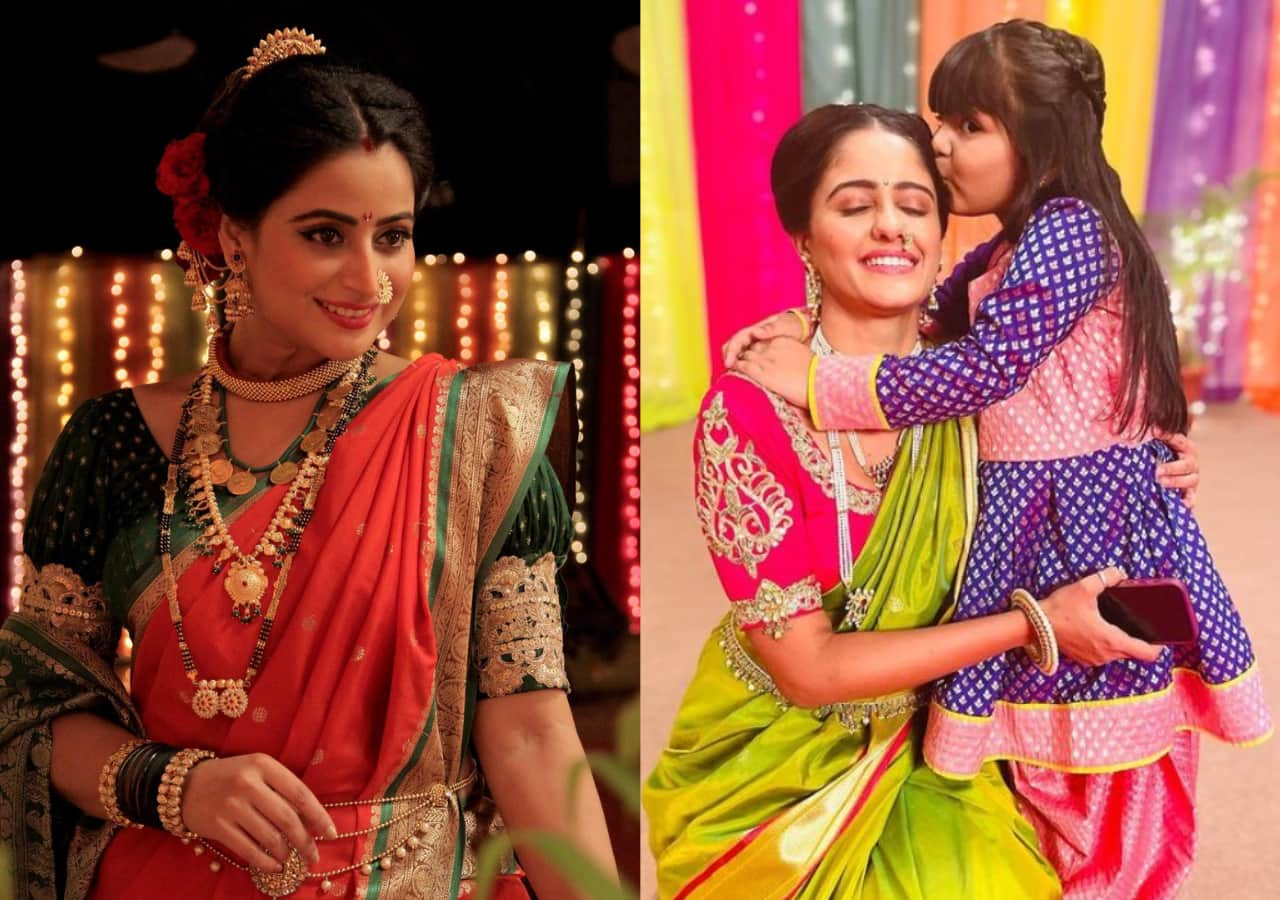 Ghum Hai Kisikey Pyaar Meiin is getting interesting day by day and how! Bhavani Kaku has taken a 360-degree shift and is now, siding with Sai and thinking about her even in her absence. The show is gearing up for a dramatic twist ahead in the show. With Holi celebrations just around the corner, fans will see more of Ayesha Singh aka Sai and Neil Bhatt aka Virat's scenes. In the latest episode, we saw all the ladies of Ghum Hai Kisikey Pyaar Meiin dressed in Maharashtrian Kashta. However, some of the netizens feel Ayesha could have been dressed a little better. Also Read – From Anupamaa-Anuj to Abhimanyu-Akshara from Yeh Rishta Kya Kehlata Hai: Which TV jodi's dynamics have got you invested? Vote Now
Netizens point of Ayesha Singh aka Sai needs a little better styling in Ghum Hai Kisikey Pyaar Meiin
Ghum Hai Kisikey Pyaar Meiin grabs headlines in Entertainment News almost every day. Be it for the dramatic twist or the acting chops. While fans are watching the show for Sai and Virat, essayed by Ayesha Singh and Neil Bhatt, they do voice out when they find something that they don't like. So, in the latest episode of Ghum Hai Kisikey Pyaar Meiin, a fan felt that Ayesha Singh aka Sai's styling could have been better and compared it with Aishwarya Sharma's look in the episode. Though Ayesha's look is subtle and pretty, it could have been better was marked by some fans as well. Check out the tweets below: Also Read – Ghum Hai Kisikey Pyaar Meiin star Ayesha Singh pens heartfelt note as she bags her first award; fans cheer on her saying, 'Many more to come'
They need to get Sai a better stylist I have to say that Phaki gets really nice outfits and they style her well and elegantly. I not a big fan of the outfit Sai was wearing today. The bright neon green was not apealling to me. #GhumHaiKisikeyPyaarMeiin pic.twitter.com/tKjOOqieeI
— Yellow (@Yellow98923708) March 6, 2023
Same here. And they mess up with her hairstyle too. I really think they do it deliberately.
— Surbhi ? (@I_Am_Surbhi) March 6, 2023
I love Ayesha and have seen her shine in different outfits I do think it's deliberate too. Why would they choose such an awful green for her. It's an ugly colour.
— Yellow (@Yellow98923708) March 6, 2023
But she does though I am not a fan of hers but I can see that her team is doing a good job. Now Sai's team I question who would choose a vomit green for an outfit. I have to question who's making these decisions because she has been dressed well in the past.
— Yellow (@Yellow98923708) March 6, 2023
Karishma Is their stylist naU should know they don't want Ayesha to look goodBuh still yet she's still carrying the dress gracefully
— ♡????♡❣️ (@Deborah80256366) March 6, 2023
They always meeeesd up with her loook make up hair
— Sanaya sen (@Sanayas01120272) March 6, 2023
No sai's make up was beautiful and minimal?Good that ayesha is keeping it lite..Ayesha always make this bun in Marathi look bcz it's traditional one..On sai's both marriages they gave her same kind of bun..Sai was looking different and beautiful? #GhumHaiKisikeyPyaarMeiin
— Ayesha_fan❤ (@ti49186848) March 6, 2023
This is not the first time that fans have complained about Ayesha Singh's look. When it was Sai and Virat's wedding last year, Ayesha Singh's look was heavily criticised. However, sometimes fans just love her simplistic looks as well. If they have criticised, they also applaud good styling whenever they like any outfit or hairstyle of Ayesha. Also Read – Ghum Hai Kisikey Pyaar Meiin, Yeh Rishta Kya Kehlata Hai and more TV shows with the worst saas aka mother-in-law [View Pics]
Meanwhile, in the upcoming episode of Ghum Hai Kisikey Pyaar Meiin, we will see Virat arresting Sai on the charges of not applying colour to her husband's face on the occasion of Holi. Sai is shocked to see Virat talking about her husband.
Stay tuned to BollywoodLife for the latest scoops and updates from Bollywood, Hollywood, South, TV and Web-Series. Click to join us on Facebook, Twitter, Youtube and Instagram. Also follow us on Facebook Messenger for latest updates.