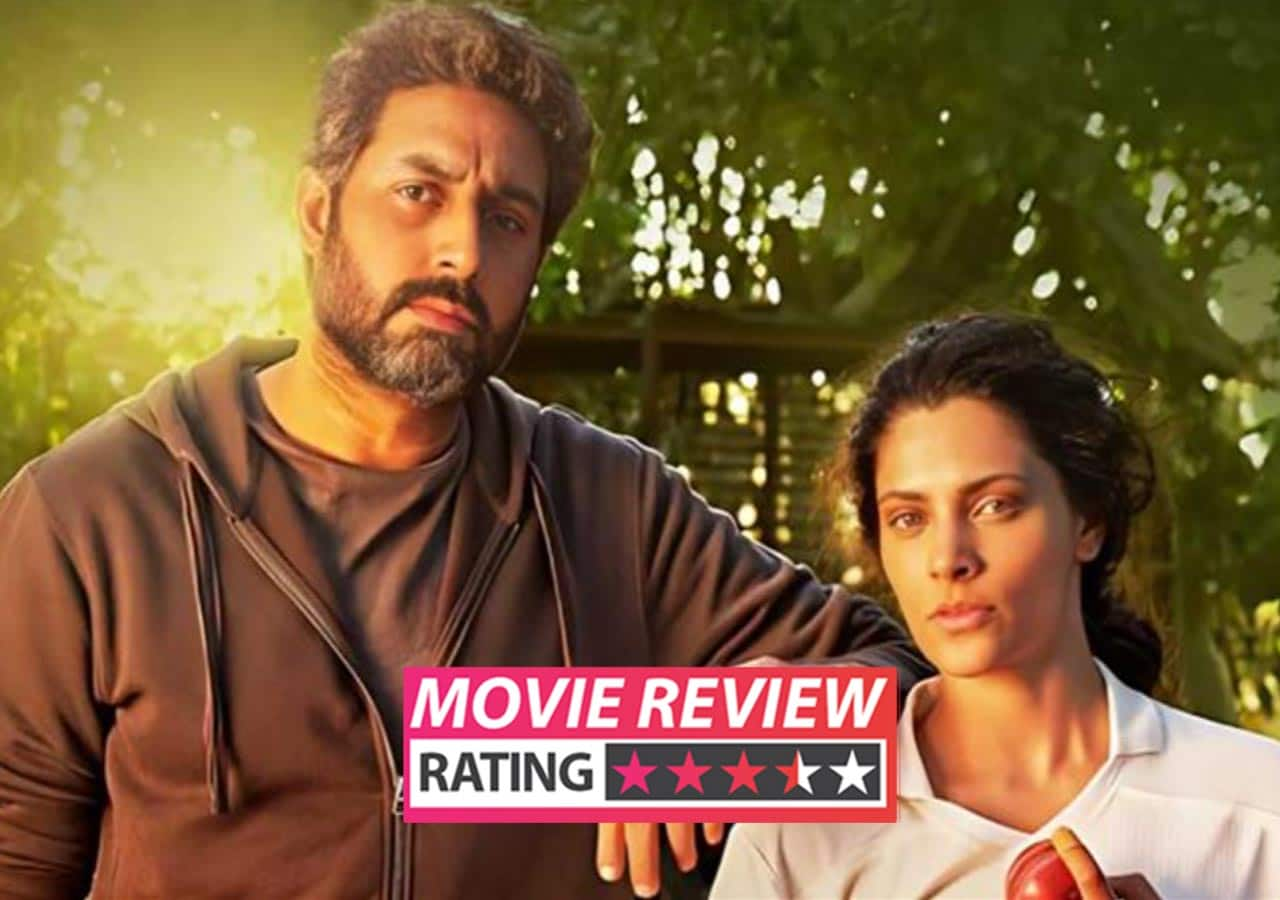 Movie: GhoomerDirector: R BalkiCast: Abhishek Bachchan, Saiyami Kher, Angad Bedi, Shabana Azmi, and othersStars: 3.5/5Duration: 2 hours 15 minutes
R Balki is one director who has given us some amazing films and audiences always wait for his next work. He always brings in something new to the table which is entertaining and enthralling. Well, he is back with his next 'Ghoomer' which is running in the cinemas near you and this time again he does not disappoint us!
The trailer of the film 'Ghoomer' received great love from the audience and there was excitement to see Abhishek Bachchan back on the silver screen after a gap of almost 5 years. What a comeback to the big screen Junior Bachchan. It is a treat to watch him in the film.
What's it about?
Ghoomer is the story of Anina who aspires to join India National Women's Cricket Team but one fatal accident changes her life completely as she loses her right arm. Having lost all hope to ever play cricket again, she becomes suicidal until one day Paddy, a former failed cricketer who is now an alcoholic enters her life. Life gives her a second chance and Paddy becomes her coach. Paddy turns her into a left-arm bowler from a batter.
Balki is in his brilliant form and has managed to make the characters connect with the audience. The writing by him, Rahul Sengupta and Rishi Virmani is strong and the screenplay is simple and uncomplicated. The film gives the message of 'Self-belief' and a 'Never Give Up' attitude. Director of Photography Vishal Sinha has shown a beautiful world through his cinematic lens. Amit Trivedi adds to the film with his music and background score.
Watch the trailer video of Ghoomer here:
But what makes the film shine and rise is the flawless casting of the film. Oh what a casting Shruti Mahajan ! Abhishek Bachchan, take a bow! He is flawless, effortless and so impressive in the film that one feels an actor like him deserves much more. He is in full form in the film and breathes life into the character of Paddy. His monologue towards the end of the film deserves special mention.
Saiyami as Anina is equally brilliant. She has showcased her mettle with utmost intensity. Her camaraderie with Abhishek leaves an impact. Angad Bedi can be seen as her boyfriend in the film and he is heartwarming. Shabana Azmi proves she is a legend for a reason.
In a recent interview, Abhishek mentioned his father is Balki's lucky charm and we all agree to it. Amitabh Bachchan's cameo in the film will bring a smile to your face. His one-liners are inspiring as well as humorous.
All in all, R Balki wins this match for sure with his inspiring tale. Go watch the film for some motivation. It is a complete family entertainer.
]]>
Stay tuned to BollywoodLife for the latest scoops and updates from Bollywood, Hollywood, South, TV and Web-Series. Click to join us on Facebook, Twitter, Youtube and Instagram. Also follow us on Facebook Messenger for latest updates.
adisplay:block;padding:0;color:var(–black);text-decoration:none.repeat-box figuredisplay:flex;justify-content:flex-start;flex-wrap:wrap;align-items:stretch;overflow:visible.two-cols-aside .aside .repeat-box figurealign-items:center.repeat-box .textwidth:100%;z-index:5;position:relative.repeat-box .photowidth:100px;position:relative;z-index:5.repeat-box .photo+.textwidth:calc(100% – 100px);padding-left:10px.repeat-box h2,.repeat-box h3,.repeat-box pcolor:var(–black);white-space:normal;overflow:hidden;text-overflow:ellipsis;-webkit-line-clamp:3;display:-webkit-box;-webkit-box-orient:vertical;padding:0;font-size:15px;line-height:1.5;font-weight:400.repeat-box h2font-size:20px.repeat-box h2+p,.repeat-box h3+pfont-size:14px.repeat-box .catfont-size:14px;line-height:16px;display:block;margin-bottom:5px;font-weight:700;color:var(–orange);text-transform:uppercase.repeat-box a:hover,.repeat-box a:hover h2,.repeat-box a:hover h3,.repeat-box a:hover pcolor:#f32c89.repeat-box .photo-icon,.repeat-box .video-iconposition:absolute;left:0;bottom:0;background:linear-gradient(to left,#a617be,#f32c89,#f32c89,#f32c89,#f32c89,#a617be);border-radius:0 5px 0 0.repeat-box .video-iconwidth:26px;height:26px;display:inline-block.repeat-box .photo-iconwidth:auto;min-width:26px;height:26px;line-height:16px;font-size:13px;color:var(–white);padding:5px 5px 0.lazy-image img.lazyopacity:0.lazy-image img:not(.initial)transition:opacity .5s ease-in,transform .5s ease-in,-webkit-transform .5s ease-in.lazy-image img.error,.lazy-image img.initial,.lazy-image img.loadedopacity:1.lazy-image img:not([src])visibility:hidden.cre-setionclear:both;overflow:hidden;float:none;width:auto;margin:5px 0 20px.cre-setion .black-boxespadding:15px 40px;background:#e5e5e5.cre-carousel-heightposition:relative;padding:0 0 255px;height:0.cre-carousel-height .all-dataposition:absolute;top:0;left:0;width:100%!important;height:100%!important.cre-setion .border-headingfont-size:16px;color:#1f1f1f;text-transform:uppercase;font-weight:700;padding:0 0 10px;margin:20px 0 10px;clear:both;position:relative;border-bottom:0;display:flex;justify-content:space-between;align-items:center.cre-setion .border-heading:beforetop:5px;height:14px.cre-setion .splide__slideheight:auto!important;margin-left:0.cre-setion article.repeat-boxdisplay:block;background-color:transparent;border-radius:5px;box-shadow:none;overflow:hidden;padding:0;margin-bottom:3px.cre-setion article.repeat-box>adisplay:block;padding:10px;background-color:var(–white);border-radius:5px;color:var(–black);text-decoration:none;overflow:hidden;border:1px solid #d0d0d0.cre-setion article.repeat-box>a>figuredisplay:block.cre-setion article.repeat-box .photo,.cre-setion article.repeat-box .textwidth:100%.cre-setion article.repeat-box .photoborder-radius:5px;overflow:hidden.cre-setion article.repeat-box .lazy-imagebox-shadow:none;border-radius:0;overflow:hidden.cre-setion article.repeat-box .textpadding:5px 0 0;height:90px;.cre-setion article.repeat-box .text h3font-size:14px;line-height:1.5;-webkit-line-clamp:4;font-weight:600;text-align:left.cre-setion .repeat-box .photos-iconborder-radius:0 5px 0 0;width:auto;min-width:26px;height:26px;left:0;bottom:0;display:flex;justify-content:center;align-items:center.cre-setion .photos-icon svgtransition:1s;fill:var(–white);width:26px;height:26px.cre-setion .photos-icon:hoverbackground:var(–blue).cre-setion .splide__arrowtop:50%!important;width:1.8em;height:1.8em;border-radius:100px;border:1px solid #999;background:0 0;opacity:1.cre-setion .splide__arrow–prevleft:-37px.cre-setion .splide__arrow–nextright:-37px.cre-setion .splide__arrow:disabledopacity:.3;cursor:not-allowed!important.cre-setion .splide__arrow:beforeborder:solid #999;border-width:0 2px 2px 0.cre-setion .splide__arrow:hoverbackground:linear-gradient(to left,#a617be,#f32c89,#f32c89,#f32c89,#f32c89,#a617be).cre-setion .splide__arrow:hover::beforeborder:solid var(–white);border-width:0 2px 2px 0]]]]>]]>