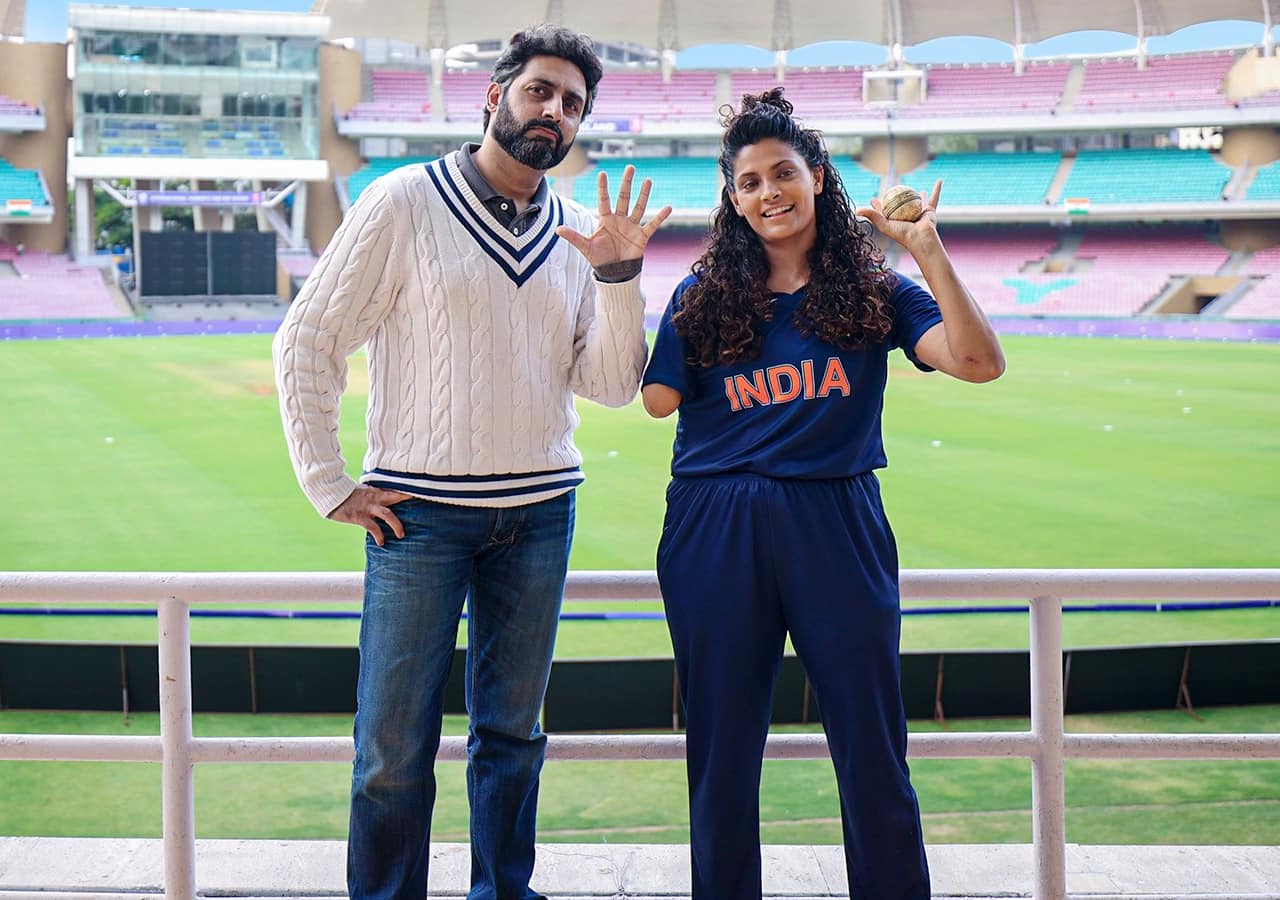 Today, Ghoomer makes it to the theatres. Starring Abhishek Bachchan, Saiyami Kher, Angad Bedi and many more, the film is directed by R Balki. It is a sport drama that has Saiyami Kher playing a role of a cricketer. Tragedy hits when she meets with an accident and loses an arm. Abhishek Bachchan, a former cricketer, turns coach and pushes her to train to play the next series. Not as a batter but as a bowler. The film has received only positive reviews from the critics and now audiences too are loving the film. Also Read – Gadar 2 vs OMG 2 vs Jailer box office collection: Sunny Deol, Akshay Kumar films slow down on day 7; Rajinikanth hits another milestone
On Twitter, Ghoomer reviews are out and people have only nice things to say about the film. In fact, celebrities like Virendra Sehwag, Ajinkya Rahane, Harsha Bhogle and others have also shared their review of Ghoomer on Twitter and it is all positive. People are impressed with the stellar performance by Abhishek Bachchan and Saiyami Kher. Also Read – Abhishek Bachchan reveals Aishwarya Rai Bachchan teaches daughter the importance of 'Bachchan' surname all the time
Check out Ghoomer Twitter review below:
i saw ghoomer by balki last night. whatta inspiring story. makes you feel all mushy and warm and wonderful inside. the whole cast is so good esp @juniorbachchan who, spins this weird complex person into a hero. go see. you'll feel good about life.
— sujoy ghosh (@sujoy_g) August 18, 2023
Watched #Ghoomer ,such a magnificent film,loved it so much!@juniorbachchan is such a phenomenal actor ! He does every role perfectly!!!!
— AnkitPrakash (@Ankit80775621) August 18, 2023
#Ghoomer and I'm in awe of Saiyami Kher's exceptional performance! ?? Her talent shines brighter than any other rising star in the industry. A true powerhouse of skill and versatility. #SaiyamiKher pic.twitter.com/XY4tdqQO2K
— THOUSIF ZIYA (@thousifziya) August 18, 2023
#Ghoomer' isn't merely a film; it's a story that captures the moment. Abhishek and team 100%..don't miss to watch. #RBalki #AbhishekBachchan, #SaiyamiKher, #AngadBedi and #ShabanaAzmi#GhoomerReview#GhoomerInCinemas pic.twitter.com/1Kk0rpz1Pl
— Jacob Mathew (@Jacobmathewlive) August 18, 2023
#Ghoomer is a heartwarming sports drama that will make u laugh, cry, & cheer.@juniorbachchan is "terrific" & "puts his A game forward"@SaiyamiKher has given a "heartfelt performance".
The film is beautifully shot by #RBalki.
Highly recommend #Ghoomer #GhoomerInCinemas
— Er. Amit Dubey (@AmitDubey1303) August 18, 2023
#Ghoomer isOUTSTANDING 4*/5 ⭐️⭐️⭐️⭐️
Motivational – Inspirational & Aspiring..
will remain among #AbhishekBachchan career top 5 films…. Take a bow #SaiyamiKher….. #RBalki You are a Genius ?? #GhoomerReview#GhoomerInCinemas pic.twitter.com/4SQagGLLg6
— _ASKRO (@_AskRO) August 18, 2023
Celebrities attend the special screening of Ghoomer. Watch video.
Apart from Abhishek Bachchan, Saiyami Kher, Angad Bedi, the film also stars Shabana Azmi in a pivotal role. Amitabh Bachchan has an extended cameo too! It is a heart touching tale that will inspire you to run towards your dreams with full speed. For more entertainment news, watch this space. Also Read – Ghoomer Movie Review: Abhishek Bachchan's stellar act shines through in this sports drama
]]>
Stay tuned to BollywoodLife for the latest scoops and updates from Bollywood, Hollywood, South, TV and Web-Series. Click to join us on Facebook, Twitter, Youtube and Instagram. Also follow us on Facebook Messenger for latest updates.
adisplay:block;padding:0;color:var(–black);text-decoration:none.repeat-box figuredisplay:flex;justify-content:flex-start;flex-wrap:wrap;align-items:stretch;overflow:visible.two-cols-aside .aside .repeat-box figurealign-items:center.repeat-box .textwidth:100%;z-index:5;position:relative.repeat-box .photowidth:100px;position:relative;z-index:5.repeat-box .photo+.textwidth:calc(100% – 100px);padding-left:10px.repeat-box h2,.repeat-box h3,.repeat-box pcolor:var(–black);white-space:normal;overflow:hidden;text-overflow:ellipsis;-webkit-line-clamp:3;display:-webkit-box;-webkit-box-orient:vertical;padding:0;font-size:15px;line-height:1.5;font-weight:400.repeat-box h2font-size:20px.repeat-box h2+p,.repeat-box h3+pfont-size:14px.repeat-box .catfont-size:14px;line-height:16px;display:block;margin-bottom:5px;font-weight:700;color:var(–orange);text-transform:uppercase.repeat-box a:hover,.repeat-box a:hover h2,.repeat-box a:hover h3,.repeat-box a:hover pcolor:#f32c89.repeat-box .photo-icon,.repeat-box .video-iconposition:absolute;left:0;bottom:0;background:linear-gradient(to left,#a617be,#f32c89,#f32c89,#f32c89,#f32c89,#a617be);border-radius:0 5px 0 0.repeat-box .video-iconwidth:26px;height:26px;display:inline-block.repeat-box .photo-iconwidth:auto;min-width:26px;height:26px;line-height:16px;font-size:13px;color:var(–white);padding:5px 5px 0.lazy-image img.lazyopacity:0.lazy-image img:not(.initial)transition:opacity .5s ease-in,transform .5s ease-in,-webkit-transform .5s ease-in.lazy-image img.error,.lazy-image img.initial,.lazy-image img.loadedopacity:1.lazy-image img:not([src])visibility:hidden.cre-setionclear:both;overflow:hidden;float:none;width:auto;margin:5px 0 20px.cre-setion .black-boxespadding:15px 40px;background:#e5e5e5.cre-carousel-heightposition:relative;padding:0 0 255px;height:0.cre-carousel-height .all-dataposition:absolute;top:0;left:0;width:100%!important;height:100%!important.cre-setion .border-headingfont-size:16px;color:#1f1f1f;text-transform:uppercase;font-weight:700;padding:0 0 10px;margin:20px 0 10px;clear:both;position:relative;border-bottom:0;display:flex;justify-content:space-between;align-items:center.cre-setion .border-heading:beforetop:5px;height:14px.cre-setion .splide__slideheight:auto!important;margin-left:0.cre-setion article.repeat-boxdisplay:block;background-color:transparent;border-radius:5px;box-shadow:none;overflow:hidden;padding:0;margin-bottom:3px.cre-setion article.repeat-box>adisplay:block;padding:10px;background-color:var(–white);border-radius:5px;color:var(–black);text-decoration:none;overflow:hidden;border:1px solid #d0d0d0.cre-setion article.repeat-box>a>figuredisplay:block.cre-setion article.repeat-box .photo,.cre-setion article.repeat-box .textwidth:100%.cre-setion article.repeat-box .photoborder-radius:5px;overflow:hidden.cre-setion article.repeat-box .lazy-imagebox-shadow:none;border-radius:0;overflow:hidden.cre-setion article.repeat-box .textpadding:5px 0 0;height:90px;.cre-setion article.repeat-box .text h3font-size:14px;line-height:1.5;-webkit-line-clamp:4;font-weight:600;text-align:left.cre-setion .repeat-box .photos-iconborder-radius:0 5px 0 0;width:auto;min-width:26px;height:26px;left:0;bottom:0;display:flex;justify-content:center;align-items:center.cre-setion .photos-icon svgtransition:1s;fill:var(–white);width:26px;height:26px.cre-setion .photos-icon:hoverbackground:var(–blue).cre-setion .splide__arrowtop:50%!important;width:1.8em;height:1.8em;border-radius:100px;border:1px solid #999;background:0 0;opacity:1.cre-setion .splide__arrow–prevleft:-37px.cre-setion .splide__arrow–nextright:-37px.cre-setion .splide__arrow:disabledopacity:.3;cursor:not-allowed!important.cre-setion .splide__arrow:beforeborder:solid #999;border-width:0 2px 2px 0.cre-setion .splide__arrow:hoverbackground:linear-gradient(to left,#a617be,#f32c89,#f32c89,#f32c89,#f32c89,#a617be).cre-setion .splide__arrow:hover::beforeborder:solid var(–white);border-width:0 2px 2px 0]]]]>]]>