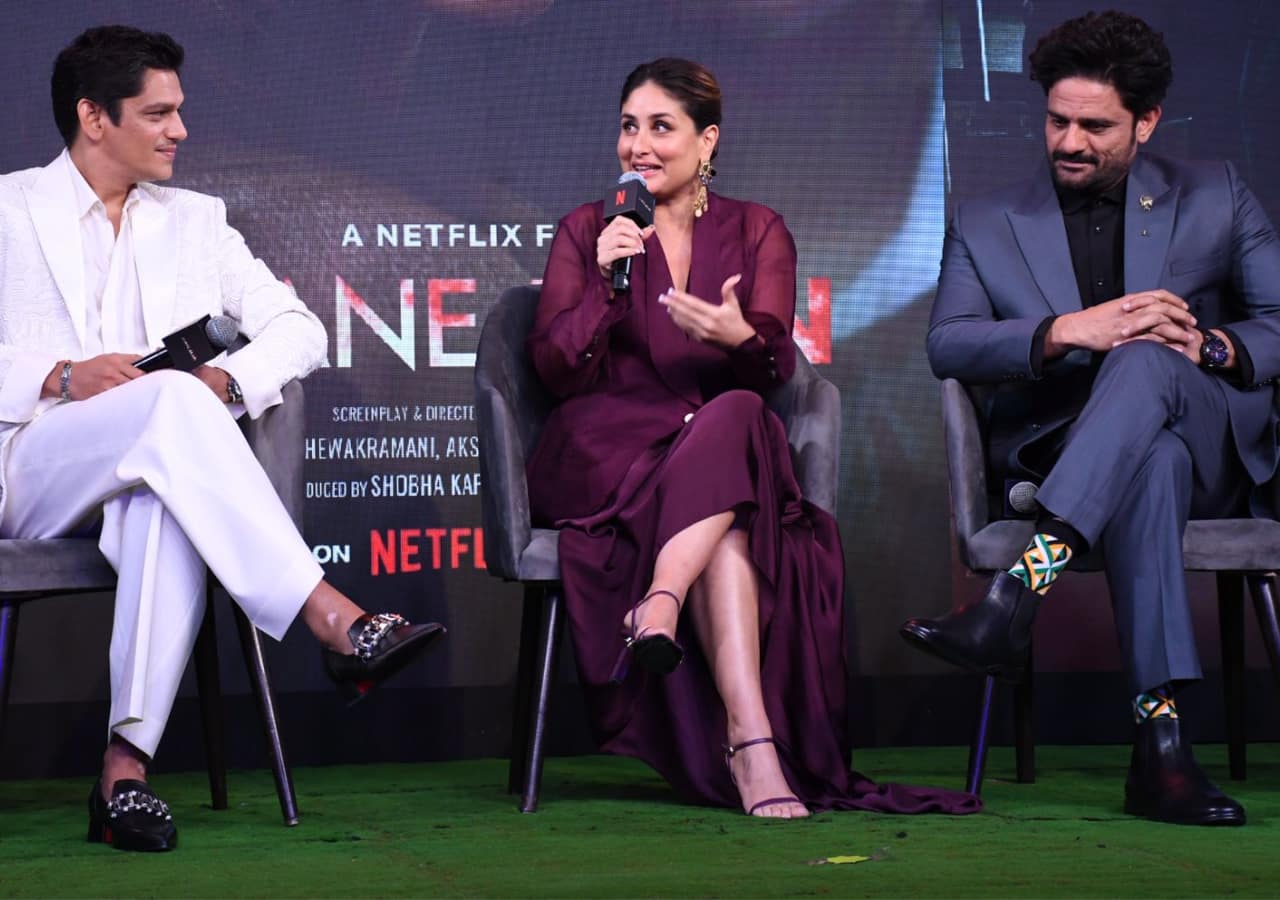 Kareena Kapoor Khan has stunned in the trailer of Jaane Jaan and the way she has moulded herself into Maya D'Souza is commendable. But it wasn't a cake walk for her to take up this challenging role and it was Saif Ali Khan who helped her prepare for what's in store. He reminded her that this is not something regular and she should stop being the back bencher. During the Jaane Jaan held in Mumbai on Tuesday, Kareena revealed, "Saif told me, 'Listen you have to be prepared, it's not like you will put makeup on and say your lines, it's not a picnic'." He also told her that Jaideep is a great actor and he really surprises you with every take. "With Vijay I have realised that he is a bit like me, who is having fun but his every take is different," Saif had told Kareena. She said that it was an amazing experience working with the two actors. Kareena said that it's good for actors to be constantly threatened by other actors, and be on the toes. "We all were prepared," the actress said.
Adding to the answer, Vijay shared, "I want to thank Saif Ali Khan, otherwise she wouldn't even have know yeh ladke kaun hain." Kareena quipped, "Yes, he keeps watching everything." Bebo even added how she is nervous for Jaane Jaan and have been wanting to work with Sujoy Ghosh since 10 years now, "I think I am more nervous than I was 23 years ago because people will be watching even more closely, in their homes. Sujoy has done a fantastic job, we have been wanting to work for decades, and finally it happened. "
Watch the Jaane Jaan Trailer video here:

Kareena further added, "I was actually pregnant with Jeh at the time I was approached with the script, and then I thought it will be great to make an OTT debut with Netflix because everyone was doing something amazing on it. I wished for some co-stars who add a lot of freshness and then there was Vijay and Jaideep's name. I was like yes, there can be no refusing this. I want to work with them, I want to learn from them and sometimes I was actually forgetting my lines, something that has never happened, I think it was just meant to be."
Watch this video of Ameesha Patel talking about Kareena Kapoor Khan here:
Kareena even mentioned that she personally loves the thriller genre, "I personally enjoy watching crime thrillers and mystery, that's generally my go to. When I read this story, this was just amazing and it couldn't have got better, I instantly said yes, we always wanted to work together and it was finally happening." Sujoy added to Bebo's statement that she was the one who rejected 100 scripts that he went to her with before.
Jaane Jaan releases on Netflix on September 21, 2023.
]]>
Stay tuned to BollywoodLife for the latest scoops and updates from Bollywood, Hollywood, South, TV and Web-Series. Click to join us on Facebook, Twitter, Youtube and Instagram. Also follow us on Facebook Messenger for latest updates.
adisplay:block;padding:0;color:var(–black);text-decoration:none.repeat-box figuredisplay:flex;justify-content:flex-start;flex-wrap:wrap;align-items:stretch;overflow:visible.two-cols-aside .aside .repeat-box figurealign-items:center.repeat-box .textwidth:100%;z-index:5;position:relative.repeat-box .photowidth:100px;position:relative;z-index:5.repeat-box .photo+.textwidth:calc(100% – 100px);padding-left:10px.repeat-box h2,.repeat-box h3,.repeat-box pcolor:var(–black);white-space:normal;overflow:hidden;text-overflow:ellipsis;-webkit-line-clamp:3;display:-webkit-box;-webkit-box-orient:vertical;padding:0;font-size:15px;line-height:1.5;font-weight:400.repeat-box h2font-size:20px.repeat-box h2+p,.repeat-box h3+pfont-size:14px.repeat-box .catfont-size:14px;line-height:16px;display:block;margin-bottom:5px;font-weight:700;color:var(–orange);text-transform:uppercase.repeat-box a:hover,.repeat-box a:hover h2,.repeat-box a:hover h3,.repeat-box a:hover pcolor:#f32c89.repeat-box .photo-icon,.repeat-box .video-iconposition:absolute;left:0;bottom:0;background:linear-gradient(to left,#a617be,#f32c89,#f32c89,#f32c89,#f32c89,#a617be);border-radius:0 5px 0 0.repeat-box .video-iconwidth:26px;height:26px;display:inline-block.repeat-box .photo-iconwidth:auto;min-width:26px;height:26px;line-height:16px;font-size:13px;color:var(–white);padding:5px 5px 0.lazy-image img.lazyopacity:0.lazy-image img:not(.initial)transition:opacity .5s ease-in,transform .5s ease-in,-webkit-transform .5s ease-in.lazy-image img.error,.lazy-image img.initial,.lazy-image img.loadedopacity:1.lazy-image img:not([src])visibility:hidden.cre-setionclear:both;overflow:hidden;float:none;width:auto;margin:5px 0 20px.cre-setion .black-boxespadding:15px 40px;background:#e5e5e5.cre-carousel-heightposition:relative;padding:0 0 255px;height:0.cre-carousel-height .all-dataposition:absolute;top:0;left:0;width:100%!important;height:100%!important.cre-setion .border-headingfont-size:16px;color:#1f1f1f;text-transform:uppercase;font-weight:700;padding:0 0 10px;margin:20px 0 10px;clear:both;position:relative;border-bottom:0;display:flex;justify-content:space-between;align-items:center.cre-setion .border-heading:beforetop:5px;height:14px.cre-setion .splide__slideheight:auto!important;margin-left:0.cre-setion article.repeat-boxdisplay:block;background-color:transparent;border-radius:5px;box-shadow:none;overflow:hidden;padding:0;margin-bottom:3px.cre-setion article.repeat-box>adisplay:block;padding:10px;background-color:var(–white);border-radius:5px;color:var(–black);text-decoration:none;overflow:hidden;border:1px solid #d0d0d0.cre-setion article.repeat-box>a>figuredisplay:block.cre-setion article.repeat-box .photo,.cre-setion article.repeat-box .textwidth:100%.cre-setion article.repeat-box .photoborder-radius:5px;overflow:hidden.cre-setion article.repeat-box .lazy-imagebox-shadow:none;border-radius:0;overflow:hidden.cre-setion article.repeat-box .textpadding:5px 0 0;height:90px;.cre-setion article.repeat-box .text h3font-size:14px;line-height:1.5;-webkit-line-clamp:4;font-weight:600;text-align:left.cre-setion .repeat-box .photos-iconborder-radius:0 5px 0 0;width:auto;min-width:26px;height:26px;left:0;bottom:0;display:flex;justify-content:center;align-items:center.cre-setion .photos-icon svgtransition:1s;fill:var(–white);width:26px;height:26px.cre-setion .photos-icon:hoverbackground:var(–blue).cre-setion .splide__arrowtop:50%!important;width:1.8em;height:1.8em;border-radius:100px;border:1px solid #999;background:0 0;opacity:1.cre-setion .splide__arrow–prevleft:-37px.cre-setion .splide__arrow–nextright:-37px.cre-setion .splide__arrow:disabledopacity:.3;cursor:not-allowed!important.cre-setion .splide__arrow:beforeborder:solid #999;border-width:0 2px 2px 0.cre-setion .splide__arrow:hoverbackground:linear-gradient(to left,#a617be,#f32c89,#f32c89,#f32c89,#f32c89,#a617be).cre-setion .splide__arrow:hover::beforeborder:solid var(–white);border-width:0 2px 2px 0]]]]>]]>