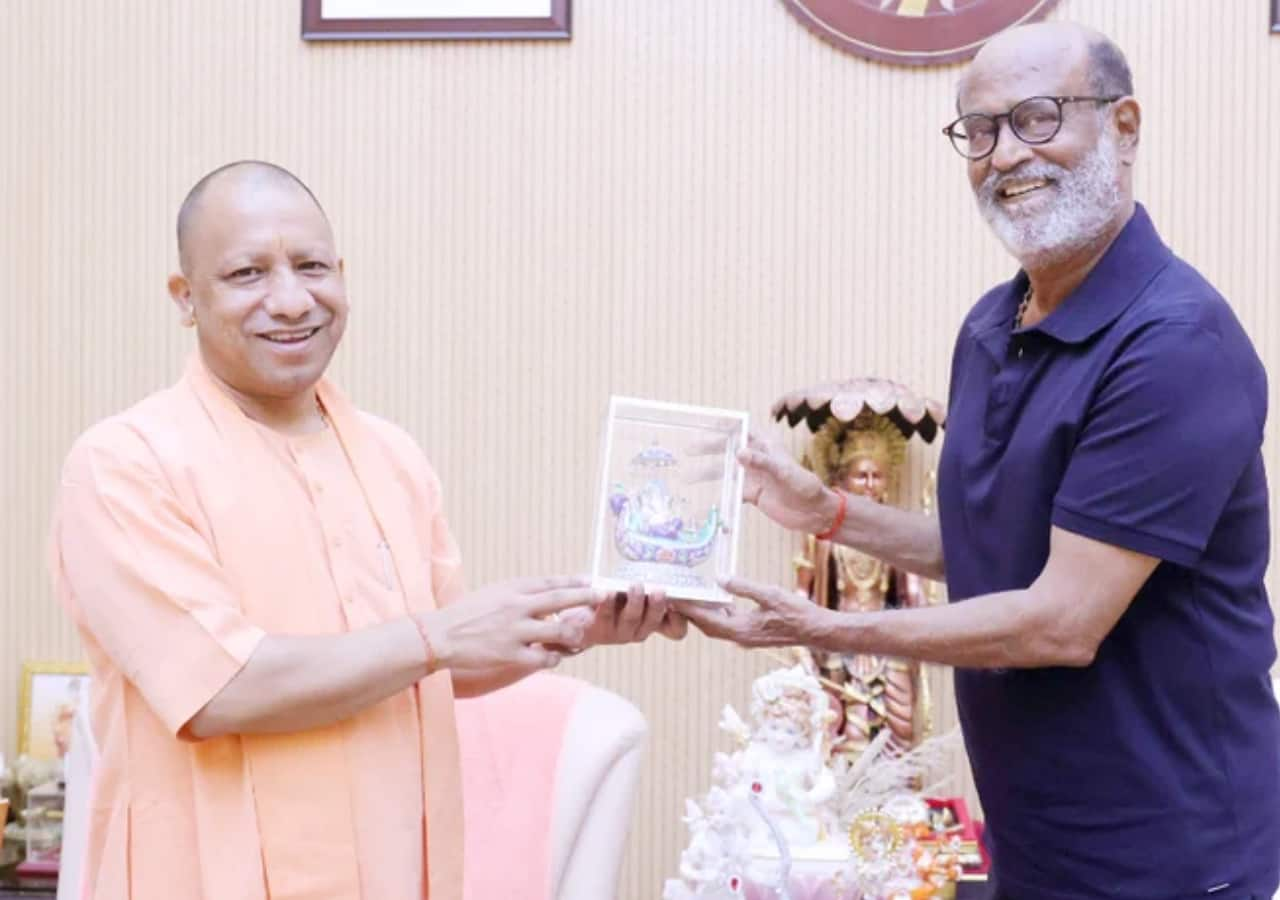 Jailer is the latest box office success from the South Film industry. Starring the mighty Rajinikanth, Tamannaah Bhatia and more, the movies has become one of the highest grossers of the year. It has managed to beat the collections of big films like Ponniyin Selvan II and more. And all of this despite the competition from Gadar 2 and OMG 2. With all the success, Rajinikanth is happy. However, netizens recently got upset over a video of Rajinikanth meeting UP CM Yogi Adityanath to watch Jailer. Also Read – Gadar 2, OMG 2, Ghoomer box office collection: Sunny Deol starrer enters 300 club; Abhishek Bachchan film takes below average start
Check out the video of Rajinikanth meeting Yogi Adityanath:
A video that shows Rajinikanth arriving to meet UP CM Yogi Adityanath has the actor touching the politician's feet. Some netizens pointed out that Yogi Adityanath is younger than Rajinikanth, hence this action left them upset. But now, Rajinikanth's fans have jumped into defence. Many took to Twitter to take the actor's side and stated that he only showed his respect to a Hindu Monk. Also Read – Top 10 Bollywood celebs, their odd jobs and first salaries before becoming rich and famous
Check out the tweets of Rajinikanth's fans below:
That's how you respect Hindu monk. The fact to be noted is Yogi Adhyanath is younger than Rajinikanth. Need to learn alot from Guru Rajini???#Rajinikanth #YogiAdityanath #Jailer pic.twitter.com/6dcVnyxUbG
— Tharun? (@officialtharun_) August 19, 2023
Kneeling to monks are part of Sanatana dharma.Only When you follow Sanatana Dharma strictly you ll have the mindset to do all these. How beautiful is to see a 72 year old touching feet of 51. No ego exist,no age barrier,all that you can see is divine#Rajinikanth #YogiAdityanath pic.twitter.com/txzR3BLoVZ
— Tharun? (@officialtharun_) August 20, 2023
A must read by Shri @dushyanthsridar ji glad people like him are speaking out about this incident stronglyI'm proud of my uncle yet again @rajinikanth ???????????? u rock Thalaiva https://t.co/ZakHAWzL48
— Madhuvanthii (@YGMadhuvanthi) August 20, 2023
Apart from Yogi Adityanath, Rajinikanth also met SP Chief Akhilesh Yadav. The superstar called the politician his friend and said, "Nine years ago, I had met Akhilesh at a function in Mumbai. Since then, our friendship has continued, and we talk over the phone. I had come here five years ago for a shooting, (but) Akhilesh was not there, and (I) could not meet him. He is here now and I met him." Akhilesh Yadav too shared a picture of him hugging Rajinikanth. Also Read – Jailer box office collection day 7 WW: Rajinikanth film beats Vikram, but will he break his own 2Point0 record?
जब दिल मिलते हैं तो लोग गले मिलते हैं।
मैसूर में इंजीनियरिंग की पढ़ाई के दौरान पर्दे पर रजनीकांत जी को देखकर जितनी ख़ुशी होती थी वो आज भी बरकरार है। हम 9 साल पहले व्यक्तिगत रूप से मिले और तब से दोस्ती है… pic.twitter.com/e9KZrc5mNH
— Akhilesh Yadav (@yadavakhilesh) August 20, 2023
Have you watched Jailer yet? Watch this space for more updates.
]]>
Stay tuned to BollywoodLife for the latest scoops and updates from Bollywood, Hollywood, South, TV and Web-Series. Click to join us on Facebook, Twitter, Youtube and Instagram. Also follow us on Facebook Messenger for latest updates.
adisplay:block;padding:0;color:var(–black);text-decoration:none.repeat-box figuredisplay:flex;justify-content:flex-start;flex-wrap:wrap;align-items:stretch;overflow:visible.two-cols-aside .aside .repeat-box figurealign-items:center.repeat-box .textwidth:100%;z-index:5;position:relative.repeat-box .photowidth:100px;position:relative;z-index:5.repeat-box .photo+.textwidth:calc(100% – 100px);padding-left:10px.repeat-box h2,.repeat-box h3,.repeat-box pcolor:var(–black);white-space:normal;overflow:hidden;text-overflow:ellipsis;-webkit-line-clamp:3;display:-webkit-box;-webkit-box-orient:vertical;padding:0;font-size:15px;line-height:1.5;font-weight:400.repeat-box h2font-size:20px.repeat-box h2+p,.repeat-box h3+pfont-size:14px.repeat-box .catfont-size:14px;line-height:16px;display:block;margin-bottom:5px;font-weight:700;color:var(–orange);text-transform:uppercase.repeat-box a:hover,.repeat-box a:hover h2,.repeat-box a:hover h3,.repeat-box a:hover pcolor:#f32c89.repeat-box .photo-icon,.repeat-box .video-iconposition:absolute;left:0;bottom:0;background:linear-gradient(to left,#a617be,#f32c89,#f32c89,#f32c89,#f32c89,#a617be);border-radius:0 5px 0 0.repeat-box .video-iconwidth:26px;height:26px;display:inline-block.repeat-box .photo-iconwidth:auto;min-width:26px;height:26px;line-height:16px;font-size:13px;color:var(–white);padding:5px 5px 0.lazy-image img.lazyopacity:0.lazy-image img:not(.initial)transition:opacity .5s ease-in,transform .5s ease-in,-webkit-transform .5s ease-in.lazy-image img.error,.lazy-image img.initial,.lazy-image img.loadedopacity:1.lazy-image img:not([src])visibility:hidden.cre-setionclear:both;overflow:hidden;float:none;width:auto;margin:5px 0 20px.cre-setion .black-boxespadding:15px 40px;background:#e5e5e5.cre-carousel-heightposition:relative;padding:0 0 255px;height:0.cre-carousel-height .all-dataposition:absolute;top:0;left:0;width:100%!important;height:100%!important.cre-setion .border-headingfont-size:16px;color:#1f1f1f;text-transform:uppercase;font-weight:700;padding:0 0 10px;margin:20px 0 10px;clear:both;position:relative;border-bottom:0;display:flex;justify-content:space-between;align-items:center.cre-setion .border-heading:beforetop:5px;height:14px.cre-setion .splide__slideheight:auto!important;margin-left:0.cre-setion article.repeat-boxdisplay:block;background-color:transparent;border-radius:5px;box-shadow:none;overflow:hidden;padding:0;margin-bottom:3px.cre-setion article.repeat-box>adisplay:block;padding:10px;background-color:var(–white);border-radius:5px;color:var(–black);text-decoration:none;overflow:hidden;border:1px solid #d0d0d0.cre-setion article.repeat-box>a>figuredisplay:block.cre-setion article.repeat-box .photo,.cre-setion article.repeat-box .textwidth:100%.cre-setion article.repeat-box .photoborder-radius:5px;overflow:hidden.cre-setion article.repeat-box .lazy-imagebox-shadow:none;border-radius:0;overflow:hidden.cre-setion article.repeat-box .textpadding:5px 0 0;height:90px;.cre-setion article.repeat-box .text h3font-size:14px;line-height:1.5;-webkit-line-clamp:4;font-weight:600;text-align:left.cre-setion .repeat-box .photos-iconborder-radius:0 5px 0 0;width:auto;min-width:26px;height:26px;left:0;bottom:0;display:flex;justify-content:center;align-items:center.cre-setion .photos-icon svgtransition:1s;fill:var(–white);width:26px;height:26px.cre-setion .photos-icon:hoverbackground:var(–blue).cre-setion .splide__arrowtop:50%!important;width:1.8em;height:1.8em;border-radius:100px;border:1px solid #999;background:0 0;opacity:1.cre-setion .splide__arrow–prevleft:-37px.cre-setion .splide__arrow–nextright:-37px.cre-setion .splide__arrow:disabledopacity:.3;cursor:not-allowed!important.cre-setion .splide__arrow:beforeborder:solid #999;border-width:0 2px 2px 0.cre-setion .splide__arrow:hoverbackground:linear-gradient(to left,#a617be,#f32c89,#f32c89,#f32c89,#f32c89,#a617be).cre-setion .splide__arrow:hover::beforeborder:solid var(–white);border-width:0 2px 2px 0]]]]>]]>