Pushpa 2 star Allu Arjun has joined the list of admirers of Shah Rukh Khan starrer new movie Jawan. The Atlee movie has been minting money and inching closer to becoming the highest-grossing films of all time. After Mahesh Babu and many other Bollywood celebs, Allu Arjun has heaped praises on the much talked about new movie. He has gushed over everyone and especially SRK, in the movie. Also Read – Jawan: Shah Rukh Khan, Atlee actioner sees politicians jumping on the bandwagon; use film to hit out at rival parties
Allu Arjun gushes over Shah Rukh Khan in Jawan
Taking to his official X (Twitter) handle, Allu Arjun congratulated the entire team of Jawan for the 'mammoth blockbuster.' He sent his warm regards to the entire cast, technicians, crew & producer of Jawan. Allu Arjun couldn't stop praising the star of the movie, Shah Rukh Khan. He called the roles SRK's massiest avatar ever. The stylish star beamed over the superstar saying that he has been charming the whole of India and beyond with his swag. The Pushpa 2 actor claimed that everyone wished this (the success) for him. Also Read – Dunki: After Jawan mania, Shah Rukh Khan, Rajkumar Hirani in two minds over December 2023 release; might postpone film?
Allu Arjun called Vijay Sethupathi's act as antagonist Kaali, a terrific one as always. He found Deepika Padukone's cameo as Aishwarya to be an elegant, effortless and impactful star presence. Gushing over Nayanthara, Allu Arjun said the lady superstar shined the brightest on a national level. He praised Anirudh Ravichander as well for making the amazing, loopworthy music of Jawan. Also Read – Ranbir Kapoor new movie Animal to follow Shah Rukh Khan's strategy for a Jawan like box office success
Lastly, Allu Arjun congratulated Atlee, the director of Jawan for making them proud and for delivering such a thought-provoking commercial cinema. He also lauded the director for creating history at the Indian box office.
Check out Allu Arjun's tweet here:
Biggg Congratulations to the whole team of #JAWAN for this mammoth blockbuster . Warm regards to the entire cast , technicians, crew & producers of #JAWAN @iamsrk garu's Massiest avatar ever , charming the whole of India & beyond with his swag . Truly happy for you sir , we…
— Allu Arjun (@alluarjun) September 14, 2023
Shah Rukh Khan responds to Allu Arjun
The superstar thanked Allu Arjun for such kind words. He gushed about 'the Fire' (reference to Pushpa) praising him. He claimed that 'It has made his day.' SRK adds that he is now feeling Jawan twice over. Shah Rukh Khan also shared that he watched Pushpa thrice in three days. He also wished to give a big hug in person to the DJ actor.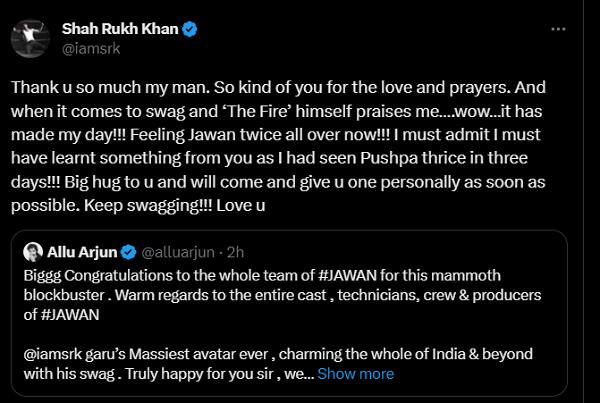 Allu Arjun and Anirudh Ravichander's exchange on X (Twitter)
Anirudh expressed his gratitude towards Allu Arjun for his kind words about his work on Jawan. But the Pushpa 2 star had a witty response in waiting. He asked the music director to not just say a simple thanks but to make great songs for him too. Anirudh responded in Jawan style saying he is 'ready.' Have a look at their exchange here:


Watch this video of Nayanthara here:
SRKians thank Allu Arjun for his kind words
Fans of Shah Rukh Khan have been responding to all the celebrities for all their kind words about Jawan and their idol, Shah Rukh Khan. And they did the same with South's stylish star Allu Arjun as well. Check out some of the tweets here:
Lots of love from SRKians
— ??. ?????? (@imShakiLAkhtar) September 14, 2023
Thank You bhAAi
— Felix Makwana (@felixmakwana) September 14, 2023
Thank You Allu Arjun Garu ❤️
— SRK's Vasim (@iamvasimt) September 14, 2023
Love u sirWaiting for pushpa 2
— Hunter Singh ᴷᴷᴿ (@HUNTER__SINGH) September 14, 2023
omg, thank you so much bhAAi ? Best wishes for Pushpa 2 as well. And hope we see you and SRK together in a movie someday, maybe Jawan 2 ? pic.twitter.com/RJ9SQA7wAA
— sohom ʲᵃʷᵃⁿ ᵉʳᵃ (@AwaaraHoon) September 14, 2023
Thank you Allu Arjun ji ❤️ All the best of Pushpa 2
— Syed Irfan Ahmad (@Iam_SyedIrfan) September 14, 2023
This one biggest surprise for me at least this morning
— Soni Raj Singh (@SRKkiSoni) September 14, 2023
Thank you sirYour tweet means a lot❤️
— pradeep (@gentledepu) September 14, 2023
Thank you so much. You are very kind
— ADITYA (@AdiSRKian) September 14, 2023
Thank you Allu sir and we all love you and appreciate all your work❤
— MOHD FAISAL☮️ (@Mohd10663257) September 14, 2023
Jawan mania among celebrities
From Shraddha Kapoor to Kiara Advani, Anupam Kher, Soni Razdan and Mahesh Bhatt, Mahesh Babu, Madhur Bhandarkar, Sunny Singh, Ram Pothineni, Varun Dhawan, and more have watched and thoroughly enjoyed Jawan in cinemas. The movie has surpassed Rs 600 crores at the worldwide box office. It is likely to enter Rs 400 crore club by today.
]]>
Stay tuned to BollywoodLife for the latest scoops and updates from Bollywood, Hollywood, South, TV and Web-Series. Click to join us on Facebook, Twitter, Youtube and Instagram. Also follow us on Facebook Messenger for latest updates.
adisplay:block;padding:0;color:var(–black);text-decoration:none.repeat-box figuredisplay:flex;justify-content:flex-start;flex-wrap:wrap;align-items:stretch;overflow:visible.two-cols-aside .aside .repeat-box figurealign-items:center.repeat-box .textwidth:100%;z-index:5;position:relative.repeat-box .photowidth:100px;position:relative;z-index:5.repeat-box .photo+.textwidth:calc(100% – 100px);padding-left:10px.repeat-box h2,.repeat-box h3,.repeat-box pcolor:var(–black);white-space:normal;overflow:hidden;text-overflow:ellipsis;-webkit-line-clamp:3;display:-webkit-box;-webkit-box-orient:vertical;padding:0;font-size:15px;line-height:1.5;font-weight:400.repeat-box h2font-size:20px.repeat-box h2+p,.repeat-box h3+pfont-size:14px.repeat-box .catfont-size:14px;line-height:16px;display:block;margin-bottom:5px;font-weight:700;color:var(–orange);text-transform:uppercase.repeat-box a:hover,.repeat-box a:hover h2,.repeat-box a:hover h3,.repeat-box a:hover pcolor:#f32c89.repeat-box .photo-icon,.repeat-box .video-iconposition:absolute;left:0;bottom:0;background:linear-gradient(to left,#a617be,#f32c89,#f32c89,#f32c89,#f32c89,#a617be);border-radius:0 5px 0 0.repeat-box .video-iconwidth:26px;height:26px;display:inline-block.repeat-box .photo-iconwidth:auto;min-width:26px;height:26px;line-height:16px;font-size:13px;color:var(–white);padding:5px 5px 0.lazy-image img.lazyopacity:0.lazy-image img:not(.initial)transition:opacity .5s ease-in,transform .5s ease-in,-webkit-transform .5s ease-in.lazy-image img.error,.lazy-image img.initial,.lazy-image img.loadedopacity:1.lazy-image img:not([src])visibility:hidden.cre-setionclear:both;overflow:hidden;float:none;width:auto;margin:5px 0 20px.cre-setion .black-boxespadding:15px 40px;background:#e5e5e5.cre-carousel-heightposition:relative;padding:0 0 255px;height:0.cre-carousel-height .all-dataposition:absolute;top:0;left:0;width:100%!important;height:100%!important.cre-setion .border-headingfont-size:16px;color:#1f1f1f;text-transform:uppercase;font-weight:700;padding:0 0 10px;margin:20px 0 10px;clear:both;position:relative;border-bottom:0;display:flex;justify-content:space-between;align-items:center.cre-setion .border-heading:beforetop:5px;height:14px.cre-setion .splide__slideheight:auto!important;margin-left:0.cre-setion article.repeat-boxdisplay:block;background-color:transparent;border-radius:5px;box-shadow:none;overflow:hidden;padding:0;margin-bottom:3px.cre-setion article.repeat-box>adisplay:block;padding:10px;background-color:var(–white);border-radius:5px;color:var(–black);text-decoration:none;overflow:hidden;border:1px solid #d0d0d0.cre-setion article.repeat-box>a>figuredisplay:block.cre-setion article.repeat-box .photo,.cre-setion article.repeat-box .textwidth:100%.cre-setion article.repeat-box .photoborder-radius:5px;overflow:hidden.cre-setion article.repeat-box .lazy-imagebox-shadow:none;border-radius:0;overflow:hidden.cre-setion article.repeat-box .textpadding:5px 0 0;height:90px;.cre-setion article.repeat-box .text h3font-size:14px;line-height:1.5;-webkit-line-clamp:4;font-weight:600;text-align:left.cre-setion .repeat-box .photos-iconborder-radius:0 5px 0 0;width:auto;min-width:26px;height:26px;left:0;bottom:0;display:flex;justify-content:center;align-items:center.cre-setion .photos-icon svgtransition:1s;fill:var(–white);width:26px;height:26px.cre-setion .photos-icon:hoverbackground:var(–blue).cre-setion .splide__arrowtop:50%!important;width:1.8em;height:1.8em;border-radius:100px;border:1px solid #999;background:0 0;opacity:1.cre-setion .splide__arrow–prevleft:-37px.cre-setion .splide__arrow–nextright:-37px.cre-setion .splide__arrow:disabledopacity:.3;cursor:not-allowed!important.cre-setion .splide__arrow:beforeborder:solid #999;border-width:0 2px 2px 0.cre-setion .splide__arrow:hoverbackground:linear-gradient(to left,#a617be,#f32c89,#f32c89,#f32c89,#f32c89,#a617be).cre-setion .splide__arrow:hover::beforeborder:solid var(–white);border-width:0 2px 2px 0]]]]>]]>