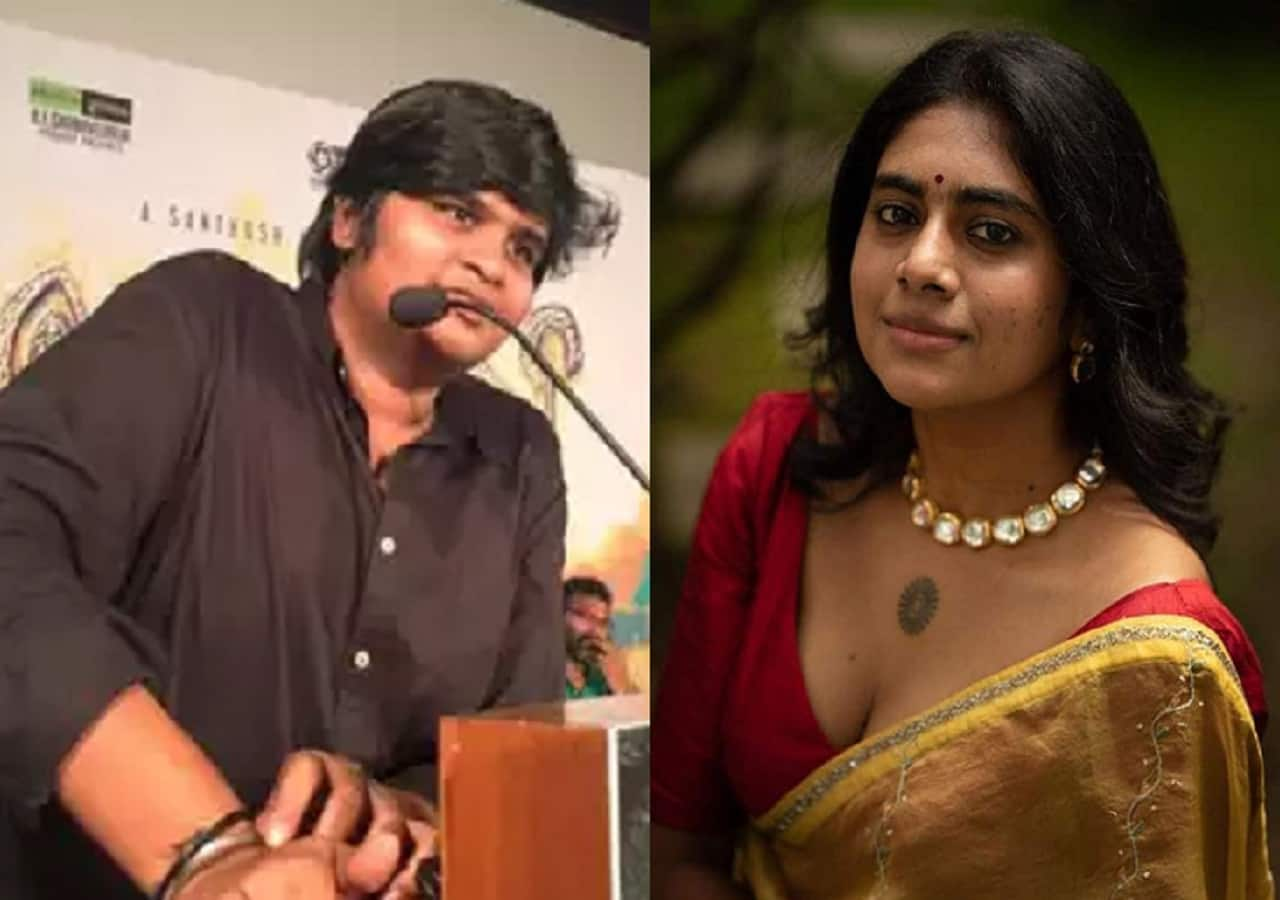 Jigarthanda DoubleX has turned out to be a money spinner at the Tamil box office. Moreover, Karthik Subbaraj is getting immense acclaim for his vision in terms of story telling and narration. This has been one of the finest sequels in Kollywood. A success meet was held where the lead stars SJ Suryah and Raghava Lawrence were present along with Karthik Subbaraj and music composer Santhosh Narayanan. The filmmaker said he felt that the movie was blessed by the Almighty. However, a question from a reporter left a sense of distaste at the event. The filmmaker called him out in public. Also Read – Jigarthanda DoubleX: Filmmaker Karthik Subbaraj 'extra-ordinary' in the Raghava Lawrence, SJ Suryah film; fans say, 'Lifetime experience'
The reporter asked him why did he cast actress Nimisha Sajayan who is not beautiful and yet made her deliver such a great performance. Karthik Subbaraj told the reporter that such mindset was not a good one. He said that it is wrong to say that someone is not beautiful. Subbaraj said it was wrong on part of him to say that. Nimisha Sajayan plays the role of Malaiyarasi a fierce tribal woman who is the wife of Caeser (Raghava Lawrence). Later on, Santhosh Narayanan took to X and commented that such a ridiculous question around the actress' beauty was just to create controversy. He said things had not changed in the past nine years when people had asked Jigarthanda Figuredhandha question. Also Read – Jigarthanda Double X Movie review: Dhanush gives thumbs up to Raghava Lawrence, lauds Karthik Subbaraj's craft
Nimisha Sajayan is getting love for her work in Chitta as well. The movie around child sexual abuse had Siddharth in the male lead. Two days back filmmaker Lokesh Kanagaraj took a stand for Leo actress Trisha. Actor Mansoor Ali Khan said he thought he would do a bedroom scene with Trisha but none of that happened. He said he had done many sexual assault scenes before and it was not new for him. But he was not in the same frame as Trisha. Lokesh Kanagaraj said it was condemnable and respect for fellow artistes was a must. Also Read – Chandramukhi 2: Raghava Lawrence's next Jigarthanda DoubleX made on a WHOPPING budget?
]]>Stay tuned to BollywoodLife for the latest scoops and updates from Bollywood, Hollywood, South, TV and Web-Series.
adisplay:block;padding:0;color:var(–black);text-decoration:none.repeat-box figuredisplay:flex;justify-content:flex-start;flex-wrap:wrap;align-items:stretch;overflow:visible.two-cols-aside .aside .repeat-box figurealign-items:center.repeat-box .textwidth:100%;z-index:5;position:relative.repeat-box .photowidth:100px;position:relative;z-index:5.repeat-box .photo+.textwidth:calc(100% – 100px);padding-left:10px.repeat-box h2,.repeat-box h3,.repeat-box pcolor:var(–black);white-space:normal;overflow:hidden;text-overflow:ellipsis;-webkit-line-clamp:3;display:-webkit-box;-webkit-box-orient:vertical;padding:0;font-size:15px;line-height:1.5;font-weight:400.repeat-box h2font-size:20px.repeat-box h2+p,.repeat-box h3+pfont-size:14px.repeat-box .catfont-size:14px;line-height:16px;display:block;margin-bottom:5px;font-weight:700;color:var(–orange);text-transform:uppercase.repeat-box a:hover,.repeat-box a:hover h2,.repeat-box a:hover h3,.repeat-box a:hover pcolor:#f32c89.repeat-box .photo-icon,.repeat-box .video-iconposition:absolute;left:0;bottom:0;background:linear-gradient(to left,#a617be,#f32c89,#f32c89,#f32c89,#f32c89,#a617be);border-radius:0 5px 0 0.repeat-box .video-iconwidth:26px;height:26px;display:inline-block.repeat-box .photo-iconwidth:auto;min-width:26px;height:26px;line-height:16px;font-size:13px;color:var(–white);padding:5px 5px 0.lazy-image img.lazyopacity:0.lazy-image img:not(.initial)transition:opacity .5s ease-in,transform .5s ease-in,-webkit-transform .5s ease-in.lazy-image img.error,.lazy-image img.initial,.lazy-image img.loadedopacity:1.lazy-image img:not([src])visibility:hidden.cre-setionclear:both;overflow:hidden;float:none;width:auto;margin:5px 0 20px.cre-setion .black-boxespadding:15px 40px;background:#e5e5e5.cre-carousel-heightposition:relative;padding:0 0 255px;height:0.cre-carousel-height .all-dataposition:absolute;top:0;left:0;width:100%!important;height:100%!important.cre-setion .border-headingfont-size:16px;color:#1f1f1f;text-transform:uppercase;font-weight:700;padding:0 0 10px;margin:20px 0 10px;clear:both;position:relative;border-bottom:0;display:flex;justify-content:space-between;align-items:center.cre-setion .border-heading:beforetop:5px;height:14px.cre-setion .splide__slideheight:auto!important;margin-left:0.cre-setion article.repeat-boxdisplay:block;background-color:transparent;border-radius:5px;box-shadow:none;overflow:hidden;padding:0;margin-bottom:3px.cre-setion article.repeat-box>adisplay:block;padding:10px;background-color:var(–white);border-radius:5px;color:var(–black);text-decoration:none;overflow:hidden;border:1px solid #d0d0d0.cre-setion article.repeat-box>a>figuredisplay:block.cre-setion article.repeat-box .photo,.cre-setion article.repeat-box .textwidth:100%.cre-setion article.repeat-box .photoborder-radius:5px;overflow:hidden.cre-setion article.repeat-box .lazy-imagebox-shadow:none;border-radius:0;overflow:hidden.cre-setion article.repeat-box .textpadding:5px 0 0;height:90px;.cre-setion article.repeat-box .text h3font-size:14px;line-height:1.5;-webkit-line-clamp:4;font-weight:600;text-align:left.cre-setion .repeat-box .photos-iconborder-radius:0 5px 0 0;width:auto;min-width:26px;height:26px;left:0;bottom:0;display:flex;justify-content:center;align-items:center.cre-setion .photos-icon svgtransition:1s;fill:var(–white);width:26px;height:26px.cre-setion .photos-icon:hoverbackground:var(–blue).cre-setion .splide__arrowtop:50%!important;width:1.8em;height:1.8em;border-radius:100px;border:1px solid #999;background:0 0;opacity:1.cre-setion .splide__arrow–prevleft:-37px.cre-setion .splide__arrow–nextright:-37px.cre-setion .splide__arrow:disabledopacity:.3;cursor:not-allowed!important.cre-setion .splide__arrow:beforeborder:solid #999;border-width:0 2px 2px 0.cre-setion .splide__arrow:hoverbackground:linear-gradient(to left,#a617be,#f32c89,#f32c89,#f32c89,#f32c89,#a617be).cre-setion .splide__arrow:hover::beforeborder:solid var(–white);border-width:0 2px 2px 0]]]]>]]>