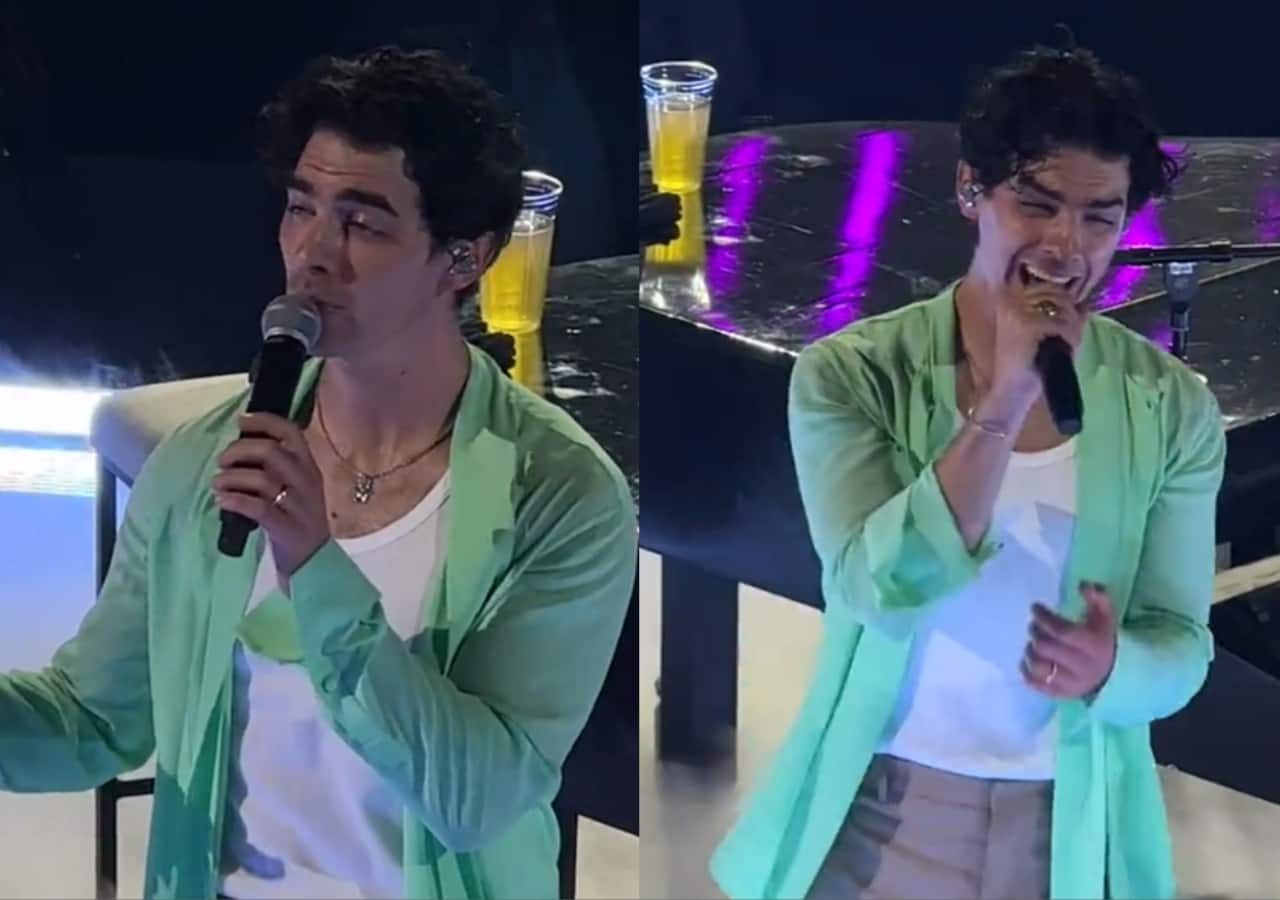 Amid viral reports of Hollywood star couple Joe Jonas and Sophie Turner heading for divorce after four years of marriage, the Jonas brother singer sang the love song he wrote for Sophie during his recent concert. The singer sang Hesitate and was seen getting emotional on stage during his performance. Joe was also spotted with his wedding band yet again days after he was spotted sans his ring during an outing. The singer also posted a picture of himself wearing his ring on his Instagram, putting all divorce rumours to rest. Also Read – Game of Thrones star Sophie Turner and Joe Jonas headed for a divorce? Internet has a major emotional meltdown [VIEW REACTIONS]
Joe Jonas sings love song written for Sophie Turner amid divorce rumours
During the Jonas Brothers concert in Austin, fans were left surprised with Joe singing the song Hesitate. The song was confirmed to be a "love letter" for Sophie when they were engaged. In an earlier interview, Joe said that the song is like "my vows before I wrote my vows. It's my promise to Sophie." Also Read – Trending Hollywood News Today: Leonardo DiCaprio follows Gigi Hadid to France, Harrison Ford joins Captain America 4 and more
Joe Jonas singing "Hesitate" tonight ♥️ #THETOUR pic.twitter.com/xumU12ml5W
— Jonas Brothers Updates ☀️ (@JonasBrosBros) September 4, 2023
The lyrics of the song swooned fans away and became an internet sensation. "Kiss the tears right off your face / Won't get scared. I will take your pain / And put it on my heart / I won't hesitate / Just tell me where to start / I thank the oceans for giving me you / You saved me once and now I'll save you too / I won't hesitate for you," the lyrics read. Also Read – Met Gala 2022 best dressed: Kim Kardashian-Pete Davidson, Joe Jonas-Sophie Turner and more stylish couples who set red carpet on fire
Several fans noted that Joe got emotional during his performance of the song and took to Twitter to share their reactions. One user wrote, "That performance of Hesitate really got me. Nick looking over at Joe..like I can't explain the feeling. Those two have a bond like no other. Joe, we love you and we won't hesitate for you."
Another tweet read, "Seeing all those video's of Joe singing Hesitate yesterday night…. He put so much power in it, but looking at his face I can just see all the emotions. Joe is very sensitive and they are so private. Even if the rumours are true he would feel so bad about it being said online.."
Joe shows off wedding ring in latest Instagram post
Meanwhile, Joe took to his Instagram account on Tuesday morning to share a picture of himself. The singer looked uber cool in the black and white picture, but what caught the eyes of the fans was that the singer was sporting his wedding ring yet again.
Reacting to the picture, one user wrote, "Y'all really made this man post a singular picture of himself wearing his ring because of rumors going around the internet lmao." Another comment read, "he really said: here's the ring. now shut up."
]]>
Stay tuned to BollywoodLife for the latest scoops and updates from Bollywood, Hollywood, South, TV and Web-Series. Click to join us on Facebook, Twitter, Youtube and Instagram. Also follow us on Facebook Messenger for latest updates.
adisplay:block;padding:0;color:var(–black);text-decoration:none.repeat-box figuredisplay:flex;justify-content:flex-start;flex-wrap:wrap;align-items:stretch;overflow:visible.two-cols-aside .aside .repeat-box figurealign-items:center.repeat-box .textwidth:100%;z-index:5;position:relative.repeat-box .photowidth:100px;position:relative;z-index:5.repeat-box .photo+.textwidth:calc(100% – 100px);padding-left:10px.repeat-box h2,.repeat-box h3,.repeat-box pcolor:var(–black);white-space:normal;overflow:hidden;text-overflow:ellipsis;-webkit-line-clamp:3;display:-webkit-box;-webkit-box-orient:vertical;padding:0;font-size:15px;line-height:1.5;font-weight:400.repeat-box h2font-size:20px.repeat-box h2+p,.repeat-box h3+pfont-size:14px.repeat-box .catfont-size:14px;line-height:16px;display:block;margin-bottom:5px;font-weight:700;color:var(–orange);text-transform:uppercase.repeat-box a:hover,.repeat-box a:hover h2,.repeat-box a:hover h3,.repeat-box a:hover pcolor:#f32c89.repeat-box .photo-icon,.repeat-box .video-iconposition:absolute;left:0;bottom:0;background:linear-gradient(to left,#a617be,#f32c89,#f32c89,#f32c89,#f32c89,#a617be);border-radius:0 5px 0 0.repeat-box .video-iconwidth:26px;height:26px;display:inline-block.repeat-box .photo-iconwidth:auto;min-width:26px;height:26px;line-height:16px;font-size:13px;color:var(–white);padding:5px 5px 0.lazy-image img.lazyopacity:0.lazy-image img:not(.initial)transition:opacity .5s ease-in,transform .5s ease-in,-webkit-transform .5s ease-in.lazy-image img.error,.lazy-image img.initial,.lazy-image img.loadedopacity:1.lazy-image img:not([src])visibility:hidden.cre-setionclear:both;overflow:hidden;float:none;width:auto;margin:5px 0 20px.cre-setion .black-boxespadding:15px 40px;background:#e5e5e5.cre-carousel-heightposition:relative;padding:0 0 255px;height:0.cre-carousel-height .all-dataposition:absolute;top:0;left:0;width:100%!important;height:100%!important.cre-setion .border-headingfont-size:16px;color:#1f1f1f;text-transform:uppercase;font-weight:700;padding:0 0 10px;margin:20px 0 10px;clear:both;position:relative;border-bottom:0;display:flex;justify-content:space-between;align-items:center.cre-setion .border-heading:beforetop:5px;height:14px.cre-setion .splide__slideheight:auto!important;margin-left:0.cre-setion article.repeat-boxdisplay:block;background-color:transparent;border-radius:5px;box-shadow:none;overflow:hidden;padding:0;margin-bottom:3px.cre-setion article.repeat-box>adisplay:block;padding:10px;background-color:var(–white);border-radius:5px;color:var(–black);text-decoration:none;overflow:hidden;border:1px solid #d0d0d0.cre-setion article.repeat-box>a>figuredisplay:block.cre-setion article.repeat-box .photo,.cre-setion article.repeat-box .textwidth:100%.cre-setion article.repeat-box .photoborder-radius:5px;overflow:hidden.cre-setion article.repeat-box .lazy-imagebox-shadow:none;border-radius:0;overflow:hidden.cre-setion article.repeat-box .textpadding:5px 0 0;height:90px;.cre-setion article.repeat-box .text h3font-size:14px;line-height:1.5;-webkit-line-clamp:4;font-weight:600;text-align:left.cre-setion .repeat-box .photos-iconborder-radius:0 5px 0 0;width:auto;min-width:26px;height:26px;left:0;bottom:0;display:flex;justify-content:center;align-items:center.cre-setion .photos-icon svgtransition:1s;fill:var(–white);width:26px;height:26px.cre-setion .photos-icon:hoverbackground:var(–blue).cre-setion .splide__arrowtop:50%!important;width:1.8em;height:1.8em;border-radius:100px;border:1px solid #999;background:0 0;opacity:1.cre-setion .splide__arrow–prevleft:-37px.cre-setion .splide__arrow–nextright:-37px.cre-setion .splide__arrow:disabledopacity:.3;cursor:not-allowed!important.cre-setion .splide__arrow:beforeborder:solid #999;border-width:0 2px 2px 0.cre-setion .splide__arrow:hoverbackground:linear-gradient(to left,#a617be,#f32c89,#f32c89,#f32c89,#f32c89,#a617be).cre-setion .splide__arrow:hover::beforeborder:solid var(–white);border-width:0 2px 2px 0]]]]>]]>