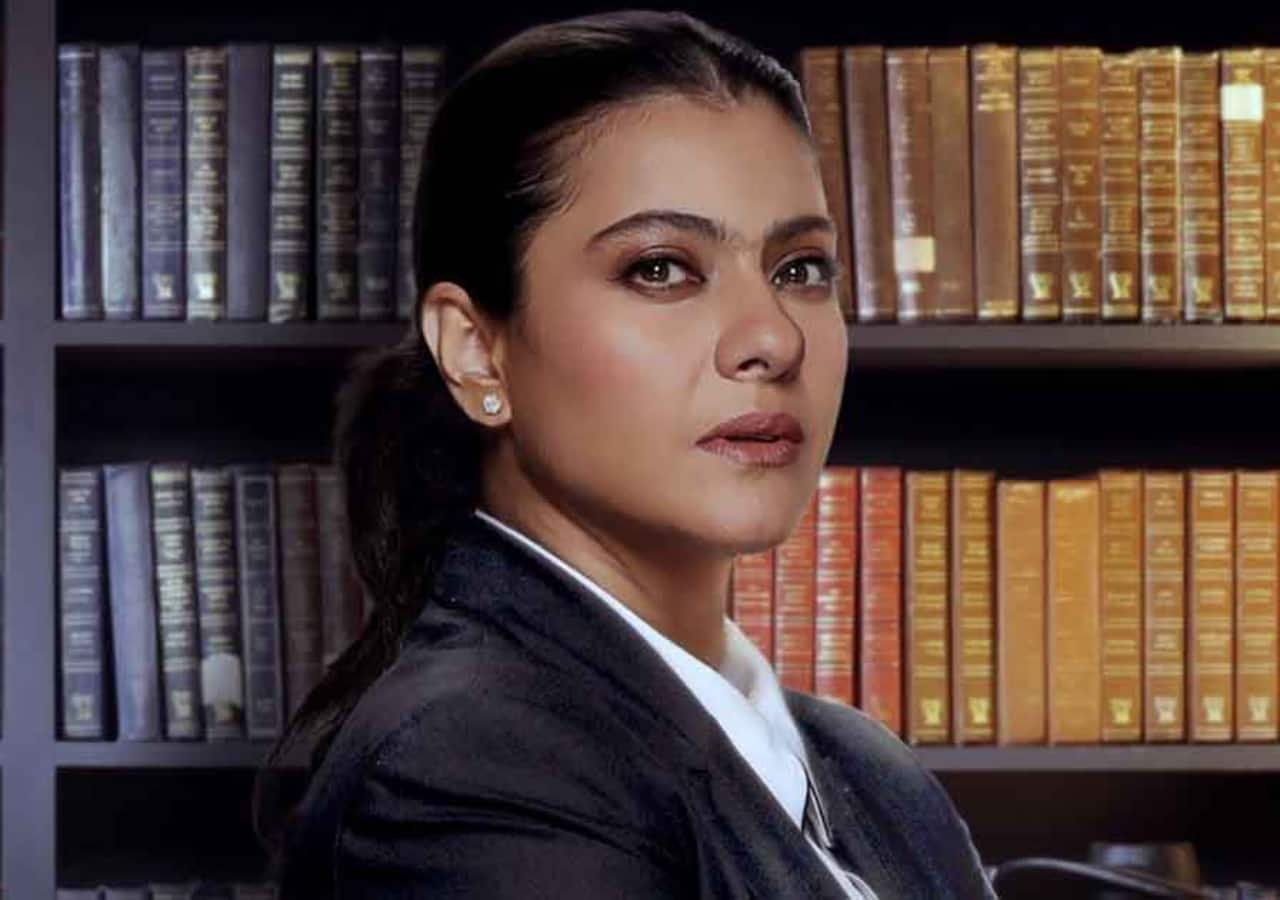 Audiences across India have come together to cheer and celebrate the strength of a strong-willed woman. Streaming on Disney + Hotstar, The Trial: Pyaar, Kaanoon, Dhokha, trails the journey of Noyonika played by the stunning Kajol, as she embarks on a journey that truly makes her stand the test of time after her husband's betrayal. Also Read – The Trial: Were the kissing scenes between Kajol and her costars really needed? Here's what netizens think [VIEW POLL RESULT]
Kajol's portrayal of a vulnerable woman who takes the rein of her life in her own hand has been unanimously loved and applauded by audiences. The show's esteemed star cast Sheeba Chaddha, Jisshu Sengupta, Alyy Khan, Kubbra Sait and Gaurav Pandey have raised the bar with their impactful performances in this gripping journey of Noyonika's life. Also Read – The Trial actress Kajol shares Nysa Devgn's quirky reaction to being told 'I hope you get a daughter like yourself'
Directed by Suparn S Varma, the show has reached a remarkable number of views and has been receiving great word of mouth. Also Read – The Trial: Aamir Ali was extremely hesitant to do steamy scenes in the show for this reason?
Elated with the response Kajol has garnered for the series, she shares," Noyonika's character is very close to my heart. She is a strong and practical woman who is always ready to tackle every situation in her life. Hearing the kind of response, The Trial: Pyaar, Kaanoon, Dhokha has received is absolutely humbling. Being able to represent the strength of a woman and being appreciated for that portrayal is empowering for me as a woman and as an actor.".
Talking about the love and appreciation, The Trial has been receiving, Suparn S Varma shares, "It was an emotional moment bringing love, The Trial: Pyaar, Kaanoon, Dhokha to all of you. The kind words and love that all of you have showered – whether it is the intricacies of the background score and dialogues or our strong and fabulous cast that stole the show, the past few days have been one of my best days so far. Even the industry and my peers, that have shared their love for our show and the response has been overwhelming. I can't wait for all of you to witness what happens next! The love and positivity that all my friends, family and fans have given me for The Trial: Pyaar, Kaanoon, Dhokha truly adds a feather to my cap, after The Family Man, Rana Naidu, Sirf Ek Banda Kaafi Hai and now The Trial: Pyaar, Kaanoon, Dhokha, it just empowers me to create pathbreaking content and bring new stories to entertain all of you!".
Appreciation like this is encouraging for producer, Deepak Dhar, CEO of Banijay Asia, he shares, " Our only aim is to bring entertainment to audiences through every project we make. The Trial: Pyaar, Kaanoon, Dhokha is a special one for us and it's encouraging for us to see that audiences have loved what we have presented to them. The response to this show is a testament to all the hard work put in by all the teams. And we aim to create more such meaningful and entertaining content for the audiences in the future.".
Produced by Banijay Asia and Ajay Devgn Films with Director and Showrunner Suparn S Varma, The Trial – Pyaar, Kaanoon, Dhokha is now streaming exclusively on Disney+ Hotstar.
]]>
Stay tuned to BollywoodLife for the latest scoops and updates from Bollywood, Hollywood, South, TV and Web-Series. Click to join us on Facebook, Twitter, Youtube and Instagram. Also follow us on Facebook Messenger for latest updates.
adisplay:block;padding:0;color:var(–black);text-decoration:none.repeat-box figuredisplay:flex;justify-content:flex-start;flex-wrap:wrap;align-items:stretch;overflow:visible.two-cols-aside .aside .repeat-box figurealign-items:center.repeat-box .textwidth:100%;z-index:5;position:relative.repeat-box .photowidth:100px;position:relative;z-index:5.repeat-box .photo+.textwidth:calc(100% – 100px);padding-left:10px.repeat-box h2,.repeat-box h3,.repeat-box pcolor:var(–black);white-space:normal;overflow:hidden;text-overflow:ellipsis;-webkit-line-clamp:3;display:-webkit-box;-webkit-box-orient:vertical;padding:0;font-size:15px;line-height:1.5;font-weight:400.repeat-box h2font-size:20px.repeat-box h2+p,.repeat-box h3+pfont-size:14px.repeat-box .catfont-size:14px;line-height:16px;display:block;margin-bottom:5px;font-weight:700;color:var(–orange);text-transform:uppercase.repeat-box a:hover,.repeat-box a:hover h2,.repeat-box a:hover h3,.repeat-box a:hover pcolor:#f32c89.repeat-box .photo-icon,.repeat-box .video-iconposition:absolute;left:0;bottom:0;background:linear-gradient(to left,#a617be,#f32c89,#f32c89,#f32c89,#f32c89,#a617be);border-radius:0 5px 0 0.repeat-box .video-iconwidth:26px;height:26px;display:inline-block.repeat-box .photo-iconwidth:auto;min-width:26px;height:26px;line-height:16px;font-size:13px;color:var(–white);padding:5px 5px 0.lazy-image img.lazyopacity:0.lazy-image img:not(.initial)transition:opacity .5s ease-in,transform .5s ease-in,-webkit-transform .5s ease-in.lazy-image img.error,.lazy-image img.initial,.lazy-image img.loadedopacity:1.lazy-image img:not([src])visibility:hidden.cre-setionclear:both;overflow:hidden;float:none;width:auto;margin:5px 0 20px.cre-setion .black-boxespadding:15px 40px;background:#e5e5e5.cre-carousel-heightposition:relative;padding:0 0 255px;height:0.cre-carousel-height .all-dataposition:absolute;top:0;left:0;width:100%!important;height:100%!important.cre-setion .border-headingfont-size:16px;color:#1f1f1f;text-transform:uppercase;font-weight:700;padding:0 0 10px;margin:20px 0 10px;clear:both;position:relative;border-bottom:0;display:flex;justify-content:space-between;align-items:center.cre-setion .border-heading:beforetop:5px;height:14px.cre-setion .splide__slideheight:auto!important;margin-left:0.cre-setion article.repeat-boxdisplay:block;background-color:transparent;border-radius:5px;box-shadow:none;overflow:hidden;padding:0;margin-bottom:3px.cre-setion article.repeat-box>adisplay:block;padding:10px;background-color:var(–white);border-radius:5px;color:var(–black);text-decoration:none;overflow:hidden;border:1px solid #d0d0d0.cre-setion article.repeat-box>a>figuredisplay:block.cre-setion article.repeat-box .photo,.cre-setion article.repeat-box .textwidth:100%.cre-setion article.repeat-box .photoborder-radius:5px;overflow:hidden.cre-setion article.repeat-box .lazy-imagebox-shadow:none;border-radius:0;overflow:hidden.cre-setion article.repeat-box .textpadding:5px 0 0;height:90px;.cre-setion article.repeat-box .text h3font-size:14px;line-height:1.5;-webkit-line-clamp:4;font-weight:600;text-align:left.cre-setion .repeat-box .photos-iconborder-radius:0 5px 0 0;width:auto;min-width:26px;height:26px;left:0;bottom:0;display:flex;justify-content:center;align-items:center.cre-setion .photos-icon svgtransition:1s;fill:var(–white);width:26px;height:26px.cre-setion .photos-icon:hoverbackground:var(–blue).cre-setion .splide__arrowtop:50%!important;width:1.8em;height:1.8em;border-radius:100px;border:1px solid #999;background:0 0;opacity:1.cre-setion .splide__arrow–prevleft:-37px.cre-setion .splide__arrow–nextright:-37px.cre-setion .splide__arrow:disabledopacity:.3;cursor:not-allowed!important.cre-setion .splide__arrow:beforeborder:solid #999;border-width:0 2px 2px 0.cre-setion .splide__arrow:hoverbackground:linear-gradient(to left,#a617be,#f32c89,#f32c89,#f32c89,#f32c89,#a617be).cre-setion .splide__arrow:hover::beforeborder:solid var(–white);border-width:0 2px 2px 0]]]]>]]>