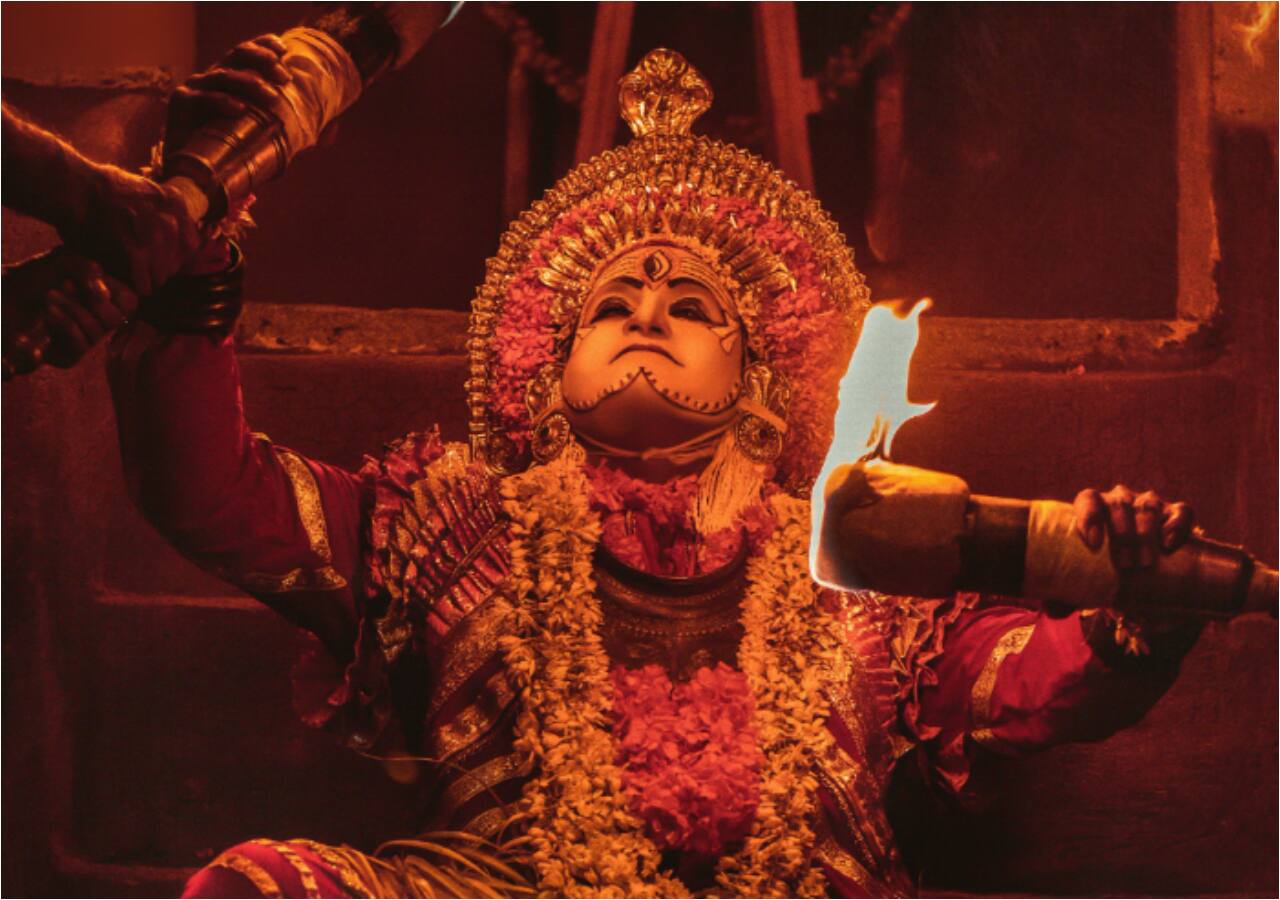 In 2022, a number of South films dominated the North Indian market. Kantara was one of them. Produced by Hombale Films and directed by Rishab Shetty, the movie about a daiva (local deity) who protects a forest and its inhabitants found resonance all over India. Fans showered love on Rishab Shetty for bringing forth a story which was rooted in the Tulu belt but catered to the sentiments of most Indians. Kantara 2 is aiming at a release in the second half of 2024. The story will be a prequel to what we saw in the movie. Rishab Shetty said it took time as people were researching more on the folklore and religious beliefs of the area. Also Read – KGF 2: Fans of Yash from Japan chant 'Salaam Rocky Bhai'; shower love on the actor
Kantara 2 made on a whopping budget?
Kantara 2 is apparently being made on a budget of Rs 125 crores. The shoot of the same will start in November 2023. This time, the story will focus on how Panjurli Daiva became such an important figure in the lives of people in Tulu region. The original movie was made on a budget of just Rs 16 crores. It amassed more than Rs 400 crores at the box office. Kantara was a success even in the North part of India, where it made close to Rs 100 crores. The project was backed by Hombale Films that makes biggies like Salaar and KGF franchise. The news of the budget has been shared by a top trade expert from Tamil Nadu. Also Read – Rishab Shetty birthday: Here's how Kantara star is celebrating his special day with fans
#Kantara2
Budget – ₹1⃣2⃣5⃣ crShoot – Nov 2023Release – 2024 2nd half
||#RishabShetty | #Kantara|| pic.twitter.com/fEFSkSRSgy
— Manobala Vijayabalan (@ManobalaV) August 22, 2023
Story of Kantara Also Read – Kantara 2: Rishab Shetty starrer to roll soon, makers finalize the script; Here's all you need to know
In the movie, Rishab Shetty had played the role of a village ruffian who is fond of racing buffaloes and shooting wild life. His love interest was Sapthami Gowda who is a forest ranger. It was shown that the character has a change of heart after getting signals from Panjurli Deva. The film delved into forests and how people close to that belt have a deep relationship. It touched upon issues like encroachment, deforestation and religious beliefs.

Kantara and Rishab Shetty also won a number of awards all over India. There were many who felt it was overhyped but fans defended the movie strongly. The song Varaha Roopam was one of the highlights of the film.
]]>
Stay tuned to BollywoodLife for the latest scoops and updates from Bollywood, Hollywood, South, TV and Web-Series. Click to join us on Facebook, Twitter, Youtube and Instagram. Also follow us on Facebook Messenger for latest updates.
adisplay:block;padding:0;color:var(–black);text-decoration:none.repeat-box figuredisplay:flex;justify-content:flex-start;flex-wrap:wrap;align-items:stretch;overflow:visible.two-cols-aside .aside .repeat-box figurealign-items:center.repeat-box .textwidth:100%;z-index:5;position:relative.repeat-box .photowidth:100px;position:relative;z-index:5.repeat-box .photo+.textwidth:calc(100% – 100px);padding-left:10px.repeat-box h2,.repeat-box h3,.repeat-box pcolor:var(–black);white-space:normal;overflow:hidden;text-overflow:ellipsis;-webkit-line-clamp:3;display:-webkit-box;-webkit-box-orient:vertical;padding:0;font-size:15px;line-height:1.5;font-weight:400.repeat-box h2font-size:20px.repeat-box h2+p,.repeat-box h3+pfont-size:14px.repeat-box .catfont-size:14px;line-height:16px;display:block;margin-bottom:5px;font-weight:700;color:var(–orange);text-transform:uppercase.repeat-box a:hover,.repeat-box a:hover h2,.repeat-box a:hover h3,.repeat-box a:hover pcolor:#f32c89.repeat-box .photo-icon,.repeat-box .video-iconposition:absolute;left:0;bottom:0;background:linear-gradient(to left,#a617be,#f32c89,#f32c89,#f32c89,#f32c89,#a617be);border-radius:0 5px 0 0.repeat-box .video-iconwidth:26px;height:26px;display:inline-block.repeat-box .photo-iconwidth:auto;min-width:26px;height:26px;line-height:16px;font-size:13px;color:var(–white);padding:5px 5px 0.lazy-image img.lazyopacity:0.lazy-image img:not(.initial)transition:opacity .5s ease-in,transform .5s ease-in,-webkit-transform .5s ease-in.lazy-image img.error,.lazy-image img.initial,.lazy-image img.loadedopacity:1.lazy-image img:not([src])visibility:hidden.cre-setionclear:both;overflow:hidden;float:none;width:auto;margin:5px 0 20px.cre-setion .black-boxespadding:15px 40px;background:#e5e5e5.cre-carousel-heightposition:relative;padding:0 0 255px;height:0.cre-carousel-height .all-dataposition:absolute;top:0;left:0;width:100%!important;height:100%!important.cre-setion .border-headingfont-size:16px;color:#1f1f1f;text-transform:uppercase;font-weight:700;padding:0 0 10px;margin:20px 0 10px;clear:both;position:relative;border-bottom:0;display:flex;justify-content:space-between;align-items:center.cre-setion .border-heading:beforetop:5px;height:14px.cre-setion .splide__slideheight:auto!important;margin-left:0.cre-setion article.repeat-boxdisplay:block;background-color:transparent;border-radius:5px;box-shadow:none;overflow:hidden;padding:0;margin-bottom:3px.cre-setion article.repeat-box>adisplay:block;padding:10px;background-color:var(–white);border-radius:5px;color:var(–black);text-decoration:none;overflow:hidden;border:1px solid #d0d0d0.cre-setion article.repeat-box>a>figuredisplay:block.cre-setion article.repeat-box .photo,.cre-setion article.repeat-box .textwidth:100%.cre-setion article.repeat-box .photoborder-radius:5px;overflow:hidden.cre-setion article.repeat-box .lazy-imagebox-shadow:none;border-radius:0;overflow:hidden.cre-setion article.repeat-box .textpadding:5px 0 0;height:90px;.cre-setion article.repeat-box .text h3font-size:14px;line-height:1.5;-webkit-line-clamp:4;font-weight:600;text-align:left.cre-setion .repeat-box .photos-iconborder-radius:0 5px 0 0;width:auto;min-width:26px;height:26px;left:0;bottom:0;display:flex;justify-content:center;align-items:center.cre-setion .photos-icon svgtransition:1s;fill:var(–white);width:26px;height:26px.cre-setion .photos-icon:hoverbackground:var(–blue).cre-setion .splide__arrowtop:50%!important;width:1.8em;height:1.8em;border-radius:100px;border:1px solid #999;background:0 0;opacity:1.cre-setion .splide__arrow–prevleft:-37px.cre-setion .splide__arrow–nextright:-37px.cre-setion .splide__arrow:disabledopacity:.3;cursor:not-allowed!important.cre-setion .splide__arrow:beforeborder:solid #999;border-width:0 2px 2px 0.cre-setion .splide__arrow:hoverbackground:linear-gradient(to left,#a617be,#f32c89,#f32c89,#f32c89,#f32c89,#a617be).cre-setion .splide__arrow:hover::beforeborder:solid var(–white);border-width:0 2px 2px 0]]]]>]]>