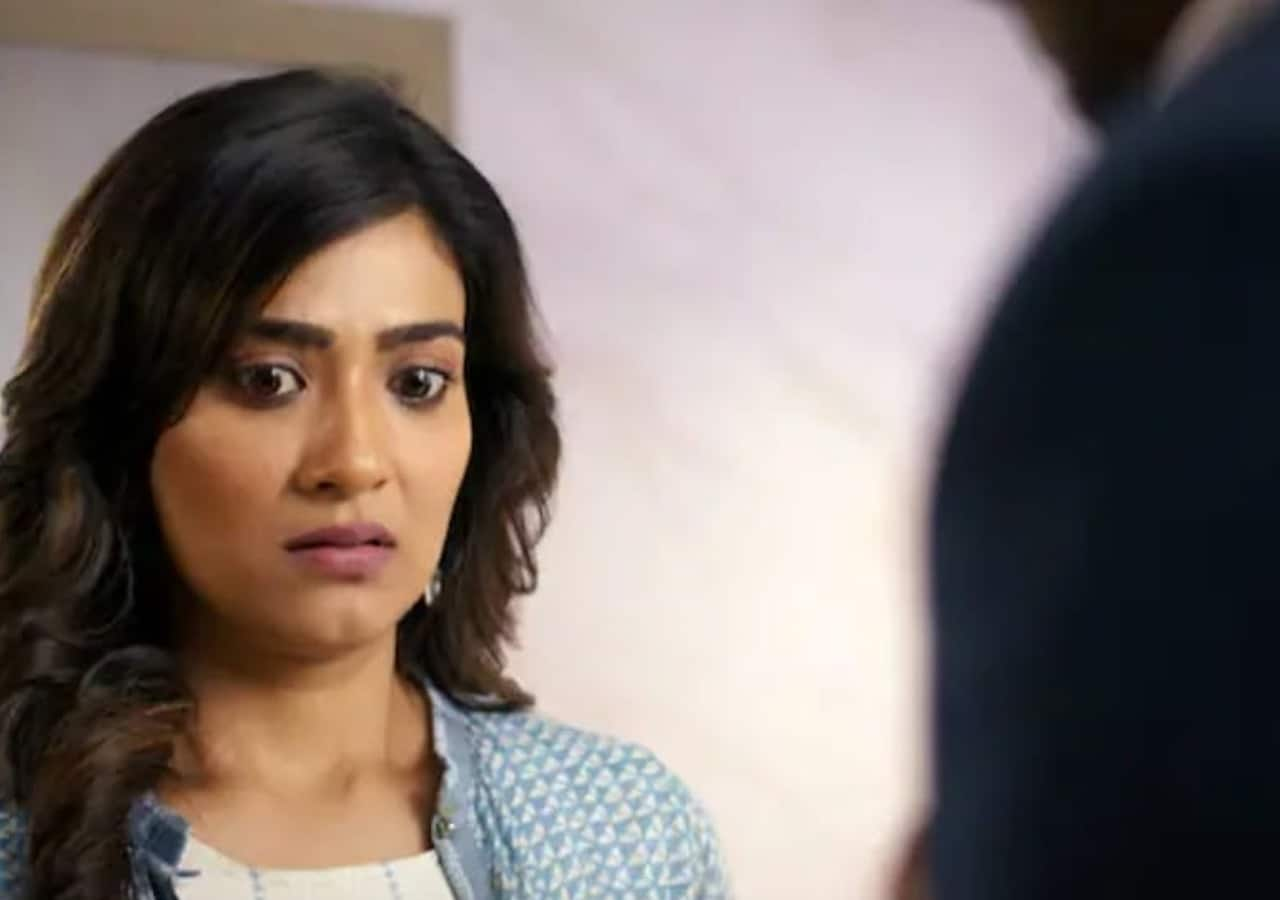 Katha Ankahee Hindi TV show upcoming twist, September 6: In the latest track of Katha Ankahee, we see that Katha finally reveals the truth that she can never conceive because of her complications. Tejji and all the other family members feel shattered to know the truth. Even Katha (Aditi Sharma) cries a lot because of this. Well, Tejji again worries about the heir to her family and despite being a woman, she cannot feel Katha's pain. On the other side, we see Viaan arguing with his mother and trying to convince her that Aarav (Ajinkya Mishra) can take the legacy ahead. Kailash Garewal and all the other family members of Katha feel very proud of Viaan. Later on, we see Viaan go to talk to Katha and calm her down. But Tejji (Bidisha Ghosh Sharma) taunts Kailash Garewal and they get into a verbal spat. Finally Kailash Garewal decides to give half of the property to Aarav. Well, let's see how Katha and Viaan (Adnan Khan) will handle this. Also Read – Katha Ankahee spoiler alert: Katha reveals why she cannot have a child with Viaan, will Aarav become Raghuvanshi family's heir?
Katha Ankahee Upcoming Twist
In the upcoming track of Katha Ankahee, we see Reet going to Viaan's house to talk with Tejji and Maya. She suggests to them that if they want to break this marriage, they should collect proof of how Katha had managed Rs 1 crore for Aarav's cancer treatment. Later on, we see Tejji and Maya decide to expose Katha's past right before the wedding. Later on, we see that Ehsan truly loves Vanya, and viewers are eager to see their love story as well as Farah's reaction when she realizes the truth about Ehsan's feelings. Will Farah ever accept Vanya as her daughter-in-law? Let's wait to see the upcoming twist in Katha Ankahee. Also Read – Katha Ankahee spoiler alert: Maya uses Ehsan to uncover Katha's scandalous past
In the future track of Katha Ankahee, we see Maya (Anjali Mukhi) uses Ehsan (Samar Vermani) to discover the truth. Ehsan asks them why they want to dig up the past now. But Maya is manipulative and she manipulates him and Ehsan gets ready to search for the truth. They reach Katha's house and ask Neerja Jee about Katha. Well, it might be possible that she will know everything and will reveal it all. Also Read – Katha Ankahee spoiler alert: Katha and Viaan's past comes back to haunt them, will it ruin their future?
Katha Ankahee is one of the top-running shows, and viewers really love the chemistry between Katha and Viaan, aka Aditi Sharma and Adnan Khan. The latest track is entertaining as well as full of drama as Maya decides to bring Katha's past in front of everybody. Well, they do not know that Katha's past also relates to Viaan. Let's see: will this past ruin their relationship, or will eventually Maya's plan backfire?
]]>
Stay tuned to BollywoodLife for the latest scoops and updates from Bollywood, Hollywood, South, TV and Web-Series. Click to join us on Facebook, Twitter, Youtube and Instagram. Also follow us on Facebook Messenger for latest updates.
adisplay:block;padding:0;color:var(–black);text-decoration:none.repeat-box figuredisplay:flex;justify-content:flex-start;flex-wrap:wrap;align-items:stretch;overflow:visible.two-cols-aside .aside .repeat-box figurealign-items:center.repeat-box .textwidth:100%;z-index:5;position:relative.repeat-box .photowidth:100px;position:relative;z-index:5.repeat-box .photo+.textwidth:calc(100% – 100px);padding-left:10px.repeat-box h2,.repeat-box h3,.repeat-box pcolor:var(–black);white-space:normal;overflow:hidden;text-overflow:ellipsis;-webkit-line-clamp:3;display:-webkit-box;-webkit-box-orient:vertical;padding:0;font-size:15px;line-height:1.5;font-weight:400.repeat-box h2font-size:20px.repeat-box h2+p,.repeat-box h3+pfont-size:14px.repeat-box .catfont-size:14px;line-height:16px;display:block;margin-bottom:5px;font-weight:700;color:var(–orange);text-transform:uppercase.repeat-box a:hover,.repeat-box a:hover h2,.repeat-box a:hover h3,.repeat-box a:hover pcolor:#f32c89.repeat-box .photo-icon,.repeat-box .video-iconposition:absolute;left:0;bottom:0;background:linear-gradient(to left,#a617be,#f32c89,#f32c89,#f32c89,#f32c89,#a617be);border-radius:0 5px 0 0.repeat-box .video-iconwidth:26px;height:26px;display:inline-block.repeat-box .photo-iconwidth:auto;min-width:26px;height:26px;line-height:16px;font-size:13px;color:var(–white);padding:5px 5px 0.lazy-image img.lazyopacity:0.lazy-image img:not(.initial)transition:opacity .5s ease-in,transform .5s ease-in,-webkit-transform .5s ease-in.lazy-image img.error,.lazy-image img.initial,.lazy-image img.loadedopacity:1.lazy-image img:not([src])visibility:hidden.cre-setionclear:both;overflow:hidden;float:none;width:auto;margin:5px 0 20px.cre-setion .black-boxespadding:15px 40px;background:#e5e5e5.cre-carousel-heightposition:relative;padding:0 0 255px;height:0.cre-carousel-height .all-dataposition:absolute;top:0;left:0;width:100%!important;height:100%!important.cre-setion .border-headingfont-size:16px;color:#1f1f1f;text-transform:uppercase;font-weight:700;padding:0 0 10px;margin:20px 0 10px;clear:both;position:relative;border-bottom:0;display:flex;justify-content:space-between;align-items:center.cre-setion .border-heading:beforetop:5px;height:14px.cre-setion .splide__slideheight:auto!important;margin-left:0.cre-setion article.repeat-boxdisplay:block;background-color:transparent;border-radius:5px;box-shadow:none;overflow:hidden;padding:0;margin-bottom:3px.cre-setion article.repeat-box>adisplay:block;padding:10px;background-color:var(–white);border-radius:5px;color:var(–black);text-decoration:none;overflow:hidden;border:1px solid #d0d0d0.cre-setion article.repeat-box>a>figuredisplay:block.cre-setion article.repeat-box .photo,.cre-setion article.repeat-box .textwidth:100%.cre-setion article.repeat-box .photoborder-radius:5px;overflow:hidden.cre-setion article.repeat-box .lazy-imagebox-shadow:none;border-radius:0;overflow:hidden.cre-setion article.repeat-box .textpadding:5px 0 0;height:90px;.cre-setion article.repeat-box .text h3font-size:14px;line-height:1.5;-webkit-line-clamp:4;font-weight:600;text-align:left.cre-setion .repeat-box .photos-iconborder-radius:0 5px 0 0;width:auto;min-width:26px;height:26px;left:0;bottom:0;display:flex;justify-content:center;align-items:center.cre-setion .photos-icon svgtransition:1s;fill:var(–white);width:26px;height:26px.cre-setion .photos-icon:hoverbackground:var(–blue).cre-setion .splide__arrowtop:50%!important;width:1.8em;height:1.8em;border-radius:100px;border:1px solid #999;background:0 0;opacity:1.cre-setion .splide__arrow–prevleft:-37px.cre-setion .splide__arrow–nextright:-37px.cre-setion .splide__arrow:disabledopacity:.3;cursor:not-allowed!important.cre-setion .splide__arrow:beforeborder:solid #999;border-width:0 2px 2px 0.cre-setion .splide__arrow:hoverbackground:linear-gradient(to left,#a617be,#f32c89,#f32c89,#f32c89,#f32c89,#a617be).cre-setion .splide__arrow:hover::beforeborder:solid var(–white);border-width:0 2px 2px 0]]]]>]]>