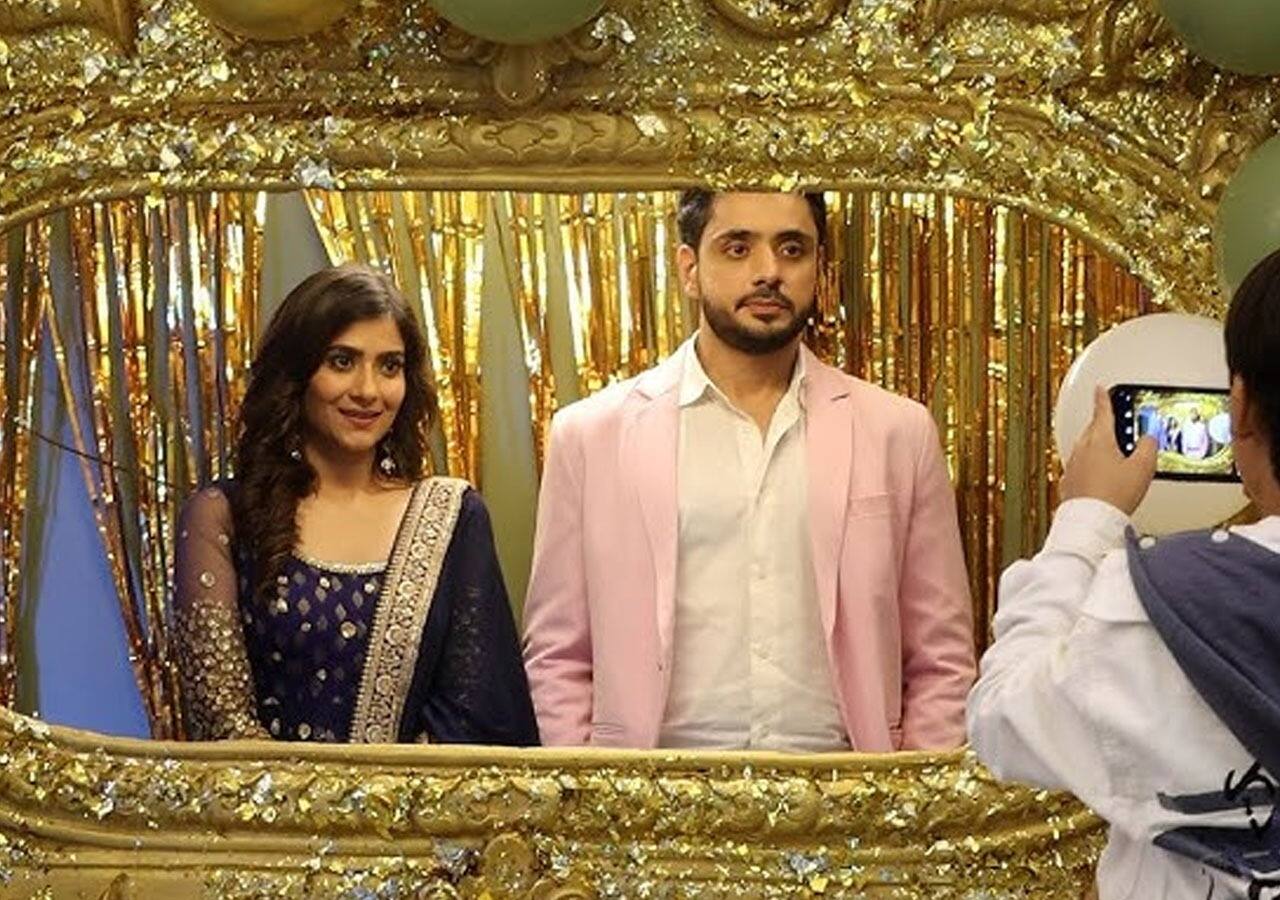 Katha Ankahee Hindi TV show upcoming twist, September 8: In the latest track of Katha Ankahee, we see that finally the mehendi ceremony has started, and Viaan (Adnan Khan) comes with Dhol Baja and everyone dances to celebrate this union. Tejji (Bidisha Ghosh Sharma) also applied mehendi on Katha's hand. Meanwhile, Maya goes to talk to Reet, but Yuvraj stops her and also warns her to not create any scene. Later on, Maya (Anjali Mukhi) and everyone else make Tejji understand and she finally gifts the virasat of the Raghuvanshi family to Katha. During the ceremonies, Tejji panics and falls unconscious. Also Read – Katha Ankahee upcoming spoiler alert: Katha's dark past to create havoc in her and Viaan's relationship?
Katha Ankahee Upcoming Twist
In the upcoming track of Katha Ankahee, we see Aarav see Tejji and he takes care of her. He calls everybody and Tejji feels fine after sometime. On the other side, Maya is all set to bring up Katha's past, and she goes to meet Katha in the office. She asks her what was the reason in the past when Viaan (adnan Khan) tried to throw Katha (Aditi Sharma) out of the office? Katha explains to her that Viaan can never do this. We see Maya's eagerness reach a new level and she is desperate to know how their hate story converted into a love story. She reaches out to talk to Neerja Jee. Well, Maya also notices that Neerja Ji used to call Viaan 'the angry young man' but now fondly calls him 'the handsome gentleman'. Let's see if Neerja Ji tells Maya all the truth or if she is able to understand her real intention. Also Read – Katha Ankahee spoiler alert: Katha reveals why she cannot have a child with Viaan, will Aarav become Raghuvanshi family's heir?
Will Ehsan also learn about the mystery of the one night?
In the future track of Katha Ankahee, we see that finally Maya will again talk to Ehsan and manipulate him. She tells him that if Viaan has given Katha Rs 1 crore in cash, then he has to tell him as he has the right to know. Well, we see in the future track that Viaan tells Ehsan (Samar Vermani) about the money and because of this incident, they friendship will suffer. But will Ehsan also learn about the mystery of the one night? Well, it is going to be a super interesting track when everyone knows Viaan and Katha's past. Katha Ankahee is one of the popular shows, and viewers really love the chemistry between Katha and Viaan, aka Aditi Sharma and Adnan Khan. And as they wait for their marriage, it remains to be seen how they face the brewing storm that's headed straight towards them. Also Read – Katha Ankahee spoiler alert: Maya uses Ehsan to uncover Katha's scandalous past
]]>
Stay tuned to BollywoodLife for the latest scoops and updates from Bollywood, Hollywood, South, TV and Web-Series. Click to join us on Facebook, Twitter, Youtube and Instagram. Also follow us on Facebook Messenger for latest updates.
adisplay:block;padding:0;color:var(–black);text-decoration:none.repeat-box figuredisplay:flex;justify-content:flex-start;flex-wrap:wrap;align-items:stretch;overflow:visible.two-cols-aside .aside .repeat-box figurealign-items:center.repeat-box .textwidth:100%;z-index:5;position:relative.repeat-box .photowidth:100px;position:relative;z-index:5.repeat-box .photo+.textwidth:calc(100% – 100px);padding-left:10px.repeat-box h2,.repeat-box h3,.repeat-box pcolor:var(–black);white-space:normal;overflow:hidden;text-overflow:ellipsis;-webkit-line-clamp:3;display:-webkit-box;-webkit-box-orient:vertical;padding:0;font-size:15px;line-height:1.5;font-weight:400.repeat-box h2font-size:20px.repeat-box h2+p,.repeat-box h3+pfont-size:14px.repeat-box .catfont-size:14px;line-height:16px;display:block;margin-bottom:5px;font-weight:700;color:var(–orange);text-transform:uppercase.repeat-box a:hover,.repeat-box a:hover h2,.repeat-box a:hover h3,.repeat-box a:hover pcolor:#f32c89.repeat-box .photo-icon,.repeat-box .video-iconposition:absolute;left:0;bottom:0;background:linear-gradient(to left,#a617be,#f32c89,#f32c89,#f32c89,#f32c89,#a617be);border-radius:0 5px 0 0.repeat-box .video-iconwidth:26px;height:26px;display:inline-block.repeat-box .photo-iconwidth:auto;min-width:26px;height:26px;line-height:16px;font-size:13px;color:var(–white);padding:5px 5px 0.lazy-image img.lazyopacity:0.lazy-image img:not(.initial)transition:opacity .5s ease-in,transform .5s ease-in,-webkit-transform .5s ease-in.lazy-image img.error,.lazy-image img.initial,.lazy-image img.loadedopacity:1.lazy-image img:not([src])visibility:hidden.cre-setionclear:both;overflow:hidden;float:none;width:auto;margin:5px 0 20px.cre-setion .black-boxespadding:15px 40px;background:#e5e5e5.cre-carousel-heightposition:relative;padding:0 0 255px;height:0.cre-carousel-height .all-dataposition:absolute;top:0;left:0;width:100%!important;height:100%!important.cre-setion .border-headingfont-size:16px;color:#1f1f1f;text-transform:uppercase;font-weight:700;padding:0 0 10px;margin:20px 0 10px;clear:both;position:relative;border-bottom:0;display:flex;justify-content:space-between;align-items:center.cre-setion .border-heading:beforetop:5px;height:14px.cre-setion .splide__slideheight:auto!important;margin-left:0.cre-setion article.repeat-boxdisplay:block;background-color:transparent;border-radius:5px;box-shadow:none;overflow:hidden;padding:0;margin-bottom:3px.cre-setion article.repeat-box>adisplay:block;padding:10px;background-color:var(–white);border-radius:5px;color:var(–black);text-decoration:none;overflow:hidden;border:1px solid #d0d0d0.cre-setion article.repeat-box>a>figuredisplay:block.cre-setion article.repeat-box .photo,.cre-setion article.repeat-box .textwidth:100%.cre-setion article.repeat-box .photoborder-radius:5px;overflow:hidden.cre-setion article.repeat-box .lazy-imagebox-shadow:none;border-radius:0;overflow:hidden.cre-setion article.repeat-box .textpadding:5px 0 0;height:90px;.cre-setion article.repeat-box .text h3font-size:14px;line-height:1.5;-webkit-line-clamp:4;font-weight:600;text-align:left.cre-setion .repeat-box .photos-iconborder-radius:0 5px 0 0;width:auto;min-width:26px;height:26px;left:0;bottom:0;display:flex;justify-content:center;align-items:center.cre-setion .photos-icon svgtransition:1s;fill:var(–white);width:26px;height:26px.cre-setion .photos-icon:hoverbackground:var(–blue).cre-setion .splide__arrowtop:50%!important;width:1.8em;height:1.8em;border-radius:100px;border:1px solid #999;background:0 0;opacity:1.cre-setion .splide__arrow–prevleft:-37px.cre-setion .splide__arrow–nextright:-37px.cre-setion .splide__arrow:disabledopacity:.3;cursor:not-allowed!important.cre-setion .splide__arrow:beforeborder:solid #999;border-width:0 2px 2px 0.cre-setion .splide__arrow:hoverbackground:linear-gradient(to left,#a617be,#f32c89,#f32c89,#f32c89,#f32c89,#a617be).cre-setion .splide__arrow:hover::beforeborder:solid var(–white);border-width:0 2px 2px 0]]]]>]]>