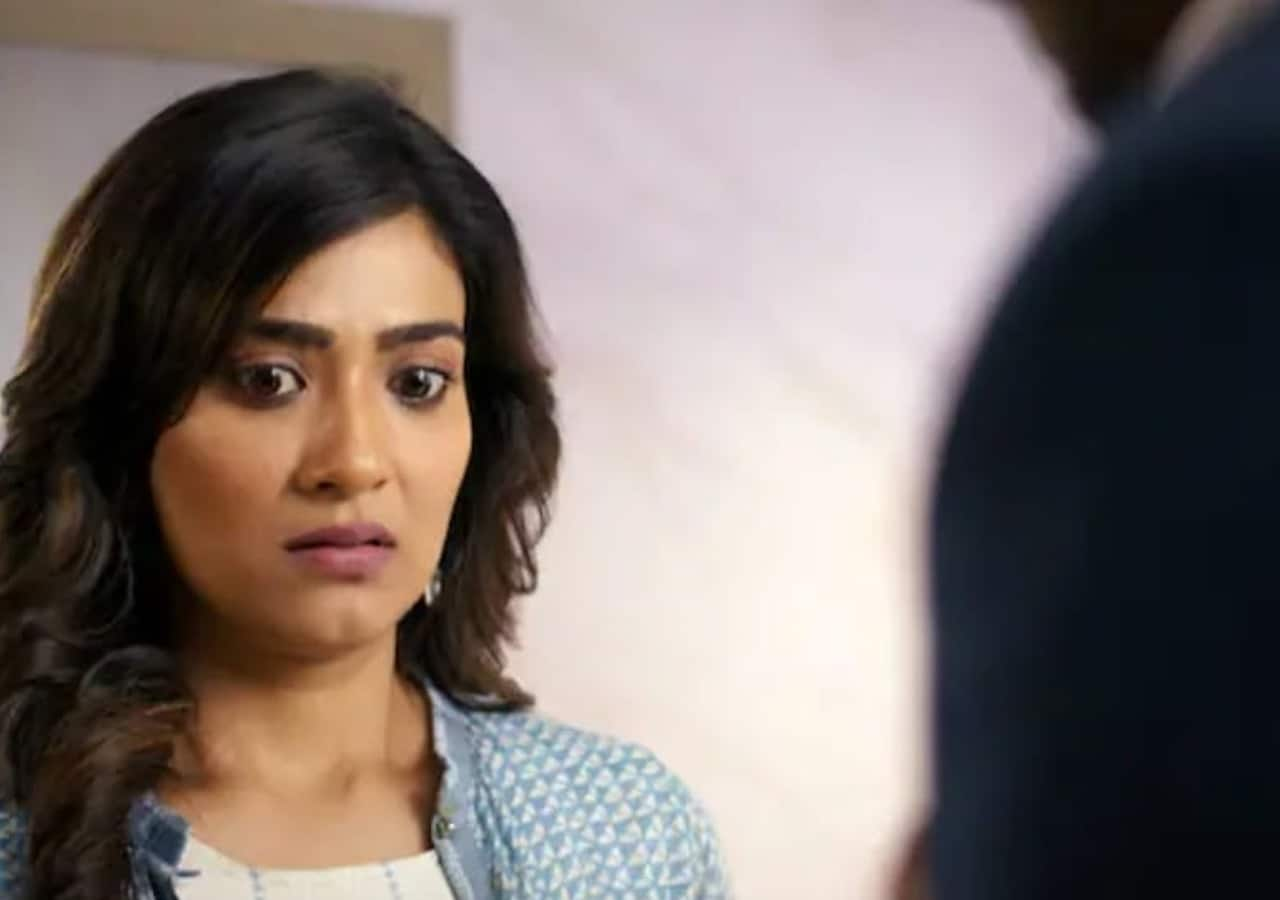 Katha Ankahee upcoming spoiler alert: In the latest track of Katha Ankahee, we see that Viaan has finally arrived with his mother at Katha's home to celebrate Katha's birthday. Later on, we see that, Kailash Garewal and his family also reached there, and we see that they will get very angry because they saw Katha and Viaan together. On the other side, Tejji (Bidisha Ghosh Sharma) will also not keep calm to see them together, and we see Tejji start accusing Katha in front of Kailash Garewal (Gireesh Sachdev), and they both start fighting to protect Katha (Aditi Sharma) and Viaan's image. We see their fights cross all the limits, and Katha's birthday will be ruined because of their fights. Later on, we see Kailash Garewal also accusing Viaan of trapping Katha in his love, but finally, Katha takes a stand for Viaan (Adnan Khan) and announces in front of everybody that she also loves Viaan; he will never force her to do this. Well, we have to wait to see the twist. What will Aarav do now? Also Read – Katha Ankahee upcoming twist: Aarav and Maya Didi will bring a twist to KaViaan's life. Will everything be fine?
Katha Ankahee Upcoming Twist
In the upcoming story of Katha Ankahee, we see that Katha (Aditi Sharma) and Viaan finally decide to make their parents ready for their wedding. Later on, Katha will also make Aarav understand everything. and we see that Aarav is feeling very happy that he finally gets his happy family, which he eagerly wants to meet with Robin .Finally, Aarav and Viaan meet, where they get very emotional and hug each other. Well, viewers are also very happy to see this track because, finally, Katha and Viaan's happy family will be reunited. Also Read – Katha Anakahee upcoming twist: Katha and Viaan will never leave their family; how many more hurdles will they have to cross?
Katha Ankahee is one of the top-running shows on television, and viewers love this unique love story between Katha and Viaan, aka Adnan Khan and Aditi Sharma. and the latest track is going to be very interesting because we see that finally Katha Viaan and Aarav have become one family. Let's wait to see the upcoming track. Will Kailash Garewal and Tejji agree or not? Also Read – Katha Ankahee upcoming twist: Will Aarav accept Katha and Viaan's relationship? Will they get their happy family?
In the future track of Katha Ankahee, we see that Katha and Aarav reached Kailash Garewal's house to make him understand everything. But we see Kailash Garewal did not listen to Katha's words, and later on, Aarav tries to convince him. But we see that Kailash Garewal wants some time to think. Let's see what he decides. It might be possible that he will be ready to give his blessings to them because we may see that he will regret his past. that he will not give his blessing to Katha and Aditya, so we may see that this time Kailash Garewal will make Katha's wedding very memorable.
]]>
Stay tuned to BollywoodLife for the latest scoops and updates from Bollywood, Hollywood, South, TV and Web-Series. Click to join us on Facebook, Twitter, Youtube and Instagram. Also follow us on Facebook Messenger for latest updates.
adisplay:block;padding:0;color:var(–black);text-decoration:none.repeat-box figuredisplay:flex;justify-content:flex-start;flex-wrap:wrap;align-items:stretch;overflow:visible.two-cols-aside .aside .repeat-box figurealign-items:center.repeat-box .textwidth:100%;z-index:5;position:relative.repeat-box .photowidth:100px;position:relative;z-index:5.repeat-box .photo+.textwidth:calc(100% – 100px);padding-left:10px.repeat-box h2,.repeat-box h3,.repeat-box pcolor:var(–black);white-space:normal;overflow:hidden;text-overflow:ellipsis;-webkit-line-clamp:3;display:-webkit-box;-webkit-box-orient:vertical;padding:0;font-size:15px;line-height:1.5;font-weight:400.repeat-box h2font-size:20px.repeat-box h2+p,.repeat-box h3+pfont-size:14px.repeat-box .catfont-size:14px;line-height:16px;display:block;margin-bottom:5px;font-weight:700;color:var(–orange);text-transform:uppercase.repeat-box a:hover,.repeat-box a:hover h2,.repeat-box a:hover h3,.repeat-box a:hover pcolor:#f32c89.repeat-box .photo-icon,.repeat-box .video-iconposition:absolute;left:0;bottom:0;background:linear-gradient(to left,#a617be,#f32c89,#f32c89,#f32c89,#f32c89,#a617be);border-radius:0 5px 0 0.repeat-box .video-iconwidth:26px;height:26px;display:inline-block.repeat-box .photo-iconwidth:auto;min-width:26px;height:26px;line-height:16px;font-size:13px;color:var(–white);padding:5px 5px 0.lazy-image img.lazyopacity:0.lazy-image img:not(.initial)transition:opacity .5s ease-in,transform .5s ease-in,-webkit-transform .5s ease-in.lazy-image img.error,.lazy-image img.initial,.lazy-image img.loadedopacity:1.lazy-image img:not([src])visibility:hidden.cre-setionclear:both;overflow:hidden;float:none;width:auto;margin:5px 0 20px.cre-setion .black-boxespadding:15px 40px;background:#e5e5e5.cre-carousel-heightposition:relative;padding:0 0 255px;height:0.cre-carousel-height .all-dataposition:absolute;top:0;left:0;width:100%!important;height:100%!important.cre-setion .border-headingfont-size:16px;color:#1f1f1f;text-transform:uppercase;font-weight:700;padding:0 0 10px;margin:20px 0 10px;clear:both;position:relative;border-bottom:0;display:flex;justify-content:space-between;align-items:center.cre-setion .border-heading:beforetop:5px;height:14px.cre-setion .splide__slideheight:auto!important;margin-left:0.cre-setion article.repeat-boxdisplay:block;background-color:transparent;border-radius:5px;box-shadow:none;overflow:hidden;padding:0;margin-bottom:3px.cre-setion article.repeat-box>adisplay:block;padding:10px;background-color:var(–white);border-radius:5px;color:var(–black);text-decoration:none;overflow:hidden;border:1px solid #d0d0d0.cre-setion article.repeat-box>a>figuredisplay:block.cre-setion article.repeat-box .photo,.cre-setion article.repeat-box .textwidth:100%.cre-setion article.repeat-box .photoborder-radius:5px;overflow:hidden.cre-setion article.repeat-box .lazy-imagebox-shadow:none;border-radius:0;overflow:hidden.cre-setion article.repeat-box .textpadding:5px 0 0;height:90px;.cre-setion article.repeat-box .text h3font-size:14px;line-height:1.5;-webkit-line-clamp:4;font-weight:600;text-align:left.cre-setion .repeat-box .photos-iconborder-radius:0 5px 0 0;width:auto;min-width:26px;height:26px;left:0;bottom:0;display:flex;justify-content:center;align-items:center.cre-setion .photos-icon svgtransition:1s;fill:var(–white);width:26px;height:26px.cre-setion .photos-icon:hoverbackground:var(–blue).cre-setion .splide__arrowtop:50%!important;width:1.8em;height:1.8em;border-radius:100px;border:1px solid #999;background:0 0;opacity:1.cre-setion .splide__arrow–prevleft:-37px.cre-setion .splide__arrow–nextright:-37px.cre-setion .splide__arrow:disabledopacity:.3;cursor:not-allowed!important.cre-setion .splide__arrow:beforeborder:solid #999;border-width:0 2px 2px 0.cre-setion .splide__arrow:hoverbackground:linear-gradient(to left,#a617be,#f32c89,#f32c89,#f32c89,#f32c89,#a617be).cre-setion .splide__arrow:hover::beforeborder:solid var(–white);border-width:0 2px 2px 0]]]]>]]>