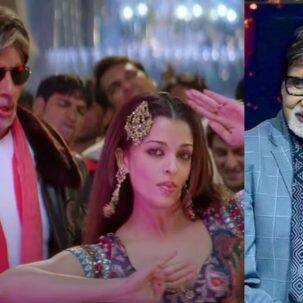 Kaun Banega Crorepati 15 has been the talk of the town. Host Amitabh Bachchan has always had many interesting things to talk about on the show. He speaks about his personal life and also shares amazing stories about the Bollywood film industry. This season, host Amitabh Bachchan has given so many stories to the audience. Season 15 began from August 14 and recently, the eighth episode of the show grabbed our attention. Also Read – TOP TV News Today: Big B praises Shah Rukh on KBC 15, Rakhi Sawant claims Adil Khan sold her nude videos
Amitabh Bachchan began the eighth episode with his speech on Chandrayaan 3. He then began the game with Abhishek Garg. Abhishek was a roll over contestant and he was on his 12th question for Rs 12,50,000. The question for him was – Piyush Mishra's band Ballimaaraan refers to a locality in Delhi, most famously associated with which poet? Also Read – Kaun Banega Crorepati 15: Amitabh Bachchan is excited about Chandrayaan 3 reaching 'Chanda Mama ke ghar'; prays for success
Amitabh Bachchan recalls working with Aishwarya Rai
Abhishek correctly chose Option D) Mirza Ghalib. Post that Big B shared a few lines giving reference of Ballimaaraan which was also used in his song from Bunty Aur Babli, Kajra Re. Kajra Re also featured his daughter-in-law, Aishwarya Rai Bachchan and son, Abhishek Bachchan. Also Read – Kaun Banega Crorepati 15: Amitabh Bachchan reveals Madhuri Dixit adopted 'Tuffy' after Hum Aapke Hain Koun
He fondly remembered doing the song with them. He said, "Usmein hum teeno the. Tab Aishwarya humari bahu nahi thi, ab ban gayi hai. Gaane me bahu thi, Abhishek the aur hum the. Uss gaane mein bol the."In the start of the episode, Big B's speech on Chandrayaan 3 had grabbed attention. His words touched hearts and he even prayed for the success of India's big mission.
Kaun Banega Crorepati 15 new concept
Talking about the show's new format, there are a few changes in season 15. The makers have added a new lifeline called, Double Dip. They have also added an element called Desh Ka Sawal to bring in more audience participation. In a statement, the makers also mentioned about 'Super Sandook' which will allow the candidates to retrieve what they might have lost during the game show.
]]>
Stay tuned to BollywoodLife for the latest scoops and updates from Bollywood, Hollywood, South, TV and Web-Series. Click to join us on Facebook, Twitter, Youtube and Instagram. Also follow us on Facebook Messenger for latest updates.
adisplay:block;padding:0;color:var(–black);text-decoration:none.repeat-box figuredisplay:flex;justify-content:flex-start;flex-wrap:wrap;align-items:stretch;overflow:visible.two-cols-aside .aside .repeat-box figurealign-items:center.repeat-box .textwidth:100%;z-index:5;position:relative.repeat-box .photowidth:100px;position:relative;z-index:5.repeat-box .photo+.textwidth:calc(100% – 100px);padding-left:10px.repeat-box h2,.repeat-box h3,.repeat-box pcolor:var(–black);white-space:normal;overflow:hidden;text-overflow:ellipsis;-webkit-line-clamp:3;display:-webkit-box;-webkit-box-orient:vertical;padding:0;font-size:15px;line-height:1.5;font-weight:400.repeat-box h2font-size:20px.repeat-box h2+p,.repeat-box h3+pfont-size:14px.repeat-box .catfont-size:14px;line-height:16px;display:block;margin-bottom:5px;font-weight:700;color:var(–orange);text-transform:uppercase.repeat-box a:hover,.repeat-box a:hover h2,.repeat-box a:hover h3,.repeat-box a:hover pcolor:#f32c89.repeat-box .photo-icon,.repeat-box .video-iconposition:absolute;left:0;bottom:0;background:linear-gradient(to left,#a617be,#f32c89,#f32c89,#f32c89,#f32c89,#a617be);border-radius:0 5px 0 0.repeat-box .video-iconwidth:26px;height:26px;display:inline-block.repeat-box .photo-iconwidth:auto;min-width:26px;height:26px;line-height:16px;font-size:13px;color:var(–white);padding:5px 5px 0.lazy-image img.lazyopacity:0.lazy-image img:not(.initial)transition:opacity .5s ease-in,transform .5s ease-in,-webkit-transform .5s ease-in.lazy-image img.error,.lazy-image img.initial,.lazy-image img.loadedopacity:1.lazy-image img:not([src])visibility:hidden.cre-setionclear:both;overflow:hidden;float:none;width:auto;margin:5px 0 20px.cre-setion .black-boxespadding:15px 40px;background:#e5e5e5.cre-carousel-heightposition:relative;padding:0 0 255px;height:0.cre-carousel-height .all-dataposition:absolute;top:0;left:0;width:100%!important;height:100%!important.cre-setion .border-headingfont-size:16px;color:#1f1f1f;text-transform:uppercase;font-weight:700;padding:0 0 10px;margin:20px 0 10px;clear:both;position:relative;border-bottom:0;display:flex;justify-content:space-between;align-items:center.cre-setion .border-heading:beforetop:5px;height:14px.cre-setion .splide__slideheight:auto!important;margin-left:0.cre-setion article.repeat-boxdisplay:block;background-color:transparent;border-radius:5px;box-shadow:none;overflow:hidden;padding:0;margin-bottom:3px.cre-setion article.repeat-box>adisplay:block;padding:10px;background-color:var(–white);border-radius:5px;color:var(–black);text-decoration:none;overflow:hidden;border:1px solid #d0d0d0.cre-setion article.repeat-box>a>figuredisplay:block.cre-setion article.repeat-box .photo,.cre-setion article.repeat-box .textwidth:100%.cre-setion article.repeat-box .photoborder-radius:5px;overflow:hidden.cre-setion article.repeat-box .lazy-imagebox-shadow:none;border-radius:0;overflow:hidden.cre-setion article.repeat-box .textpadding:5px 0 0;height:90px;.cre-setion article.repeat-box .text h3font-size:14px;line-height:1.5;-webkit-line-clamp:4;font-weight:600;text-align:left.cre-setion .repeat-box .photos-iconborder-radius:0 5px 0 0;width:auto;min-width:26px;height:26px;left:0;bottom:0;display:flex;justify-content:center;align-items:center.cre-setion .photos-icon svgtransition:1s;fill:var(–white);width:26px;height:26px.cre-setion .photos-icon:hoverbackground:var(–blue).cre-setion .splide__arrowtop:50%!important;width:1.8em;height:1.8em;border-radius:100px;border:1px solid #999;background:0 0;opacity:1.cre-setion .splide__arrow–prevleft:-37px.cre-setion .splide__arrow–nextright:-37px.cre-setion .splide__arrow:disabledopacity:.3;cursor:not-allowed!important.cre-setion .splide__arrow:beforeborder:solid #999;border-width:0 2px 2px 0.cre-setion .splide__arrow:hoverbackground:linear-gradient(to left,#a617be,#f32c89,#f32c89,#f32c89,#f32c89,#a617be).cre-setion .splide__arrow:hover::beforeborder:solid var(–white);border-width:0 2px 2px 0]]]]>]]>