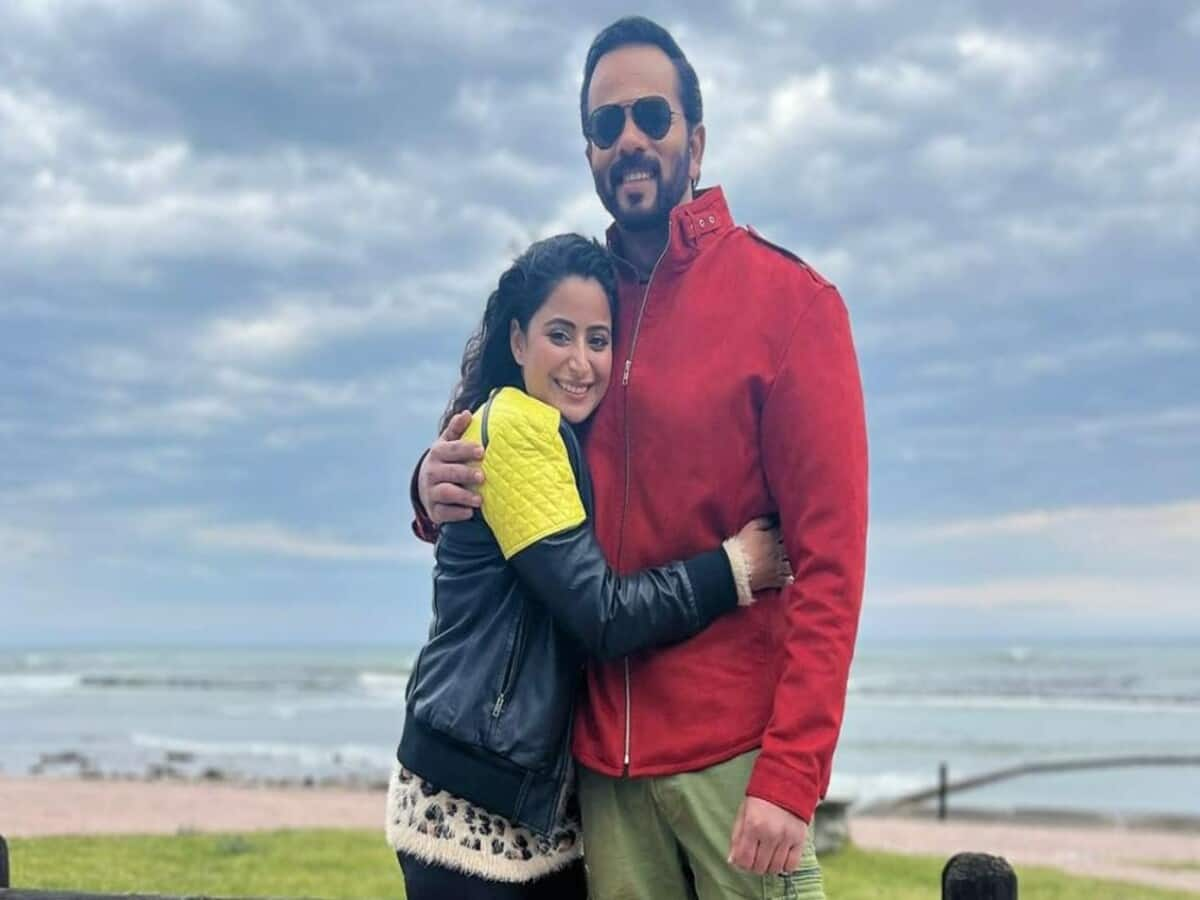 In the exciting premiere episode of Khatron Ke Khiladi Season 13, contestant Aishwarya Sharma showcased her leadership skills and earned the endearing title of 'teacher' among her fellow participants. During a thrilling partner stunt over a water body, Aishwarya took charge and guided her partner, Dino James, ensuring they executed the stunt accurately and on time. Also Read – Khatron Ke Khiladi 13: Aishwarya Sharma turns up the heat in a monokini; turns muse for Neil Bhatt [View Pics]
Aishwarya's natural inclination to mentor and direct Dino impressed everyone, including host Rohit Shetty and the other contestants. Playfully, they collectively decided to refer to her as 'teacher' throughout the show. Also Read – Ghum Hai Kisikey Pyaar Meiin upcoming twist: Will Savi and Ishaan's similar pain and struggle bring them closer?
Reflecting on how the nickname came about, Aishwarya shared, "It all started when Dino and I were paired up for a stunt on the first day of the shoot. Interestingly, both of us share a common trait – impatience. We felt the pressure to outperform Ruhi and Anjum, who had flawlessly completed the stunt before us." Also Read – Bigg Boss 17: THESE three contestants from Khatron Ke Khiladi 13 locked for Salman Khan show? HOT SCOOP
She continued, "During that nerve-wracking stunt over the water, I couldn't help but constantly guide and scold Dino, pushing him to collect more flags. Since that day, everyone on the set has lovingly called me 'teacher,' playfully teasing me about my nature. That particular stunt taught both of us the importance of teamwork."
'Khatron Ke Khiladi 13' is set to premiere on July 15th on Colors, and viewers can look forward to witnessing Aishwarya's leadership and adventurous spirit throughout the thrilling journey.
Khatron Ke Khiladi has been one of the most followed and watched reality shows in the country. Beyond stunts and adventure, there is surely a certain amount of drama that interests the audiences. The show showcases the daring and adventurous side of various celebrities as they compete in challenging stunts and tasks. The show, based on the American series Fear Factor, is hosted by renowned filmmaker and stunt director Rohit Shetty.
In each season of Khatron Ka Khiladi, a group of celebrity contestants, ranging from actors and models to television personalities, participate in thrilling and adrenaline-pumping tasks that test their physical strength, mental resilience, and ability to overcome their fears. These tasks often involve heights, water, fire, and other extreme elements, creating an exhilarating experience for both the contestants and the viewers.
]]>
Stay tuned to BollywoodLife for the latest scoops and updates from Bollywood, Hollywood, South, TV and Web-Series. Click to join us on Facebook, Twitter, Youtube and Instagram. Also follow us on Facebook Messenger for latest updates.
adisplay:block;padding:0;color:var(–black);text-decoration:none.repeat-box figuredisplay:flex;justify-content:flex-start;flex-wrap:wrap;align-items:stretch;overflow:visible.two-cols-aside .aside .repeat-box figurealign-items:center.repeat-box .textwidth:100%;z-index:5;position:relative.repeat-box .photowidth:100px;position:relative;z-index:5.repeat-box .photo+.textwidth:calc(100% – 100px);padding-left:10px.repeat-box h2,.repeat-box h3,.repeat-box pcolor:var(–black);white-space:normal;overflow:hidden;text-overflow:ellipsis;-webkit-line-clamp:3;display:-webkit-box;-webkit-box-orient:vertical;padding:0;font-size:15px;line-height:1.5;font-weight:400.repeat-box h2font-size:20px.repeat-box h2+p,.repeat-box h3+pfont-size:14px.repeat-box .catfont-size:14px;line-height:16px;display:block;margin-bottom:5px;font-weight:700;color:var(–orange);text-transform:uppercase.repeat-box a:hover,.repeat-box a:hover h2,.repeat-box a:hover h3,.repeat-box a:hover pcolor:#f32c89.repeat-box .photo-icon,.repeat-box .video-iconposition:absolute;left:0;bottom:0;background:linear-gradient(to left,#a617be,#f32c89,#f32c89,#f32c89,#f32c89,#a617be);border-radius:0 5px 0 0.repeat-box .video-iconwidth:26px;height:26px;display:inline-block.repeat-box .photo-iconwidth:auto;min-width:26px;height:26px;line-height:16px;font-size:13px;color:var(–white);padding:5px 5px 0.lazy-image img.lazyopacity:0.lazy-image img:not(.initial)transition:opacity .5s ease-in,transform .5s ease-in,-webkit-transform .5s ease-in.lazy-image img.error,.lazy-image img.initial,.lazy-image img.loadedopacity:1.lazy-image img:not([src])visibility:hidden.cre-setionclear:both;overflow:hidden;float:none;width:auto;margin:5px 0 20px.cre-setion .black-boxespadding:15px 40px;background:#e5e5e5.cre-carousel-heightposition:relative;padding:0 0 255px;height:0.cre-carousel-height .all-dataposition:absolute;top:0;left:0;width:100%!important;height:100%!important.cre-setion .border-headingfont-size:16px;color:#1f1f1f;text-transform:uppercase;font-weight:700;padding:0 0 10px;margin:20px 0 10px;clear:both;position:relative;border-bottom:0;display:flex;justify-content:space-between;align-items:center.cre-setion .border-heading:beforetop:5px;height:14px.cre-setion .splide__slideheight:auto!important;margin-left:0.cre-setion article.repeat-boxdisplay:block;background-color:transparent;border-radius:5px;box-shadow:none;overflow:hidden;padding:0;margin-bottom:3px.cre-setion article.repeat-box>adisplay:block;padding:10px;background-color:var(–white);border-radius:5px;color:var(–black);text-decoration:none;overflow:hidden;border:1px solid #d0d0d0.cre-setion article.repeat-box>a>figuredisplay:block.cre-setion article.repeat-box .photo,.cre-setion article.repeat-box .textwidth:100%.cre-setion article.repeat-box .photoborder-radius:5px;overflow:hidden.cre-setion article.repeat-box .lazy-imagebox-shadow:none;border-radius:0;overflow:hidden.cre-setion article.repeat-box .textpadding:5px 0 0;height:90px;.cre-setion article.repeat-box .text h3font-size:14px;line-height:1.5;-webkit-line-clamp:4;font-weight:600;text-align:left.cre-setion .repeat-box .photos-iconborder-radius:0 5px 0 0;width:auto;min-width:26px;height:26px;left:0;bottom:0;display:flex;justify-content:center;align-items:center.cre-setion .photos-icon svgtransition:1s;fill:var(–white);width:26px;height:26px.cre-setion .photos-icon:hoverbackground:var(–blue).cre-setion .splide__arrowtop:50%!important;width:1.8em;height:1.8em;border-radius:100px;border:1px solid #999;background:0 0;opacity:1.cre-setion .splide__arrow–prevleft:-37px.cre-setion .splide__arrow–nextright:-37px.cre-setion .splide__arrow:disabledopacity:.3;cursor:not-allowed!important.cre-setion .splide__arrow:beforeborder:solid #999;border-width:0 2px 2px 0.cre-setion .splide__arrow:hoverbackground:linear-gradient(to left,#a617be,#f32c89,#f32c89,#f32c89,#f32c89,#a617be).cre-setion .splide__arrow:hover::beforeborder:solid var(–white);border-width:0 2px 2px 0]]]]>]]>