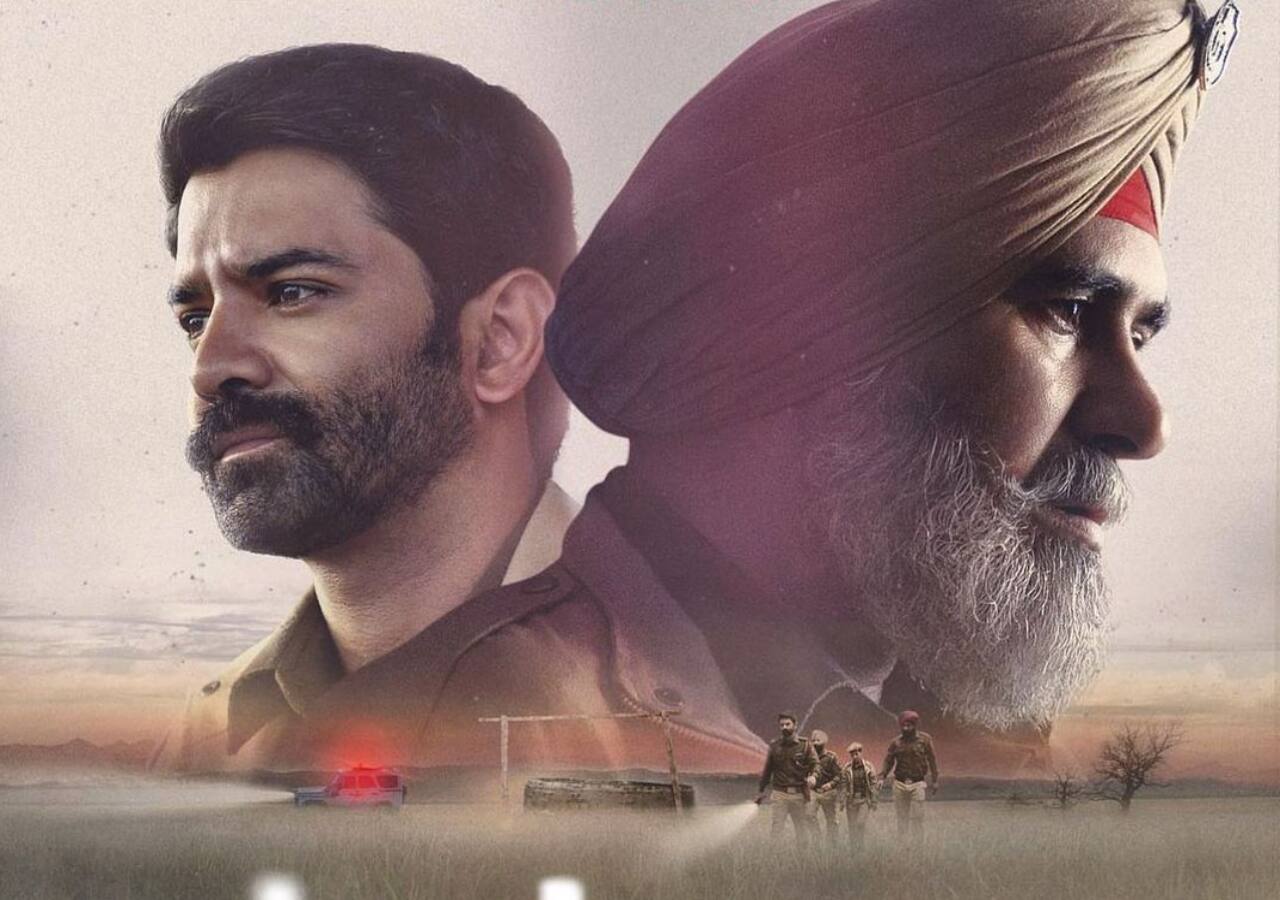 Netflix India's new show Kohrra has appealed to the worldwide audience. From Karan Johar to Hansal Mehta, people are gaga over the series which is set in small-town Punjab. The show is defined by stellar performances from Barun Sobti and Suvinder Vicky. The latter who is a seasoned performer in the Punjabi industry has worked in Hansal Mehta's Shahid in the past. He plays the role of Balbir Singh in the series. TV heartthrob Barun Sobti plays the role of his junior colleague Om Garundi on the show. Suvinder Vicky said he had a great time working with Sobti. Also Read – Kohrra actor Suvinder Vicky aka Balbir Singh reveals he was moved after being compared to late Irrfan [Exclusive]
In an EXCLUSIVE interview, Suvinder Vicky said, "I would say he is a mast maula. Barun has an effortless vibe about him, which is very endearing. He is very hard-working actor but does it with ease. Also, I realised that he is a very big star given his work on TV and former shows but he has zero arrogance or attitude about him. Initially, I was a bit apprehensive given that in comparison I have hardly worked outside." As we know, Barun Sobti is also a Punjabi. "He knew the language, and we bonded naturally as the show progressed. He is a Delhi guy and we found a lot of stuff to chat about. He is a befikra and has a sense of vulnerability which worked very well for Kohrra," says Vicky. Also Read – Kohrra and Asur 2 star Barun Sobti gets a shoutout from his former manager on social media; his reply will warm your hearts
When we asked him if he ever chased a career in Bollywood, this is what Vicky said. He told us that he never seriously pursued an acting career in Mumbai. He said, "Well, I had some personal reasons. I started acting in the mid 90s. At that time, the thought of travelling from Punjab to Mumbai for such an uncertain job was quite daunting. It took a couple of days by train. My parents were little scared of the idea. So, I decided to work in Punjab only. Honestly, I have great respect for all aspirants who slog it out in Mumbai to chase their Bollywood dream. It takes a lot of heart." Also Read – Kohrra star Barun Sobti shares his Top 5 OTT recommendations [EXCLUSIVE]
He also said that he has visited Mumbai as a tourist some times. The actor said that he would feel amazed seeing the young people making the rounds of casting offices in Aram Nagar. "You realise how invested they are in their dream. I did think occasionally on how it would be to buy a home in Mumbai (laughs)," he said.
]]>
Stay tuned to BollywoodLife for the latest scoops and updates from Bollywood, Hollywood, South, TV and Web-Series. Click to join us on Facebook, Twitter, Youtube and Instagram. Also follow us on Facebook Messenger for latest updates.
adisplay:block;padding:0;color:var(–black);text-decoration:none.repeat-box figuredisplay:flex;justify-content:flex-start;flex-wrap:wrap;align-items:stretch;overflow:visible.two-cols-aside .aside .repeat-box figurealign-items:center.repeat-box .textwidth:100%;z-index:5;position:relative.repeat-box .photowidth:100px;position:relative;z-index:5.repeat-box .photo+.textwidth:calc(100% – 100px);padding-left:10px.repeat-box h2,.repeat-box h3,.repeat-box pcolor:var(–black);white-space:normal;overflow:hidden;text-overflow:ellipsis;-webkit-line-clamp:3;display:-webkit-box;-webkit-box-orient:vertical;padding:0;font-size:15px;line-height:1.5;font-weight:400.repeat-box h2font-size:20px.repeat-box h2+p,.repeat-box h3+pfont-size:14px.repeat-box .catfont-size:14px;line-height:16px;display:block;margin-bottom:5px;font-weight:700;color:var(–orange);text-transform:uppercase.repeat-box a:hover,.repeat-box a:hover h2,.repeat-box a:hover h3,.repeat-box a:hover pcolor:#f32c89.repeat-box .photo-icon,.repeat-box .video-iconposition:absolute;left:0;bottom:0;background:linear-gradient(to left,#a617be,#f32c89,#f32c89,#f32c89,#f32c89,#a617be);border-radius:0 5px 0 0.repeat-box .video-iconwidth:26px;height:26px;display:inline-block.repeat-box .photo-iconwidth:auto;min-width:26px;height:26px;line-height:16px;font-size:13px;color:var(–white);padding:5px 5px 0.lazy-image img.lazyopacity:0.lazy-image img:not(.initial)transition:opacity .5s ease-in,transform .5s ease-in,-webkit-transform .5s ease-in.lazy-image img.error,.lazy-image img.initial,.lazy-image img.loadedopacity:1.lazy-image img:not([src])visibility:hidden.cre-setionclear:both;overflow:hidden;float:none;width:auto;margin:5px 0 20px.cre-setion .black-boxespadding:15px 40px;background:#e5e5e5.cre-carousel-heightposition:relative;padding:0 0 255px;height:0.cre-carousel-height .all-dataposition:absolute;top:0;left:0;width:100%!important;height:100%!important.cre-setion .border-headingfont-size:16px;color:#1f1f1f;text-transform:uppercase;font-weight:700;padding:0 0 10px;margin:20px 0 10px;clear:both;position:relative;border-bottom:0;display:flex;justify-content:space-between;align-items:center.cre-setion .border-heading:beforetop:5px;height:14px.cre-setion .splide__slideheight:auto!important;margin-left:0.cre-setion article.repeat-boxdisplay:block;background-color:transparent;border-radius:5px;box-shadow:none;overflow:hidden;padding:0;margin-bottom:3px.cre-setion article.repeat-box>adisplay:block;padding:10px;background-color:var(–white);border-radius:5px;color:var(–black);text-decoration:none;overflow:hidden;border:1px solid #d0d0d0.cre-setion article.repeat-box>a>figuredisplay:block.cre-setion article.repeat-box .photo,.cre-setion article.repeat-box .textwidth:100%.cre-setion article.repeat-box .photoborder-radius:5px;overflow:hidden.cre-setion article.repeat-box .lazy-imagebox-shadow:none;border-radius:0;overflow:hidden.cre-setion article.repeat-box .textpadding:5px 0 0;height:90px;.cre-setion article.repeat-box .text h3font-size:14px;line-height:1.5;-webkit-line-clamp:4;font-weight:600;text-align:left.cre-setion .repeat-box .photos-iconborder-radius:0 5px 0 0;width:auto;min-width:26px;height:26px;left:0;bottom:0;display:flex;justify-content:center;align-items:center.cre-setion .photos-icon svgtransition:1s;fill:var(–white);width:26px;height:26px.cre-setion .photos-icon:hoverbackground:var(–blue).cre-setion .splide__arrowtop:50%!important;width:1.8em;height:1.8em;border-radius:100px;border:1px solid #999;background:0 0;opacity:1.cre-setion .splide__arrow–prevleft:-37px.cre-setion .splide__arrow–nextright:-37px.cre-setion .splide__arrow:disabledopacity:.3;cursor:not-allowed!important.cre-setion .splide__arrow:beforeborder:solid #999;border-width:0 2px 2px 0.cre-setion .splide__arrow:hoverbackground:linear-gradient(to left,#a617be,#f32c89,#f32c89,#f32c89,#f32c89,#a617be).cre-setion .splide__arrow:hover::beforeborder:solid var(–white);border-width:0 2px 2px 0]]]]>]]>