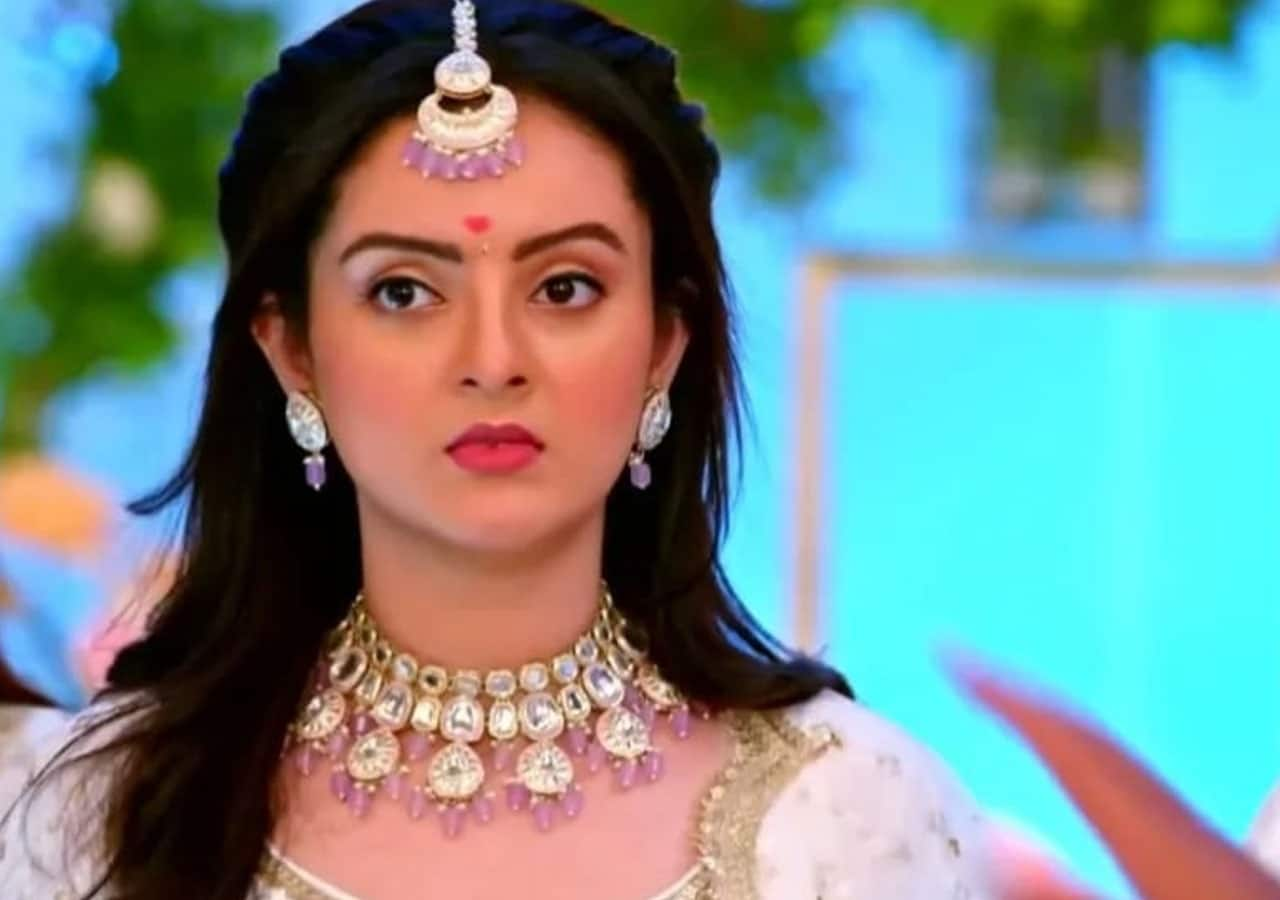 Kundali Bhagya Hindi TV show upcoming twist September 1: In the latest track of Kundali Bhagya, we see Gireesh, who works at the Luthra House, comes with water to give to Shrishti, but suddenly Rakhi Maa comes and she hides. She suspects that Shrishti is also there. Later on, we see Shaurya (Baseer Ali) getting jealous to see Rajveer and Shanaya together. He comes to talk with Shanaya, and finally Shanaya tells him that Rajveer loves her. Let's see if Shaurya finally confesses his feelings in front of Shanaya. He thinks Rajveer (Paras Kalnawat) has fallen in love with Shanaya and if he snatched his love, it will create a havoc. But viewers know the truth behind Shanaya's game plan. Meanwhile, Preeta (Shraddha Arya) has realised that Shrishti (Anjum Fakih) has been hiding many secrets from her. Let's wait and see what happens now that Preeta has decided to find the truth. Also Read – Kundali Bhagya upcoming twist: Is Shaurya in love with Shanaya? Or is he pretending and using her for a bigger plan?
Kundali Bhagya Upcoming Twist
In the upcoming track of Kundali Bhagya, we see that Rajveer (Paras Kalnawat) is very upset as Raksha Bandhan is coming, and he thinks Kavya will not tie the rakhi on his hand, but on the other side, Kavya will be a part of all the celebrations and will mark the festival with both the brothers. And finally, we see Rajveer, Shaurya (Baseer Ali) , and Kavya all very excited for the festival of Raksha Bandhan. Suddenly a snake comes inside the Luthara Mansion. Kavya sees that the snake is going towards Shaurya and may bite him and at that moment, Kavya (Madalsa Sharma) fulfills her responsibility and puts her life at risk to save Shaurya. Well, the snake will bite Kavya instead. Without wasting a second, Rajveer starts to suck the poison out. Rajveer proves that he is the true brother of Kavya. Well, we have to wait to see the twist after this incident: will Rajveer survive, or will his life get in danger? Also Read – Raksha Bandhan 2023: Akshara-Kairav of YRKKH, Anuj-Malvika of Anupamaa; here are best on-screen siblings from top TV shows
In the future track of Kundali Bhagya, we may see that Preeta decides to go to Luthara's house and talk with Karan Luthara. The Ganesh Chaturthi festival will bring with it a lot of twists for the Kundali Bhagya show. Will bappa reunite Karan and Preeta? Kundali Bhagya is one of the top running Hindi TV shows, and viewers love the latest track as Preeta decides to find everything, and Rajveer will perform the rituals of Raksha Bandhan and save Kavya. Also Read – Raksha Bandhan 2023: Rupali Ganguly, Pranali Rathod, and more TV actresses inspired ethnic looks for the festivities
]]>
Stay tuned to BollywoodLife for the latest scoops and updates from Bollywood, Hollywood, South, TV and Web-Series. Click to join us on Facebook, Twitter, Youtube and Instagram. Also follow us on Facebook Messenger for latest updates.
adisplay:block;padding:0;color:var(–black);text-decoration:none.repeat-box figuredisplay:flex;justify-content:flex-start;flex-wrap:wrap;align-items:stretch;overflow:visible.two-cols-aside .aside .repeat-box figurealign-items:center.repeat-box .textwidth:100%;z-index:5;position:relative.repeat-box .photowidth:100px;position:relative;z-index:5.repeat-box .photo+.textwidth:calc(100% – 100px);padding-left:10px.repeat-box h2,.repeat-box h3,.repeat-box pcolor:var(–black);white-space:normal;overflow:hidden;text-overflow:ellipsis;-webkit-line-clamp:3;display:-webkit-box;-webkit-box-orient:vertical;padding:0;font-size:15px;line-height:1.5;font-weight:400.repeat-box h2font-size:20px.repeat-box h2+p,.repeat-box h3+pfont-size:14px.repeat-box .catfont-size:14px;line-height:16px;display:block;margin-bottom:5px;font-weight:700;color:var(–orange);text-transform:uppercase.repeat-box a:hover,.repeat-box a:hover h2,.repeat-box a:hover h3,.repeat-box a:hover pcolor:#f32c89.repeat-box .photo-icon,.repeat-box .video-iconposition:absolute;left:0;bottom:0;background:linear-gradient(to left,#a617be,#f32c89,#f32c89,#f32c89,#f32c89,#a617be);border-radius:0 5px 0 0.repeat-box .video-iconwidth:26px;height:26px;display:inline-block.repeat-box .photo-iconwidth:auto;min-width:26px;height:26px;line-height:16px;font-size:13px;color:var(–white);padding:5px 5px 0.lazy-image img.lazyopacity:0.lazy-image img:not(.initial)transition:opacity .5s ease-in,transform .5s ease-in,-webkit-transform .5s ease-in.lazy-image img.error,.lazy-image img.initial,.lazy-image img.loadedopacity:1.lazy-image img:not([src])visibility:hidden.cre-setionclear:both;overflow:hidden;float:none;width:auto;margin:5px 0 20px.cre-setion .black-boxespadding:15px 40px;background:#e5e5e5.cre-carousel-heightposition:relative;padding:0 0 255px;height:0.cre-carousel-height .all-dataposition:absolute;top:0;left:0;width:100%!important;height:100%!important.cre-setion .border-headingfont-size:16px;color:#1f1f1f;text-transform:uppercase;font-weight:700;padding:0 0 10px;margin:20px 0 10px;clear:both;position:relative;border-bottom:0;display:flex;justify-content:space-between;align-items:center.cre-setion .border-heading:beforetop:5px;height:14px.cre-setion .splide__slideheight:auto!important;margin-left:0.cre-setion article.repeat-boxdisplay:block;background-color:transparent;border-radius:5px;box-shadow:none;overflow:hidden;padding:0;margin-bottom:3px.cre-setion article.repeat-box>adisplay:block;padding:10px;background-color:var(–white);border-radius:5px;color:var(–black);text-decoration:none;overflow:hidden;border:1px solid #d0d0d0.cre-setion article.repeat-box>a>figuredisplay:block.cre-setion article.repeat-box .photo,.cre-setion article.repeat-box .textwidth:100%.cre-setion article.repeat-box .photoborder-radius:5px;overflow:hidden.cre-setion article.repeat-box .lazy-imagebox-shadow:none;border-radius:0;overflow:hidden.cre-setion article.repeat-box .textpadding:5px 0 0;height:90px;.cre-setion article.repeat-box .text h3font-size:14px;line-height:1.5;-webkit-line-clamp:4;font-weight:600;text-align:left.cre-setion .repeat-box .photos-iconborder-radius:0 5px 0 0;width:auto;min-width:26px;height:26px;left:0;bottom:0;display:flex;justify-content:center;align-items:center.cre-setion .photos-icon svgtransition:1s;fill:var(–white);width:26px;height:26px.cre-setion .photos-icon:hoverbackground:var(–blue).cre-setion .splide__arrowtop:50%!important;width:1.8em;height:1.8em;border-radius:100px;border:1px solid #999;background:0 0;opacity:1.cre-setion .splide__arrow–prevleft:-37px.cre-setion .splide__arrow–nextright:-37px.cre-setion .splide__arrow:disabledopacity:.3;cursor:not-allowed!important.cre-setion .splide__arrow:beforeborder:solid #999;border-width:0 2px 2px 0.cre-setion .splide__arrow:hoverbackground:linear-gradient(to left,#a617be,#f32c89,#f32c89,#f32c89,#f32c89,#a617be).cre-setion .splide__arrow:hover::beforeborder:solid var(–white);border-width:0 2px 2px 0]]]]>]]>