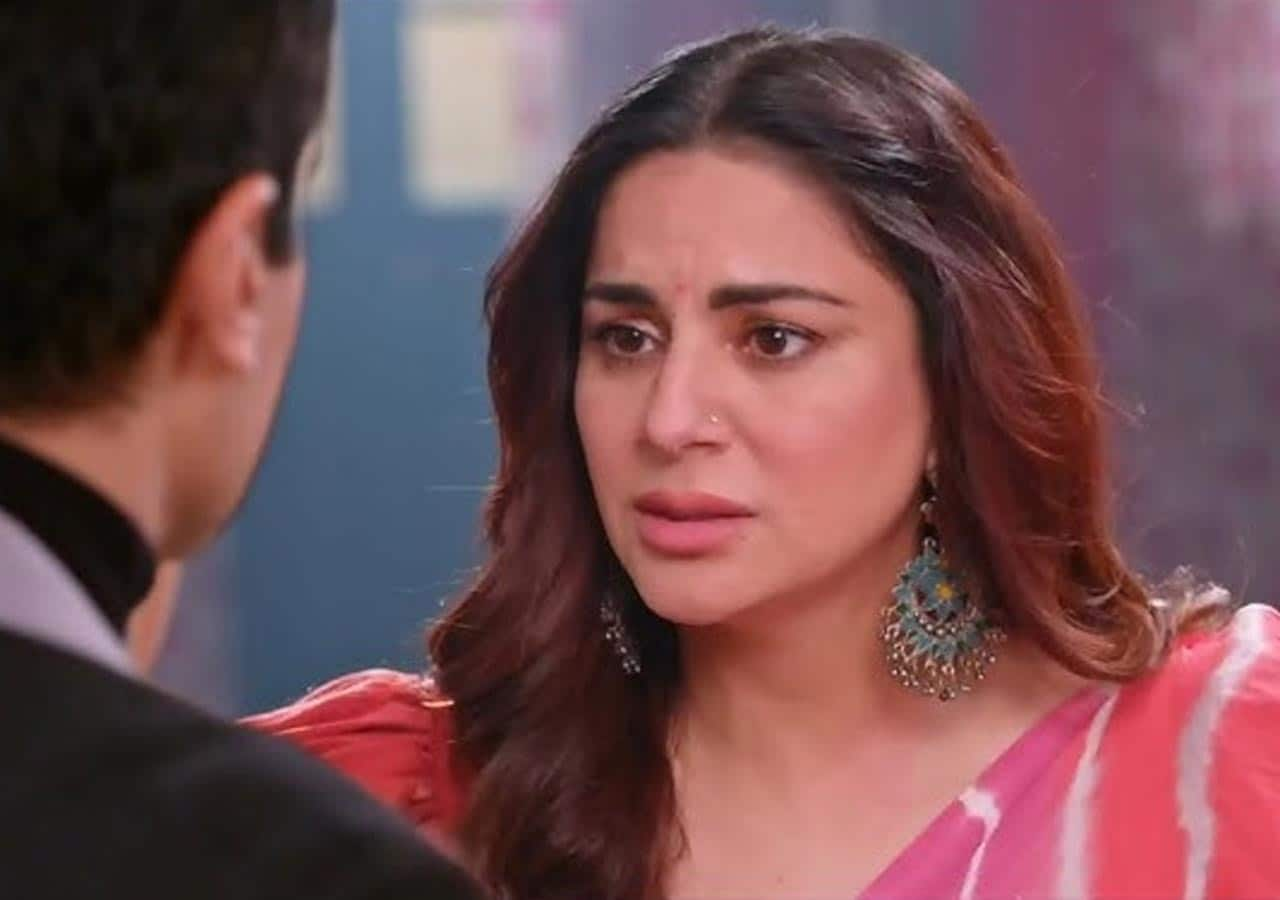 Kundali Bhagya upcoming spoiler alert: In the latest track of Kundali Bhagya, we see Shrishti warn Nidhi to stay away from Preeta (Shraddha Arya). She has doubted Nidhi all along that she is planning something sinister. Later on, we see Karan see Shrishti and follow her, but Shrishti (Anjum Fakih) starts running as she does not want to meet Karan. But finally, Shrishti and Karan (Shakti Aanand) meet, and Shrishti casually tells him that she does not recognize him. But Karan tries his best to clarify the confusion and reveal his identity and what had happened in the past. But Shrishti succeeds in avoiding him. On the other side, a killer gets into Preeta's room to kill her, but destiny is with Preeta and just at the right moment, Rajveer enters the room and saves his mother's life. Later on, we see Karan comes across the killer, who he knows as a detective. He tells him to search for Preeta. Also Read – TRP report week 33 of Top Hindi TV Shows: Ghum Hai Kisikey Pyaar Meiin gives tough competition to Anupamaa
Nidhi's plan has failed
In the upcoming track of Kundali Bhagya, we see Nidhi take everything in her hand and go to Preeta's room to try to give her a poisonous injection, but Preeta (Shraddha Arya) wakes up and stops Nidhi and also fights her. Nidhi runs away and reaches the morgue room to hide as Preeta tells everything to Rajveer (Paras Kalnawat) and Shrishti (Anjum Fakih) , and they call the police. Well, we see that her plan fails once again, and Preetas's life will be saved, but soon we may see that her game will be over. Also Read – Kundali Bhagya upcoming twist: Rajveer and Shrishti to expose Nidhi's plan and save Preeta
Kundali Bhagya Upcoming Twist
In the future track of Kundali Bhagya, we see Preeta come back home, but this time they will be more vigilant since they know that someone out there is trying to harm Preeta, and hence they file a complaint too. Later on, it might be possible that after all this, Rajveer and Shrishti will start protecting Preeta, as they will be aware that Preeta's life is in danger. Well, will Rajveer once again have doubts on Karan Luthara? Let's see what happens next. Also Read – Kundali Bhagya upcoming twist: Nidhi to lose again in front of Karan's love for Preeta?
Kundali Bhagya is one of the top Hindi TV shows. Viewers love the chemistry between Karan and Preeta, aka Shakti Aanand and Shraddha Arya. The latest track is all about Preeta and Karan's reunion. Let's wait to see the upcoming twists and turns that will happen in Kundali Bhagya.
]]>
Stay tuned to BollywoodLife for the latest scoops and updates from Bollywood, Hollywood, South, TV and Web-Series. Click to join us on Facebook, Twitter, Youtube and Instagram. Also follow us on Facebook Messenger for latest updates.
adisplay:block;padding:0;color:var(–black);text-decoration:none.repeat-box figuredisplay:flex;justify-content:flex-start;flex-wrap:wrap;align-items:stretch;overflow:visible.two-cols-aside .aside .repeat-box figurealign-items:center.repeat-box .textwidth:100%;z-index:5;position:relative.repeat-box .photowidth:100px;position:relative;z-index:5.repeat-box .photo+.textwidth:calc(100% – 100px);padding-left:10px.repeat-box h2,.repeat-box h3,.repeat-box pcolor:var(–black);white-space:normal;overflow:hidden;text-overflow:ellipsis;-webkit-line-clamp:3;display:-webkit-box;-webkit-box-orient:vertical;padding:0;font-size:15px;line-height:1.5;font-weight:400.repeat-box h2font-size:20px.repeat-box h2+p,.repeat-box h3+pfont-size:14px.repeat-box .catfont-size:14px;line-height:16px;display:block;margin-bottom:5px;font-weight:700;color:var(–orange);text-transform:uppercase.repeat-box a:hover,.repeat-box a:hover h2,.repeat-box a:hover h3,.repeat-box a:hover pcolor:#f32c89.repeat-box .photo-icon,.repeat-box .video-iconposition:absolute;left:0;bottom:0;background:linear-gradient(to left,#a617be,#f32c89,#f32c89,#f32c89,#f32c89,#a617be);border-radius:0 5px 0 0.repeat-box .video-iconwidth:26px;height:26px;display:inline-block.repeat-box .photo-iconwidth:auto;min-width:26px;height:26px;line-height:16px;font-size:13px;color:var(–white);padding:5px 5px 0.lazy-image img.lazyopacity:0.lazy-image img:not(.initial)transition:opacity .5s ease-in,transform .5s ease-in,-webkit-transform .5s ease-in.lazy-image img.error,.lazy-image img.initial,.lazy-image img.loadedopacity:1.lazy-image img:not([src])visibility:hidden.cre-setionclear:both;overflow:hidden;float:none;width:auto;margin:5px 0 20px.cre-setion .black-boxespadding:15px 40px;background:#e5e5e5.cre-carousel-heightposition:relative;padding:0 0 255px;height:0.cre-carousel-height .all-dataposition:absolute;top:0;left:0;width:100%!important;height:100%!important.cre-setion .border-headingfont-size:16px;color:#1f1f1f;text-transform:uppercase;font-weight:700;padding:0 0 10px;margin:20px 0 10px;clear:both;position:relative;border-bottom:0;display:flex;justify-content:space-between;align-items:center.cre-setion .border-heading:beforetop:5px;height:14px.cre-setion .splide__slideheight:auto!important;margin-left:0.cre-setion article.repeat-boxdisplay:block;background-color:transparent;border-radius:5px;box-shadow:none;overflow:hidden;padding:0;margin-bottom:3px.cre-setion article.repeat-box>adisplay:block;padding:10px;background-color:var(–white);border-radius:5px;color:var(–black);text-decoration:none;overflow:hidden;border:1px solid #d0d0d0.cre-setion article.repeat-box>a>figuredisplay:block.cre-setion article.repeat-box .photo,.cre-setion article.repeat-box .textwidth:100%.cre-setion article.repeat-box .photoborder-radius:5px;overflow:hidden.cre-setion article.repeat-box .lazy-imagebox-shadow:none;border-radius:0;overflow:hidden.cre-setion article.repeat-box .textpadding:5px 0 0;height:90px;.cre-setion article.repeat-box .text h3font-size:14px;line-height:1.5;-webkit-line-clamp:4;font-weight:600;text-align:left.cre-setion .repeat-box .photos-iconborder-radius:0 5px 0 0;width:auto;min-width:26px;height:26px;left:0;bottom:0;display:flex;justify-content:center;align-items:center.cre-setion .photos-icon svgtransition:1s;fill:var(–white);width:26px;height:26px.cre-setion .photos-icon:hoverbackground:var(–blue).cre-setion .splide__arrowtop:50%!important;width:1.8em;height:1.8em;border-radius:100px;border:1px solid #999;background:0 0;opacity:1.cre-setion .splide__arrow–prevleft:-37px.cre-setion .splide__arrow–nextright:-37px.cre-setion .splide__arrow:disabledopacity:.3;cursor:not-allowed!important.cre-setion .splide__arrow:beforeborder:solid #999;border-width:0 2px 2px 0.cre-setion .splide__arrow:hoverbackground:linear-gradient(to left,#a617be,#f32c89,#f32c89,#f32c89,#f32c89,#a617be).cre-setion .splide__arrow:hover::beforeborder:solid var(–white);border-width:0 2px 2px 0]]]]>]]>