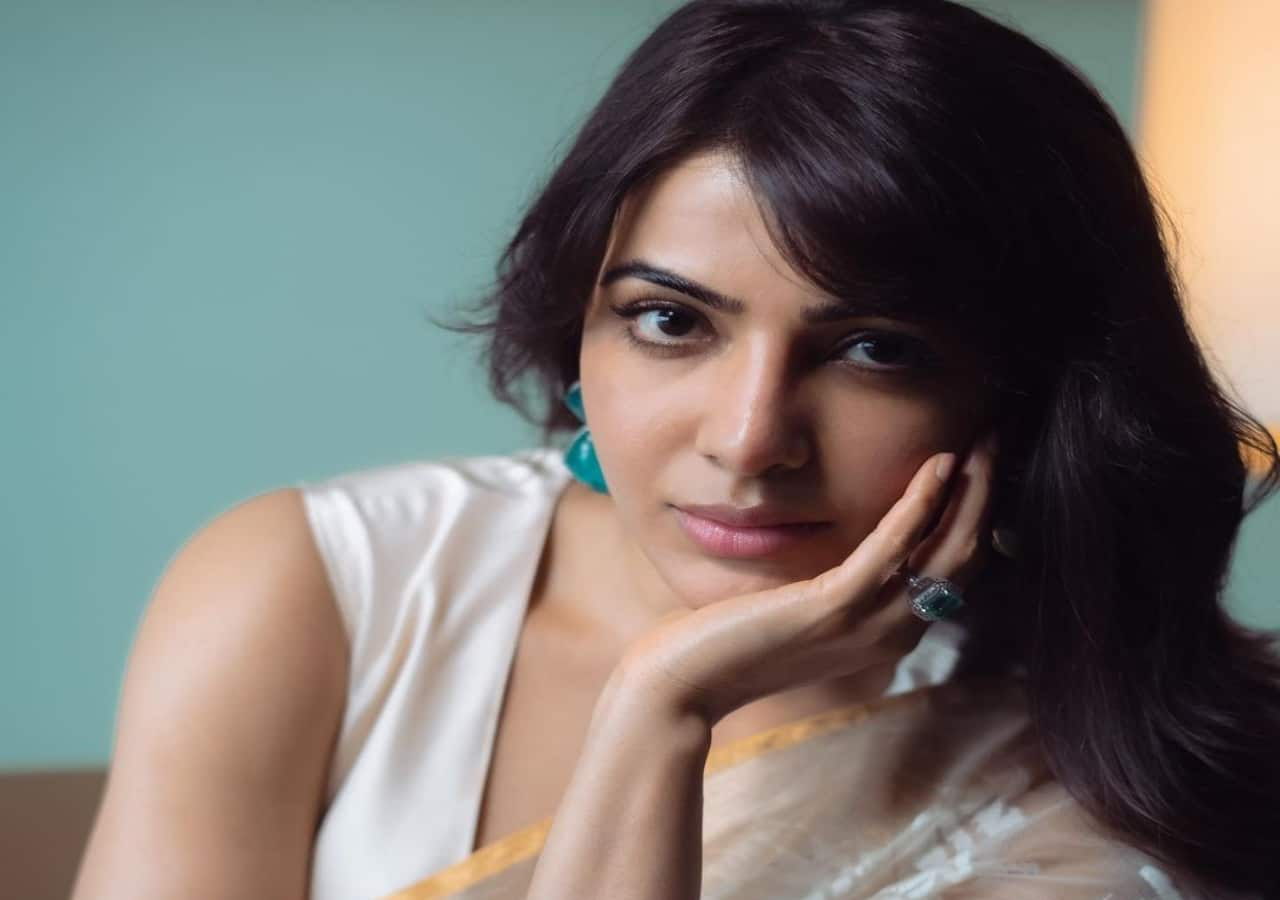 Samantha Ruth Prabhu and Vijay Deverakonda fans are waiting for Kushi. The film is a romance which will release on September 1, 2023. The song Aaradhya was released yesterday. In a still from the song, we can see Samantha Ruth Prabhu sitting near the feet of Vijay Deverakonda. They play the role of a married couple in the movie. He has his feet on her. Now, some years back, Samantha Ruth Prabhu had put up a tweet on a movie poster. Fans felt she hinted at the poster of Nenokkadine. In the poster, we could see Mahesh Babu and Kriti Sanon together as she crouched behind him. He is seen looking back at the stunning actress. Also Read – Here's why Vijay Deverakonda and Samantha Ruth Prabhu will not aggressively promote Kushi
My #Aradhya sam?❤️
THE BEST PAIR??@TheDeverakonda @Samanthaprabhu2 #VijayDeverakonda #SamanthRuthPrabhu #Kushi pic.twitter.com/tl2gtZZs3v
— THE VD_fan_prashanth ? (@THE_VD_FAN) July 12, 2023
Samantha Ruth Prabhu had tweeted, "Saw a poster of a yet-to-be-released Telugu film. Not only is it deeply regressive, but it's point is actually that it is deeply regressive (sic)." Now, fans have trolled the actress saying what does she feel about the poster of Aaradhya from Kushi. Also Read – Vijay Deverakonda opens up on how he wants his married life to be; compares it to a song
Karma is boomerang https://t.co/ikAAdqKVxk pic.twitter.com/z878WVSszl
— Rishi (@Telugu_abbayii) July 12, 2023
She tweeted that for this shot and check Kushi movie latest poster. pic.twitter.com/wOCnD6oXFq
— Pakka boomer ? (@wtfhemanth) July 12, 2023
Karma is a boomerang cutie https://t.co/ashcDrnmyI
— Pakka boomer ? (@wtfhemanth) July 12, 2023
Akka namaste pic.twitter.com/BkQVa8zHw8
— Venu DHFM?️ (@VasalaVenuDHFM1) July 12, 2023
Samantha Ruth Prabhu is now in Belgrade for the shoot of Citadel. The actress will be seen in an action-packed role in that series. It is the Hindi version of the Citadel universe. Now, the foreign version of Citadel with Priyanka Chopra and Richard Madden has made huge losses. It seems the studio head of Amazon asked for an explanation from the Russo Brothers. Also Read – Samantha Ruth Prabhu shares a cryptic post after announcing a career sabbatical
There are rumours that Samantha Ruth Prabhu will take a break of a few months after this shoot to recuperate. She is fighting myositis an auto-immune disorder. It is a condition that has to be managed with medication, lifestyle and constant therapy.
]]>
Stay tuned to BollywoodLife for the latest scoops and updates from Bollywood, Hollywood, South, TV and Web-Series. Click to join us on Facebook, Twitter, Youtube and Instagram. Also follow us on Facebook Messenger for latest updates.
adisplay:block;padding:0;color:var(–black);text-decoration:none.repeat-box figuredisplay:flex;justify-content:flex-start;flex-wrap:wrap;align-items:stretch;overflow:visible.two-cols-aside .aside .repeat-box figurealign-items:center.repeat-box .textwidth:100%;z-index:5;position:relative.repeat-box .photowidth:100px;position:relative;z-index:5.repeat-box .photo+.textwidth:calc(100% – 100px);padding-left:10px.repeat-box h2,.repeat-box h3,.repeat-box pcolor:var(–black);white-space:normal;overflow:hidden;text-overflow:ellipsis;-webkit-line-clamp:3;display:-webkit-box;-webkit-box-orient:vertical;padding:0;font-size:15px;line-height:1.5;font-weight:400.repeat-box h2font-size:20px.repeat-box h2+p,.repeat-box h3+pfont-size:14px.repeat-box .catfont-size:14px;line-height:16px;display:block;margin-bottom:5px;font-weight:700;color:var(–orange);text-transform:uppercase.repeat-box a:hover,.repeat-box a:hover h2,.repeat-box a:hover h3,.repeat-box a:hover pcolor:#f32c89.repeat-box .photo-icon,.repeat-box .video-iconposition:absolute;left:0;bottom:0;background:linear-gradient(to left,#a617be,#f32c89,#f32c89,#f32c89,#f32c89,#a617be);border-radius:0 5px 0 0.repeat-box .video-iconwidth:26px;height:26px;display:inline-block.repeat-box .photo-iconwidth:auto;min-width:26px;height:26px;line-height:16px;font-size:13px;color:var(–white);padding:5px 5px 0.lazy-image img.lazyopacity:0.lazy-image img:not(.initial)transition:opacity .5s ease-in,transform .5s ease-in,-webkit-transform .5s ease-in.lazy-image img.error,.lazy-image img.initial,.lazy-image img.loadedopacity:1.lazy-image img:not([src])visibility:hidden.cre-setionclear:both;overflow:hidden;float:none;width:auto;margin:5px 0 20px.cre-setion .black-boxespadding:15px 40px;background:#e5e5e5.cre-carousel-heightposition:relative;padding:0 0 255px;height:0.cre-carousel-height .all-dataposition:absolute;top:0;left:0;width:100%!important;height:100%!important.cre-setion .border-headingfont-size:16px;color:#1f1f1f;text-transform:uppercase;font-weight:700;padding:0 0 10px;margin:20px 0 10px;clear:both;position:relative;border-bottom:0;display:flex;justify-content:space-between;align-items:center.cre-setion .border-heading:beforetop:5px;height:14px.cre-setion .splide__slideheight:auto!important;margin-left:0.cre-setion article.repeat-boxdisplay:block;background-color:transparent;border-radius:5px;box-shadow:none;overflow:hidden;padding:0;margin-bottom:3px.cre-setion article.repeat-box>adisplay:block;padding:10px;background-color:var(–white);border-radius:5px;color:var(–black);text-decoration:none;overflow:hidden;border:1px solid #d0d0d0.cre-setion article.repeat-box>a>figuredisplay:block.cre-setion article.repeat-box .photo,.cre-setion article.repeat-box .textwidth:100%.cre-setion article.repeat-box .photoborder-radius:5px;overflow:hidden.cre-setion article.repeat-box .lazy-imagebox-shadow:none;border-radius:0;overflow:hidden.cre-setion article.repeat-box .textpadding:5px 0 0;height:90px;.cre-setion article.repeat-box .text h3font-size:14px;line-height:1.5;-webkit-line-clamp:4;font-weight:600;text-align:left.cre-setion .repeat-box .photos-iconborder-radius:0 5px 0 0;width:auto;min-width:26px;height:26px;left:0;bottom:0;display:flex;justify-content:center;align-items:center.cre-setion .photos-icon svgtransition:1s;fill:var(–white);width:26px;height:26px.cre-setion .photos-icon:hoverbackground:var(–blue).cre-setion .splide__arrowtop:50%!important;width:1.8em;height:1.8em;border-radius:100px;border:1px solid #999;background:0 0;opacity:1.cre-setion .splide__arrow–prevleft:-37px.cre-setion .splide__arrow–nextright:-37px.cre-setion .splide__arrow:disabledopacity:.3;cursor:not-allowed!important.cre-setion .splide__arrow:beforeborder:solid #999;border-width:0 2px 2px 0.cre-setion .splide__arrow:hoverbackground:linear-gradient(to left,#a617be,#f32c89,#f32c89,#f32c89,#f32c89,#a617be).cre-setion .splide__arrow:hover::beforeborder:solid var(–white);border-width:0 2px 2px 0]]]]>]]>