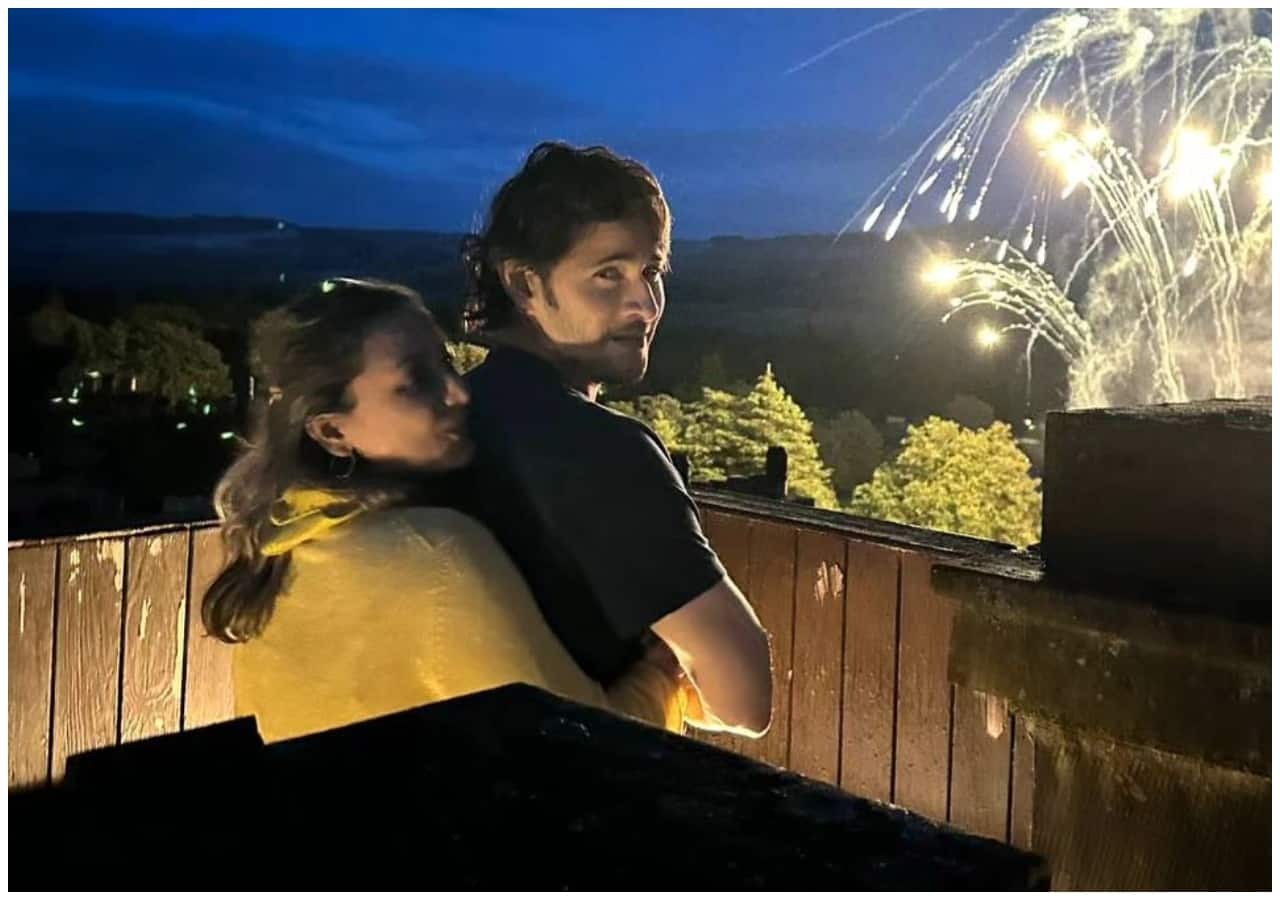 Mahesh Babu has defended his frequent trips abroad with his wife Namrata Shirodkar and their family, emphasizing that he shares his holiday experiences on Instagram for the enjoyment of everyone. Earlier this month, Mahesh Babu and his family, including wife Namrata Shirodkar and their children Sitara and Gautam, celebrated the actor's 48th birthday in Scotland. Also Read – After Pooja Hegde, cinematographer PS Vinod walks out of Mahesh Babu's Guntur Kaaram
During a recent event in Hyderabad, Mahesh Babu was asked about his frequent foreign vacations with his family, and according to an India Today report, he responded with a noteworthy statement. Also Read – Sitara Ghattamaneni rings in her birthday with family; Mahesh Babu's daughter wins hearts with thoughtful gesture
There has been a lot of confusion about Guntur Kaaram and its release. Many from the film fraternity have commented that Mahesh should reduce his frequency of family vacations to complete the film as soon as possible. When questioned about his frequent appearances at the airport and his consecutive family trips, Mahesh Babu remarked, "Do you find them interesting or are you jealous? I go on trips regularly and share them on Instagram with everyone. I'm aware of the comments. Whenever there is a break between shooting schedules or when my children have holidays, we go on trips as a family. I also believe that people derive pleasure and happiness from my photos. I don't know, and I can't be certain if people would feel jealous. I don't see why others shouldn't appreciate me going on vacations." Also Read – Mahesh Babu's daughter Sitara donates her earnings from ad film to charity
Reactions to Mahesh's statement were swift. A fan shared the clip on Twitter and commented, "This one video is a fitting response to those few media outlets that spread negative news about Mahesh Babu."
Another person tweeted, "When and how many vacations he goes on is none of your business. People get overly possessive about their favorite stars. Get a real job." Appreciating the actor's response, a fan also wrote, "Mahesh anna's (brother) swag (heart on fire emoji)."
As for Mahesh Babu and his family's recent holidays, they enjoyed a trip to the UK in July-August, with Namrata sharing glimpses of their travels to London and Scotland on Instagram. They also had a memorable Europe trip in March-April, with pictures shared by both Namrata and her extended family. Mahesh Babu's upcoming film, Guntur Kaaram, directed by Trivikram Srinivas, is scheduled for release in January 2024.
]]>
Stay tuned to BollywoodLife for the latest scoops and updates from Bollywood, Hollywood, South, TV and Web-Series. Click to join us on Facebook, Twitter, Youtube and Instagram. Also follow us on Facebook Messenger for latest updates.
adisplay:block;padding:0;color:var(–black);text-decoration:none.repeat-box figuredisplay:flex;justify-content:flex-start;flex-wrap:wrap;align-items:stretch;overflow:visible.two-cols-aside .aside .repeat-box figurealign-items:center.repeat-box .textwidth:100%;z-index:5;position:relative.repeat-box .photowidth:100px;position:relative;z-index:5.repeat-box .photo+.textwidth:calc(100% – 100px);padding-left:10px.repeat-box h2,.repeat-box h3,.repeat-box pcolor:var(–black);white-space:normal;overflow:hidden;text-overflow:ellipsis;-webkit-line-clamp:3;display:-webkit-box;-webkit-box-orient:vertical;padding:0;font-size:15px;line-height:1.5;font-weight:400.repeat-box h2font-size:20px.repeat-box h2+p,.repeat-box h3+pfont-size:14px.repeat-box .catfont-size:14px;line-height:16px;display:block;margin-bottom:5px;font-weight:700;color:var(–orange);text-transform:uppercase.repeat-box a:hover,.repeat-box a:hover h2,.repeat-box a:hover h3,.repeat-box a:hover pcolor:#f32c89.repeat-box .photo-icon,.repeat-box .video-iconposition:absolute;left:0;bottom:0;background:linear-gradient(to left,#a617be,#f32c89,#f32c89,#f32c89,#f32c89,#a617be);border-radius:0 5px 0 0.repeat-box .video-iconwidth:26px;height:26px;display:inline-block.repeat-box .photo-iconwidth:auto;min-width:26px;height:26px;line-height:16px;font-size:13px;color:var(–white);padding:5px 5px 0.lazy-image img.lazyopacity:0.lazy-image img:not(.initial)transition:opacity .5s ease-in,transform .5s ease-in,-webkit-transform .5s ease-in.lazy-image img.error,.lazy-image img.initial,.lazy-image img.loadedopacity:1.lazy-image img:not([src])visibility:hidden.cre-setionclear:both;overflow:hidden;float:none;width:auto;margin:5px 0 20px.cre-setion .black-boxespadding:15px 40px;background:#e5e5e5.cre-carousel-heightposition:relative;padding:0 0 255px;height:0.cre-carousel-height .all-dataposition:absolute;top:0;left:0;width:100%!important;height:100%!important.cre-setion .border-headingfont-size:16px;color:#1f1f1f;text-transform:uppercase;font-weight:700;padding:0 0 10px;margin:20px 0 10px;clear:both;position:relative;border-bottom:0;display:flex;justify-content:space-between;align-items:center.cre-setion .border-heading:beforetop:5px;height:14px.cre-setion .splide__slideheight:auto!important;margin-left:0.cre-setion article.repeat-boxdisplay:block;background-color:transparent;border-radius:5px;box-shadow:none;overflow:hidden;padding:0;margin-bottom:3px.cre-setion article.repeat-box>adisplay:block;padding:10px;background-color:var(–white);border-radius:5px;color:var(–black);text-decoration:none;overflow:hidden;border:1px solid #d0d0d0.cre-setion article.repeat-box>a>figuredisplay:block.cre-setion article.repeat-box .photo,.cre-setion article.repeat-box .textwidth:100%.cre-setion article.repeat-box .photoborder-radius:5px;overflow:hidden.cre-setion article.repeat-box .lazy-imagebox-shadow:none;border-radius:0;overflow:hidden.cre-setion article.repeat-box .textpadding:5px 0 0;height:90px;.cre-setion article.repeat-box .text h3font-size:14px;line-height:1.5;-webkit-line-clamp:4;font-weight:600;text-align:left.cre-setion .repeat-box .photos-iconborder-radius:0 5px 0 0;width:auto;min-width:26px;height:26px;left:0;bottom:0;display:flex;justify-content:center;align-items:center.cre-setion .photos-icon svgtransition:1s;fill:var(–white);width:26px;height:26px.cre-setion .photos-icon:hoverbackground:var(–blue).cre-setion .splide__arrowtop:50%!important;width:1.8em;height:1.8em;border-radius:100px;border:1px solid #999;background:0 0;opacity:1.cre-setion .splide__arrow–prevleft:-37px.cre-setion .splide__arrow–nextright:-37px.cre-setion .splide__arrow:disabledopacity:.3;cursor:not-allowed!important.cre-setion .splide__arrow:beforeborder:solid #999;border-width:0 2px 2px 0.cre-setion .splide__arrow:hoverbackground:linear-gradient(to left,#a617be,#f32c89,#f32c89,#f32c89,#f32c89,#a617be).cre-setion .splide__arrow:hover::beforeborder:solid var(–white);border-width:0 2px 2px 0]]]]>]]>