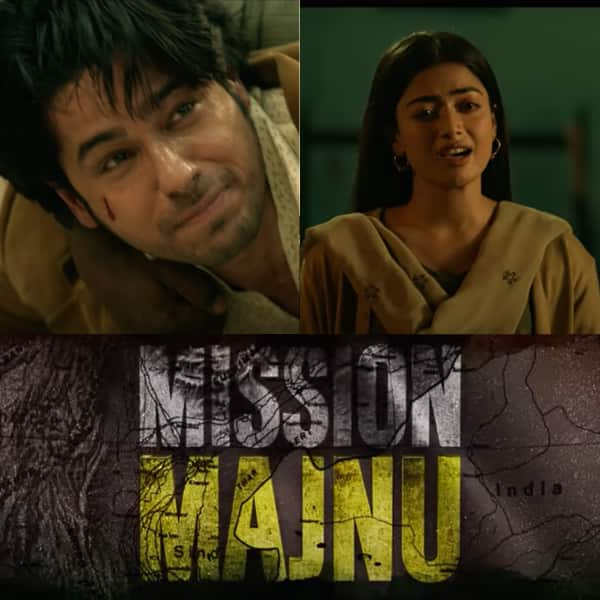 Mission Majnu is one of the biggest releases on OTT of 2023. The first Bollywood film starring Sidharth Malhotra and Rashmika Mandanna to hit the OTT block. The Mission Majnu Trailer launch event was held in the city today. Rashmika Mandanna and Sidharth Malhotra both joined the trailer launch in the city. While the two of them are popular celebs, right now, the talking point is Mission Majnu Trailer. Sidharth is delivering and how! The Mission Majnu Trailer is winning the hearts of the fans and how. Check what they have to say about Mission Majnu Trailer below: Also Read – Mission Majnu actress Rashmika Mandanna guesses why people 'dislike' or 'hate' her, says, 'Maybe just the way I…'
Mission Majnu Trailer: Sidharth turns RAW agent
Sidharth Malhotra and Rashmika Mandanna starrer movie Mission Majnu have been grabbing headlines all the time in Entertainment News since it was announced. Rashmika and Sidharth are teaming up together for the first time and there's a lot of excitement in the air about the same. Mission Majnu Trailer was launched in the maximum city today. Sidharth Malhotra turns a RAW agent in the movie. He is an Indian Agent sent to Pakistan to determine the location of a bomb-making site in the country. The country is planning an attack it seems. Also Read – Rashmika Mandanna: Unknown facts of the glam South Indian actress that only true fans will know
Sidharth Malhotra takes up the Mission and his task is called Mission Majnu. He pretends to be a tailor and a host of other things whilst his stay in the country and builds a network to find information regarding his real mission. He falls in love with Nasreen, a blind woman from Pakistan. The Mission Majnu Trailer is packed with a lot of action scenes. Sidharth is too good in the trailer and Rashmika Mandanna wins hearts as well. The background score, especially the patriotic anthem hits you. It's a blockbuster written all over! Also Read – Mission Majnu Teaser: Kiara Advani gives a shout-out to bae Sidharth Malhotra; calls it 'OUTSTANDING' 
Watch the Mission Majnu Trailer here:
Netizens react to Mission Majnu Trailer:
Fans are bowled over by Sidharth Malhotra in Mission Majnu. His body language, his action scenes, his patriotism has left fans awestruck. However, fans are wishing that it was a theatrical release instead of an OTT one. For the unversed, Mission Majnu is releasing on 29th January 2023. Check out the tweets about Mission Majnu Trailer here:
#MissionMajnuTrailer Sets The Tone Right.?
It has the right amount of Emotions, Love, RAW operation modules tactics, & Patriotism.#MissionMajnu Trailer fills the gaps of the teaser shortcomings.
Loved @SidMalhotra.❤️#SidharthMalhotra is in perfect sync with the character. pic.twitter.com/2Lujx5vbXZ
— Ashwani kumar (@BorntobeAshwani) January 9, 2023
Action and Romance part was just so so good literally it was a sure shot hit if it could have released on [email protected] why only you are losing it when it comes to good movies you are releasing it on OTT and bad ones are on theater ?‍♂️?‍♂️#MissionMajnuTrailer#MissionMajnu https://t.co/fpyG8A6v1W
— Ashish (@Malhotraking) January 9, 2023
His body language on point ??#MissionMajnuTrailer #SidharthMalhotra https://t.co/F9I4u7Ej3j
— ??| Mission Majnu on Netflix (@softie_sid) January 9, 2023
#MissionMajnuTrailer is amazing ????
Why they choose to release in OTT God know shame on you @RSVPMovies you ruined a Blockbuster movie
— Ashish (@Malhotraking) January 9, 2023
Loved the trailer! Patiently waiting to see the movie. @SidMalhotra as the RAW agent looks promising, he's so intense. ?? #SidharthMalhotra #MissionMajnu #MissionMajnuTrailer https://t.co/LBPmdqYQHJ
— ? (@itskaytobeyou) January 9, 2023
I am telling you..! This deserved a theatrical release…! They did a great job ?❤️#SidharthMalhotra#RashmikaMandanna #MissionMajnu#MissionMajnuTrailer#MissionMajnuOn20thJan only on Netflixhttps://t.co/vKsA9LoratLooking forward for the film! Big love and hug to the team
— Jhinkubanerjee (@Jhinkubanerjee2) January 9, 2023
Outstanding Trailer Of #MissionMajnu is Out Now Go and Watch It on @NetflixIndia YouTube Channel .#SidharthMalhotra #RashmikaMandanna ???#MissionMajnuTrailer
This Movie Deserves a Theatrical Release ?? #SidMika The On-screen Couple on ?❤️https://t.co/tC3I6QGay1
— Stylish Jafar (@stylish_jafar) January 9, 2023
Just now watched the trailer of #MissionMajnu Just one word #GooseBumps what a trailer Man. Trailer Ek side aur @iamRashmikaMam ki beauty ne dil ghayal kardiya mam. @SidMalhotra sir what a performance. #bharatmatakijai #missionmajnutrailer#Netflixhttps://t.co/MM47uSToRQ
— Nasir Ahmed (@NasirAh27735689) January 9, 2023
Looking intriguing & very impressivethe trailer of #MissionMajnu#SidharthMalhotra steal the show,back with a bang on screen ?#RashmikaMandanna looks lovely❤️#missionmajnutrailer @SidMalhotra @iamRashmika pic.twitter.com/e0s51luyPl
— SHIV DUTTA ? (@imshiva17) January 9, 2023
Loved the trailer of #MissionMajnuTrailer . This could have done decent business in cinemas. Looks like a well made film forsure. @SidMalhotra keep it up man. You are doing good work. https://t.co/xJUS0psHj8
— Manoj Sharma (@Manoj_k_Sharma9) January 9, 2023
???I GOT CHILLS!! IT LOOKS SO GOOD!!! Sid you have cemented your place as the ultimate all-rounder action/romance/drama hero with this! I'm even more excited now, amazing trailer ??#MissionMajnu #missionmajnutrailer #SidharthMalhotra #RashmikaMandanna #DeshKeLiyeMajnu ?? ? pic.twitter.com/A5UQnzy9uw
— Bubbles (@bubblesbublu) January 9, 2023
Sid malhotra ??GOAT for me and for sure for every fan he just nailed it just nailed it #Sidharthmalhotra #Missionmajnutrailer #Rashmikamandanna pic.twitter.com/nb26DKpZ4y
— Sidxloveee (@sidxloveee) January 9, 2023
What an excellent Trailer??Another Blockbuster loading for sure?? @sidmahotra you beauty & rocking performance on fire❤️‍?.#missionmajnutrailer #sidharthmahotra#rashmikamandana pic.twitter.com/qw9Pi28X3n
— Sidkiara??? (@Anji56173185) January 9, 2023
Amandeep AjitPal Singh gonna rock ? #MissionMajnu
— Sid❤Heart (@SubhangiDas__) January 9, 2023
Good trailer, it's deserve theatrical release.#MissionMajnu #sidharth https://t.co/H08m5uTtes
— Vivek Kumar Singh (@VK_vivek_k) January 9, 2023
Just watched trailer of #MissionMajnu And kaafi achha laga specially the maati song in bg bhai looking forward to the movie… Socha tha gonna get disappointed again buy seems like a nice one.. Will meet after watching the movie?
— tigerholicforever (Tiger's Biggest Simp ?) (@tigerholicfore6) January 9, 2023
This film deserves a theatrical release. @SidMalhotra @iamRashmika #MissionMajnu trailer looks promising. https://t.co/LEgdrxu5PE
— Rajat Agrawal ?? (@rajatag16) January 9, 2023
Mission Majnu is directed by Shantanu Bagchi. It also stars Parmeet Sethi, Sharib Hashmi and others.
Stay tuned to BollywoodLife for the latest scoops and updates from Bollywood, Hollywood, South, TV and Web-Series. Click to join us on Facebook, Twitter, Youtube and Instagram. Also follow us on Facebook Messenger for latest updates.