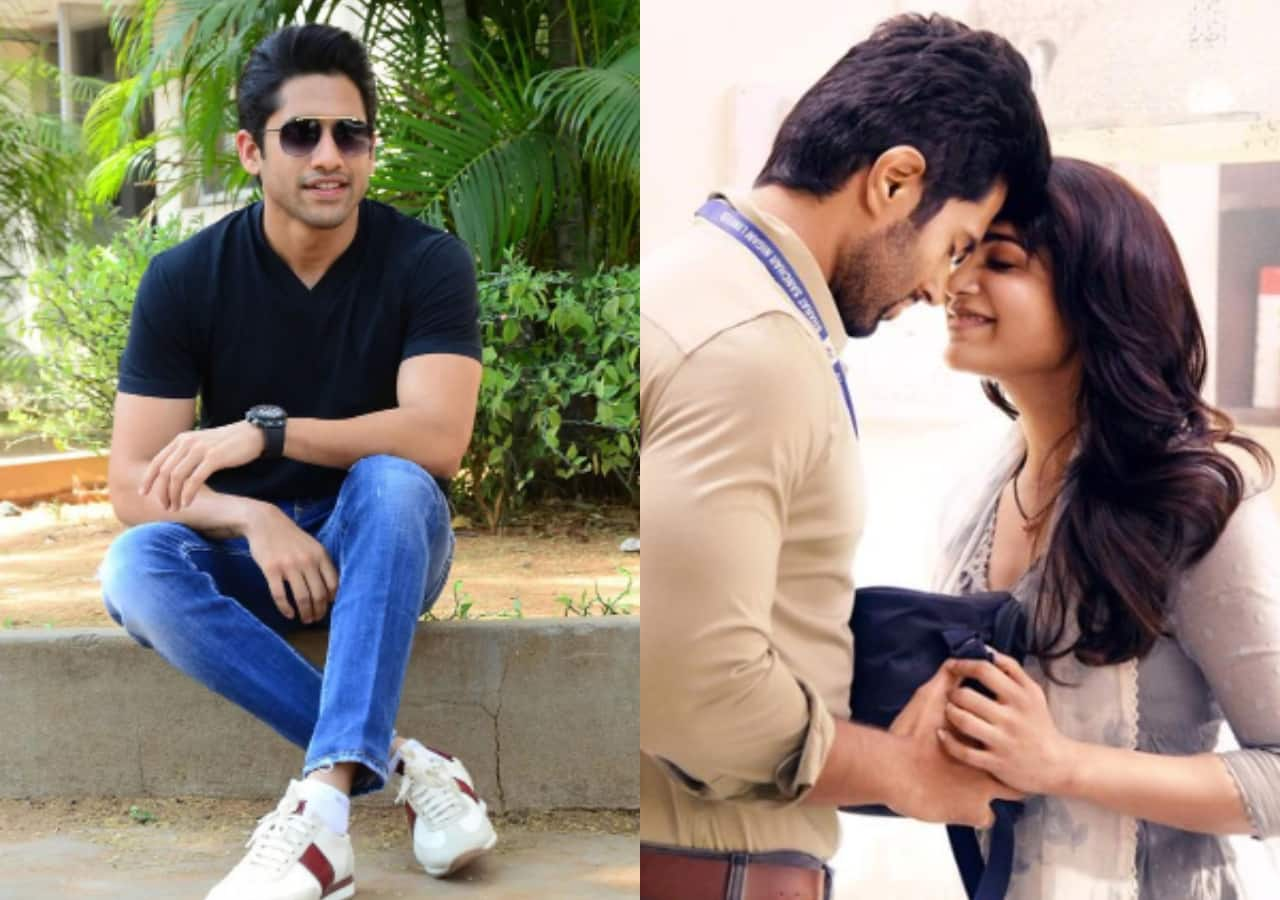 Though it has been some time since Naga Chaitanya and Samantha Ruth Prabhu got separated, wild rumour-mongering around them does not seem to end. The latest one was that Samantha Ruth Prabhu's ex-husband Naga Chaitanya walked out of a theatre when the trailer of Kushi was played. As we know, Vijay Deverakonda and Samantha Ruth Prabhu play a couple in the romantic drama about marriage and love. Now, Naga Chaitanya has slammed the gossip as "utter rubbish". He said that some Telugu websites began this rumour and he has requested them to rectify the article. Also Read – Did Naga Chaitanya walk out of a theatre playing Samantha Ruth Prabhu, Vijay Deverakonda Kushi trailer?
It seems a source close to the actor told the entertainment portal that it would not be surprising if this distasteful rumour originated from someone in the Kushi team. The source said it could have been done to hype up the film, which has "so far generated zero traction" as per his or her opinion. Also Read – Sobhita Dhulipala 'ignores' Ishaan Khattar on the ramp; netizens point out lack of chemistry
Naga Chaitanya's thoughts after split with Samantha Ruth Prabhu
Naga Chaitanya earlier told the Times Of India that the two had been separated for more than two years. It has been a year since they got officially divorced. He said they have moved on in life. He described Samantha Ruth Prabhu as a lovely person who deserved all the happiness. Naga Chaitanya said he has immense respect for the time he spent as a married man. Of late, he has been linked to actress Sobhita Dhulipala. A picture of the two enjoying dinner in London went viral all over. The actress has never commented on her friendship with the star. Fans also found a connection when she spoke about Formula One. Car racing is one of Naga Chaitanya's fave sports. Many fans of Samantha Ruth Prabhu have trolled Sobhita Dhulipala as a home-breaker. Also Read – Samantha Ruth Prabhu chops her hair and flaunts her new look with a broad smile during her sabbatical
Samantha Ruth Prabhu's fight with Myositis
The actress fought a hard battle with Myositis last year. It is an autoimmune disorder that causes inflammation in the joints. The actress had to seek treatment abroad which included steroids. Samantha Ruth Prabhu said it was a dark phase when she felt terrible at times. There were rumours of how she was planning to visit South Korea for extensive treatment and so on. Samantha Ruth Prabhu is now on a break. She has finished work on the Indian version of Citadel with Raj and DK. The makers have complimented her passion for her craft amidst her fight with myositis.
]]>
Stay tuned to BollywoodLife for the latest scoops and updates from Bollywood, Hollywood, South, TV and Web-Series. Click to join us on Facebook, Twitter, Youtube and Instagram. Also follow us on Facebook Messenger for latest updates.
adisplay:block;padding:0;color:var(–black);text-decoration:none.repeat-box figuredisplay:flex;justify-content:flex-start;flex-wrap:wrap;align-items:stretch;overflow:visible.two-cols-aside .aside .repeat-box figurealign-items:center.repeat-box .textwidth:100%;z-index:5;position:relative.repeat-box .photowidth:100px;position:relative;z-index:5.repeat-box .photo+.textwidth:calc(100% – 100px);padding-left:10px.repeat-box h2,.repeat-box h3,.repeat-box pcolor:var(–black);white-space:normal;overflow:hidden;text-overflow:ellipsis;-webkit-line-clamp:3;display:-webkit-box;-webkit-box-orient:vertical;padding:0;font-size:15px;line-height:1.5;font-weight:400.repeat-box h2font-size:20px.repeat-box h2+p,.repeat-box h3+pfont-size:14px.repeat-box .catfont-size:14px;line-height:16px;display:block;margin-bottom:5px;font-weight:700;color:var(–orange);text-transform:uppercase.repeat-box a:hover,.repeat-box a:hover h2,.repeat-box a:hover h3,.repeat-box a:hover pcolor:#f32c89.repeat-box .photo-icon,.repeat-box .video-iconposition:absolute;left:0;bottom:0;background:linear-gradient(to left,#a617be,#f32c89,#f32c89,#f32c89,#f32c89,#a617be);border-radius:0 5px 0 0.repeat-box .video-iconwidth:26px;height:26px;display:inline-block.repeat-box .photo-iconwidth:auto;min-width:26px;height:26px;line-height:16px;font-size:13px;color:var(–white);padding:5px 5px 0.lazy-image img.lazyopacity:0.lazy-image img:not(.initial)transition:opacity .5s ease-in,transform .5s ease-in,-webkit-transform .5s ease-in.lazy-image img.error,.lazy-image img.initial,.lazy-image img.loadedopacity:1.lazy-image img:not([src])visibility:hidden.cre-setionclear:both;overflow:hidden;float:none;width:auto;margin:5px 0 20px.cre-setion .black-boxespadding:15px 40px;background:#e5e5e5.cre-carousel-heightposition:relative;padding:0 0 255px;height:0.cre-carousel-height .all-dataposition:absolute;top:0;left:0;width:100%!important;height:100%!important.cre-setion .border-headingfont-size:16px;color:#1f1f1f;text-transform:uppercase;font-weight:700;padding:0 0 10px;margin:20px 0 10px;clear:both;position:relative;border-bottom:0;display:flex;justify-content:space-between;align-items:center.cre-setion .border-heading:beforetop:5px;height:14px.cre-setion .splide__slideheight:auto!important;margin-left:0.cre-setion article.repeat-boxdisplay:block;background-color:transparent;border-radius:5px;box-shadow:none;overflow:hidden;padding:0;margin-bottom:3px.cre-setion article.repeat-box>adisplay:block;padding:10px;background-color:var(–white);border-radius:5px;color:var(–black);text-decoration:none;overflow:hidden;border:1px solid #d0d0d0.cre-setion article.repeat-box>a>figuredisplay:block.cre-setion article.repeat-box .photo,.cre-setion article.repeat-box .textwidth:100%.cre-setion article.repeat-box .photoborder-radius:5px;overflow:hidden.cre-setion article.repeat-box .lazy-imagebox-shadow:none;border-radius:0;overflow:hidden.cre-setion article.repeat-box .textpadding:5px 0 0;height:90px;.cre-setion article.repeat-box .text h3font-size:14px;line-height:1.5;-webkit-line-clamp:4;font-weight:600;text-align:left.cre-setion .repeat-box .photos-iconborder-radius:0 5px 0 0;width:auto;min-width:26px;height:26px;left:0;bottom:0;display:flex;justify-content:center;align-items:center.cre-setion .photos-icon svgtransition:1s;fill:var(–white);width:26px;height:26px.cre-setion .photos-icon:hoverbackground:var(–blue).cre-setion .splide__arrowtop:50%!important;width:1.8em;height:1.8em;border-radius:100px;border:1px solid #999;background:0 0;opacity:1.cre-setion .splide__arrow–prevleft:-37px.cre-setion .splide__arrow–nextright:-37px.cre-setion .splide__arrow:disabledopacity:.3;cursor:not-allowed!important.cre-setion .splide__arrow:beforeborder:solid #999;border-width:0 2px 2px 0.cre-setion .splide__arrow:hoverbackground:linear-gradient(to left,#a617be,#f32c89,#f32c89,#f32c89,#f32c89,#a617be).cre-setion .splide__arrow:hover::beforeborder:solid var(–white);border-width:0 2px 2px 0]]]]>]]>