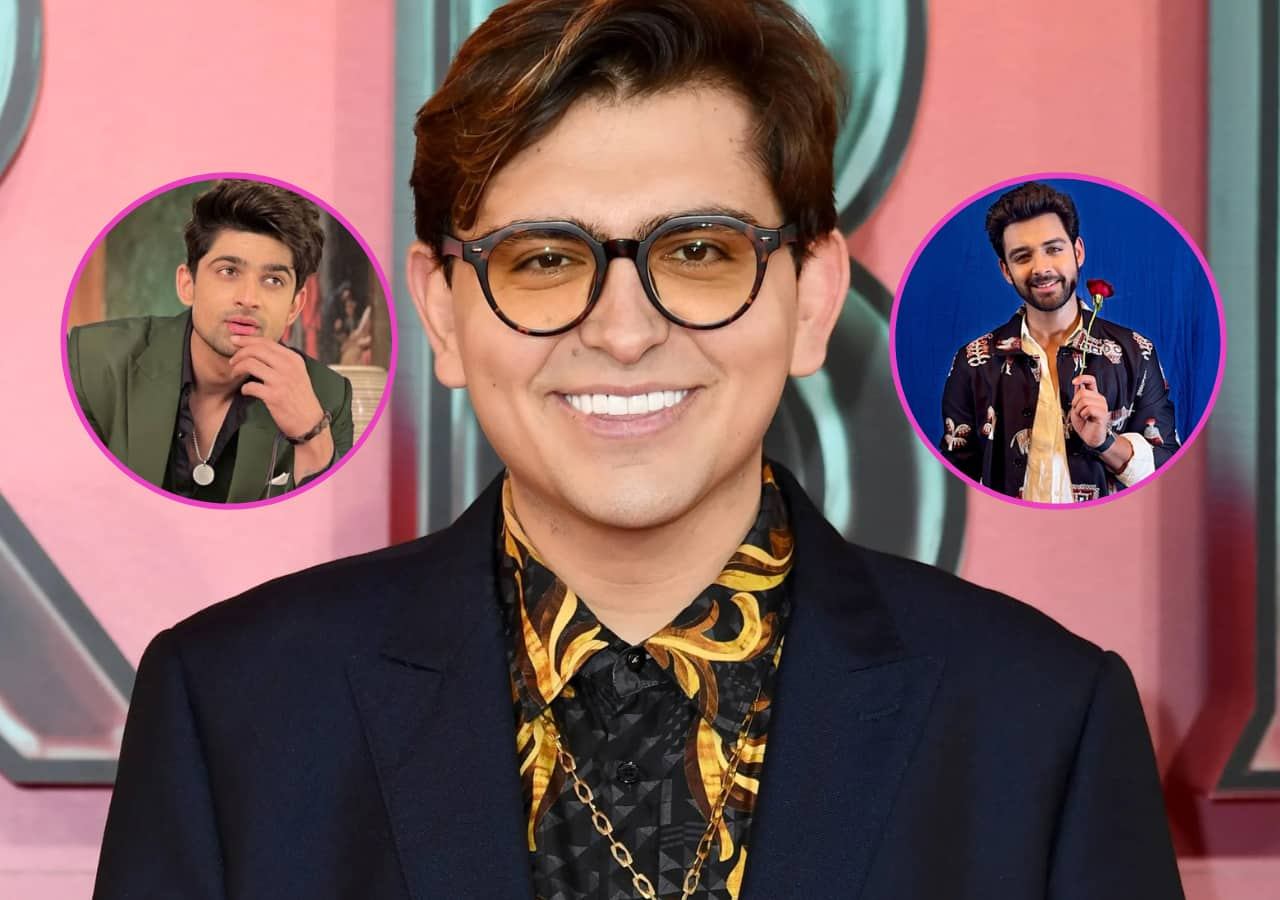 In a shocking turn of events in Bigg Boss 17 last night, Navid Sole got eliminated. The housemates had to choose a name for elimination. The Dimag team had nominated Jigna Vohra, Rinku Dhawan and Navid Sole for elimination. Next, the Dum team had to select one name. They picked Navid who was eliminated from the house. And now, Navid has talked about Abhishek Kumar, Samarth Jurel and more. Also Read – Bigg Boss 17 Exclusive: Navid Sole reveals who should win the show and names the dirtiest player of the show
Bigg Boss 17: Navid Sole talks about Abhishek Kumar's proposal and his feelings
BollywoodLife is now on WhatsApp. Click here to join for the latest Entertainment News.Navid Sole is trending everywhere right now for his statements about evictions and his feelings about Abhishek Kumar. Navid Sole talked about the way Abhishek cried for him he never cried for Isha as well. Navid feels if he had stayed a lot inside the house of Bigg Boss 17, something would have definitely happened between him and Abhishek. Navid feels Abhishek is a very pure-hearted person. He gushed over Abhishek proposing to him. He says their bond was unbreakable. He added that he would love to meet Abhishek again and confessed that he absolutely loves him. When asked if it could have been platonic, Navid doesn't agree and says, he felt there was something special between them. Also Read – Bigg Boss 17: Netizens are loving Navid Sole's energy as he gives it back to Sana Raees Khan for removing him from powerplay
Bigg Boss 17: Navid Sole calls Samarth Jurel a player
Navid was asked about Isha Malviya and Samarth Jurel as well. While talking to Siddharth Kannan, Navid shared that when he talked to Samarth alone, the latter told him that he liked to flirt a lot and be around women and party with them. Navid confessed that he was in two minds whether he should reveal that to Isha or not. He was worried about whether he should get involved or not. Navid says he would have told Isha about Samarth had he stayed longer inside the house. Also Read – Bigg Boss 17 first elimination: Fans think this contestant will get evicted in the first week [Poll Results]
Watch this Bigg Boss 17 video here:
From the Dum house members, Aishwarya Sharma and Neil Bhatt took Navid's name. Khanzaadi was supporting Navid and asked for Jigna or Rinku's eviction instead. Khanzaadi and Abhishek turned emotional after Navid was eliminated. Before leaving the house, Navid thanked everyone for welcoming him into their house and hearts. Well played, Navid!
]]>Stay tuned to BollywoodLife for the latest scoops and updates from Bollywood, Hollywood, South, TV and Web-Series.
adisplay:block;padding:0;color:var(–black);text-decoration:none.repeat-box figuredisplay:flex;justify-content:flex-start;flex-wrap:wrap;align-items:stretch;overflow:visible.two-cols-aside .aside .repeat-box figurealign-items:center.repeat-box .textwidth:100%;z-index:5;position:relative.repeat-box .photowidth:100px;position:relative;z-index:5.repeat-box .photo+.textwidth:calc(100% – 100px);padding-left:10px.repeat-box h2,.repeat-box h3,.repeat-box pcolor:var(–black);white-space:normal;overflow:hidden;text-overflow:ellipsis;-webkit-line-clamp:3;display:-webkit-box;-webkit-box-orient:vertical;padding:0;font-size:15px;line-height:1.5;font-weight:400.repeat-box h2font-size:20px.repeat-box h2+p,.repeat-box h3+pfont-size:14px.repeat-box .catfont-size:14px;line-height:16px;display:block;margin-bottom:5px;font-weight:700;color:var(–orange);text-transform:uppercase.repeat-box a:hover,.repeat-box a:hover h2,.repeat-box a:hover h3,.repeat-box a:hover pcolor:#f32c89.repeat-box .photo-icon,.repeat-box .video-iconposition:absolute;left:0;bottom:0;background:linear-gradient(to left,#a617be,#f32c89,#f32c89,#f32c89,#f32c89,#a617be);border-radius:0 5px 0 0.repeat-box .video-iconwidth:26px;height:26px;display:inline-block.repeat-box .photo-iconwidth:auto;min-width:26px;height:26px;line-height:16px;font-size:13px;color:var(–white);padding:5px 5px 0.lazy-image img.lazyopacity:0.lazy-image img:not(.initial)transition:opacity .5s ease-in,transform .5s ease-in,-webkit-transform .5s ease-in.lazy-image img.error,.lazy-image img.initial,.lazy-image img.loadedopacity:1.lazy-image img:not([src])visibility:hidden.cre-setionclear:both;overflow:hidden;float:none;width:auto;margin:5px 0 20px.cre-setion .black-boxespadding:15px 40px;background:#e5e5e5.cre-carousel-heightposition:relative;padding:0 0 255px;height:0.cre-carousel-height .all-dataposition:absolute;top:0;left:0;width:100%!important;height:100%!important.cre-setion .border-headingfont-size:16px;color:#1f1f1f;text-transform:uppercase;font-weight:700;padding:0 0 10px;margin:20px 0 10px;clear:both;position:relative;border-bottom:0;display:flex;justify-content:space-between;align-items:center.cre-setion .border-heading:beforetop:5px;height:14px.cre-setion .splide__slideheight:auto!important;margin-left:0.cre-setion article.repeat-boxdisplay:block;background-color:transparent;border-radius:5px;box-shadow:none;overflow:hidden;padding:0;margin-bottom:3px.cre-setion article.repeat-box>adisplay:block;padding:10px;background-color:var(–white);border-radius:5px;color:var(–black);text-decoration:none;overflow:hidden;border:1px solid #d0d0d0.cre-setion article.repeat-box>a>figuredisplay:block.cre-setion article.repeat-box .photo,.cre-setion article.repeat-box .textwidth:100%.cre-setion article.repeat-box .photoborder-radius:5px;overflow:hidden.cre-setion article.repeat-box .lazy-imagebox-shadow:none;border-radius:0;overflow:hidden.cre-setion article.repeat-box .textpadding:5px 0 0;height:90px;.cre-setion article.repeat-box .text h3font-size:14px;line-height:1.5;-webkit-line-clamp:4;font-weight:600;text-align:left.cre-setion .repeat-box .photos-iconborder-radius:0 5px 0 0;width:auto;min-width:26px;height:26px;left:0;bottom:0;display:flex;justify-content:center;align-items:center.cre-setion .photos-icon svgtransition:1s;fill:var(–white);width:26px;height:26px.cre-setion .photos-icon:hoverbackground:var(–blue).cre-setion .splide__arrowtop:50%!important;width:1.8em;height:1.8em;border-radius:100px;border:1px solid #999;background:0 0;opacity:1.cre-setion .splide__arrow–prevleft:-37px.cre-setion .splide__arrow–nextright:-37px.cre-setion .splide__arrow:disabledopacity:.3;cursor:not-allowed!important.cre-setion .splide__arrow:beforeborder:solid #999;border-width:0 2px 2px 0.cre-setion .splide__arrow:hoverbackground:linear-gradient(to left,#a617be,#f32c89,#f32c89,#f32c89,#f32c89,#a617be).cre-setion .splide__arrow:hover::beforeborder:solid var(–white);border-width:0 2px 2px 0]]]]>]]>