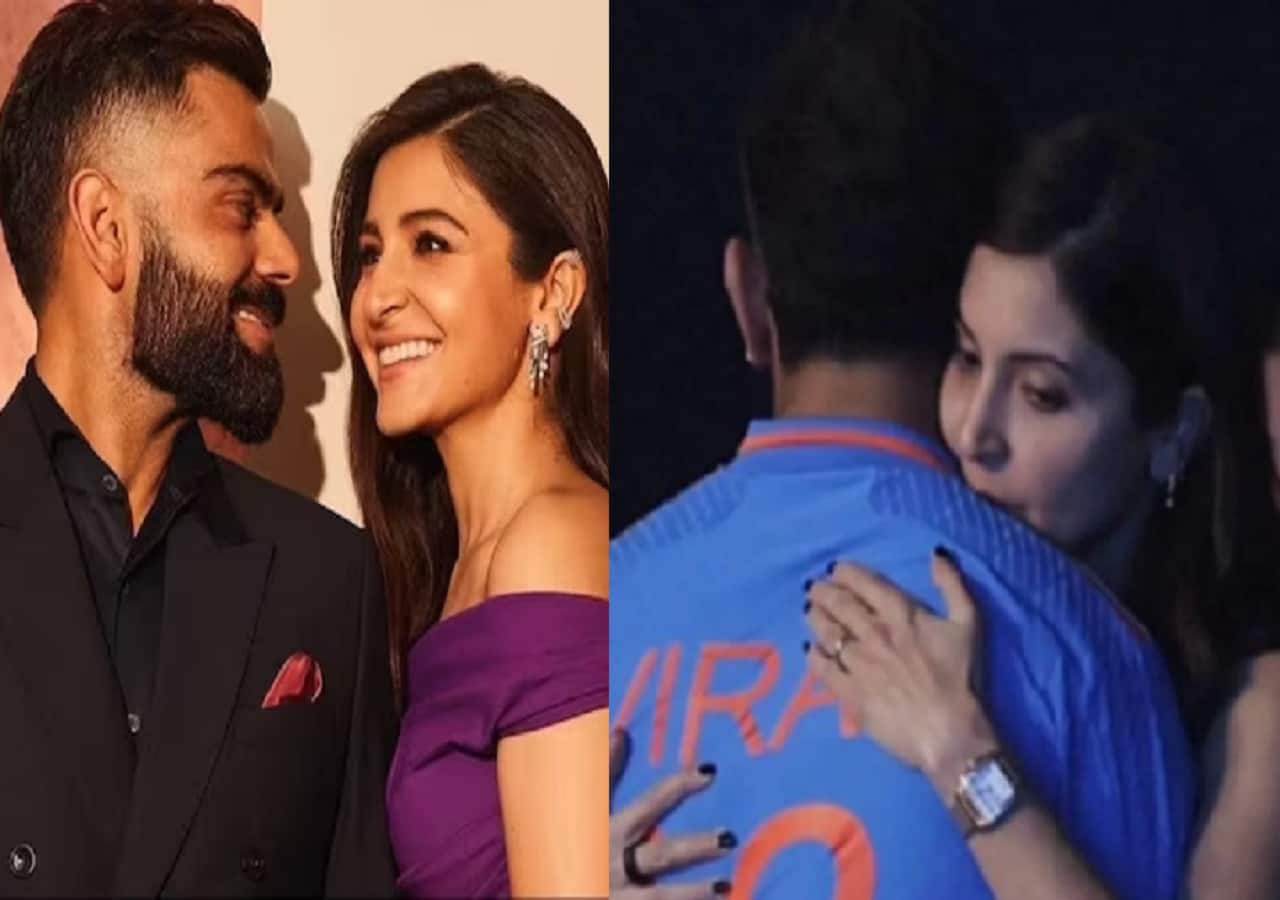 Anushka Sharma is termed the biggest strength for Virat Kohli. And after India lost the World Cup finale against Australia, Anushka hugged and consoled a dejected Virat, who was totally shattered and disappointed with the loss. And now this old video of the Chakda Xpress actress is going viral, where she is seen trolling Viral for being more excited than the bowler after the wicket is taken. Anushka and Virat are two of the most beloved and compassionate people in the town. And their love story is something that makes you believe in true love all over again. Also Read – Tiger 3 actress Katrina Kaif lauds Virat Kohli, Anushka Sharma for supporting each other after the World Cup; here's what she said
Watch the video of Anushka Sharma making fun of Virat Kohli.
Anushka Sharma is seen making the exact expression of Virat while the wicket is gone of the opposite team when they are on the ground. Anushka even mocks him and says, "Sometimes Virat is more excited than the bowler who has taken the wicket". This leaves Virat extremely embarrassed, and she goes near him and bullies him like we all do with our friends. Indeed, Virat and Anushka are just adorable together. Just look at their chemistry. It's hard to not fall for them. Also Read – Anushka Sharma hugs a dejected Virat Kohli after India faces defeat against Australia in World Cup Finals; netizens react
Anushka Sharma is expecting her second baby? Also Read – India vs Australia World Cup Finals: Harbhajan Singh's sexist remark for Anushka Sharma, Athiya Shetty gets flak
Anushka and Virat have been making headlines lately due to the actress's second pregnancy. It is reported that Anushka is expecting her second child, and fans have even spotted her baby bump while she makes appearances. But till now, the couple hasn't made any official announcements.
Anushka Sharma was questioned by Harbhajan Singh over her cricket knowledge and got trolled.
Hindi commentators openly mocking #anushkasharma on her understanding of cricket. हम कब सुधरेंगे भाई? वो सिर्फ अनुष्का नही है, she's wife of #ViratKohli. Who have created a history recently and mocking someone while so many people watching is absolutely ridiculous ? pic.twitter.com/O2tvPVKz7u
— Shaounak Nasikkar (@shaounak) November 19, 2023
Anushka Sharma with her Mother in the stands?❤️Athiya, Ritika, Rivaba and priti also there#viratkohli #anushkasharma #INDvsAUSfinal pic.twitter.com/wgExxrkzGw
— ?????? (@wrogn_edits) November 19, 2023
Anushka and Virat are one of the most popular couple in the town.
]]>Stay tuned to BollywoodLife for the latest scoops and updates from Bollywood, Hollywood, South, TV and Web-Series.
adisplay:block;padding:0;color:var(–black);text-decoration:none.repeat-box figuredisplay:flex;justify-content:flex-start;flex-wrap:wrap;align-items:stretch;overflow:visible.two-cols-aside .aside .repeat-box figurealign-items:center.repeat-box .textwidth:100%;z-index:5;position:relative.repeat-box .photowidth:100px;position:relative;z-index:5.repeat-box .photo+.textwidth:calc(100% – 100px);padding-left:10px.repeat-box h2,.repeat-box h3,.repeat-box pcolor:var(–black);white-space:normal;overflow:hidden;text-overflow:ellipsis;-webkit-line-clamp:3;display:-webkit-box;-webkit-box-orient:vertical;padding:0;font-size:15px;line-height:1.5;font-weight:400.repeat-box h2font-size:20px.repeat-box h2+p,.repeat-box h3+pfont-size:14px.repeat-box .catfont-size:14px;line-height:16px;display:block;margin-bottom:5px;font-weight:700;color:var(–orange);text-transform:uppercase.repeat-box a:hover,.repeat-box a:hover h2,.repeat-box a:hover h3,.repeat-box a:hover pcolor:#f32c89.repeat-box .photo-icon,.repeat-box .video-iconposition:absolute;left:0;bottom:0;background:linear-gradient(to left,#a617be,#f32c89,#f32c89,#f32c89,#f32c89,#a617be);border-radius:0 5px 0 0.repeat-box .video-iconwidth:26px;height:26px;display:inline-block.repeat-box .photo-iconwidth:auto;min-width:26px;height:26px;line-height:16px;font-size:13px;color:var(–white);padding:5px 5px 0.lazy-image img.lazyopacity:0.lazy-image img:not(.initial)transition:opacity .5s ease-in,transform .5s ease-in,-webkit-transform .5s ease-in.lazy-image img.error,.lazy-image img.initial,.lazy-image img.loadedopacity:1.lazy-image img:not([src])visibility:hidden.cre-setionclear:both;overflow:hidden;float:none;width:auto;margin:5px 0 20px.cre-setion .black-boxespadding:15px 40px;background:#e5e5e5.cre-carousel-heightposition:relative;padding:0 0 255px;height:0.cre-carousel-height .all-dataposition:absolute;top:0;left:0;width:100%!important;height:100%!important.cre-setion .border-headingfont-size:16px;color:#1f1f1f;text-transform:uppercase;font-weight:700;padding:0 0 10px;margin:20px 0 10px;clear:both;position:relative;border-bottom:0;display:flex;justify-content:space-between;align-items:center.cre-setion .border-heading:beforetop:5px;height:14px.cre-setion .splide__slideheight:auto!important;margin-left:0.cre-setion article.repeat-boxdisplay:block;background-color:transparent;border-radius:5px;box-shadow:none;overflow:hidden;padding:0;margin-bottom:3px.cre-setion article.repeat-box>adisplay:block;padding:10px;background-color:var(–white);border-radius:5px;color:var(–black);text-decoration:none;overflow:hidden;border:1px solid #d0d0d0.cre-setion article.repeat-box>a>figuredisplay:block.cre-setion article.repeat-box .photo,.cre-setion article.repeat-box .textwidth:100%.cre-setion article.repeat-box .photoborder-radius:5px;overflow:hidden.cre-setion article.repeat-box .lazy-imagebox-shadow:none;border-radius:0;overflow:hidden.cre-setion article.repeat-box .textpadding:5px 0 0;height:90px;.cre-setion article.repeat-box .text h3font-size:14px;line-height:1.5;-webkit-line-clamp:4;font-weight:600;text-align:left.cre-setion .repeat-box .photos-iconborder-radius:0 5px 0 0;width:auto;min-width:26px;height:26px;left:0;bottom:0;display:flex;justify-content:center;align-items:center.cre-setion .photos-icon svgtransition:1s;fill:var(–white);width:26px;height:26px.cre-setion .photos-icon:hoverbackground:var(–blue).cre-setion .splide__arrowtop:50%!important;width:1.8em;height:1.8em;border-radius:100px;border:1px solid #999;background:0 0;opacity:1.cre-setion .splide__arrow–prevleft:-37px.cre-setion .splide__arrow–nextright:-37px.cre-setion .splide__arrow:disabledopacity:.3;cursor:not-allowed!important.cre-setion .splide__arrow:beforeborder:solid #999;border-width:0 2px 2px 0.cre-setion .splide__arrow:hoverbackground:linear-gradient(to left,#a617be,#f32c89,#f32c89,#f32c89,#f32c89,#a617be).cre-setion .splide__arrow:hover::beforeborder:solid var(–white);border-width:0 2px 2px 0]]]]>]]>