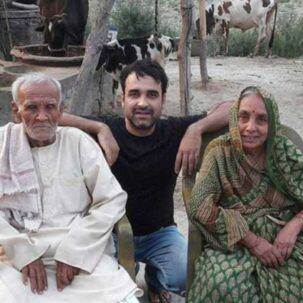 Losing your parents is the most hurtful thing in the world. It completely breaks you down. OMG 2 star Pankaj Tripathi is going through one such pain. The actor was currently enjoying the success of his film, OMG 2 but now he is surrounded by sorrow. He has lost his father, Pandit Banaras Tiwari today. Pankaj Tripathi's father passed away today at the age of 99. He was in their village Gopalganj. Pankaj Tripathi is now heading to their village for his father's last rites. Also Read – OMG 2: Anupam Kher calls Akshay Kumar starrer 'Spectacular'; also praises Sunny Deol, Shah Rukh Khan
Pankaj Tripathi and his family have released an official statement about it. The statement read, "It's with a heavy heart to confirm that Pankaj Tripathi's father, Pandit Banaras Tiwari is no more. He lived a wholesome life of 99 years. His last rites will be performed today amongst his close family. Pankaj Tripathi is currently on his way to his village in Gopalganj." Also Read – OMG 2 EXCLUSIVE: Pankaj Tripathi's on-screen son Aarush Varma on not being able to watch the film due to A certificate
OMG 2 box office
It surely is a difficult time for the Tripathi family and especially for Pankaj Tripathi. The actor has been happy as his film OMG 2 did well at the Box Office despite a tough fight with Gadar 2. The film got good reviews from the audience as well as from the critics. Also Read – Top 10 Bollywood celebs, their odd jobs and first salaries before becoming rich and famous
The film has minted over Rs 114 crore in a span of 10 days. The film also stars Akshay Kumar and Yami Gautam. The film is a spiritual sequel to OMG which had Paresh Rawal in it. Earlier, Pankaj Tripathi spoke to BollywoodLife on why their film, OMG 2 has an important topic.
He shared, "Topic important hai islye lagta hai ki sabko ye dekhna chahiye. Jaruri hai ye. Internet aa gaya hai digital hai, har bacche ke haath mein mobile aur na jane kya kya aur sare sansar ka access uske paas hai. Sabhi information, pura internet mein duniya bhari padi hai jo kehti hai pani khane se pehle piyo, baad mein piyo, kuch kehte hai bich piyo. Koi pani kaise piye ye proper education dega? Toh ek behtar nagrik banenge toh hi behtar society banegi, aur behtar society hogi toh behtar desh hoga, majbut desh hoga. Toh yahi ye kahani kehti hai ki hamare bacho ke jo samasya hai unko address hona chahiye."
Watch Pankaj Tripathi and Yami Gautam speak on OMG 2:
OMG 2 released on August 11.
]]>
Stay tuned to BollywoodLife for the latest scoops and updates from Bollywood, Hollywood, South, TV and Web-Series. Click to join us on Facebook, Twitter, Youtube and Instagram. Also follow us on Facebook Messenger for latest updates.
adisplay:block;padding:0;color:var(–black);text-decoration:none.repeat-box figuredisplay:flex;justify-content:flex-start;flex-wrap:wrap;align-items:stretch;overflow:visible.two-cols-aside .aside .repeat-box figurealign-items:center.repeat-box .textwidth:100%;z-index:5;position:relative.repeat-box .photowidth:100px;position:relative;z-index:5.repeat-box .photo+.textwidth:calc(100% – 100px);padding-left:10px.repeat-box h2,.repeat-box h3,.repeat-box pcolor:var(–black);white-space:normal;overflow:hidden;text-overflow:ellipsis;-webkit-line-clamp:3;display:-webkit-box;-webkit-box-orient:vertical;padding:0;font-size:15px;line-height:1.5;font-weight:400.repeat-box h2font-size:20px.repeat-box h2+p,.repeat-box h3+pfont-size:14px.repeat-box .catfont-size:14px;line-height:16px;display:block;margin-bottom:5px;font-weight:700;color:var(–orange);text-transform:uppercase.repeat-box a:hover,.repeat-box a:hover h2,.repeat-box a:hover h3,.repeat-box a:hover pcolor:#f32c89.repeat-box .photo-icon,.repeat-box .video-iconposition:absolute;left:0;bottom:0;background:linear-gradient(to left,#a617be,#f32c89,#f32c89,#f32c89,#f32c89,#a617be);border-radius:0 5px 0 0.repeat-box .video-iconwidth:26px;height:26px;display:inline-block.repeat-box .photo-iconwidth:auto;min-width:26px;height:26px;line-height:16px;font-size:13px;color:var(–white);padding:5px 5px 0.lazy-image img.lazyopacity:0.lazy-image img:not(.initial)transition:opacity .5s ease-in,transform .5s ease-in,-webkit-transform .5s ease-in.lazy-image img.error,.lazy-image img.initial,.lazy-image img.loadedopacity:1.lazy-image img:not([src])visibility:hidden.cre-setionclear:both;overflow:hidden;float:none;width:auto;margin:5px 0 20px.cre-setion .black-boxespadding:15px 40px;background:#e5e5e5.cre-carousel-heightposition:relative;padding:0 0 255px;height:0.cre-carousel-height .all-dataposition:absolute;top:0;left:0;width:100%!important;height:100%!important.cre-setion .border-headingfont-size:16px;color:#1f1f1f;text-transform:uppercase;font-weight:700;padding:0 0 10px;margin:20px 0 10px;clear:both;position:relative;border-bottom:0;display:flex;justify-content:space-between;align-items:center.cre-setion .border-heading:beforetop:5px;height:14px.cre-setion .splide__slideheight:auto!important;margin-left:0.cre-setion article.repeat-boxdisplay:block;background-color:transparent;border-radius:5px;box-shadow:none;overflow:hidden;padding:0;margin-bottom:3px.cre-setion article.repeat-box>adisplay:block;padding:10px;background-color:var(–white);border-radius:5px;color:var(–black);text-decoration:none;overflow:hidden;border:1px solid #d0d0d0.cre-setion article.repeat-box>a>figuredisplay:block.cre-setion article.repeat-box .photo,.cre-setion article.repeat-box .textwidth:100%.cre-setion article.repeat-box .photoborder-radius:5px;overflow:hidden.cre-setion article.repeat-box .lazy-imagebox-shadow:none;border-radius:0;overflow:hidden.cre-setion article.repeat-box .textpadding:5px 0 0;height:90px;.cre-setion article.repeat-box .text h3font-size:14px;line-height:1.5;-webkit-line-clamp:4;font-weight:600;text-align:left.cre-setion .repeat-box .photos-iconborder-radius:0 5px 0 0;width:auto;min-width:26px;height:26px;left:0;bottom:0;display:flex;justify-content:center;align-items:center.cre-setion .photos-icon svgtransition:1s;fill:var(–white);width:26px;height:26px.cre-setion .photos-icon:hoverbackground:var(–blue).cre-setion .splide__arrowtop:50%!important;width:1.8em;height:1.8em;border-radius:100px;border:1px solid #999;background:0 0;opacity:1.cre-setion .splide__arrow–prevleft:-37px.cre-setion .splide__arrow–nextright:-37px.cre-setion .splide__arrow:disabledopacity:.3;cursor:not-allowed!important.cre-setion .splide__arrow:beforeborder:solid #999;border-width:0 2px 2px 0.cre-setion .splide__arrow:hoverbackground:linear-gradient(to left,#a617be,#f32c89,#f32c89,#f32c89,#f32c89,#a617be).cre-setion .splide__arrow:hover::beforeborder:solid var(–white);border-width:0 2px 2px 0]]]]>]]>