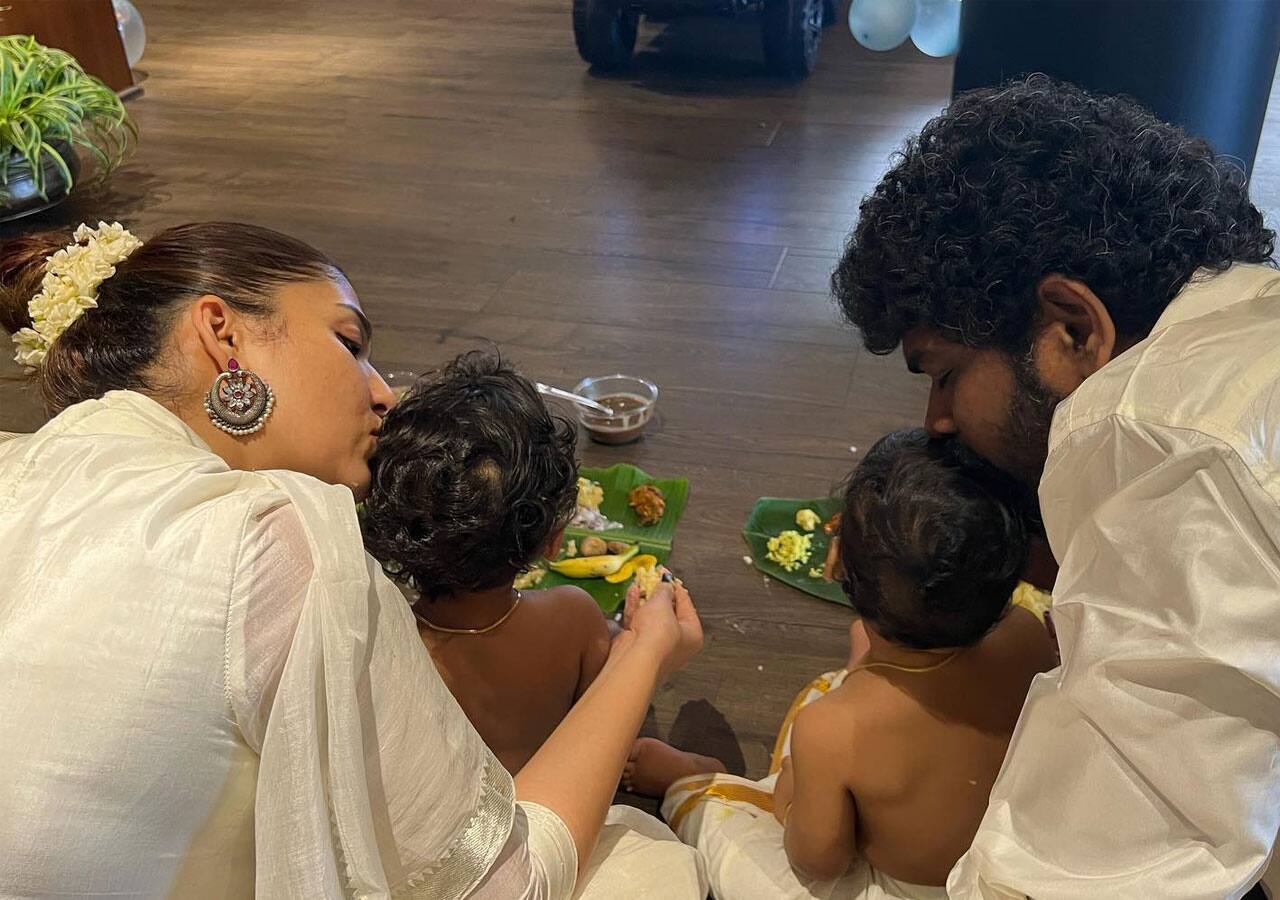 Jawan actress Nayanthara has shared adorable pics of her sons Uyir and Ulagam. The twins are seen dressed in dhotis celebrating their first ever Onam. Nayanthara is wearing a white salwar kameez while Vignesh Shivan is in a white shirt and dhoti. The little ones sit in front of a traditional Onam sadya that has a number of delicacies. Both the twins have gold chains and bracelets on them. Nayanthara is originally from Kerala. The actress has often gone viral for her stunning Onam looks in white and gold sarees but this time it is her babies. Also Read – Before Shah Rukh Khan's Jawan releases on the world's biggest screen in Germany, the superstar created history with THESE films
Nayanthara and Vignesh Shivan blessed with sons
In 2022, months after their marriage Vignesh Shivan announced that Nayanthara and he are parents. It seems the actress was keen to have a family soon. The sons have now been formally named as Uyir Rudronil N Shivan and my second son is Ulag Dhaivag N Shivan. This was revealed by the actress at an event. Nayanthara fans are now waiting for Jawan. This is the first time that she will be paired with Shah Rukh Khan. It seems the actress is going to look her fittest best for this movie. Also Read – Jawan First Review: Shah Rukh Khan, Nayanthara film impresses; Tsunami predicted at box office
Nayanthara kids' steal the limelight
While the actress is not on social media, Vignesh Shivan does share tidbits from their lives. Nayanthara's video with Shah Rukh Khan went viral after he visited her residence in Chennai. It was said that he came to see her twin sons Uyir and Ulagam. He was also present for her wedding. Nayanthara had invited select people to her marriage in Mahabalipuram. Shah Rukh Khan, Atlee, Rajinikanth were some of the top stars present. Fans of the actress are thrilled to see new pics of the babies. Rudronil name is inspired by Lord Shiva while Dhaivag means divine. Also Read – Jawan: After Shah Rukh Khan, Atlee's combo, here are Top 10 South Indian directors the superstar should work with
Nayanthara is a God-fearing person
Nayanthara and Vignesh Shivan are known to be religious. The actress is often seen visiting temples. The two met in 2015. After a prolonged friendship, Nayanthara and he started dating. She says she is always impressed with the kindness with which Vignesh Shivan treats his mother and female relatives. We can see that they look so much in love in the couple pics shared by Vignesh Shivan. Jawan is coming in theatres on September 7, 2023.
]]>
Stay tuned to BollywoodLife for the latest scoops and updates from Bollywood, Hollywood, South, TV and Web-Series. Click to join us on Facebook, Twitter, Youtube and Instagram. Also follow us on Facebook Messenger for latest updates.
adisplay:block;padding:0;color:var(–black);text-decoration:none.repeat-box figuredisplay:flex;justify-content:flex-start;flex-wrap:wrap;align-items:stretch;overflow:visible.two-cols-aside .aside .repeat-box figurealign-items:center.repeat-box .textwidth:100%;z-index:5;position:relative.repeat-box .photowidth:100px;position:relative;z-index:5.repeat-box .photo+.textwidth:calc(100% – 100px);padding-left:10px.repeat-box h2,.repeat-box h3,.repeat-box pcolor:var(–black);white-space:normal;overflow:hidden;text-overflow:ellipsis;-webkit-line-clamp:3;display:-webkit-box;-webkit-box-orient:vertical;padding:0;font-size:15px;line-height:1.5;font-weight:400.repeat-box h2font-size:20px.repeat-box h2+p,.repeat-box h3+pfont-size:14px.repeat-box .catfont-size:14px;line-height:16px;display:block;margin-bottom:5px;font-weight:700;color:var(–orange);text-transform:uppercase.repeat-box a:hover,.repeat-box a:hover h2,.repeat-box a:hover h3,.repeat-box a:hover pcolor:#f32c89.repeat-box .photo-icon,.repeat-box .video-iconposition:absolute;left:0;bottom:0;background:linear-gradient(to left,#a617be,#f32c89,#f32c89,#f32c89,#f32c89,#a617be);border-radius:0 5px 0 0.repeat-box .video-iconwidth:26px;height:26px;display:inline-block.repeat-box .photo-iconwidth:auto;min-width:26px;height:26px;line-height:16px;font-size:13px;color:var(–white);padding:5px 5px 0.lazy-image img.lazyopacity:0.lazy-image img:not(.initial)transition:opacity .5s ease-in,transform .5s ease-in,-webkit-transform .5s ease-in.lazy-image img.error,.lazy-image img.initial,.lazy-image img.loadedopacity:1.lazy-image img:not([src])visibility:hidden.cre-setionclear:both;overflow:hidden;float:none;width:auto;margin:5px 0 20px.cre-setion .black-boxespadding:15px 40px;background:#e5e5e5.cre-carousel-heightposition:relative;padding:0 0 255px;height:0.cre-carousel-height .all-dataposition:absolute;top:0;left:0;width:100%!important;height:100%!important.cre-setion .border-headingfont-size:16px;color:#1f1f1f;text-transform:uppercase;font-weight:700;padding:0 0 10px;margin:20px 0 10px;clear:both;position:relative;border-bottom:0;display:flex;justify-content:space-between;align-items:center.cre-setion .border-heading:beforetop:5px;height:14px.cre-setion .splide__slideheight:auto!important;margin-left:0.cre-setion article.repeat-boxdisplay:block;background-color:transparent;border-radius:5px;box-shadow:none;overflow:hidden;padding:0;margin-bottom:3px.cre-setion article.repeat-box>adisplay:block;padding:10px;background-color:var(–white);border-radius:5px;color:var(–black);text-decoration:none;overflow:hidden;border:1px solid #d0d0d0.cre-setion article.repeat-box>a>figuredisplay:block.cre-setion article.repeat-box .photo,.cre-setion article.repeat-box .textwidth:100%.cre-setion article.repeat-box .photoborder-radius:5px;overflow:hidden.cre-setion article.repeat-box .lazy-imagebox-shadow:none;border-radius:0;overflow:hidden.cre-setion article.repeat-box .textpadding:5px 0 0;height:90px;.cre-setion article.repeat-box .text h3font-size:14px;line-height:1.5;-webkit-line-clamp:4;font-weight:600;text-align:left.cre-setion .repeat-box .photos-iconborder-radius:0 5px 0 0;width:auto;min-width:26px;height:26px;left:0;bottom:0;display:flex;justify-content:center;align-items:center.cre-setion .photos-icon svgtransition:1s;fill:var(–white);width:26px;height:26px.cre-setion .photos-icon:hoverbackground:var(–blue).cre-setion .splide__arrowtop:50%!important;width:1.8em;height:1.8em;border-radius:100px;border:1px solid #999;background:0 0;opacity:1.cre-setion .splide__arrow–prevleft:-37px.cre-setion .splide__arrow–nextright:-37px.cre-setion .splide__arrow:disabledopacity:.3;cursor:not-allowed!important.cre-setion .splide__arrow:beforeborder:solid #999;border-width:0 2px 2px 0.cre-setion .splide__arrow:hoverbackground:linear-gradient(to left,#a617be,#f32c89,#f32c89,#f32c89,#f32c89,#a617be).cre-setion .splide__arrow:hover::beforeborder:solid var(–white);border-width:0 2px 2px 0]]]]>]]>