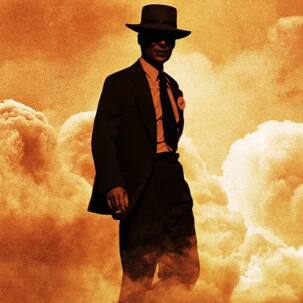 Christopher Nolan, known for films that leave the audience scratching their heads, has done it again. The filmmaker has come up with another mind-blowing war drama, Oppenheimer. The film is based on the biography of the American theoretical physicist J Robert Oppenheimer, hailed as the 'father of the atomic bomb." Needless to mention, the world was waiting for Oppenheimer's release, gripped with excitement, while also harbouring the belief that the film would be a record-breaking masterpiece. As with other Nolan films, Oppenheimer has surpassed expectations and how. As per the early estimates, it is reported that the film has amassed over Rs 10 crores in Indian theaters on its first day of release, July 21. Also Read – Oppenheimer fever grabs Bollywood: Ranbir Kapoor, Arjun Kapoor catch up to watch Christopher Nolan's film [WATCH VIRAL VIDEO]
Oppenheimer day 1 box office collections
Going by the report of industry tracker Sacnilk, early estimates have revealed that Oppenheimer has minted approximately Rs 13.5 crore at the box office for all languages. Director Greta Gerwig's comedy-drama Barbie was released on the same day. In the clash between the two films, Nolan's Oppenheimer emerged as the winner so far. Barbie, headlined by Margot Robbie and Ryan Gosling, grossed Rs 5 crore at Indian theaters, reports Sacnilk's early estimates. In fact, Oppenheimer has also left behind the first-day collections of Tom Cruise's Mission Impossible Dead Reckoning Part One, which earned Rs 12.5 crores. Also Read – Oppenheimer interpretation of Bhagavad Gita verse wrong, 'never heard this line' claims Devdutt Pattanaik
Oppenheimer plot
Oppenheimer is set against the backdrop of World War 2. The physicist was responsible for the invention of nuclear weapons during World War 2. The story takes place at a time in history when he knew that testing the atomic bomb would create chaos and irreversible damage to the entire world, destroying it, but he nevertheless went ahead with the plan. Oppenheimer was the one who conducted the first atomic bomb test in New Mexico in 1945 and also the bombing of Japan's Hiroshima and Nagasaki.
Oppenheimer cast
Oppenheimer's star-studded cast includes Cillian Murphy as Robert Oppenheimer alongside Robert Downey Jr, Emily Blunt, Florence Pugh, Rami Malek, and Matt Damon in important roles. While Emily Blunt essays the role of Oppenheimer's wife Katherine, Matt Damon plays the character of General Leslie Groves. Robert Downey Jr has slipped into the shoes of Lewis Strauss, a senior representative of the United States Atomic Energy Commission
]]>
Stay tuned to BollywoodLife for the latest scoops and updates from Bollywood, Hollywood, South, TV and Web-Series. Click to join us on Facebook, Twitter, Youtube and Instagram. Also follow us on Facebook Messenger for latest updates.
adisplay:block;padding:0;color:var(–black);text-decoration:none.repeat-box figuredisplay:flex;justify-content:flex-start;flex-wrap:wrap;align-items:stretch;overflow:visible.two-cols-aside .aside .repeat-box figurealign-items:center.repeat-box .textwidth:100%;z-index:5;position:relative.repeat-box .photowidth:100px;position:relative;z-index:5.repeat-box .photo+.textwidth:calc(100% – 100px);padding-left:10px.repeat-box h2,.repeat-box h3,.repeat-box pcolor:var(–black);white-space:normal;overflow:hidden;text-overflow:ellipsis;-webkit-line-clamp:3;display:-webkit-box;-webkit-box-orient:vertical;padding:0;font-size:15px;line-height:1.5;font-weight:400.repeat-box h2font-size:20px.repeat-box h2+p,.repeat-box h3+pfont-size:14px.repeat-box .catfont-size:14px;line-height:16px;display:block;margin-bottom:5px;font-weight:700;color:var(–orange);text-transform:uppercase.repeat-box a:hover,.repeat-box a:hover h2,.repeat-box a:hover h3,.repeat-box a:hover pcolor:#f32c89.repeat-box .photo-icon,.repeat-box .video-iconposition:absolute;left:0;bottom:0;background:linear-gradient(to left,#a617be,#f32c89,#f32c89,#f32c89,#f32c89,#a617be);border-radius:0 5px 0 0.repeat-box .video-iconwidth:26px;height:26px;display:inline-block.repeat-box .photo-iconwidth:auto;min-width:26px;height:26px;line-height:16px;font-size:13px;color:var(–white);padding:5px 5px 0.lazy-image img.lazyopacity:0.lazy-image img:not(.initial)transition:opacity .5s ease-in,transform .5s ease-in,-webkit-transform .5s ease-in.lazy-image img.error,.lazy-image img.initial,.lazy-image img.loadedopacity:1.lazy-image img:not([src])visibility:hidden.cre-setionclear:both;overflow:hidden;float:none;width:auto;margin:5px 0 20px.cre-setion .black-boxespadding:15px 40px;background:#e5e5e5.cre-carousel-heightposition:relative;padding:0 0 255px;height:0.cre-carousel-height .all-dataposition:absolute;top:0;left:0;width:100%!important;height:100%!important.cre-setion .border-headingfont-size:16px;color:#1f1f1f;text-transform:uppercase;font-weight:700;padding:0 0 10px;margin:20px 0 10px;clear:both;position:relative;border-bottom:0;display:flex;justify-content:space-between;align-items:center.cre-setion .border-heading:beforetop:5px;height:14px.cre-setion .splide__slideheight:auto!important;margin-left:0.cre-setion article.repeat-boxdisplay:block;background-color:transparent;border-radius:5px;box-shadow:none;overflow:hidden;padding:0;margin-bottom:3px.cre-setion article.repeat-box>adisplay:block;padding:10px;background-color:var(–white);border-radius:5px;color:var(–black);text-decoration:none;overflow:hidden;border:1px solid #d0d0d0.cre-setion article.repeat-box>a>figuredisplay:block.cre-setion article.repeat-box .photo,.cre-setion article.repeat-box .textwidth:100%.cre-setion article.repeat-box .photoborder-radius:5px;overflow:hidden.cre-setion article.repeat-box .lazy-imagebox-shadow:none;border-radius:0;overflow:hidden.cre-setion article.repeat-box .textpadding:5px 0 0;height:90px;.cre-setion article.repeat-box .text h3font-size:14px;line-height:1.5;-webkit-line-clamp:4;font-weight:600;text-align:left.cre-setion .repeat-box .photos-iconborder-radius:0 5px 0 0;width:auto;min-width:26px;height:26px;left:0;bottom:0;display:flex;justify-content:center;align-items:center.cre-setion .photos-icon svgtransition:1s;fill:var(–white);width:26px;height:26px.cre-setion .photos-icon:hoverbackground:var(–blue).cre-setion .splide__arrowtop:50%!important;width:1.8em;height:1.8em;border-radius:100px;border:1px solid #999;background:0 0;opacity:1.cre-setion .splide__arrow–prevleft:-37px.cre-setion .splide__arrow–nextright:-37px.cre-setion .splide__arrow:disabledopacity:.3;cursor:not-allowed!important.cre-setion .splide__arrow:beforeborder:solid #999;border-width:0 2px 2px 0.cre-setion .splide__arrow:hoverbackground:linear-gradient(to left,#a617be,#f32c89,#f32c89,#f32c89,#f32c89,#a617be).cre-setion .splide__arrow:hover::beforeborder:solid var(–white);border-width:0 2px 2px 0]]]]>]]>