In a video from a recent photo shoot, actress Preity Zinta channels her inner Barbie. On Monday night, Preity shared a video clip on Instagram in which she experimented with stances and facial expressions for the camera. Preity was sitting on a bed in a pink-themed room when the video began. Everything in the room was pink, including the walls, bed linens, table lamps, carpets, phone, and drapes. She smiled and posed for the camera while holding a pink phone. She also hopped and landed on the bed in the video. Preity sported a frilly pink outfit with silver heels. She added Barbie Girl by Aqua as the background music.
Preity Zinta's Barbie look surfaces.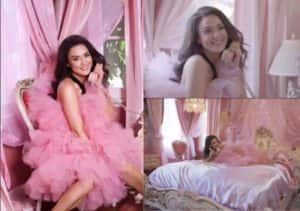 Preity captioned the video she shared, "Channeling my internal Barbie." Preity Did this fun session some time ago and couldn't resist sharing it after seeing Barbie this weekend. She said she loved the movie and how pink the theatre was most of the time. After a long time, seeing a movie is such fun. Reacting to the video, Actress Iulia Vantur responded to the post by writing: @realpz, you are the classic Barbie: cute, jolly, beautiful, with a beautiful smile along with those dimples."
Fans want her and Hrithik Roshan as Barbie and Ken.
An admirer remarked, "Now we need an Indian Barbie featuring you, and Hrithik Roshan might play Ken." One other user said, "You seem like Katy Perry." One another wrote, "Let's head for a Bollywood version of Barbie." The actual Barbie in real life." Another remark read, "You have just taken the Barbie craze to a completely different level." You are a real Barbie doll, a different admirer wrote. Your allure endures. Keep acting as you are.
Checkout Video;
About Barbie
Let us tell you, Greta Gerwig directed Barbie, which debuted in theatres on July 21. Ryan Gosling and Margot Robbie play Barbie and Ken, respectively, in the movie. Issa Rae, Dua Lipa, Simu Liu, Michael Cera, Helen Mirren, John Cena, and Will Ferrell are all featured in the cast. Barbie has currently earned 35.43 crore at the Indian box office.