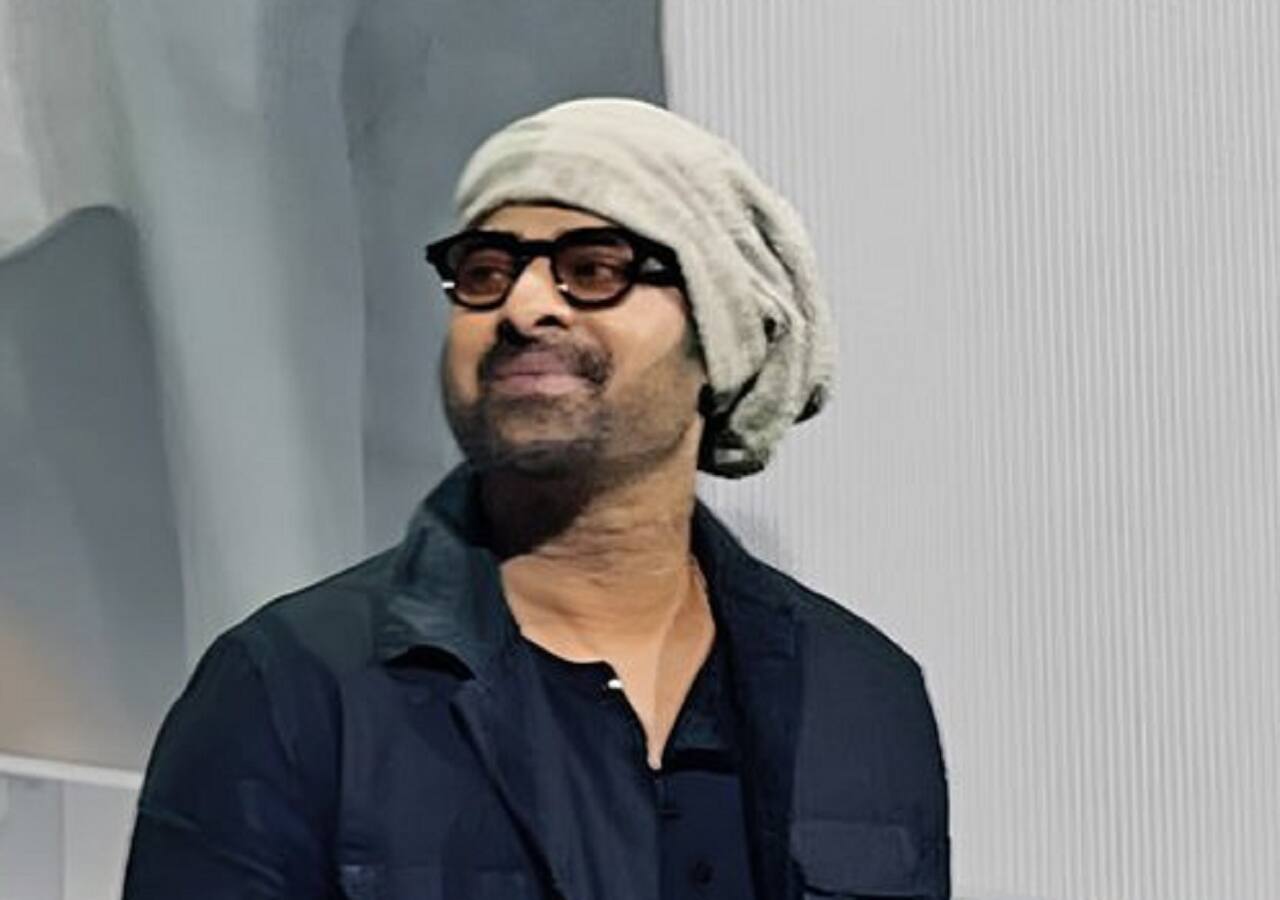 Prabhas is a charmer, and the fact that he is speaks less and expresses more is something that is highly admirable by his fans and loved ones. At a recent event, the actor spoke about how he is bored with all the VFX films after he was asked about having blue screen fatigue. At the event, Prabhas was present with his Baahubali co star Rana Daggubati, where he talks about Prabhas, saying that this man can spend an entire event without uttering a word, and on the other hand, he is making spectacle per spectacle as he was addressing his films. Also Read – Project K titled Kalki 2898 AD: Prabhas, Deepika Padukone leave fans mesmerised, film to be a new benchmark in Indian filmmaking [Read reactions]
Watch the video of Prabhas talking about getting bored by doing VFX films when asked about blue screen fatigue at a recent event.
Man is quiet he can pass whole event without saying a word ??@RanaDaggubati on #PrabhasPrabhas kept laughing he thought he is bored by blue screens but post #ProjectKGlimpse he says its ? Prabhas comic bent n smile ?#Kalki pic.twitter.com/BpygrvoN8L
— Ace in Frame-Prabhas (@pubzudarlingye) July 20, 2023
Rana largely spoke about Prabhas working on mythological, sci-fi, or even love stories. And after that, the actor who will be seen next in Project K, which is reportedly renamed Kalki 2898 AD, was questioned about blue screen fatigue as he has been working on all these big franchise films, to which he added that he gets bored and gave a silent smile and said," I got bored of it. It's not real stuff, but then it is real." Also Read – Project K: Prabhas new look at the Comic-Con festival ahead of the first glimpse impresses fans [Check Reactions]
Prabhas was last seen in Adipurush, which failed to impress his fans due to a poor storyline and dialogues, but they were bowled over by the actor's role as Raghav, and they felt that he deserved much better story telling and VFX. Om Raut was slammed by the fans and netizens for making a mockery of Ramayana and spoiling Prabhas' career, and now the actor is gearing up for Kalki 2898 AD, starring Deepika Padukone, Amitabh Bachchan, and Kamal Haasan in the significant roles. Also Read – Project K glimpse: Prabhas, Kamal Haasan's first picture together from San Diego Comic-Con is here while Deepika Padukone gives it a miss
Prabhas also hinted about soon collaborating with RRR star Ram Charan for a film, and the fans are excited to see these two reigning stars on the big screen together.
]]>
Stay tuned to BollywoodLife for the latest scoops and updates from Bollywood, Hollywood, South, TV and Web-Series. Click to join us on Facebook, Twitter, Youtube and Instagram. Also follow us on Facebook Messenger for latest updates.
adisplay:block;padding:0;color:var(–black);text-decoration:none.repeat-box figuredisplay:flex;justify-content:flex-start;flex-wrap:wrap;align-items:stretch;overflow:visible.two-cols-aside .aside .repeat-box figurealign-items:center.repeat-box .textwidth:100%;z-index:5;position:relative.repeat-box .photowidth:100px;position:relative;z-index:5.repeat-box .photo+.textwidth:calc(100% – 100px);padding-left:10px.repeat-box h2,.repeat-box h3,.repeat-box pcolor:var(–black);white-space:normal;overflow:hidden;text-overflow:ellipsis;-webkit-line-clamp:3;display:-webkit-box;-webkit-box-orient:vertical;padding:0;font-size:15px;line-height:1.5;font-weight:400.repeat-box h2font-size:20px.repeat-box h2+p,.repeat-box h3+pfont-size:14px.repeat-box .catfont-size:14px;line-height:16px;display:block;margin-bottom:5px;font-weight:700;color:var(–orange);text-transform:uppercase.repeat-box a:hover,.repeat-box a:hover h2,.repeat-box a:hover h3,.repeat-box a:hover pcolor:#f32c89.repeat-box .photo-icon,.repeat-box .video-iconposition:absolute;left:0;bottom:0;background:linear-gradient(to left,#a617be,#f32c89,#f32c89,#f32c89,#f32c89,#a617be);border-radius:0 5px 0 0.repeat-box .video-iconwidth:26px;height:26px;display:inline-block.repeat-box .photo-iconwidth:auto;min-width:26px;height:26px;line-height:16px;font-size:13px;color:var(–white);padding:5px 5px 0.lazy-image img.lazyopacity:0.lazy-image img:not(.initial)transition:opacity .5s ease-in,transform .5s ease-in,-webkit-transform .5s ease-in.lazy-image img.error,.lazy-image img.initial,.lazy-image img.loadedopacity:1.lazy-image img:not([src])visibility:hidden.cre-setionclear:both;overflow:hidden;float:none;width:auto;margin:5px 0 20px.cre-setion .black-boxespadding:15px 40px;background:#e5e5e5.cre-carousel-heightposition:relative;padding:0 0 255px;height:0.cre-carousel-height .all-dataposition:absolute;top:0;left:0;width:100%!important;height:100%!important.cre-setion .border-headingfont-size:16px;color:#1f1f1f;text-transform:uppercase;font-weight:700;padding:0 0 10px;margin:20px 0 10px;clear:both;position:relative;border-bottom:0;display:flex;justify-content:space-between;align-items:center.cre-setion .border-heading:beforetop:5px;height:14px.cre-setion .splide__slideheight:auto!important;margin-left:0.cre-setion article.repeat-boxdisplay:block;background-color:transparent;border-radius:5px;box-shadow:none;overflow:hidden;padding:0;margin-bottom:3px.cre-setion article.repeat-box>adisplay:block;padding:10px;background-color:var(–white);border-radius:5px;color:var(–black);text-decoration:none;overflow:hidden;border:1px solid #d0d0d0.cre-setion article.repeat-box>a>figuredisplay:block.cre-setion article.repeat-box .photo,.cre-setion article.repeat-box .textwidth:100%.cre-setion article.repeat-box .photoborder-radius:5px;overflow:hidden.cre-setion article.repeat-box .lazy-imagebox-shadow:none;border-radius:0;overflow:hidden.cre-setion article.repeat-box .textpadding:5px 0 0;height:90px;.cre-setion article.repeat-box .text h3font-size:14px;line-height:1.5;-webkit-line-clamp:4;font-weight:600;text-align:left.cre-setion .repeat-box .photos-iconborder-radius:0 5px 0 0;width:auto;min-width:26px;height:26px;left:0;bottom:0;display:flex;justify-content:center;align-items:center.cre-setion .photos-icon svgtransition:1s;fill:var(–white);width:26px;height:26px.cre-setion .photos-icon:hoverbackground:var(–blue).cre-setion .splide__arrowtop:50%!important;width:1.8em;height:1.8em;border-radius:100px;border:1px solid #999;background:0 0;opacity:1.cre-setion .splide__arrow–prevleft:-37px.cre-setion .splide__arrow–nextright:-37px.cre-setion .splide__arrow:disabledopacity:.3;cursor:not-allowed!important.cre-setion .splide__arrow:beforeborder:solid #999;border-width:0 2px 2px 0.cre-setion .splide__arrow:hoverbackground:linear-gradient(to left,#a617be,#f32c89,#f32c89,#f32c89,#f32c89,#a617be).cre-setion .splide__arrow:hover::beforeborder:solid var(–white);border-width:0 2px 2px 0]]]]>]]>